Photography: Stockking via Freepik
From casual eateries to refined dining destinations, we've shortlisted Singapore's top Chinese restaurants.
Singapore has an incredible international food scene, with restaurants offering Japanese, Thai, Peranakan and more. But we've got a helluva soft spot for Chinese cuisine (mmm, dim sum). There's just something comforting about sharing a communal feast with your gang of family or friends around the lazy susan. Hungry already? Thought so. Here are our top picks for Chinese restaurants in Singapore.
Best Chinese restaurants in Singapore
1. Yellow Pot
Yellow Pot at Tanjong Pagar offers Chinese flavours with a modern twist. Find this restaurant within the award-winning Duxton Reserve, Autograph Collection with warm hospitality and a rich culinary experience. And don't miss snapping a picture at this luxurious space – Yellow Pot and the adjoining bar are decorated in the striking black, gold and yellow palette that acclaimed British designer Anouska Hempel has accorded to the rest of the hotel.
On to the menu: expect delectable dishes made with fresh and natural flavours, with no MSG, additives or artificial flavourings. Highlights include the roast duck, marinated for two days in a fermented beancurd paste, then roasted over hickory wood – expect the meat to be aromatic and tender with a glistening layer of crispy skin. Or, try the Australian beef tenderloin cubes that are tender and juicy with fiery black pepper sauce; the seared Canadian scallop with Inaniwa thin udon in rich tonkatsu broth. As for dessert, look forward to treats like roselle jelly with osmanthus honey, refreshing lychee pop and aloe vera; or the crispy pancake with red bean fillings with semi-sweet red bean paste.
Yellow Pot, Duxton Reserve, Autograph Collection, 83 Duxton Road, Singapore 089540
2. Xin Cuisine Chinese Restaurant
Looking for a place to host your next family gathering, business lunch or birthday celebration? You'll feel right at home here. Tuck into contemporary Cantonese cuisine made with fresh ingredients. Everyone at the table will love signatures like homestyle roast duck with tea leaves, poached rice with seafood in superior broth (served with crispy rice), stir-fried wagyu beef cubes, and crispy roast pork with mustard dip. For dessert, indulge in bites of deep-fried sesame balls with red bean and chocolate liqueur fillings.
If you've got a lunch date, don't miss out on classic dim sum dishes such as yam dumpling with chicken and seafood filling, salted egg yolk custard bun, and double-boiled dumpling soup with crab meat and dried scallops. There are also vegetarian and celebratory set menus for every occasion, with options to book one of the five lovely private dining rooms.
Xin Cuisine Chinese Restaurant, Holiday Inn Singapore Atrium, 317 Outram Road, Singapore 169075
3. 5 ON 25
Taste the richness of Cantonese cuisine at 5 ON 25 in Andaz Singapore. Named after the five senses, this dining destination is a treat to the eyes and the palate. The space is transformed by the vision of Hong Kong-based interior architect, André Fu, who designed the hotel's rooms and public spaces. Expect a bright, airy dining room that's upscale and sophisticated. Psst: if you have an event on the cards, there are two private dining suites (that sit up to eight and 12 people) available for booking.
Look forward to a delicious Cantonese menu by head chef Lim Hong Lih, made using a selection of premium produce cooked with a twist. We're talking about succulent duck meat smoked with jasmine tea leaves; fried bird's nest with Sri Lankan crabmeat, beansprouts and superior stock, and more. New highlights on the menu include the crispy fried codfish fillet with black vinegar sauce, as well as fried South African abalone with peppercorn. Keep an eye out for monthly specials too!
Check out the Weekend Dim Sum Club for a brunch menu that features classic steamed dumplings and fried delicacies. Wash it all down with wine or sake if you're in the mood for a tipple. There's also a free flow beverage option at $88 per person, with free flow champagne, wine, beer and organic sparkling tea from Copenhagen.
5 ON 25, Level 25, Andaz Singapore, 5 Fraser Street, Singapore 189354
4. Tien Court Restaurant
For a dining experience that reflects the rich heritage of Cantonese-Teochew cuisine, look no further than Tien Court Restaurant at Copthorne King's Hotel Singapore. It's helmed by award-winning Master Chef Lui from Hong Kong, promising oriental delights and an incredible dim sum experience.
Signature dishes include the braised white teat sea cucumber in oyster sauce, a savoury dish boasting a combination of textures and flavours of the sea. Another standout is the pomfret fish with tomato and pickled vegetable, a classic creation that features fork-tender fish in a slightly tangy sauce. Don't leave without trying the handcrafted dim sum: the deep-fried glutinous rice dumpling with minced chicken is a must-try, offering a crispy bite hiding a savoury filling within. There's plenty more to try, so snag a table, stat.
Psst: if you're seeking an intimate dining experience, there are also private rooms at Tien Court Restaurant that you can reserve for special occasions!
Tien Court Restaurant, 2F Copthorne King's Hotel, 403 Havelock Road, Singapore 169632
5. Jia Wei Chinese Restaurant
This hidden gem is nestled on the second floor of Grand Mercure Singapore Roxy in Katong. If you're an East-sider craving Chinese dishes, you know where to look. Expect creative dishes made with the freshest ingredients, locally sourced whenever possible.
Must-try dim sum offerings include the crispy prawn rice roll, butterfly pea har gow, and purple sweet potato puff. For mains, don't leave without trying the aromatic wok-fried A4 wagyu striploin with fresh wasabi, as well as the addictive crispy Iberico pork collar with sweet and sour hawthorn sauce.
Jia Wei Chinese Restaurant, Grand Mecure Singapore Roxy, Level 2, Roxy Square, 50 East Coast Road, Singapore 428769
6. Yan
Yan boasts an authentic menu, a sleek space, and a prime rooftop location that attracts both locals and visitors. Its National Gallery locale is the perfect spot for Cantonese fine dining in Singapore. We'll never stop gushing over its Peking roast duck, suckling pig, lobster porridge with clams, and wok-fried Sri Lankan crab with pan-fried cheong fun and pork lard sauce. Don't even get us started on the excellent dim sum line-up!
Yan, #05-02, National Gallery Singapore, 1 St Andrew's Road, Singapore 178957
7. Madame Fan
An exquisite, elegant restaurant that plates out amazing Cantonese classics, Madame Fan is one of our faves. Gotta love the steamed soon hock, Hong Kong-style lobster and double-boiled kampung chicken soup. Feeling thirsty? The line-up of east-meets-west cocktails will get you sorted. Oh, and you can't miss out on its cocktail dim sum brunch for a fabulous start to your weekend!
Madame Fan, The NCO Club, 32 Beach Road, Singapore 189764
8. Mott 32
If you're planning to spend the day at Marina Bay Sands, consider dining at Mott 32. This award-winning restaurant blends East and West through industrial New York designs, classical Chinese decor, and authentic cuisine. Enjoy dishes from recipes passed down through generations and prepared using innovative cooking techniques. Our recommendation? The applewood-roasted Peking duck – no words can describe how good it is!
Mott 32, #B1-41/42, The Shoppes at Marina Bay Sands, 10 Bayfront Avenue, Singapore 018956
9. Shang Social
Experience authentic, modern Chinese cuisines – Cantonese, Huaiyang and Sichuan – all under one roof at Shang Social. With a menu created by Shangri-La's acclaimed master chefs, you can be sure that every bite is made to impress. Popular dishes include house-smoked chicken, eight treasures tofu pudding, and double-boiled chicken soup.
Shang Social, #01-219 to 222, Jewel Changi Airport, 78 Airport Boulevard, Singapore 819666
10. Hai Tien Lo
What we really love about Hai Tien Lo is its classic recipes and Cantonese treats served in a stunning setting. Work your way through stunners like crispy barbecued suckling pig stuffed with prawn paste, fresh seafood dishes and delish meats. When it comes to dim sum, the resto does it best with a brunch buffet that can be paired with unlimited champagne and wine. 'Nuff said.
Hai Tien Lo, Level 3, Pan Pacific Singapore, Marina Square, 7 Raffles Boulevard, Singapore 039595
11. Empress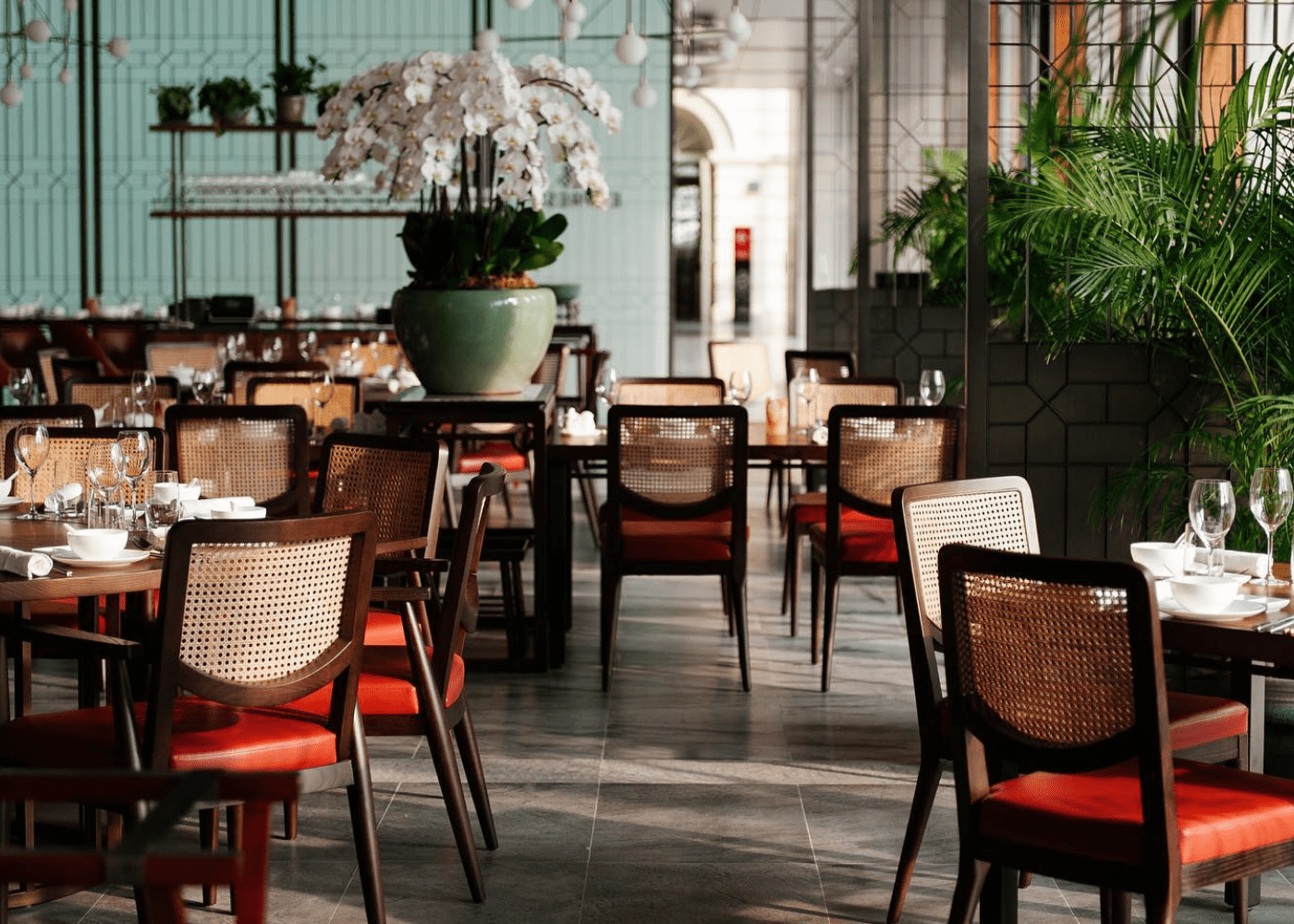 Empress proves that works of art at museums are just as likely to appear on your plate. This smart casual dining establishment offers beautifully plated classic Chinese cuisine. Highlights include its signature roast platter, king prawns served two ways, XO chilli Hokkaido scallops, and plant-based meat dishes like gyoza and pan-fried "pork" and chive pancake. The elegant decor contrasts modern with traditional, featuring vibrant interiors and alfresco seats that look out on splendid waterfront views. Psst: the weekend dim sum brunch buffet is a must-try!
Empress, #01-03, Asian Civilisations Museum, 1 Empress Place, Singapore 179555
12. Po
If mod-Sin is your thing, this one's for you. Po is a sleek space with a menu that gives Singaporean favourites and Chinese classics a luxe twist. Take Po's signature popiah, for example. Its filling is stewed and caramelised for hours, and served with plump prawns or hand-picked flower crab. The super popular paper spring chicken takes 45 minutes to prep, so our hot tip is to pre-order this sharing fave. Alternatively, you can go for the beef cheek rendang served with sago chips or spicy tamarind red snapper fillet. Wash it all down with – what else – fragrant pots of tea.
Po, The Warehouse Hotel, 320 Havelock Road, Singapore 169628
13. The Dragon Chamber
A hidden hotspot, The Dragon Chamber makes dining an immersive experience. Find the entrance behind the fridge door of a non-descript local cafe. And you'll step into a dimly-lit space that transports you back in time to the gambling dens and secret society hangs of Chinatown. The food is just as edgy. Adventurous diners will appreciate unconventional dishes like braised crocodile foot alongside signatures such as stingray in dragon curry and wagyu truffle beef hor fun.
The Dragon Chamber, 2 Circular Road, Singapore 049358
14. Crystal Jade Golden Palace
Crystal Jade's various brands specialise in different cuisines and dishes. But we love the Michelin-starred Golden Palace restaurant for its elegant dining experience. One of the few upscale Chinese restaurants in Singapore to feature Teochew cuisine, this place is perfect for family reunions. From roasted meat platters and Cantonese BBQ delights to Teochew classics and fresh seafood creations, the extensive menu offers all kinds of flavourful treats.
Crystal Jade Golden Palace, #05-22, Paragon, 290 Orchard Road, Singapore 238859
15. Jiang-Nan Chun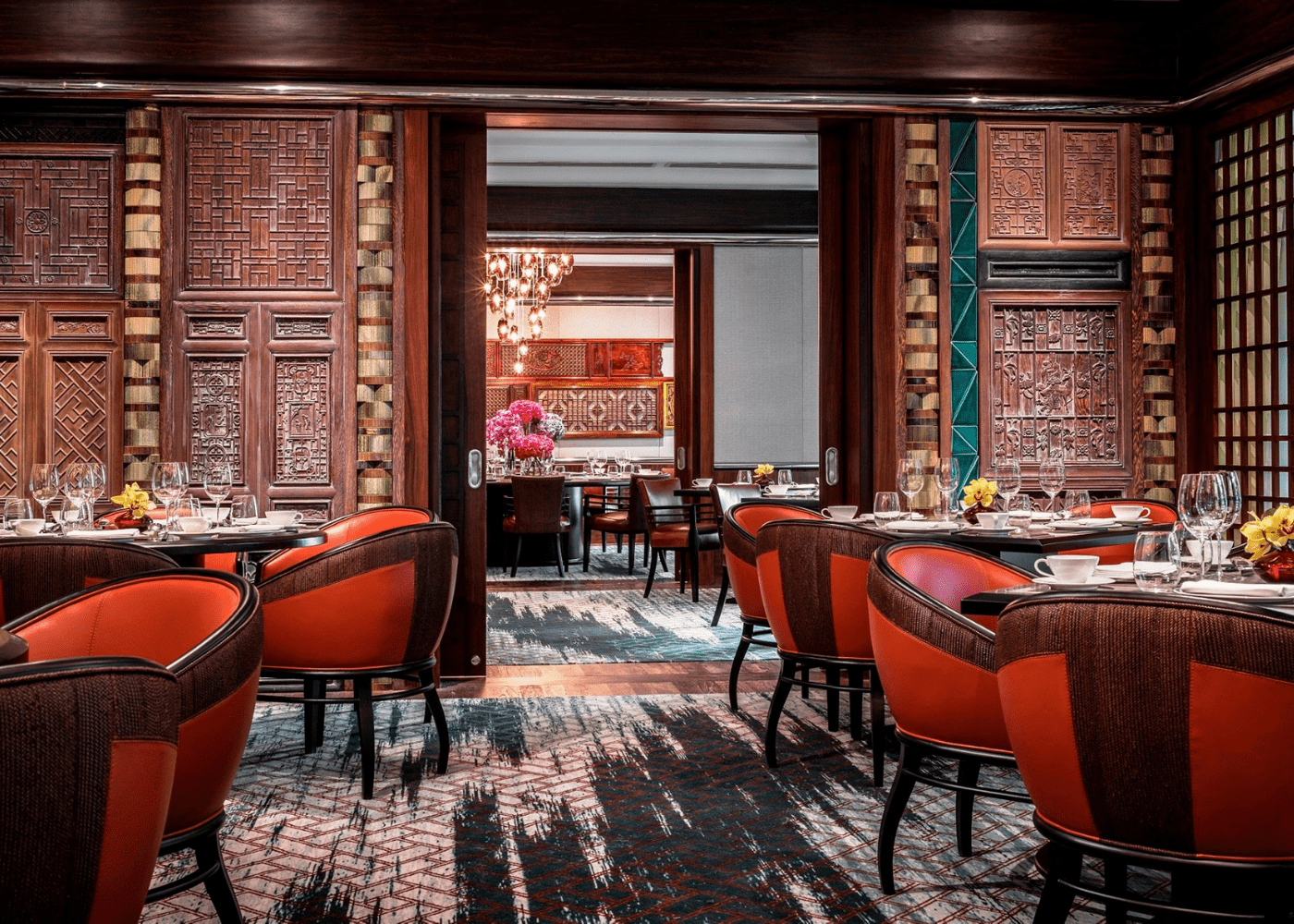 For a Michelin-starred Cantonese dining experience, this is it. Traditional meets modern at the distinguished Jiang-Nan Chun, which is perfect for anything from business lunches to family gatherings. The service is impeccable, giving you everything you need to enjoy the chef's signature set menu and a beautiful selection of handcrafted dim sum. Did someone say Peking duck? This bird is roasted in a mesquite wood-fired oven, served with caviar and carved tableside by the chef.
Jiang-Nan Chun, Four Seasons Hotel Singapore, 190 Orchard Boulevard, Singapore 248646
16. Min Jiang at Dempsey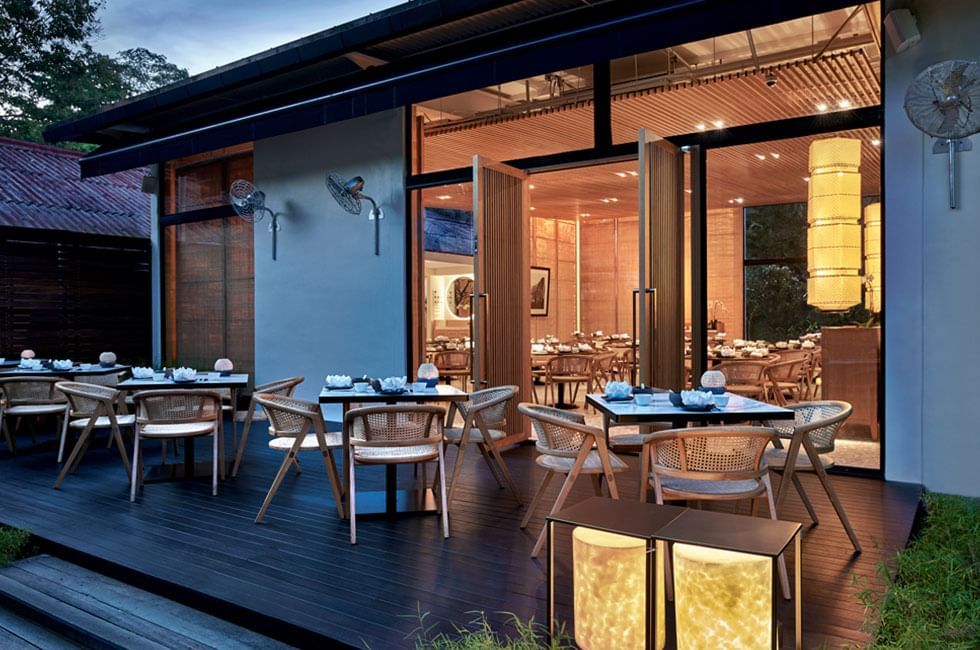 Take a trip to the quiet tranquillity of Dempsey with Min Jiang. Situated amidst lush foliage, the refined restaurant is beautiful in its gold, yellow and green glamour. Complemented with minimalistic lines, marbled surfaces and chinoiserie charm. Its chefs specialise in Sichuan and Cantonese cuisines, with signatures like wood-fired Beijing duck, roast meat dishes and a superb range of dim sum.
Min Jiang at Dempsey, 7A & 7B Dempsey Road, Singapore 249684
17. Putien
From humble roots as a coffee shop, Putien has come a long way with its numerous outlets in Singapore and beyond. Specialising in cuisine from Fujian, China, the restaurant focuses on flavourful food made with fresh ingredients. If you want the Michelin-starred experience, head to its Kitchener Road location and order up a storm!
Putien, multiple locations including Jewel Changi Airport and Ion Orchard
18. Majestic Restaurant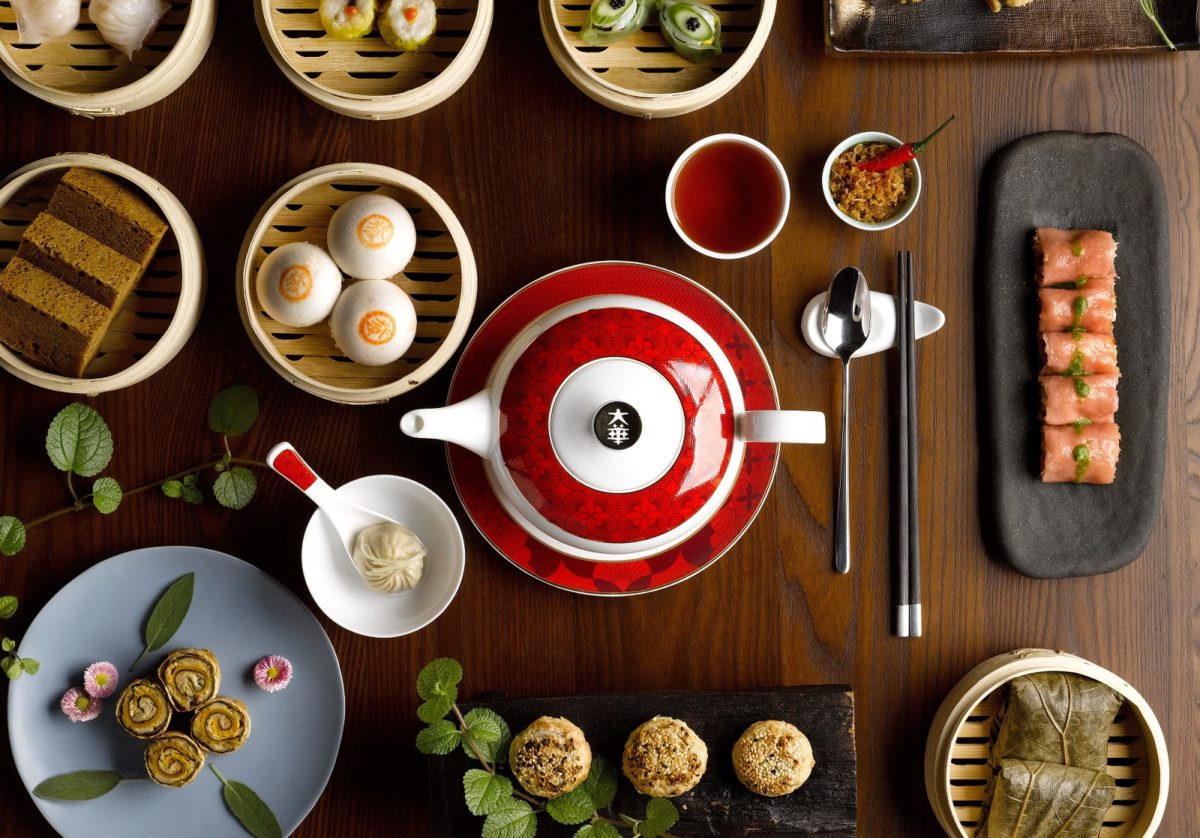 Opened in 2006, Majestic Restaurant continues to be a stylish destination for modern Chinese dining. If you're in the mood for dim sum, swing by for lunch. Alternatively, enjoy plates of Boston chilli lobster with mantou, kampong chicken claypot rice, and Peking duck from the kitchen. End off with desserts such as durian ice cream with maple syrup, and double-boiled bird's nest.
Majestic Restaurant, #04-01, Marina One, The Heart (East Tower), 5 Straits View, Singapore 018935
19. Yun Nans
As the first overseas outpost of Yun Hai Yao, the largest Yunnan restaurant chain in the world, this casual eatery prides itself on the use of fresh ingredients from the highlands of Yunnan province. Specialities you have to try include stir-fried wild porcini mushrooms, hot plate tofu with spicy garlic sauce, and beef stew in a copper pot.
Yun Nans, multiple locations including Westgate and Nex
20. Peony Jade Restaurant
With a menu of roasted meats and handcrafted dim sum, it's no surprise that this restaurant caught the attention of the Michelin peeps. Its brand of Cantonese cuisine is a true treasure in our Chinese food scene! You can stuff yourself with the kurobuta pork and prawn dumplings or get the roast meat platter to share.
Peony Jade Restaurant, Level 2, Amara Singapore, 165 Tanjong Pagar Road, Singapore 088539
21. Jade
One of the loveliest-looking Chinese restaurants in Singapore, Jade is a beautifully modern space decked out in sleek pastels, warm hues and stylish motif prints. Come for the authentic Cantonese plates or treat yourself to a sumptuous weekend dim sum brunch. Either way, it's a dining experience you won't soon forget.
Jade, The Fullerton Hotel Singapore, 1 Fullerton Square, Singapore 049178
22. Lei Garden Restaurant
This long-standing restaurant serves sophisticated Cantonese seafood dishes, nourishing double-boiled tonic soups and smoky, tender barbecued meats. All of which attract large families on weekends for a joyful feast.
Lei Garden Restaurant, #01-24, Chijmes, 30 Victoria Street, Singapore 187996
23. Peach Blossoms
In the mood for Cantonese food? Make a reservation at Peach Blossoms for intricately plated dishes crafted with seasonal ingredients. The space is made beautiful with light woods and a colour palette influenced by nature, with fab views of the Marina Bay waterfront to accompany your meal. Must-tries include crispy taro puff with abalone and kurobuta pork, as well as deep-fried roll filled with snow crab, foie gras, black truffle and prawn mousse.
Peach Blossoms, Level 5, Parkroyal Collection Marina Bay, 6 Raffles Boulevard, Singapore 039594
24. Man Fu Yuan
This one's a stellar choice for a fine dining experience bursting with spices, flavours and top-notch ingredients. From fancy business lunches to family celebrations, the refined restaurant hosts it all. Pick premium teas or wines to go with chef signatures like seafood treasure bisque with fish maw and dried scallops, pan-fried jade perch fillet, braised Boston lobster with Chinese ramen and more.
Man Fu Yuan, Level 2, InterContinental Singapore, 80 Middle Road, Singapore 188966
25. Wah Lok Cantonese Restaurant
Since 1988, this top-notch Chinese restaurant in Singapore has been serving modern Cantonese cuisine in its stylish space. Pop by for lunch and enjoy dim sum classics such as baked barbecue pork buns, chilli crab spring rolls, and lobster in vermicelli soup with Chinese wine.
Wah Lok Cantonese Restaurant, Level 2, Carlton Hotel Singapore, 76 Bras Basah Road, Singapore 189558
26. Yan Ting
The gorgeous and luxurious Yan Ting is where we go for excellent weekend dim sum brunches filled with Cantonese creations and champagne. This classy fine dining stalwart plates up mainstays of Chinese cuisine like Peking duck, crispy suckling pig stuffed with glutinous rice and nourishing soups. It also gets top marks for presentation and service!
Yan Ting, Level 1U, The St. Regis Singapore, 29 Tanglin Road, Singapore 247912
27. Blue Lotus Chinese Eating House
Looking for a picturesque place for the fam? This waterfront dining spot specialises in modern and traditional Chinese fare. From meat to seafood, this resto does it all. Oh, and to make ordering a breeze, all you have to do is zero in on the menu's signature dishes. Think lemongrass prawn sticks with citrus spicy dressing, chilli pomelo crab, honey-glazed kurobuta pork ribs and claypot mapo tofu. Good stuff.
Blue Lotus Chinese Eating House, #01-13, Quayside Isle, 31 Ocean Way, Singapore 098375
28. Si Chuan Dou Hua
Dine on authentic Sichuan and Cantonese cuisine in elegant surroundings at Si Chuan Dou Hua. Its perch on the 60th floor in the CBD is something special. Think panoramic views of the city from up high – you'll want to snag a table for spectacular sights. This name has become a family favourite since its inception in 1996, thanks to its dim sum delicacies and tea masters – their tea pouring theatrics include martial arts and dance!
Si Chuan Dou Hua, #60-01, UOB Plaza 1, 80 Raffles Place, Singapore 048624
29. Yi by Jereme Leung
Live it up in style at this plush fine-dining restaurant that takes you on a culinary journey through China's diverse provinces using seasonal ingredients. Can't wait to luxuriate in intricate, tasteful dishes by the masterchef? Innovative creations include hundred-ring cucumber with poached sea whelk, roast duck with rose and fermented bean sauce and rainbow pancakes, and Iberico pork jowl fried with dried chilli.
Yi by Jereme Leung, Raffles Singapore, 1 Beach Road, Singapore 189673
30. East Ocean Teochew Restaurant
A go-to for Teochew families since 1992, this eminent Chinese restaurant in Singapore draws huge crowds during weekends. You must try the chef recommendations like roasted pork belly, teochew cold crab and steamed bamboo clams. Heads up: it can get pretty chatty in here, so be prepared for a boisterous good time. All part of the experience!
East Ocean Teochew Restaurant, #05-08/09, Ngee Ann City, 391 Orchard Road, Singapore 238872
31. Shisen Hanten by Chen Kentaro
A Sichuan restaurant with Japanese origins? Who else is intrigued? Conceptualised by a Sichuan chef who settled down in Yokohama, the Singapore branch is spearheaded by his son, chef Chen Kentaro. And it's even scored two Michelin stars under its belt. Aside from exquisite dim sum bites, Shisen Hanten's menu also flaunts Chinese classics such as barbecued suckling pig, Peking duck, marble goby, and Buddha Jumps Over The Wall.
Shisen Hanten by Chen Kentaro, Level 35, Hilton Singapore Orchard, 333 Orchard Road, Singapore 238867
32. Wan Hao Chinese Restaurant
Step inside and be transported into an ornate oriental setting. This Cantonese restaurant within Singapore Marriott Tang Plaza Hotel is furnished with the theme 'house of a Chinese scholar' and it certainly looks the part! Equally impressive is the menu of authentic delicacies like dim sum, roast duck, abalone dishes, premium Chinese teas and more.
Wan Hao Chinese Restaurant, Level 3, Singapore Marriott Tang Plaza Hotel, 320 Orchard Road, Singapore 238865
33. Imperial Treasure Super Peking Duck
The crown jewel of the Imperial Treasure group, this Chinese restaurant in Singapore is worth every penny. A must-try, obviously, is the authentic Peking duck. To complete the experience, knife-wielding servers slice it up into crisp pieces right in front of you. Other dishes to add to your order include perfectly barbecued pork, roasted pork and sauteed prawns with chilli sauce.
Imperial Treasure Super Peking Duck, multiple locations including Paragon and Asia Square Tower 1
34. Kai Garden
Barbequed meats, wok-fried vermicelli, kurobuta pork and braised scallops are just some of the creations cooked up by chef Fung Chi Keung. After decades in the culinary scene, he moved on from Paradise Group to start his own Chinese restaurant. Kai Garden is a concept that marries tradition with risk-taking which, in our opinion, has paid off extremely well. For a sophisticated Cantonese dining experience, make this your go-to.
Kai Garden, #03-128A/B, Marina Square, 6 Raffles Boulevard, Singapore 039594
35. Summer Pavilion
The Michelin-starred Summer Pavilion is a stunning place to enjoy contemporary Cantonese cuisine. The lunch set menus offer highlights like pan-fried Japanese wagyu beef, dim sum and marinated smoked duck with Chinese tea leaves. Meanwhile, dinner standouts include double-boiled bird's nest and poached rice with lobster meat. Plus, check out the tea selection for artisanal sips from Tea Bone Zen Mind to end your meal. We love this restaurant for an exquisite dim sum treat any day!
Summer Pavilion, The Ritz-Carlton, Millenia Singapore, 7 Raffles Avenue, Singapore 039799
36. Peach Garden
For a Chinese fine dining experience, we recommend stopping by Peach Garden at OCBC Centre. Take yourselves over 30 storeys up and you'll have a meal with a view! What's on the menu for dinner? Try roasted crispy duck and baked tiger prawns before moving on to steamed fish with superior soya sauce or minced ginger sauce. Or stop by in the afternoon for a dim sum lunch that'll leave you wanting more. A personal fave for us is the steamed dumplings in Sichuan spicy sauce.
Peach Garden, #33-01, OCBC Centre, 65 Chulia Street, Singapore 049513
37. Famous Treasure
What's Nanyang cuisine? It's a combination of Teochew, Hokkien, and Cantonese dishes. You can savour all that at Famous Treasures, a Chinese restaurant in Capitol Singapore. The menu is packed with signature dishes boasting nostalgic flavours, such as sauteed squid with chinchalok and okra, stewed red garoupa with roasted pork, and roasted Irish Silver Hill duck. Choose from an extensive range of rare and boutique wines to go with your meal.
Famous Treasure, #02-28, Capitol Singapore, 13 Stamford Road, Singapore 178905
There you have it, our top picks for the best Chinese restaurants in Singapore!