Nibble your way through the best Chinese New Year snacks!
Pineapple tarts, bak kwa, love letters, prawn crackers, kuih bangkit, shrimp rolls, cookies… the list of Chinese New Year snacks in Singapore goes on and on.
It's the Lunar New Year and you're expecting friends over. You're donning your best cheongsam, stealing fun party games from Christmas and setting the dinner table with a feast. Don't forget the snacks! Fill your cabinet with pineapple tarts, bak kwa, love letters and lots more. Presenting our top spots to buy the best Chinese New Year snacks in Singapore.
Where to buy Chinese New Year snacks in Singapore
1. Pineapple Tarts Singapore
Fresh bakes and top-notch ingredients are the key to Pineapple Tarts Singapore's addictive CNY snacks. This bakery whips up a range of delicious goodies to usher in the festive season, and you need to try them out, stat.
Start with the traditional pineapple tarts for a buttery pick, or snack on unconventional flavours like salted egg pineapple tarts for a unique twist. If you're craving cheese, there are pineapple tarts infused with parmesan too. Grab a few tubs of these goodies before the visiting season begins!
Pineapple Tarts Singapore, available online
2. Wang Lai Bakery
With traditional recipes passed down for four generations, you can't go wrong with Wang Lai Bakery's CNY treats. This bakery prides itself in homemade flavours and the finest ingredients for delicious creations. Plus, they're all incredibly affordable too!
Its encased pineapple tarts are a crowd-favourite for an addictive bite-sized treat, while the open-faced pineapple tarts are the perfect pick for creating a CNY goodies platter. There are also delectable love letters in flavours like chocolate and peanut butter, crunch prawn rolls and more to snack on.
Wang Lai Bakery, available online
3. Qakes & Bakes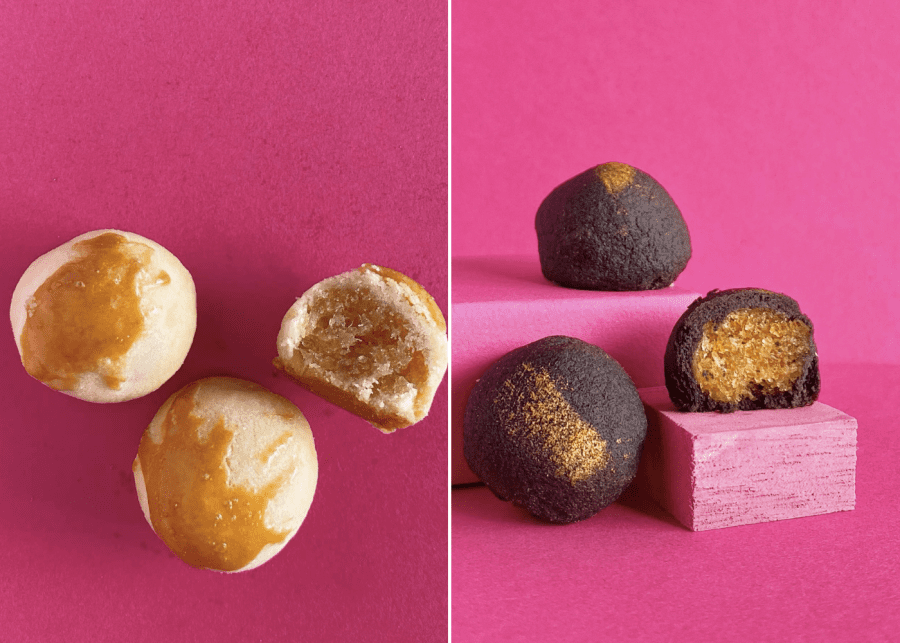 We love that this humble online store was started by two dads, Joshua and Jin Zeng. The duo started baking in early 2019 and have never looked back since. Dedicated to only using the best quality ingredients, Qakes & Bakes presents a variety of hand-baked, homemade pastries.
The golden pineapple goli pops are its rendition of pineapple tarts, and they sell out every year. When you bite into one, expect a flaky crust with chewy candied pineapple shreds in the centre. If you're not a fan of pineapple (we won't judge), try the charcoal mandarin orange Ong Lai goli. The citrusy notes from the chewable orange peels are fragrant and delicious.
Qakes & Bakes, available online
4. The Marmalade Pantry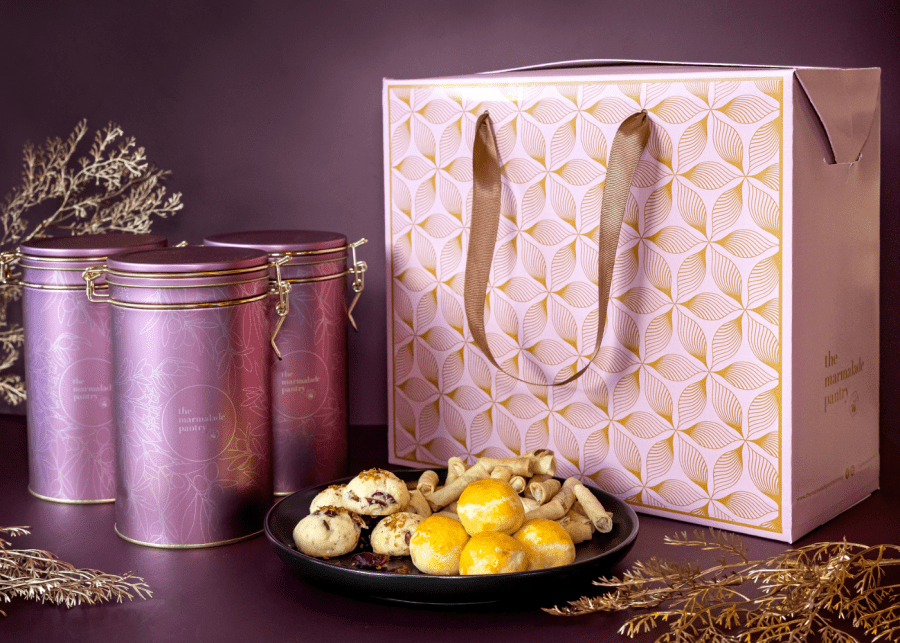 We love The Marmalade Pantry's CNY snacks like golden pineapple tarts, sambal shrimp rolls, and the traditional petite chicken bak kwa. These come in tin canisters with pretty illustrations, and the bak kwa is even vacuum-packed if you're thinking of bringing it abroad with you. Don't forget to check out the new addition to this year's selection: osmanthus cranberry cookies. You can get 'em all in a gift bag, too!
The Marmalade Pantry, available online and at multiple locations including Ion Orchard
5. Janice Wong
Janice Wong amazes us once again with her Chinese New Year snacks. The assorted cookie tin showcases eight different festive cookies packaged in a gorgeous box. And her chocolate koi fish creations are almost too pretty to eat. Of course, you can also expect to see classic treats like peanut cookies, pineapple tarts, and kueh bangkit sold by the tin.
Janice Wong, available online
6. WellSmoocht
Going the healthier route this CNY? Hit up WellSmoocht for goodies that are plant-based, vegan, and free of dairy, eggs, and preservatives. Try the Earl Grey pineapple tarts if you want the classic treat with a twist. Or get the laksa cookies that are adorably shaped like bunnies for a local spin. But our favourite has to be those chocolate sour plum cookies!
WellSmoocht, available online
7. Goodwood Park Hotel
The Lunar New Year tidbits from Goodwood Park Hotel are stunning. Mao Shan Wang kueh lapis, anyone? Or golden pineapple basque tarts topped with white chocolate? For us, we're kind of obsessed with the Bountiful Bunnies nian gao. Those adorable rabbits are made with steamed glutinous rice flour and coconut milk, then filled with black sesame paste for a treat that's sticky, chewy and delicious. For more auspicious goodies, try the Lucky Fortune Orange – it's a kumquat pound cake that "opens" up to reveal a core of chocolate coins and ingots. Totally impressive!
Goodwood Park Hotel, available online or at Min Jiang and The Deli
8. Da Paolo Gastronomia
Looking for something unique to put on your table of Chinese New Year snacks? Check out the butter cakes at Da Paolo. Take your pick from flavours like gula melaka, Italian pistachio, and cranberry orange. But we've got our eye on the White Rabbit bread. The fluffy sourdough milk loaf is made with citrus and grated carrots before it's topped with a White Rabbit candy glaze. We can't wait to get our hands on it!
Da Paolo Gastronomia, available online
9. SunnyHills
We can't get over the adorable designs at SunnyHills. The pineapple cakes are made with organically grown Taiwanese pineapples. This means they're free from pesticides, artificial ingredients, and preservatives. Get the assorted gift box for a little taste of everything! This includes sweet and tangy apple cakes, adorable banana waffle cookies in banana shapes, and ruby black tea to wash it all down.
SunnyHills, available online
10. Bee Cheng Hiang
Come Chinese New Year, you'll see snaking queues outside any bak kwa shop. Well, what's not to like? The iconic pork jerky, marinated with sugar and spices, and barbecued to perfection (charred edges and all), makes us go weak in the knees. Bee Cheng Hiang is one of the purveyors for this popular CNY snack. Try the chilli pork, as well as sliced beef and chicken bak kwa.
Bee Cheng Hiang, multiple locations including Jem and Raffles City Shopping Centre; also available online
11. Kele
You may have an idea of the origins of love letters thanks to its obvious name. In the past, ladies would write sweet nothings to their lovers in wafer-thin biscuits. Eating them would mean the message was taken to heart. And that's how the snack got its moniker. This light and crunchy treat made with eggs, flour and coconut milk is dangerously addictive. You'll find them rolled or folded in quarters but we prefer the former. Kele's premium love letters are charcoal-grilled to serve a crispy texture and fragrant aftertaste.
Kele, available online
12. Little Nonya's Cookies
The melt-in-your mouth kuih bangkit is typically made of tapioca flour, icing sugar, flour, egg yolks, coconut milk and pandan. It comes in many forms including popular flower shapes. Little Nonya's Cookies makes kueh bangkit using the traditional charcoal-baked method so you can enjoy authentic flavours right here.
Little Nonya's Cookies, #01-07, Icon @ Changi, 228 Changi Road, Singapore 419741; also available online
13. Gin Thye
Go to any Chinese household during Lunar New Year and you'll see tubs of prawn crackers waiting to be eaten. Once you open the seal, it's a done deal. Between conversations and games of mahjong or poker, these babies will be gone in a heartbeat. Gin Thye's golden prawn stick crackers are easy to find and never disappoint.
Gin Thye, available at multiple locations including NTUC outlets; also available online
14. Bread Garden
We just can't get enough of these little pops of flavour. Shrimp rolls are basically crispy mini rolls packed with hae bee hiam, dried shrimp filling with a touch of spice. They're fried to perfection so you get a crunch with every bite. The rolls are known to resemble gold bars which symbolise wealth. Try Bread Garden's version and you'll understand what the fuss is all about.
Bread Garden, multiple locations including Bukit Batok and Yishun; also available online
15. Mdm Ling's Bakery
What's a post-CNY meal snack without some cookies? And these aren't your usual chocolate chip ones. From traditional butter, cashew nut and almond cookies to recent offerings like peanut, hazelnut, purple sweet potato, green pea, red velvet and even kopi siew dai, you can count on Mdm Ling's Bakery for your fix.
Mdm Ling's Bakery, available online
Go ahead and stock up on your favourite Chinese New Year snacks in Singapore!