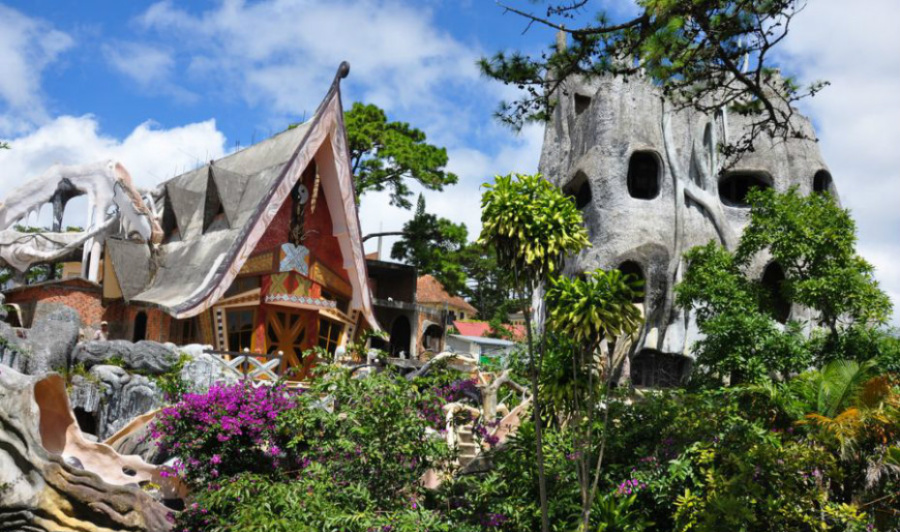 Dalat's Crazy House. Photo: Trans World Productions on Flickr
Want a short trip from Singapore with cheap accommodation? Save on your vacay with these budget boutique hotels in Vietnam, Myanmar, Thailand, Indonesia and more!
We're almost halfway into 2017, but there's still a bunch of long weekends left (yay!) for a short getaway from Singapore. On a budget? Then you'll find that this guide to Southeast Asia's coolest (read: non-cookie-cutter) and most affordable hotels will leave you some cash for the road. Forty winks under $150 in a secluded treehouse lodge, a beachside resort, or a colonial mansion? Sounds exactly like what we need.
Whimsical wonder: Crazy House, Dalat
Resembling a bizarre Gaudi-esque fairytale treehouse, this kooky hotel (pictured above) is a must-visit when travelling in Vietnam. The fantastical 10-bedroom guesthouse is an exploration of surrealism (Dr. Seuss, anyone?) with its cave-like staircases and hallways, uneven windows and hidden nooks. The bizarre, topsy-turvy hotel is also open to visitors during the day, but why not just spend a night here? After all, a night's stay starts from only $40.
Crazy House, 03 Huynh Thuc Khang Street,Ward 4,Dalat City 67000,Lam Dong, Trần Phú, Phường 4, tp. Đà Lạt, Lâm Đồng, Vietnam, p. +84 63 3822 070, e. [email protected]
Sense of seclusion: Permai Rainforest Resort, Borneo
An eco-resort nestled in the pristine rainforest of Borneo, this is the ultimate nature retreat for hardcore urbanites. With only 10 units (can we say exclusivity?), the Treehouses are built 20 feet above ground, placing you high within the forest canopy. Air-conditioned with ensuite bathrooms, the leafy abodes (from $115) will have you feeling like a whole new person as you wake to nothing but chirping birds and crashing waves.
Permai Rainforest Resort, Pantai Damai Santubong, Jalan Sultan Tengah, 93050 Kuching, Sarawak, Malaysia, p. +60 82 846467
Minimalist chic: Sekeping Hotel, Serendah
Situated in the sleepy town of Serendah (an hour away from the ever-hip Kuala Lumpur), this 10-shed (from $95) forest retreat is not for fussies. Intentionally sparse and barren with plenty of natural light, the hotel is a minimalist's dream space. The sheds' pristine white bedding, genius use of industrial items like netting, and exposed brick walls are also Instagram-worthy.
Sekeping Hotel, 67, Jln Tempinis Satu, Lucky Garden, Bangsar, Kuala Lumpur 59100, Malaysia, p. +012 324 6552, e. [email protected]
Spiritual serenity: Popa Mountain Resort, Myanmar
Perched on the volcanic peak of the lush legendary Popa Mountain is a cluster of tastefully designed chalets boasting traditional décor and modern amenities. Situated an hour away from Bagan, this eco resort is arguably Myanmar's most luxurious accommodation, with a natural spring water infinity pool, acclaimed restaurants and a full spa in its premises. But the main reason behind its rave reviews? The otherworldly views of the adjacent Popa Taung Kalat monastery and surrounding mountains from the pool and selected rooms.
Popa Mountain Resort, Mount Popa, Kyaukpadaung Township, Mandalay Division, Myanmar, e. [email protected]
Nautical dreamworld: The Imperial Boat House Beach Resort, Koh Samui
Been there, done that on the Samui scene? Check into this kitschy, nautical-themed resort and you're guaranteed a unique stay. Teak wood boat suites (from $97) – used as real rice barges on the Chao Praya River – flank the resort's vicinities and are now fully decked with private sundecks, sky-lit bathrooms and plush amenities. The resort's also filled with loads of Thai and international dining options and facilities (two swimming pools, a gym, spa and water sports), so guests never have to leave the resort.
Imperial Boat House Beach Resort, 83 Moo 5, Choeng Mon Beach, Bo Phut, Koh Samui, Surat Thani Bo Phut Koh Samui Surat Thani 84320, Thailand, e. [email protected]
Royal paradise: The Chateau Spa & Organic Wellness Resort
Okay, so this hotel is slightly over budget ($160 to $170++) but the extra dollars are worth it – especially if you've always wanted to live out your Kate Middleton fantasies. Forget your European castle bucket list for now; Malaysia has its very own opulent chateau and it looks just like the real deal. Nestled in Berjaya Hills, the award-winning resort is modelled after the 12th century medieval ' Haut Koenigsbourg' castle in Alsace, France. All 130 rooms are lavish, sumptuous sanctuaries of rich fabrics and 100% organic bed and bath linens. Facilities are no less impressive, with the adjoining La Santé's renowned spa and wellness centre, a massive 18-hole golf course, and indoor and outdoor sports adventures for adrenaline junkies.
The Chateau Spa & Organic Wellness Resort, KM48, Persimpangan Bertingkat, Lebuhraya Karak, 28750 Kampung Bukit Tinggi, Pahang, Malaysia, e. [email protected]
Lit dreams are made of this: The Alcove Library Hotel, Ho Chi Minh
Take your love for literature a little further with a visit to this charming hotel in Saigon. The (Instagrammed-to-death) lobby is enough to convince any book lover: grand floor-to-ceiling shelves sit adjacent from the main door, well-stocked with a huge variety of fiction and non-fiction books for guests to borrow anytime during their stay. Rooms (from $90) too exude similar charm – though on a smaller scale – with individual book themes, framed quotes and a matching copy. Fancy reading outdoors? Head to the courtyard of this colonial hotel or head up to the rooftop resto, which overlooks the peaceful precinct, for a quiet daytime read.
The Alcove Library Hotel, 133A Nguyen Dinh Chinh, Phu Nhuan District, HCMC, Vietnam, Ho Chi Minh City, Vietnam, e. [email protected]
Under the open sky: Bangkok Tree House, Bangkok
Smoggy air, traffic noise and busy streets are some of Bangkok's biggest traits –  it's fair to say that the Thai city's far from a green destination. But if you're desperately escaping the bustle, pack an overnight bag and head to Bangkok Tree House's cosy nests in the sky. Mid-priced (and comfortable) rooms include the three-storey Tree-Top Nests ($150), which features an open-air rooftop. But if you're raring for an adventure of sorts, literally sleep under the stars at The View with a Room or float on a bed in your very own River Nest (obviously not for the faint-hearted).
Bangkok Tree House, Bang namphueng, Moo 1, Samut Prakarn, Greater Bangkok, Bangkok, Thailand, e. [email protected]
Contemporary Indo: Kosenda Hotel, Jakarta
Set in the heart of Indonesia's busiest city, eight-storey Kosenda Hotel marries contemporary Scandinavian design with traditional Javanese motifs. Iconic Mad Men-esque mid-century furniture sit side by side with Indonesian artworks and a quirky range of collectibles from around the world. But the impressive design accents (did we mention the gorgeous herringbone-pattern floor in the lobby and eight storey feature wall?) aren't the only stars of the show here. Rooms (from $100) are relaxing escapes from the city's mayhem while the rooftop bar offers gorgeous views of the buzzing megalopolis.
Kosenda Hotel, Jalan Wahid Hasyim #127, Jakarta, Indonesia 10240, e. [email protected]
Pop art pad: The Henry Hotel, Cebu
Boutique hotels are a dime a dozen these days, so excuse us for spazzing out when we find one chock-full of personality. Located in the heart of Cebu city, each room (from $94) in this 38-room hotel is unique. Expect in-your-face colours, pop art, and tasteful, artistic touches in every corner. This super fun hotel is the only place in Cebu with an unconventional style. Now you know where to stay the next time you find yourself in this sprawling city.
Henry Hotel, One Paseo Compound, Ma Luisa Entrance Road, Banilad, Cebu City 6000, Philippines, p. + 63 32 520 8877
Private paradise: Telunas Beach Resort, Riau Islands
Only three hours away from Singapore via boat, this natural paradise is our nearest choice of escape from tourist hustle. Choose between the Deluxe Room ($75++) and the Beach Chalet ($115++). Built on stilts over startlingly clear blue-green waters, the latter even includes a hammock on the private balcony for you to kick back with a beer and sea breeze tickling your hair.
Telunas Beach Resort, Jalan Anggrek Luar #23, Baloi Persero, Kepulauan Riau 29442, Indonesia, p. +62 811 7710 951
Soak up the sun: Manta Dive, Gili Air
The secret is out: the Gili Islands are now the place to travel to when in Bali. Like its name suggests, Manta Dive at Gili Air is wildly popular for being a diving destination and we're not complaining: Imagine picture-perfect days of snorkeling alongside dozens of turtles while getting your tan on. The Sesak Bungalows (traditional Indo-style with open verandahs and snazzy bathrooms) start from $70. Oh, and did we mention – beers are only two bucks a pop? Sold.
Manta Dive Gili Air Resort, Desa Gili indah, Kab. Lombok Utara, Nusa Tenggara Bar. 83352, Indonesia, p.+62 813 3778 9047
Authentic Bali: Sanur Beach Villas, Bali
Bali's oldest upscale resort town doesn't receive enough credit – in its laidback neighbourhood are cool cafes, a fab beach and loads of activities to fill your time. Despite the district's many luxe hotels, Sanur does house affordable accommodation; Sanur Beach Villas is a great option for budget travellers. Besides its fab location on the southern end of Sanur Beach, two bedroom villas only range around $100++ a night. We highly recommend it if you're looking to experience Bali in alternative ways; the resort houses Bamboo Shoots Cooking School (where guests are taught to cook authentic Indonesian food) and offers cycling tours along Sanur's lesser known areas, including morning markets, rice fields and abandoned ghost towns.
Sanur Beach Villas, Jalan Tirta Empul No 2., Mertasari 80227, Indonesia, e. [email protected]
Idyllic Ibiza: IZE Seminyak, Seminyak
Located in Bali's hippest district, IZE Seminyak (from $130) is right smack in the middle of the best restaurants and nightlife, so you're as close as it gets to the pulse of the island.The plush rooms are great for crashing after the boozy nights out, but what we love most? The daybeds on the Rooftop Lounge and that sweet infinity pool almost feels Ibiza-esque.
IZE Seminyak, Jalan. Kayu Aya, Kabupaten Badung, Bali 80361, Indonesia, p. +62 361 8466999
Back to basic: Time Capsule Retreat, Pahang
Were you intrigued by the name? Us too. This quirky looking hotel (from $40) is pleasantly unconventional and almost otherworldly. Quiet and cosy, these air-conditioned tubes (unused sewer pipes actually) house a queen sized bed, lamp, plug sockets, and nothing else. So if you're up for a Thoreau-like vacation, this is for you. Don't worry – the town centre is only five minutes away in case you're wondering how far you'll be from civilisation.
Time Capsule Retreat, EB4 Belakang Sek Men, Sg. Lembing, Pahang, Malaysia, p. +60 13 963 8888
Chinoiserie chic: Shanghai Mansion, Bangkok
In sharp contrast with the gritty streets that make up Bangkok's Chinatown, Shanghai Mansion transports guests to China's glamorous bygone era from the first step through its elaborate doorway. 1930s Shanghai meets contemporary chic here. Art deco details and Chinoise style decor greet guests at every turn; rooms (from $80) are opulently decorated with vibrant silk cushions, Oriental poster beds, and rich hues while the in-house resto is reminiscent of Old Shanghai's hedonistic jazz age with striking patterns and plush linens.
Shanghai Mansion, 481 Yaowarat Rd, Samphanthawong, Bangkok 10100, Thailand, [email protected]
Languid Laos: Vieng Tara Villa, Laos
Three words: Location, location, location. Well-placed amongst the tranquil rice fields, Vieng Tara's traditional villas (from $60) may not be sumptuous luxe abodes, but they're cosy, and offer all your basic hotel needs (yes, including air-conditioning and Wi-Fi) with the bonus of outdoor balconies and dining areas. The prize here is the surrounds, so exhale and surrender to the beauty of sunset sights and jungle-covered mountains as you snooze on your private deck. Bonus: The villas are in extreme close proximity to activities like hot air ballooning, zipline and trekking.
Vieng Tara Villa, 111 Vang Vieng, 82995 Vientiane, Vang Vieng, Laos, [email protected]