Photography: Cempedak Island
Can't travel? No worries. Plan ahead with a gorgeous villa getaway to the lush Cempedak Island – we're giving away a two-night stay for two.
Imagine this: You're on an incredible private island, basking in sunny rays while surrounded by glittering blue waters, fluffy white sands and lush green foliage. There's peace and quiet in your own bamboo villa, and ample time for you to do a digital disconnect so you can reconnect with nature. Doesn't that sound amazing? For anyone who's been missing the joy of travel, don't be bummed out. We're giving away a fantastic two-night retreat to the gorgeous Cempedak Island off the coast of Bintan worth $900. That means when the borders open again, you'll already have your holiday plans sorted. Just enter our giveaway by 3 September 2021 for a chance to win!
Cempedak Island Giveaway 2021
Cempedak Island giveaway: Two-night mid-week stay at a pool villa for two worth $900 (available Mondays to Thursdays, excluding public holidays). Note: Meals and transfers are not included, and the prize will be valid for six months after borders reopen.
To enter the contest, you can either submit your email in the form below or follow @Honeycombers and @CempedakIsland on Instagram, and tag a friend in our giveaway post.
---
The ultimate vacation luxury
An exquisite private island resort off the east coast of Bintan, Cempedak Island is the sister to Nikoi Island. Fun fact: the island takes its name from the native Indonesian fruit tree, as it was famous for its quality cempedak.
It's all about sustainability and conservation, using locally sourced materials in its construction, employing locals and remaining committed to preserving its natural habitats. And with just 40 guests at any given time, the adults-only tropical haven gives you space to relax and rejuvenate. Here, you're encouraged to luxuriate in the beauty of nature for true tranquillity. We love!
With an eco-conscious eye to detail, Cempedak is built with sustainable materials. All its buildings are outfitted with bamboo and local alang alang grass for a modern and majestic look. Recycled teak, lava stone and petrified wood complete the elevated design.
Each of the 20 hand-crafted bamboo villas is made to give you the feeling of being cocooned within an island oasis. Swoon! We're talking about two storeys featuring a deck and plunge pool, and a magnificent bedroom that looks out on the ocean. Nothing beats that, really. Most of the villas are at sea level with a private garden and direct access to the beach, while hillside ones offer sweeping views of the Riau Archipelago.
The extraordinary experience
Once you've made yourself at home, explore the grounds and fuel up at the restaurant and bar. The beautifully-designed space features an interactive cocktail station and a treetop walkway that takes you to the main dining room. Of course, you'll enjoy ocean vistas while you tuck into local cuisine sourced from the island's own permaculture farm or local markets. Think fresh fish, locally grown fruit and veggies, and more. For sunset drinks, head to the infinity pool by the beach.
When you're not relaxing in your villa, work up a sweat with activities such as tennis, croquet, kayaking, sailing, windsurfing and diving. Or stroll around to find rare wildlife like small clawed otters, hawksbill turtles and silvered leaf monkeys.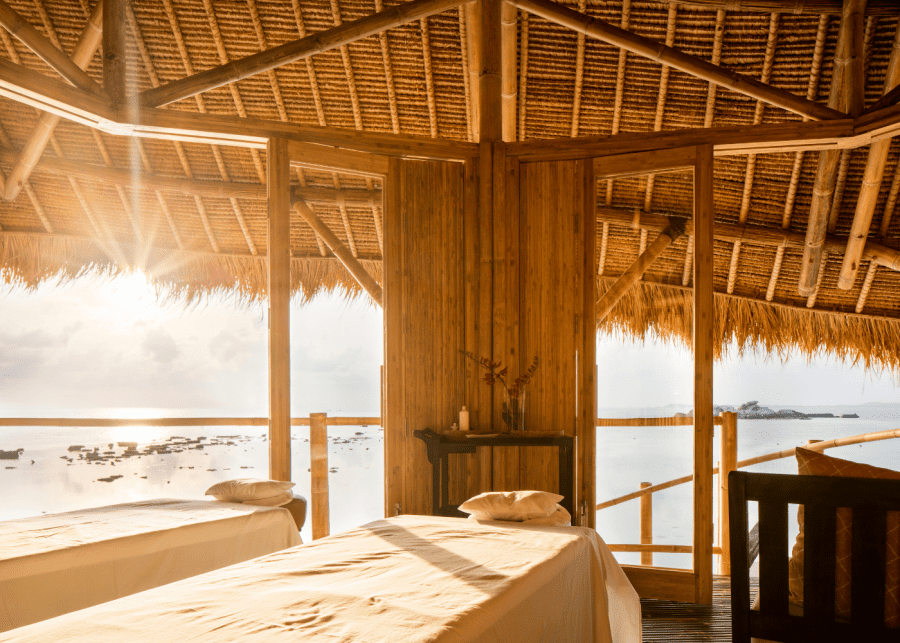 For a spot of indulgence, we say head to the Rock Spa. Sitting atop granite boulders with rooms looking out on the waters, the spa offers treatments that are inspired by traditional techniques and tailored to your preferences. Total bliss!
Ready for a much-needed vacation? Check in to Cempedak Island for a delightful time. Psst: It's a 55-minute ferry ride from Singapore to Bintan, followed by a one-hour drive and a 25-minute ride on a private speedboat.
The ins and outs of the giveaway: Competition closes on 3 September 2021, and winners will be notified by email. Winners need to be in Singapore to claim their prizes. All T&Cs will be at the discretion of vendors. This giveaway is non-refundable or exchangeable for cash. Check out our full competition terms and conditions for more details.
[Note: The giveaway has been extended till 3 Sept due to popularity.]
This post is in partnership with Cempedak Island.