Photography: Helena Lopes via Pexels
For days when you're working remotely or hunkering down for a study sesh, these work-friendly cafes in Singapore with free WiFi will come in handy.
WiFi is life. Even better when it's free. And provided at a nice, cosy cafe where you can sit and sip on coffee or tea while watching the world go by. Sure, you could go to neighbourhood libraries and chain franchises like Starbucks and McD's. But sometimes you just want a little quiet time. So if you're searching for that perfect, peaceful spot to get some work done, look no further. These are our picks for work-friendly cafes in Singapore that offer free WiFi. Go ahead and take a seat!
Best work-friendly cafes with free WiFi in Singapore
1. An Acai Affair
We won't gatekeep this work-friendly cafe at Bukit Timah because you deserve to know about it too! Besides the free WiFi, it's a quiet space where you can get your work (or study) done without any distractions. Bonus points for the pleasing aesthetics, which we absolutely adore. The only caveat is that there aren't any power points, so make sure your laptop is juiced up before heading over. Order an acai bowl, make yourself comfy, and get busy.
An Acai Affair, 617 Bukit Timah Road, Singapore 269718
2. Grids Coffee Bar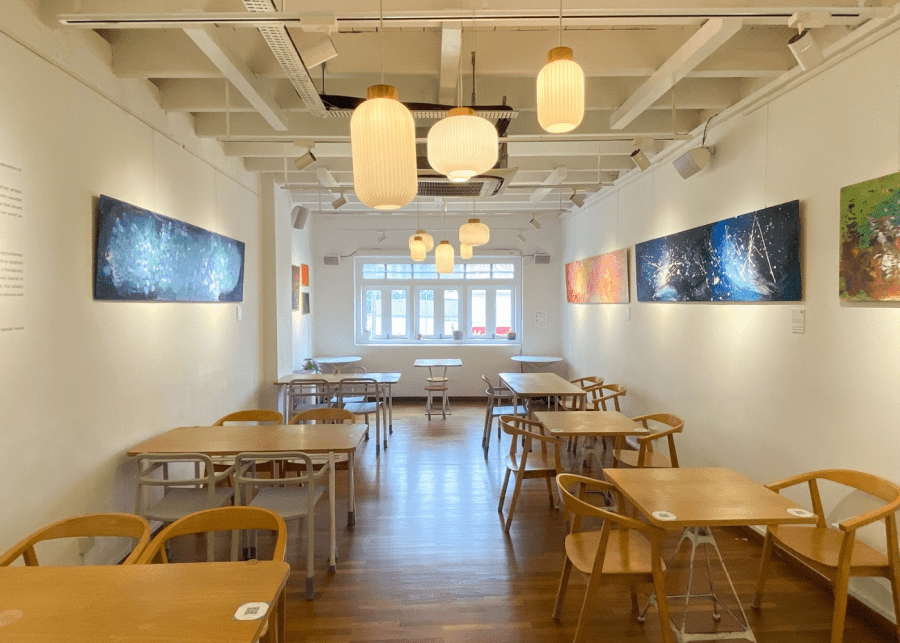 This minimalistic three-storey Japanese cafe is a perfectly quiet place in the city to spend a relaxing afternoon. Tucked away from the hubbub of Chinatown, it offers WiFi and a cosy place to get your work mode on. It also has a space for workshops, events and retail therapy. Before you start work, fuel up on Japanese grub and locally roasted artisanal coffee. One highlight? The Work@Grids programme allows you to spend a whole day working at your own pace for just $30.
Grids Coffee Bar, 200 South Bridge Road, Singapore 058749
3. Mellower Coffee
You'll know Mellower for its famed Sweet Little Rain creation. Which is a huge cloud of cotton candy hung above an Americano that dissolves with the steam. Mellower is a great place to get your caffeine fix. Those who'd like to linger can make full use of its free WiFi and power sockets to get some work done.
Mellower Coffee, multiple locations including Orchard and Bugis
4. Twenty Grammes
A minimalistic, industrial-chic space in Kampong Glam, this work-friendly cafe is known for its frosty gelato swirls, house-made waffles and cakes. Besides the added perk of free WiFi, you'll be high on a sugar rush from signatures like sea salt caramel ice cream with s'mores waffles and hojicha soft serve as you watch the cars outside roll on by.
Twenty Grammes, #01-01, 753 North Bridge Road, Singapore 198721
5. Dutch Colony Coffee Co.
Fast WiFi? Check. Exceptional coffee? Double check. Cool, work-friendly vibes? Yep, the joint's got it all, especially at its lovely Fusionopolis location. Beans from Colombia and Kenya are roasted in small batches to coax out the best flavours from each variety. So go ahead and get that espresso, cold brew or long black you like. Other drink alternatives include citrus chai spritzer and matcha latte. To curb those hunger pangs, nosh on rostis, sweet or savoury toasts, and sandwiches made with bagels or croissants.
Dutch Colony Coffee Co., multiple locations including #01-01, 1 Fusionopolis Way, Singapore 138632
6. Group Therapy
We're big fans of Group Therapy's little nooks where you'll be tucked away from the bustle of the CBD without having to venture too far from civilisation. Pop by on weekdays to avoid the brunch crowd and pick a table close to the window for natural light as you scarf down pasta, waffles, acai bowls, egg dishes and house-made cakes. If you're in need of a wake-up call, the menu's got you covered with espresso, cappuccino and piccolo latte, along with hot chocolate, matcha latte and chai latte.
Group Therapy, multiple locations including #01-05 & #K1-04, 181 South Bridge Road, Singapore 058743
7. The Book Cafe
If ever you need a home away from home to snuggle up with a book, this place provides plush sofas and shelves full of great titles. Those with laptops can also find power points and free WiFi access to get connected while you munch your way through all-day brekkie plates, sandwiches, pasta and desserts.
The Book Cafe, #01-02, Seng Kee Building, Robertson Quay, 20 Martin Road, Singapore 239070
8. The Providore
The well-known brunch hangout is great for breakfast gatherings, lunches over sandwiches and pasta, and afternoon tea nibbles with cheese platters and desserts. If you're keen to get connected to the WiFi while you're there, it's easily accessed, too. Just a few clicks, and you'll be surfing while sipping on your spiced chai latte.
The Providore, multiple locations including #02-05, Mandarin Gallery, 333A Orchard Road, Singapore 238897
9. The Coffee Academics
For a roastery from Hong Kong that's serious about its coffee, this spot also serves good grub in the form of all-day brekkie, salads, pasta and acai bowls. For an eggy brunch, get the generous Academics Breakfast with sausages, baked beans, halloumi cheese and more. But if you like extra coffee with your coffee, try the Academics Coffee Churros dusted in coffee cinnamon sugar. The brand's flagship is a quiet, light-filled space at Scotts Square, but you can also head to its busier locations in the CBD to get work done there.
The Coffee Academics, multiple locations including Millenia Walk and Raffles City Shopping Centre
10. Komyuniti
A social space to eat, drink and be merry, Komyuniti is also great for its super-speed WiFi and numerous charging ports. No surprise, since it sits on the 10th floor of tech-savvy hotel Yotel. Since it's not really a cafe, you won't get your usual eggs benny or waffles. Instead, you'll be treated to flavourful plates of teriyaki chicken rice, carbonara, mini sliders and duck fat fries. All of these can be washed down with coffees and organic teas, or you can start happy hour early with the cocktail concoctions.
Komyuniti, Level 10, Yotel Singapore, 366 Orchard Road, Singapore 238904
11. Kith
Chill out and tuck into the mouth-watering selection of breakfast dishes, pasta and pastries while you let your little tots loose so you can gain valuable time to check those work emails. With large outdoor seating areas and play corners for kids, this is every family's ideal spot for lazy weekend brunches and post-playdate pick-me-ups.
Kith, multiple locations including #01-44/45, Millenia Walk, 9 Raffles Boulevard, Singapore 039596
12. Jewel Coffee
A specialty coffee spot with outlets across the island, Jewel serves a rotation of single-origin espressos that you can pair with sandwiches and pastries for a light bite. Its Claymore branch is probably your best bet, with ample lighting and power plugs provided in its spacious unit.
Jewel Coffee, multiple locations including #01-01, Claymore Connect, 442 Orchard Road, Singapore 238879
13. Penny University
On the hunt for work-friendly cafes with free WiFi? This quaint coffeehouse in Bugis is perpetually crowded during the weekend – and with good reason. We can't get enough of its amazing selection of desserts! Grab a slice, an espresso, and settle down for an afternoon.
Penny University, 17 Jalan Klapa, Singapore 199329
14. Dal.Komm Coffee
Famous for its appearance in popular Korean dramas like Goblin and Descendants of The Sun, this K-cafe's Centrepoint outlet is a spacious, quiet one with ample leather couches, multiple power plugs and WiFi available with any purchase. Try the caffe latte or caramel macchiato, or go for non-coffee varieties like sweet potato latte and royal milk tea. If you're thinking of indulging, order a bingsu for yourself (they're generously portioned!) in flavours such as red bean, mango and cherry tomato.
Dal.Komm Coffee, multiple locations including Funan and Marina Square
15. Toby's Estate
This one's a no-brainer. Toby's Estate receives brownie points for getting everything right. Killer gourmet coffees, delish brunches, stellar views of the river, and to cap it all off – free WiFi! Don't forget to pick up a packet of the signature coffee beans to recreate a bit of java magic back home.
Toby's Estate, 8 Rodyk Street, Singapore 238216
16. Soul Brew
If you're in the Little India 'hood, park yourself at Soul Brew for a work-friendly lounge. Located within Holiday Inn Singapore Little India's lobby (find it directly above Farrer Park MRT Exit A), this cafe is a cosy hideout to get work done with free WiFi. Pop by with your pals for a discussion or meeting at the communal table, or find a cushy seat for a quiet space to work.
Fuel up with salads, mains like beef burger or the classic club sandwich, or bites like fries and popcorn chicken. Pair your meal with homemade cold-pressed juices made with superfood ingredients: we'd suggest 'Beat the Heat', a mix of orange, beetroot, carrot and pineapple. Feeling sleepy? Perk yourself up with coffee or tea.
Soul Brew, 10 Farrer Park Station Road, Floor 1, Holiday Inn Singapore Little India, Singapore 217564
Bookmark this list for the next time you need a work-friendly cafe with free WiFi in Singapore!