Nosh (via Facebook)
Checked out the cafes in Buona Vista yet? Here are 11 you need to check out
We know, we know. Buona Vista is a little far out if you don't reside in the West, but this part of Singapore happens to be a budding little dining enclave, and here it's all about the java and hearty cafe-bistro bites. Here are the top 10 spots for all you cafe-hoppers.
Nosh
Tucked within the lush greens of Rochester Park, this café is a great place for after-work drinks, hearty brunches and simply escaping the hustle and bustle of the city. Wine and dine at its alfresco deck known as the Greenhouse, or at its family-friendly space on the first floor called the Noshery. Tempt your taste buds with its classic cold brew or a special cookie milk cold brew for something refreshing, and pair it with a brunch-time fave: buttermilk biscuits served with honey butter.
Nosh, 9 Rochester Park, Singapore 139220, p. 9755 5015. Noshery, Open Wed-Fri 11.30am-10.30pm, Sat-Sun 10.30am-10.30pm. Greenhouse, Wed-Sun 6pm-10.30pm, Sat-Sun 10.30am-3pm.
Jimmy Monkey Cafe & Bar
These guys were one of the first to set up shop in the area. The Australian-style hangout is mostly known for their brunch items such as French toast and eggs benedict, but many coffee aficionados make the journey to try blends made with their legendary Slayer espresso machine – a rather elusive piece of equipment in the industry.
Jimmy Monkey Cafe & Bar, #01-51 One-North Residences, 9 One-North Gateway, Singapore 138643, p. 6777 8470. Open 7am-6pm daily.
Curbside Cafe & Wine Bar
The small, tightly curated menu is great for the indecisive. It currently has three caffeine options, and they're all made using beans from Yahava Koffeeworks. Eggs and toast, cod fish and chips, mac and cheese, truffle fries, red velvet cheesecake brownie (a must-try) are some of the items to choose from. Owner Samantha Koh has indicated the menu will be expanding very soon, so don't fret if you've already tried them all.
Curbside Cafe & Wine Bar, #01-21 Nucleos, 21 Biopolis Road, Singapore 138567, p. 8181 1805. Open Mon-Fri 8am-3pm.
Bodacious Bar & Bistro
Their big, bold, Western-European bites have been drawing crowds from all across the island. Wagyu beef stew topped with mash, steak and fries, prawn pasta in crab bisque, and duck confit are just some of the ambitious creations you can find on the menu. Oddly enough, they're closed on Sundays so keep this in mind when planning your visit.
Bodacious Bar & Bistro, 70 Biopolis Street, Singapore 138547, p. 6778 9585. Open Sat-Tue 11am-10pm, Wed-Fri 11am-11pm. Closed on Sun.
The Lawn Salad & Grill Cafe
Don't want to miss out on the cafe-hopping fun, but watching your diet closely? Have your cake and eat it too at The Lawn, a health-conscious salad stop where you can customise your green bowl with an array of toppings and grilled meats. We're not talking plain steak cubes and grilled chicken, by the way – chow down on items like maple-infused chicken breast and chargrilled prawns.
The Lawn Salad & Grill Cafe, #01-07 Nanos, 31 Biopolis Way, Singapore 138669, p. 6478 9739. Open Mon-Fri 10.30am-9pm, Sun 4.30pm-10pm. Closed on Sat.
Arkadas Cafe
Had enough of the eggs and coffee combo? Pop by this Turkish joint for more exotic flavours. Tuck into authentic creations like hummus with pita bread, chicken kebab, and other familiar-sounding items like baklava and créme caramel. For your caffeine fix, there's some good ol' Turkish coffee and tea to be had.
Arkadas Cafe,#01-02, Sandcrawler, 1 Fusionopolis Way, Singapore 138632, p. 6466 9918. Open 11am-10pm daily.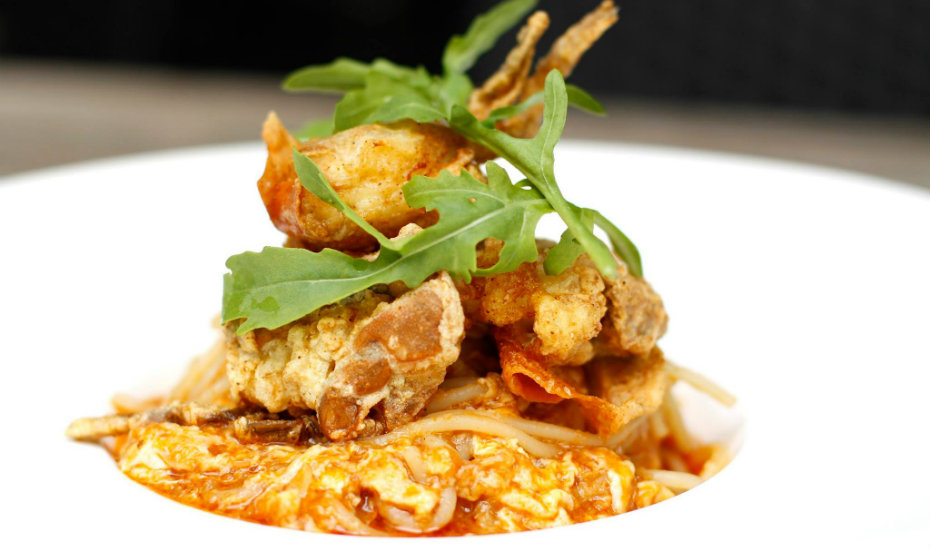 Long Black Cafe
There's a little bit of everything here at Long Black Cafe. Their lunch specials are ever changing, and with stuff like a pork tonkatsu sandwich, tandoori lamb chop and quesadillas, there's a good mix of cuisine types to try. Drink-wise, their coffee blends hail from Brazil, India, Ethiopia and Guatemala, If you prefer your liquids spiked, there's a small range of cocktails to throw back. You should know, though, they're only open on weekdays.
Long Black Cafe, #01-02 Centros, 20 Biopolis Way, Singapore 138668, p. 6478 9945. Open Mon-Fri 8am-8pm. Closed on weekends.
Revolution Coffee
Owner Ajie Pramana was so obsessed with coffee that he left the art industry in New York to pursue his passion for blends and beans. That being said, you can be sure your brewed cuppa will be a pretty solid one, as Ajie uses Sydney's famed Single Origin Roasters' Reservoir Blend here. For the grub, he has brought in Shen Tan (formerly from Ujong and Wok & Barrel) to help conceptualise a delishly tempting menu. Try the pancakes with gula melaka butterscotch or the bacon pasta littered with cured fatty pork for a tempting treat.
Revolution Coffee, #01-03A Infinite Studios, 21 Media Circle, Singapore 138562, p. 6777 2110. Open 9am-6pm daily.
Paddy Hills
Aussie-inspired café by day and tapas bar by night, Paddy Hills finds itself hidden away from the crowd to let diners relax and enjoy its menu comfortably. Order its best-selling berry ricotta hotcakes served with maple syrup, and coffee which is hand-brewed with Tiong Hoe specialty coffee beans. Plus, catch the barista in action as he creates a concoction of drinks at the bar, planted in the middle of the café.
Paddy Hills, 38 South Buona Vista Road, Singapore 118164, p. 6479 0800. Open Mon-Fri 10.30am-9.30pm, Sat-Sun 9am-9.30pm.
Pies and Coffee
Pie-lovers, rejoice! Satisfy your craving for buttery pastries and savoury fillings at Pies & Coffee. Don't expect any stale or mediocre renditions – pies here are fresh from the oven and made with the finest ingredients. Have it as a takeaway if you're on the go, or settle on a comfy seat and indulge in a chicken cheddar pie or save your sweet tooth for a sticky date cake. Wash it down with a cuppa made with carefully selected coffee blends.
Pies & Coffee, #01-02, 35 Rochester, Singapore 138639, p. 6570 0080. Open Sun-Thu 9am-10pm, Fri-Sat 9am-11pm.
Tête-à-Tête Café
Craving for modern European cuisine? Tête-à-Tête Café's your best bet. Choose between light and more substantial three-course meals, where you can pair a sweet pastry with your favourite tea or enjoy an evening degustation with a glass of wine. If you're just looking for a cuppa to perk you up, try the avocado coffee. With its tall glass windows and spacious interior, Tête-à-Tête Café replicates an alfresco dining experience… indoors.
Tête-à-Tête Café, #01-01, Nucleos Building, 21 Biopolis Road, Singapore , p. 6397 4268. Open Mon-Wed 8am-6pm, Thu 8am-8pm, Fri 9am-8pm.