Candy-coloured houses at Gamcheon Culture Village. Photography: Amelia Ang
Visit this coastal city for skywalk views, quaint cafes, traditional eats and a dose of history…
Our travel guides have taken you from Kiroro for a ski adventure to Luang Prabang for a slice of Thai culture. Now, let's go on a journey to South Korea. No, we're not talking about the obvious destination of Seoul, but the coastal town in the south that's filled with colour and sunshine. Check out our Busan travel guide for all you need to know…
Busan travel guide: See and eat
Gamcheon Culture Village
Right on, Busan. We're digging these candy-coloured houses perched atop a hill – and we can't help thinking this is Asia's answer to Santorini or Positano. That said, can you believe this place used to be a slum?
Long gone are the flimsy shantis and lack of convenient plumbing (back in the day, residents had to rely on public toilets as there were none in their homes). A fresh coat of pastel paint and converting a smattering of houses into cafes and shops was the key to tourism gold, it seems.
We can only hope that these tourist dollars trickle down to benefit the original residents of this former slum. Still, it's thought-provoking (and somewhat inspiring) to learn about the village's life-altering revival.
Gamcheon Culture Village, 203, Gamnae 2-ro, Saha-gu, Busan, South Korea
Pro tip: Ditch the streets and nip into Cafe Avant Garde for a panoramic view of the village, sans the crowd. The cafe does a mean cup of iced chocolate or coffee too. Oh, and according to a local, you're gonna want to use the cafe's toilet instead of visiting the public ones outside…
Cafe Avant Garde, 10-3 2F, Gamcheon 2(i)-dong, 10-3 2F, Saha-gu, Busan, South Korea
Gunamro
This street runs through two rows of buildings starting from Haeundae metro station and leads up to Haeundae Beach. Off the main street with coffee houses and convenience stores, the Haeundae Market is where you can go grocery shopping like a local, or stuff your face with traditional street food.
If our bursting camera roll is any indication, we thoroughly enjoyed capturing the sights of this local hangout. They might not fit with the style of minimal Instagram photos that we're all legally bound by these days, but there's something charming about the scenes of colourful baskets interweaved with dried or raw seafood in fifty shades of brown. And of course, we couldn't leave without snapping pictures of the vibrant fruit stalls. Scroll away for a mini photo essay.
Haeundae Market, 8-1 Gunam-ro 41beon-gil, Jung-dong, Haeundae, Busan, South Korea
Haeundae Beach
Once you're done eating as many kimbaps and fish cake skewers as humanly possible, we recommend walking it off at Haeundae Beach like we did. The gorgeous shoreline also plays host to the Sand Festival every summer, which sees beach-goers indulging in hot sand baths and competing in various beach sport contests.
Still feeling full? We reckon a trek to Dongbaek Island will do you good. To the far right of the beach is a walking trail leading to a vantage point, which promises beautiful views of the entire beach, a lighthouse observatory, and a mermaid on the rocks.
This mermaid is the Princess Hwangok Statue, conveying her sorrows of missing home after marrying the ruler of a different kingdom. After the original bronze mermaid was swept away by Typhoon Selma (the remains are housed in the Busan Museum), this replica now stands – or sits – in her place.
Haeundae Beach, 264 Haeundaehaebyeon-ro, Jung 1(il)-dong, Haeundae, Busan, South Korea
Nampodong
The Nampodong area is home to both the Gukje Market and BIFF Square. Let's begin with the former, also known as the International Market. Here's the backstory: during the Korean War, many refugees took to selling the supplies they received from the UN in order to earn their keep. They set up shop at this market selling household goods, lights, clothes and other items from around the world, hence the name.
Gukje Market, 25 Gukjesijang 2-gil, Gwangbok-dong, Jung-gu, Busan, South Korea
A short walk away, slurp down a bowl of noodle soup right next to where you bought your new socks. BIFF Square has a fascinating mix of street stalls with friendly locals hawking their wares, while the buildings that run parallel to the streets house cafes, restaurants, and local boutiques.
And yes, by 'BIFF' we mean the one and only Busan International Film Festival – this area is known as Busan's cinema district where the festival originated (and used to be held).
How can you resist street food when you get to smell and watch the vendors whip up these bites as you pass by? We certainly couldn't. Traditional Korean eats were calling out to us at multiple street corners, so we caved and had our fill of tteobokki (spicy rice cakes) and soondae (blood sausages) before continuing our exploration.
Must-tries: the piping hot gaeran bbang (egg bread with bacon) and hotteok (Korean sweet pancakes that are filled with nuts and honey) get top votes from us for being comforting flavours that we're sure will be a hit with any crew.
The octopus coated in peanut butter was an interesting find (this combination appears to be a local fave – we found convenience store chips in this flavour too), as was the fried milk cubes (which reminded us of leche fritas). We were also pleasantly surprised to find a Turkish ice cream spot with a jolly vendor teasing the crowd.
BIFF Square, 4, Nampo-gil, Jung-gu, Busan, South Korea
Haeridan-gil
This is Haeundae's hipster cafe street, if you will. We found plenty of cafes decked out in sprightly hues that were just begging to be photographed. In particular, Salon Chaconne caught our attention as live classical music was being played when we walked past.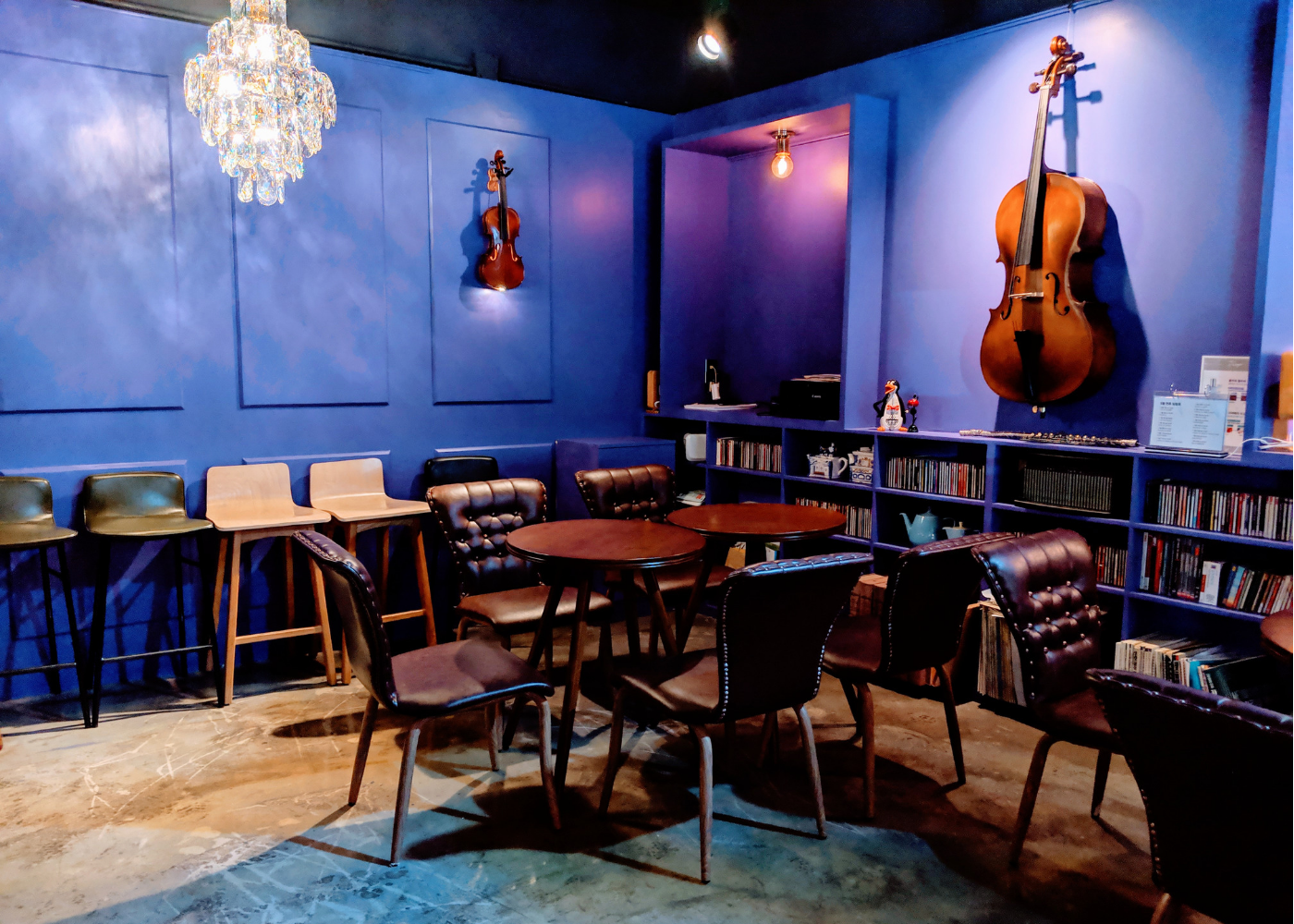 It turns out that this is a classical music cafe (the owner is a professional violinist herself), and there was a trio rehearsing for their live performances, happening every Wednesday, Saturday and Sunday at the cafe.
If not for the music, drop by for the photo ops and cheese-shaped cheesecake, we say.
Haeridan-gil, 533-1 U-dong, Haeundae, Busan, South Korea
Taejongdae Park
Trek up Taejongdae or hop aboard the Danubi train to reach the Yeongdo lighthouse. We opted for the latter because how can you say no to a cute ride? Fair warning though: it can only take you so far – you'll still have to take multiple flights of stairs for a closer peek at this towering structure.
The park was named after King Taejong, the ruler of the Shilla Kingdom during the last millennium. It's also famed for what locals dubbed the Candlelight Cliff, where paleontologists are said to have found dinosaur footprints!
Taejongdae, 24 Jeonmang-ro, Dongsam-dong, Yeongdo-gu, Busan, South Korea
Songdo
Speaking of dinosaurs, we found ourselves in the middle of Jurassic World at the Songdo Sky Park – there are about ten different dinos there, by our estimates. To get there, trek along the coastal walk from Songdo Beach or take the Busan Air Cruise (read: cable car) up. Other highlights include an observation deck, rooftop garden, a VR sky swing, and a cable car museum. Oh, and while you're cruising in the air, try to spot the Songdo Convention Center in the distance which looks like a replica of the Sydney Opera House.
Busan Air Cruise, 124-2 Amnam-dong, Seo-gu, Busan, South Korea
Back on the ground, we headed straight for Songdo beach for the Songdo Cloud Trails, a walkway which extends over the ocean. Be there around dusk for sunset views of the coast with the cable cars overhead. Don't expect to be up in the clouds though – the trails are just a little slightly elevated from the waters and nothing to worry about even if you're afraid of heights.
Songdo Beach, 50, Songdohaebyeon-ro, Seo-gu, Busan, South Korea
Cheongsapo
Now for a skywalk that's more true to its name, the Daritol Skywalk Observatory at Cheongsapo offered us a stunning view of the ocean and the surrounding cliffs. Glass panels on the floor gave us a look at the glistening waters from 20 metres high, as well as a glimpse of some locals fishing from the rocks (a local pastime, we were told).
Daritol Skywalk Observatory, San 3-9, Jung-dong, Haeundae-gu, Busan, South Korea
Right by the skywalk is an abandoned railway track. We walked to the end and went down a road to spot Cheonsapo's red and white lighthouses in the distance. Two bridges took us to these beacons of light for a closer snap that we're sure will end up on our Instagram feeds.
Jagal Madang
This humble eatery is located within the Jagalchi Market. The name 'Jagal Madang' loosely translates to 'pebble yard', named after the area's history of being a pebbled beach. Fittingly, this local joint features a pebbled floor in place of the usual concrete, and serves up freshly grilled fish from the nearby waters.
For the adventurous, add a plate of sannakji (live octopus) to your order. We gave it a go and are happy to report that the octopus was easy to eat, with a mild flavour and no fishy taste. (Ditto about the squirming on the plate.) Best eaten with the local liquor of choice, somaek, a concoction that's one part soju and two parts maekju (beer).
Jagal Madang, 22, 6-ga, Nampodong, Junggu, Busan, South Korea
Matchandeul Wang Sogeumgui
The perfect bite involves balancing a leaf of washed kimchi, strips of pickled radish and watercress, a piece of grilled pork and some soybean paste on a spoon. Or, put that all in a lettuce leaf to make a wrap. Not great at handling the grill? The waiters will happily do all the work for you.
Matchandeul Wang Sogeumgui, Nampo, 34 Nampo-gil, Nampo-dong, Juggu, Busan, South Korea
Daegyemanchan
It's sashimi, sushi and steamed crab galore over here. The crab was the highlight, hands down. It was so tasty that we could eat it on its own, no sauces needed – which checks out considering the name of this restaurant translates to 'big crab banquet'.
Daegyemanchan, The East in Busan building, Gijang-gun, Gijang-eup, Gijanghaean-ro, Busan, South Korea
Busan travel guide: Stay
Hilton Busan
Can we take a moment to appreciate this aesthetic? We were floored by the beautiful architecture and design at the sprawling compounds of Hilton Busan. Lounge at the library and bar, take a dip in the infinity pool with ocean views, or just hole up in your room and Instagram from your bathtub like one of our crew… take it from us, you'll be greeted with a luxurious experience whichever you choose to do.
And if you want to snag a room, definitely book in advance – this hotel's popularity has been skyrocketing since the filming of the drama 'The Bride of Habaek' on its premises. Fans of this K-drama, get your proof shots, stat.
Hilton Busan, 268-32 Gijanghaean-ro, Gijang-eup, Gijang, Busan, South Korea
Busan travel guide: Fly
SilkAir's direct flight to Busan
Say goodbye to transfers! SilkAir has recently launched their direct flights to Busan which gets you straight to Busan International Airport in a little under six hours. Hop on, take a nice nap, have an in-flight spread, and you'll be there in no time.
This trip was courtesy of SilkAir.