Hotel Soloha is a beaut and we have all the photos. Photography: Amelia Ang
Calling all tropical obsessives: Hotel Soloha is a boutique stay after our colour-loving hearts!
Aloha, Hotel Soloha! It's only been a visit and we love your decor to bits already *heart eyes*… Let's walk you through this swoon-worthy space with all the pictures you need to see.
Don't be fooled by its white and blue facade, Keong Saik's latest boutique stay hides an explosion of colour within. Upon entering, you can't miss the gorgeous pop art mural by Ethrisha Liaw (pictured top) – your first introduction to this hotel's tropical jungle aesthetic.
Welcome to the wild side
Each floor has a specific colour palette and a neon animal mascot (from the snail on the first floor to the gecko on the fourth), making every level of the hotel its own quirky themed space.
You know that Hotel Soloha is serious about its decor then they're staying true to the theme right down to the carpets on each floor. These vibrant pieces are specially designed by homegrown design firm Tripple and custom-made in Denmark, before being fitted to the ground under your feet.
Taking the elevator is an experience in itself. Look behind you: see the mural through the glass panels? This 13-metre-tall painting (aptly titled 'Spirit of the Forest') takes you through a mystical tropical landscape as you head up to your room, thanks to artist Danielle Tay. This piece gives a nod to the spirit of curiosity and adventure that are at play during our travels – whether it's through a forest or another city.
Cosy up to this stay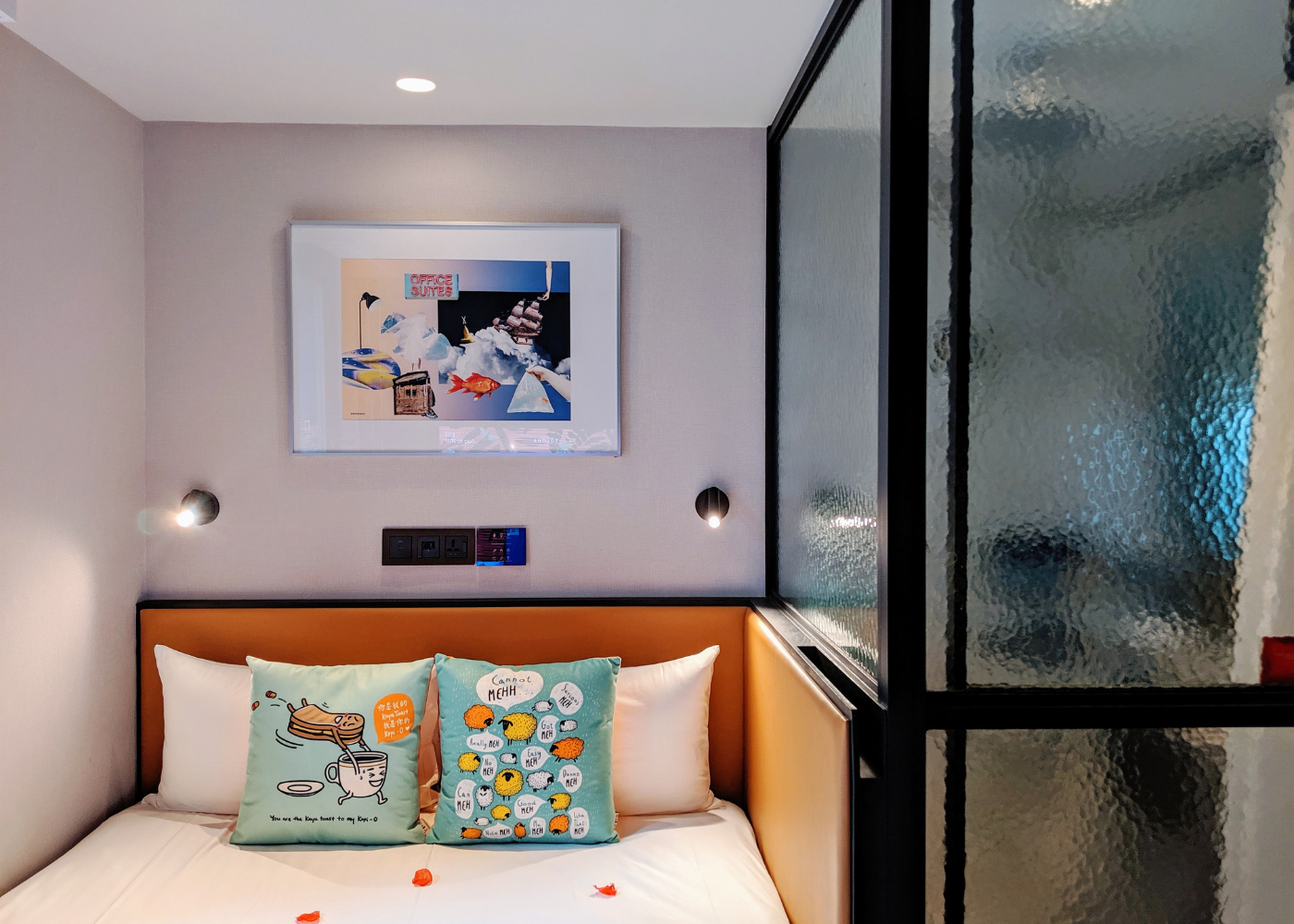 Now, onto the rooms. These compact spaces are outfitted with all the mod-cons you'd expect from a cosy boutique stay, alongside mood lighting and smart TVs – yes, you can log in to your Netflix or YouTube account here!
We recommend the Outdoor Suite for the most spacious stay, which even comes with an outdoor bathtub for some toe-dipping or star-gazing action.
Full disclosure: the location puts it in pretty clear view of the surrounding shophouses so it's best to keep something on. That said, we'd totally hop in for a swimsuit-clad soak with a glass of wine, a good book, and a bath bomb thrown in for good measure.
And did we mention that the Outdoor Suite gives you access to a beautiful courtyard? Open your door to this gorgeous space every morning, guaranteed to give you all the vacay feels even if you're only here for a weekend staycay.
Double duty spaces fit for your Instagram
Housed in a heritage shophouse, the team behind Hotel Soloha has smartly utilised the spaces to their fullest, while keeping to their gorgeously curated aesthetic (no, we're still not done talking about how photogenic this place is).
Back on the ground floor, the Wes Anderson-inspired Social Space sees terrazzo tables, vinyl records, and velvet sofas dressing up the lounge.
We were particularly taken by the feature wall (TBH, every wall is a feature wall in this hotel) that was pinned with Polaroids. But let's get on with your food options: this is also where the resident ramen joint Takeshi Noodle Bar is, which also doubles as your morning hang for a spot of breakfast and coffee.
A few steps away, the reception doubles as a bar counter where you can get a boozy pour without having to leave the hotel. (Though, if you're heading out, our Keong Saik guide has all the cool spots to hit up in the 'hood!)
And there's more to discover within this converted shophouse space – this hotel has also found space on the ground floor to include a table tennis corner (right behind the bar) and a feature wall (beside the bar) that has traditional medicine cabinets with homeware and accessories from Eden + Ellie on display. Impressed yet?
We'll leave you with one last tidbit: the name of the hotel is a combination of the words 'so' and 'aloha', with the latter representing more than just a greeting but also the carefree, islandic Hawaiian way of life. For a space that harmoniously meshes tropical elements with urban design in the spirit of adventure, we say Hotel Soloha lives up to its name.
Hotel Soloha, 12 Teck Lim Rd, Singapore 088387