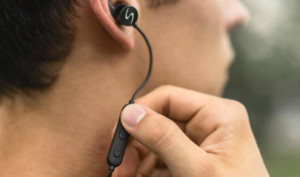 Photography by Senso via Facebook
No strings attached — it's time to go wireless when it comes to listening to music.
We live in the wireless age where some new mobile phones don't even come with a earphone jack anymore, wireless internet is king and good quality portable speakers are in demand in Singapore. Besides, who wants to be messing with a headphone cable or spend 10 minutes to untangle cables during your commute? Stay with the times; a wireless, Bluetooth-enabled headset is exactly what you need, whether you're an audiophile or simply a music lover on-the-go. Cables are so 2016.
SENSO ActivBuds S-250
Solidly built and simply designed, these sporty earphones are comfortable to wear and certainly don't skimp on sound quality. The ActivBuds deliver true Hi-Fi sound complete with clear treble and booming bass. You'll also get a solid eight hours of battery life to last you a full day of listening, whether you're on the train, running laps or rocking out.
Get them online from Lazada or Ubuy.
Beats Solo3 Wireless
Like the Powerbeats3, the Beats Solo3 Wireless is also fitted with the new W1 chip which makes pairing (especially with other Apple products) super seamless. It is also a well-built wireless headphone that sounds good in both wireless and wired modes, and is relatively comfortable to wear as compared to other  on-ear headphones. Its battery life is best-in-class (40 hours) and has a remote control built-in to the right earcup that's easy to operate by feel.
Get them at any Apple Store, Stereo, or here.
Onkyo W800BT
It may not be the best looking on the list and the Onkyo W800BT doesn't have that many features, but for basic wireless earbuds, it sure does its job well. The Onkyos favour a clear and open sound, allowing music to breathe and more detail to filter through. It's a clean soundstage that sounds uncluttered.
Get them from Lazada, Headphones SG, Jaben.
Beats Powerbeats 3
The recent version of the the Beats Powerbeats3 Wireless offers better fit, outstanding sound for a Bluetooth sports headphone, and strong battery life (12 hours), thanks to Apple's W1 chip. Its pairing technology is one of the best out there – it's near automatic for iOS users and it also works fast with Android phones.
Get them at any Apple Store, Harvey Norman, or here.
JBL Under Armour wireless
It seems like the perfect match: JBL is known for quality sound at affordable prices and Under Armour is one of the biggest brands in the fitness world. Engineered for sports use, the earphones fit great and is also sweatproof so you don't have to worry about it slipping off your ears mid-jog.
Get them at Harvey Norman and all JBL retailers.
Jabra Move Wireless
These headphones may look and feel like a budget buy, but don't let that fool you. This set of on-ear Bluetooth headphones is nothing but an all-round stellar product. From the fun and edgy design to excellent sound quality (it's as good as many luxury Bluetooth headphones), these cans come recommended for anyone interested in wireless headphones without breaking the bank
Get them at Jabra retailers, Lazada, Headphones SG, and Harvey Norman.