The night is still young, so head out!
Can't sleep? Venture out for late-night eats, attractions, shopping, arcade fun, spa treatments, and even a spot of exercise.
New York may be the city that never sleeps but we believe Singapore comes pretty close. Our home is a great city for night owls and insomniacs. For starters, we have one of the lowest crime rates in the world, which makes late-night walks totally safe. We might take it for granted sometimes but it's awesome that many shopping malls open till 10pm (and we can all name at least one 24-hour eatery or supper spot in our 'hood). There's also a plethora of fun things to do at night while most of Singapore snoozes. Bookmark this nifty list for an awesome night jaunt around our Lion City!
Best things to do in Singapore at night
1. Shoot some pins and bowl a strike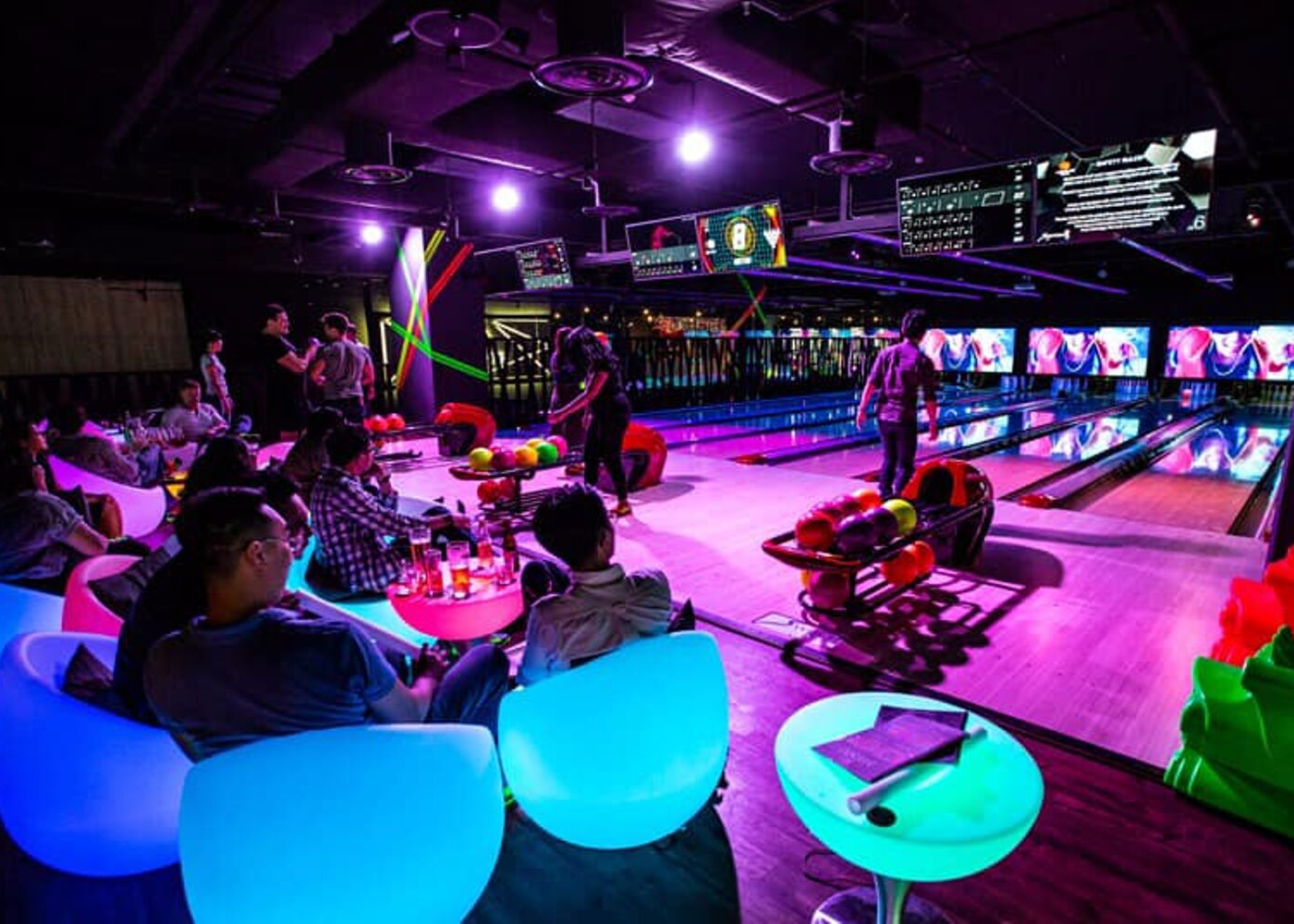 Professional or not, bowling is a fun activity for all age groups – even better if you'd rather skip a noisy, crowded club for a low-key alternative. But don't expect things to be chill though. The game can get pretty competitive. Many locations such as Orchid Bowl, Planet Bowl, K Bowling Club and SuperBowl are open till late!
2. Feel like a kid again at the arcade
Get into the competitive spirit and win big (we're talking buckets of tickets) at old school arcades. Cow Play Cow Moo at Suntec City stays open till 1am and has claw machines with adorable plushies and games you'll find at a carnival. No doubt, you can expect oodles of fun times right here.
Cow Play Cow Moo, multiple locations including Suntec City, Downtown East and Thomson Plaza
3. Have a wheely good time
Head over to HiRoller, the city's largest indoor skating rink, and let the fun times roll. Themed nights include disco, retro and K-pop, so you can get all dressed up for maximum pleasure. Best of all, the rink stays open till 10pm on weekends!
HiRoller, Level 5, E!Hub, 1 Pasir Ris Close, Singapore 519599
4. View Singapore in a different light
We're gifted with an abundance of lovely bridges and park connectors that glimmer at night. So why not make the most out of it by organising a night cycling sesh with your mates? We reckon embarking on the Eastern Coastal Loop, which links from Pasir Ris Town Park to East Coast and finally Changi Beach Park.
Want more? Ride through the extension of the Eastern Coastal Loop from East Coast and soak in beautiful night views of the Supertrees at Gardens by the Bay, Marina Bay and the Singapore Flyer. Don't have a bike or can't ride one? Take a leisurely jaunt along the Helix Bridge for iconic views of the riverside or Henderson Waves at Southern Ridges if nature's more your scene.
5. Shop 'til you drop (or fall asleep)
With just about anything under one roof, Mustafa Centre, the famous late-night shopping behemoth in Little India, is a paradise for bargain-hunters and ardent shopaholics alike. You'll find everything under the sun here, from electronics and groceries to obscure brands you've probably never heard of. It gets pretty overwhelming so go at your credit card's risk.
Need a change of scene? Japanese supermarket Don Don Donki's Orchard Central outlet is open 24/7 and Decathlon Kallang opens till midnight on certain days.
Mustafa Centre, open daily, 9.30am-11.30pm, 145 Syed Alwi Road, Singapore 207704; Don Don Donki, #B1 15-29/K7/K8 & #B2 01-10/30/43, Orchard Central, 181 Orchard Road, Singapore 238896; Decathlon Kallang, 230 Stadium Boulevard, Singapore 397799
6. Join the supper club
Supper in Singapore is practically a mandatory fourth meal of the day, and good late-night eats are peppered all over the island. You can be craving the most random dish and still find it somewhere in the city. Our extensive supper club guide covers everything from the heartlands to central Singapore. Go ahead and stuff yourself silly!
7. Watch a light and water show
Park yourself at the Event Plaza at Marina Bay Sands for Spectra. The 15-minute light and water show is quite an extravagant multimedia showcase with a combo of state-of-the-art lasers, lighting, water effects and projections that brings the Marina Bay Sands' waterfront promenade to life.
Spectra, Sun-Thu: 8pm and 9pm; Fri-Sat: 8pm, 9pm and 10pm; Event Plaza, 10 Bayfront Avenue, Marina Bay Sands, Singapore 018956
8. Groove hard at Garden Rhapsody
Lose yourself to the magical Garden Rhapsody at Gardens by the Bay's Supertrees. The light and sound show will dazzle you with lights playing to the soundtracks of popular tunes. It's the perfect activity to enjoy after your cycling adventures or a day around the futuristic garden. What's more, admission is free!
Garden Rhapsody, daily; 7.45pm and 8.45pm; Supertree Grove, Gardens by the Bay, 18 Marina Gardens Drive, Singapore 018953
9. Engage in paranormal activity
So you love a good ghost story? Explore Singapore's creepiest corners with spine-tingling ghost tours that take you from Changi to Bukit Brown Cemetery to Toa Payoh. Of course, you can't miss out on Haw Par Villa and its 10 Courts of Hell too!
10. Hop on a bumboat and cruise along the Singapore River
View Singapore's historical and modern buildings, landmarks and bridges in a different light with the iconic bumboat ride. Trust us, this isn't just for tourists. We especially love the route along Merlion Park, Esplanade Theatres on the Bay and Marina Bay Sands. The ride is 40 minutes long so whip up your phones for countless magical snaps along the way.
Singapore River Cruise, Mon-Thurs: 1pm-10pm, Fri-Sun: 10am-10pm; multiple locations including Clarke Quay, Merlion Park and Riverside Point
11. Enjoy a dazzling cable car ride
Getting onboard a cable car ride is special during the day but it sure ups the ante come dawn. Take time to marvel at impressive 360-degree aerial views of Sentosa and Mount Faber on the Singapore Cable Car. Can't get enough? Have a romantic dinner in the sky in one of the themed cabins.
Singapore Cable Car, daily, 8.45am-10pm, embark at Mount Faber or Sentosa
12. Meet nocturnal wildlife friends
Skedaddle to the world's first nocturnal zoo. The park opens at 7.15pm and closes at midnight so there's plenty of time to explore. Walk through various animal zones and trails to encounter animals like the Asian elephant, clouded leopard, pangolin, Malayan tapir, and Nile hippo. Watch otters, binturongs, civets and other animals display their natural talents at the Creatures of the Night Show. Or simply hop on a complimentary guided tram ride that comes complete with audio commentary on the animals.
Night Safari Singapore, Daily 7.15pm-12am, 80 Mandai Lake Road, Singapore 729826
13. Explore the city on a bus
Get a glimpse of Singapore's glitzy streets at night with Big Bus and Ducktour's Night City Tours. In three hours, you'll get to cruise past popular spots on top of an open-top double-decker bus, watch the sunset at Marina Barrage, try local food at Lau Pa Sat and more. Don't forget your cameras!
14. Swing by the airport (and its crown jewel)
They don't call Changi Airport one of the world's best for nothing. Things can get a little quiet by 10pm but many restaurants and eateries are open till midnight (some even 24 hours!). Stroke your chin while studying intriguing art installations like the kinetic rain sculpture in Terminal 1 and A Million Times at Changi in Terminal 2. And don't skip the marvellous Jewel Changi Airport! The Shiseido Forest Valley with the majestic HSBC Vortex Rain is open all day and night.
Changi Airport, Airport Boulevard; Jewel Changi Airport, 78 Airport Boulevard, Singapore 819666
15. Party like there's no tomorrow at Clarke Quay
If there's one place that's alive and thriving at night, it's Clarke Quay. The sizzling party central is teeming with nightclubs, bars, hangouts with live music, supper spots along Boat Quay and ghosts of last night's mistakes (kidding!). Let your hair down, get on the floor and groove along to dance tracks by top DJs.
16. Watch a movie in the cinema
Movie buffs, as much as watching your favourite movie or series in bed sounds tempting, going to the cinema is a different experience altogether. After dinner, catch a night screening – best if it's in Gold Class or Platinum Movie Suites – and snuggle up on the plush seating with warm popcorn. Alternatively, The Projector has night screenings of indie and award-winning movies too.
17. Did someone say karaoke?
You don't have to tell us twice. Karaoke is notoriously popular among the locals so get your playlist in check (Bohemian Rhapsody better be on it!) and prep your pipes. It's going to be a fun-filled night thanks to the value-for-dollar packages at Ten Dollar Club, Teo Heng KTV Studio and Cash Studio, just to name a few.
18. Train insane or remain the same
Trade nightly drinks at the bar with a good workout at 24-hour gyms like Anytime Fitness and Gymboxx. Alternatively, you can also book a session at a private gym pod. You won't have to compromise your workout as these areas are filled with cutting-edge strength training and cardio equipment.
Anytime Fitness, over 65 locations; Gymboxx, eight locations; The Gym Pod, over 30 locations
19. Drink 'til daybreak
You've probably experienced this at some point: ordering a bottle at midnight, only to find out the bar is closing in 10 minutes. Despite having a vast array of swanky cocktail bars in Singapore, we sometimes find ourselves stranded and booze-less past midnight. Thankfully, there are still watering holes that will serve you your poison until the early hours. Swing over to late-night drinking joints that won't disappoint.
20. Pamper yourself
It's midnight on a Friday: you've just knocked off work with a massive backache and you're in need of a major pampering sesh. Thankfully for us (and our necks), there are plenty of spas open 'til the wee hours – and no, nothing dodgy over here. Natureland Spa has attractive packages and the Orchard Point location opens till 2am, while the rest close at 10.30pm. The 24-hour G.Spa gives you a rejuvenating spa experience complete with saunas, steam baths, and a relaxation lounge with gourmet dishes. No more excuses for not pampering yourself!
Natureland, multiple locations islandwide; G.Spa Singapore, #02-02, Guillemard Village, 102 Guillemard Road, Singapore 399719
21. Send chills down your spine
We're huge fans of horror flicks. In the spirit of all things otherworldly, we did some digging and uncovered some of the creepiest spots in the city – from abandoned derelict buildings to old hospitals. Spook yourself out visiting these haunted places in Singapore.
22. Get that adrenaline pumping
This might either pump you up or scare the living daylights outta you. Launching you up almost 70m at a terrifying speed of 170kph, Clarke Quay's Slingshot is constantly filled with screams at night. There's also the GX-5 extreme swing, where you'll free fall from a height of 40m. The thrilling rides close late and are popular among happy drinkers – although we advise you not to ride 'em intoxicated (read: barf alert).
Slingshot, Daily 4.30pm-11.30pm, 3E River Valley Road, Clarke Quay, Singapore 179024
And there you have it, night owls! All the best things to do in Singapore at night.