Tuck into Overrice's version of The Halal Guys' gyro platter. Photography: Overrice
2020 was a scrumptious year! If you've not tried these restaurants, jot them down in your little black book of places to eat.
Here at Honeycombers, it's no secret we live to eat! From checking out the hottest restaurant openings in Singapore to finding solace in local eats to always making room for desserts (no matter the time), food is always on the agenda. And boy, 2020 has blessed us with a deluge of amazing restaurants. Read on to find out the best new restaurants and menus of the year.
Best restaurant openings in Singapore: December 2020
Overrice
Arab Street welcomes a new kid on the block: Overrice. Drawing inspiration from New York City's The Halal Guys, this Muslim-friendly restaurant doles out hearty Meditarrean rice bowls. If you're familiar with the NYC counterpart, you'll know it's all about the enigmatic white and red sauce. Here, you can expect the same thing.
Each bowl comprises a bed of basmati rice, mixed salad, baked pita bread (to mop up the sauces) and your choice of toppings: chicken ($9.90), pulled beef ($10.90) or falafel ($9.90). For dessert, these guys work with home-based dessert brands. Expect the likes of Broadway Banana pudding (from $6.80) by Okieco, Brooklyn Brownie ($7.90) from Azro and Soho Gelato (from $3.50) by Empirical. Notice all the NYC references? That extends to the decor as well, with the New York skyline painted on the walls and rows of photos depicting the Big Apple. If you're looking to reminisce your NYC trip or hankering for a decent gyro platter, you know where to hit up.
Overrice, 48 Arab Street, Singapore 199745
Birds of a Feather
Forget what you know about Sichuan cuisine (it's not just about mala) and flock down to Birds of a Feather. Nestled along the vibrant Amoy Street, this East-meets-West dining concept's modus operandi is Sichuan flavours with a twist. And now it has reached greater heights with its first-ever tasting menu: Redefining Sichuan ($89).
Created by head chef Eugene See, the seven-course menu explores the different flavours of Sichuan. It's not just about spicy fare; the Chinese province also offers an array of sweet and sour dishes.
The epicurean journey starts with a plate of homemade pickled vegetable focaccia accompanied by a salty Sichuan compound butter. We felt the mala effect, though it was fleeting. However, after tucking into the third course, you'll realise the dishes get progressively spicier. Don't be fooled by the visually striking octopus carpaccio, a brilliant amalgamation of European cooking techniques and Asian flavours, as it features wasabi and Sichuan mustard dressing. Combat the wasabi heat with secondary ingredients of the dish: Sliced apples and cucumber, plus the saffron-infused mung bean jelly.
The highlights have to be the carabinero prawn with yu xiang sauce and the wagyu striploin. The sweetness takes centre stage in the former, from tender prawns and hidden crumbs of nuts. For textural razzle-dazzle, there's the dehydrated charcoal sponge. Meanwhile, for the former, chef Eugene flexes his culinary chops by adding a nuanced layer of heat to the steak dish with spiced butternut squash puree and a sprinkle of Sichuan pepper salt on the side (equally pungent and addictive!). For the final show: Mandarin dessert. The orange fruit shines through the citrusy Grand Marnier-infused French baba cake, with frosty mandarin ice and tuille constructed from orange peel and juice.
Birds of a Feather, #01-01, 115 Amoy Street, Singapore 069935
Mr Biryani
Calling all biryani lovers! In conjunction with its first year anniversary, Mr Biryani has debuted the firetop claypot biryani ($88). For connoisseurs, dhum biryani is not a new concept – it's a one-pot dish where the colourful rice, marinated meats, vegetables and spices are slow-cooked together. The result? A glorious plate of biryani with tender meat.
Now, you can witness the whole process tableside. Take your pick from the chicken or vegetable option and watch the staff wheel a trolley replete with everything that goes into making this communal dish. After layering all the ingredients into the pot, it is sealed with dough and cooked over fire for 20 minutes. Meanwhile, order other dishes like butter chicken ($12.90), bhindi palli fry ($8.90) and fish tikka ($16.90) for a true Indian feast. Once you get a hint of the heady fragrance, that means it's ready to be served. Pair the biryani with dollops of raita and spiced peanut curry. No judgements if you go for second or third helpings! Do take note that this is only available every Thursday to Saturday at its AXA Tower branch.
Mr Biryani, #B1-24, AXA Tower, 8 Shenton Way, Singapore 068811
Flipper's Singapore
If you're all for wobbly souffle pancakes, make your way to Flipper's where the magic happens. Hailing from Tokyo, Flipper's artisanal kiseki or 'miracle' pancakes are a dream. To achieve its glorious wobble, all key ingredients – Hinata eggs, fresh milk and Kitahonami flour – and equipment are sourced from Japan with meticulous attention given to the recipe and technique. The result? Cloud-like pancakes in sweet and savoury options made to order.
Traditionalists will love the Kiseki Pancake Plain ($16.80), three pancakes topped with a cheeky dollop of fluffy maple whipped cream. The Kiseki Pancake Matcha ($19.80) pairs perfectly with bittersweet green tea cream (made with matcha powder hailing from Kyoto) and azuki (red bean) paste, topped with fresh whipped cream and roasted soybean powder.
Flipper's Singapore, #B1-56, Ngee Ann City, 391A Orchard Road, Singapore 238873
Burrata Bar
Brought to you by the folks behind Pasta Bar and Papi's Taco, Burrata Bar is a virtual restaurant that serves up all things – you guessed it – burrata! Working closely with Puglian master cheesemakers, the menu brims with the decadent creamy cheese. Highlights include baked rigatoni ($24), chicken parma sammie ($22), parma ham pizza ($24) and smoked burrata and fig salad ($26). Each dish features an entire 125 grams of burrata, so tear open the creamy goodness and mix it into your dish for the ultimate treat. For burrata purists, you can enjoy it in its purest form ($14) or opt for the truffle version ($18).
Burrata Bar, available online
Miznon
Hailing from Tel Aviv, Miznon makes its mark in Asia by setting up shop in the Lion City. Founded by chef Eyal Shani who is a judge on MasterChef Israel, the local outpost is housed in a cosy shophouse. For the ingredients' natural flavours to burst through, the Israeli dishes are seasoned with a light hand and cooking methods like blanching, roasting and a la plancha take precedence. The quintessential Middle-Eastern staple pita takes the limelight with 12 flavourful options, including ratatouille ($17), steak and egg ($21), chicken liver ($18) and roasted chicken ($18).
To truly savour the restaurant's cooking philosophy, there's the baby cauliflower flower ($16), which is seasoned with just olive oil before it's roasted in the oven for a beautiful charred exterior. Or try the baked sweet potato ($12), a carby treat baked till the sugars turn almost honey-like. End your meal on a sweet note with the Rail of Bananas ($5), which employs the cut-off tops of pita pockets to hold fresh strawberries and sour cream.
Miznon, #01-01, 6 Stanley Street, Singapore 068725
Neon Pigeon
The modern Japanese izakaya took flight from Keong Saik Road and has found a spot on Carpenter Street to roost. Its new branch still sports its trademark "underground den" aesthetic with three arresting wall murals against the backdrop of Japanese hip hop and urban tunes. Food-wise, loyal patrons can look forward to a new dining experience at the Raw Bar, which slings out Japanese-influenced plates like bone marrow uni ($22/$42) alongside cult classics like Tokyo hummus ($10/$18) and soft shell crab bao ($15/28). The drinks menu also sees a new addition of cocktails, including Tokyo Drift, a Suntory highball with a twist, and the miso-flavoured Tiki Otaku.
Neon Pigeon, #01-01, 36 Carpenter Street, Singapore 059915
Rappu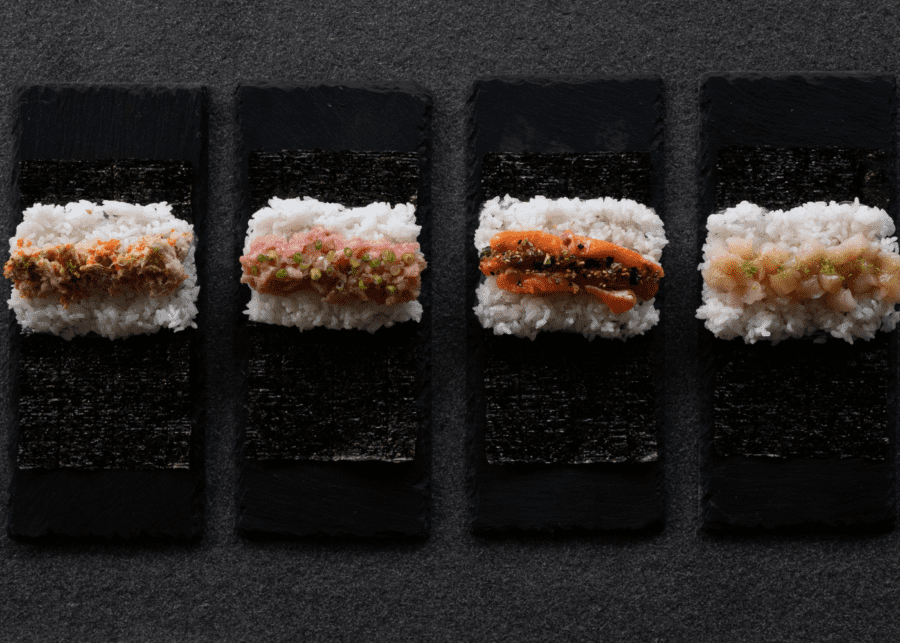 Brought to you by the same folks who gave us The Feather Blade, this 36-seater offers handroll sushi omakase-style at wallet-friendly prices. Rigged out in an industrial chic ambience, the 20m-long quartz bar invites you to a six-course sushi meal ($36). Expect ingredients like tuna belly, fluke fin and amberjack to make an appearance. For something more luxurious, the High Roller ($28), which features wagyu or toro topped with uni, caviar, ikura and gold flakes, fits the bill. Complete the experience with a sake pairing ($18) or Japnese-inspired cocktails like Umami Old Fashioned.
Rappu, 52 Duxton Road, Singapore 089516
S'Mao Barbecue
Les Amis Group's Casa Verde plays host to a pop-up concept that will whet any carnivore's appetite. Enter S'Mao Barbecue. The two-month smoky stint sees a smorgasbord of Texas-style BBQ meats done by chef Chia Jue, who has worked with smokehouses and pitmasters in America. Firing up an authentic BBQ experience, all the meats go through a low and slow smoking technique, resulting in an intense, smokey flavour.
Feast on Duroc pork belly ($35), which is smoked for about three hours and confit in honey butter till tender. Or try andouille sausages ($15), made with fresh pork shoulder and a medley of cajun spices. Otherwise, the signature angus short rib ($15/100g) is an exquisitely marbled beef, and the glorious meat platter ($125/$195) is great for dining in a group. What's a Southern BBQ without sauces? Choose from a myriad of dips, including the S'Mao hot sauce and the piquant mustard-based Carolina Gold. For sides, munch on Southern classics like charred corn on the cob, mac and cheese, and cornbread with butter. Complement the hearty affair with a pint or two from the selection of craft beers.
S'Mao Barbecue, available till 31 Dec, Friday – Sunday, 5.30 pm – 9.30 pm, Singapore Botanic Gardens, Singapore 259569
Menbaka Fire Ramen
The famed Menbaka Fire Ramen from Kyoto has opened its first outpost in Singapore. Why is it called fire ramen, you ask? It gets its name from the theatrical preparation method. Witness your ramen bowl go up in flames when the chef ignites the negi oil and pours it over the broth – resulting in a heady smokey flavour with every slurp. Tuck into the signature Shoyu Fire Ramen ($17.90), which uses the same shoyu as the one in Kyoto, imported from a 220-year-old shoyu factory from Hyogo prefecture. Or go for the Singapore-exclusive Tonkotsu Fire Ramen ($18.90). Also expect standard Japanese sides like gyoza, kaarage and edamame on the menu.
Menbaka Fire Ramen, #05-03, Cathay Cineleisure Orchard, 8 Grange Road, Singapore 239695
---
Best restaurant openings in Singapore: November 2020
8Ash
Before, it was just a dark kitchen used for delivery and takeaway orders of Ebb & Flow's restaurants. But now the cosy two-storey shophouse at Ann Siang Hill has transformed into a multi-restaurant concept with three F&B brands under one roof.
Mirai Burgers and Love Handle Burgers are sure to satisfy your bun-and-patty cravings. The former serves up Japanese-flavoured burgers like yuzu karaage ($14) and fish and caviar ($22), while the latter offers a full range of plant-based burgers, including a vegan rendition of the famous Ramly burger ($15). Last but not the least is Hoshi Hill. Japanese set meals such as Hokkaido scallop chilled somen ($25) and Hoshi wagyu steak ($18) make an appearance alongside delish appetisers like spicy edamame and aburi salmon.
8Ash, 8 Ann Siang Hill, Singapore 069788
French Fold
Since travelling is still a no-no, French Fold is here to satiate our wanderlust for Paris. At a glance, we easily mistook this new resto at Telok Ayer for Merci Marcel. Well, we were not completely wrong. French Fold is a brand new dining concept by the same group. Step in and you will see an uncanny resemblance of Merci Marcel's DNA, from the lush greenery adorning the place to warm lighting illuminating the ambience to the inviting chic Parisian vibes we are oh so fond of.
The menu brims with savoury galettes (French-style pancakes), sweet crepes, salads and cheese and cold cut platters. Of course, we dived straight into the crepes. Made with buckwheat flour, there are a total of 11 options to choose from, including one with a local twist – satay chicken ($17). But we took the traditional route and had the chorizo with comte cheese and a sunny-side-up egg ($15), which reminded us of pepperoni pizza. Plus, another with sauteed mushrooms, chiffonade ham, cheese and egg ($17), which is a bomb of flavours and textures. No regrets.
For dessert, you can take your pick from 10 crepes that come in flavours like hazelnut, Valrhona chocolate and chestnut cream. Go all out by topping them with ice cream from Birds of Paradise. We got the salted caramel crepe ($8) topped with dark choco sorbet, and the white chocolate with speculoos biscuit crepe ($11) plus a scoop of hojicha sea salt ice cream.
The drinks menu offers coffee, tea, juices, craft beers and spirits. But if you're feeling cheeky, cider cocktails fit the bill. Equal parts fun, sweet and potent, concoctions like Normand Invasion ($19), Cider 75 ($17) and La vie en Marcel ($19) will have you counting down the days to your Paris trip.
French Fold, 204 Telok Ayer Street, Singapore 068640
Long Beach @ Robertson Quay
When you think of local seafood, chances are, your mind will go to Long Beach. With good reason, of course. This long-standing establishment has made its mark in the dining scene with crowd-pleasing dishes like the popular black pepper crab. And now with its sixth outlet at the riverside 'hood of Robertson Quay, it cements its reputation as a household name for seafood dining.
In line with the new space, which is awash in clean neutral tones, comes a whole new menu that veers away from the usual sharing portions. The sampling menu is designed to feed intimate groups ('cos social distancing) while still offering a wide variety of options in smaller portions.
We started our oceanic feast with fresh oysters ($28) which we slurped down within seconds. Up next came steamed razor clams with vermicelli ($12). Buried under a mound of fried garlic, the clams were juicy, succulent and, it goes without saying, garlicky. Hankering for something filling? The deep fried flat rice noodles cooked with lala clams will do the trick. We loved the contrast in textures from the crispy noodles on top and the cooked noodles at the bottom.
The highlight of the dinner had to be the chilli crab meat with fried bun ($18). Dissecting the important components of this national dish onto a single plate – sweet crab flesh, creamy spicy sauce and crispy mantou – is pure genius! For those seeking out the signature black pepper crab, here's a pro tip: You can actually request for the crabs to be deshelled! Talk about minimum effort and maximum pleasure. Ever since Red House Seafood moved out of Robertson Quay, the area had a void, which is now thankfully filled by Long Beach (it occupies the space of the former).
Long Beach @ Robertson Quay, #01-14, The Quayside, 60 Robertson Quay, Singapore 238252
Durian BB
This is the stuff of dreams for durian lovers. Having conquered Hong Kong, Malaysia and China, Durian BB is ready to sway Singaporeans with its Mao Shan Wang durian creations. These folks have really pushed the boundaries by adding durian puree or filling to popular desserts like burnt cheesecake ($8.80), no-bake cheesecake ($8.80), chendol ($7.80) and mousse cake ($9.80) alongside durian-flavoured snacks such as egg rolls and wafers. You can also enjoy the natural flavours of the fruit (starting from $24.80) from its very own farm in Pahang.
Durian BB, #01-65, 462 Crawford Lane, Singapore 190462
Tenya
Tendon chain restaurant Tenya, touted as number one in Japan, has finally landed on our sunny shores. Why is it so popular? Like many other Japanese dishes, frying tempura is a culinary art that takes over a decade of training to master. But here, thanks to the state of the art automated fryer, you can get a donburi bowl of fried goodness in two minutes! Speaking of high-tech machines, be sure to look out for Peanut, the friendly robot server.
Considering Tenya sources ingredients directly from Japan and uses Japanese Aomori rice and a secret recipe for its tempura batter, the prices are pretty wallet-friendly. Go for the titular tendon ($8.50), which features tempura prawn, red fish, squid, pumpkin and French bean; or the seafood tendon ($12.90), similar to the former but with a replacement of squid for eel and scallop. Specially catered for Singaporeans is the tori tendon ($9.90), a selection of tempura chicken, chicken karaage, tempura egg (it bursts open for a runny river of egg yolk), pumpkin and sweet potato. Easily upgrade your bowl to a set meal for a choice of hot or cold udon or soba. Other munchies include truffle fries ($3.90), tomato salad ($5.80) and the must-try Hokkaido soft serve ($2).
Tenya, #B1-01, Orchard Central, 181 Orchard Road, Singapore 238896
Solo Ristorante
This trattoria at Amoy Street welcomes a new chef and partner, Simone Fraternali. Having worked in Michelin-starred restaurants like Da Vittorio Relais & Chateaux and renowned local establishments such as ilLido, Simone shows off his cooking chops with a brand new menu that showcases the flavours of northern Italy and his coastal hometown of Gradara. For starters, go for the luxurious wagyu carpaccio ($30), which comprises Grade 5 Australian wagyu and shavings of parmigiano reggiano "vacche rosse 24 month". Or try the chilled branzino ($20) of thinly sliced sea bass with light lemon emulsion, chopped shallots, pimento and chives.
For mains, we're looking at braised and grilled octopus ($38) with orange potatoes and cherry tomato salad, and the 36-hour slow-cooked beef cheek with potato puree and sauteed spinach. What's an Italian meal without pasta? On that note, there's the taglioni with sea urchin ($45) and angus beef ragout ($30) served with gnocchi in the style of bolognese. For a leisurely meal, the Saturday brunch ($78) has you covered with Italian plates and an endless flow of champagne or prosecco.
Solo Ristorante, 45 Amoy Street, Singapore 069871
TamJai SamGor Mixian
As we wait for the green light to enter the SG-HK travel bubble, we can settle for the arrival of another iconic Hong Kong eatery. Get ready to embrace TamJai SamGor with open arms and hungry stomachs as it opens its door to the public on 31 October. Famed for its chewy rice noodles and fiery broth made with a secret recipe, it offers noodle bowls (from $6.50) in six flavours including tomato soup, mala and clear broth.
What sets the noodle joint apart is that you can customise the soup by choosing your preferred level of spice. Yes, there are a total of 10 levels, from non-spicy to extra hot. For the finishing touch, have your pick of toppings which include beef slices, bamboo fungus and shrimp wonton. The first local outpost might be in Bedok but a little birdie told us that there will be two new outlets opening in Chinatown and VivoCity.
TamJai SamGor Mixian, #B1-52, Bedok Mall, 311 New Upper Changi Road, Singapore 467360
The Salted Plum (Closed)
Craving Taiwanese food? Get your fill of crowd faves and fresh creations at The Salted Plum. Everything on the menu is either $5, $10 or $15, so you can pick and choose a couple of plates to share. Under the $5 line-up, latest additions include the braised spicy duck wings (they're fall-off-the-bone tender!) and seasonal fruit and plum salad, a zesty palate cleanser.
For $10, you can dig into the omelette with pickled radish. It's a humble-sounding dish, but the slightly runny core and beautifully crisp exterior make it a delicious companion to your bowl of sweet potato congee. Alternatively, treat yourself to a juicy slab of XL fried chicken. The street food classic gets a makeover with salt and pepper seasoning infused in preserved orange peels – or you can go with the sweet and tangy plum mix. Lovin' the finger lickin' goodness? You can tuck into the rice bowl version with a sous vide egg during lunch. And don't worry; your fave burnt chilli chicken still features on the menu.
As for the $15 selection, you'll see two new seafood dishes to try. Perfectly crisp and crunchy, the deep-fried pepper squid pairs fabulously with a cold pint. But if you're in the mood for hearty comfort food, try the steamed sea bass with Taiwan berries in a ginger soy dressing. Round it all off with a bowl of mee sua (vermicelli) in dashi broth for a carby delight before you end with red tea jelly and pearls ($5) for dessert or grab a bubble tea bag ($5) to go. Psst: You can also get The Salted Plum at home with its delivery service!
The Salted Plum, multiple locations including Circular Road and Suntec City
Foc Restaurant
This stunning Spanish restaurant remains one of our go-tos. No matter if you're in the mood for intimate drinks with friends or breezy, beachside fun, Foc has a dining experience in store for you. With its revamped menu, you'll find classics alongside flavourful new plates. We recommend you keep an eye on the limited edition specials, which are ever evolving depending on seasonal ingredients. You'll never know which ones end up sticking around as fan favourites!
To start, nibble on the manchego cheese churros with black truffle cappuccino foam. Every bite is light, fluffy and oh so good. Follow it up with blue belly shrimp tacos or sea urchin, king crab and cod brandade on toast. For a vegetarian plate, the roasted Spanish leek with hazelnuts and romesco sauce is a lovely treat. But since we're meat lovers, we'll definitely be back for the pork belly and glazed Alaskan king crab with chickpeas and chorizo stew. It's got all the textures and flavours in one dish, with amazingly tender meat and perfect crackling. As for the paellas, we're firm fans of the lobster caldoso rice, which features grains in a light broth topped with steamed Boston lobster. It's like comfort food, but elevated.
To end on a decadent note, the chocolate souffle is light and pillowy in the best way – and not too sweet either. But of course, if you've been following the burnt cheesecake trend, you'll have to order the resto's Basque cheesecake topped with apple and raspberry sable plus whisky ice cream. On the cocktail side, the Unbeli-bubble drink is served with a gorgeous lavender bubble that pops to reveal herbal and floral scents of sherry and gin. Totally Insta-worthy!
Foc Restaurant, multiple locations including HongKong Street and Tanjong Beach
Catfish
Sister restaurant to chef Andrew Walsh's concepts like Cure and Butcher Boy, this fish grill and raw bar highlights an Asian fusion menu with seafood. The space is great for relaxed lounging amidst tropical urban decor and lush greens. On the dinner menu, you'll find shareable plates in categories like snacks, raw, fish, vegetables and desserts. Highlights include catfish taco with umeboshi and hazelnut ($16), hamachi sashimi with ponzu and nashi pear ($26), and sesame prawn toast with uni and caviar ($58).
If you swing by for lunch, expect to see healthier dishes and bento boxes filled with sashimi, tempura, chawanmushi and more. For a more decadent time, the weekend brunches are a treat. These Fish Feasts feature champagne and oysters "fruits de mer" ($38), a twist on eggs benny ($24) and spicy fish muffins ($22). Oh, and keep an eye out for the cocktails, which will refresh every quarter to pay tribute to different parts of the world. The first edition is a nod to Japanese culture with ingredients such as sakura liqueur and sparkling sake in the drinks.
Catfish, 5 Gemmill Lane, Singapore 069261
---
Best restaurant openings in Singapore: October 2020
Tang Lung Restaurant
Joining the long list of top-notch restaurants at Robertson Quay, Tang Lung Restaurant dishes out comforting Chinese food, and that includes dim sum! Tuck into pineapple char siew tarts ($6.90), steamed Chinese dumplings ($8.90), pork siew mai with salted egg yolk ($7.90) and truffle mushroom crystal dumplings ($8.90). Alternatively, you can pig out at the free-flow dim sum buffet for only $26.80. For heartier dishes, think steamed flower crabs, sweet and sour prawns ($38) and kung pao chicken ($18).
Tang Lung Restaurant, #01-12, The Pier at Robertson, 80 Mohamed Sultan Road, Singapore 239013
Salted & Hung
This contemporary Aussie restaurant welcomes patrons with new seven-course ($128) and 10-course ($168) tasting menus that take a minimal wastage approach. We were fascinated by the clever use of ingredients – think sourdough essence and charcuterie broth – and how every ingredient has a part to play.
It's worth mentioning the 'fish and chips' a reimagined classic created with chickpeas, pea puree and caviar, and Gold'n Gaytime. The latter is a cheeky play on the iconic Aussie ice cream with salted toffee, almond honeycomb and wattleseed chocolate creme.
As meat lovers, we were surprised to crown Jerusalem artichoke the dish of the day. A bed of Jerusalem artichoke, wing beans, fresh seaweed, dried mushroom and toasted buckwheat is topped with a too-pretty-to-break confit egg. The creamy yolk, mixed with earthy mushroom dashi, was a delight. It's no surprise we cleaned the bowl in seconds.
Salted & Hung, 12 Purvis Street, Singapore 188591
Luke's Lobster
All the way from New York, seafood shack Luke's Lobster takes Singapore by storm with its iconic lobster roll. The humble opening menu features the lobster roll ($25.50), crab roll ($23.50), shrimp roll ($21.50) and a sampler of all three in Luke's Trio ($33.50).
Each split-top bun is griddled and slathered with lemon butter, a touch of mayo and a sprinkle of Luke Lobster's secret seasoning. Of course, you get generous chunks of your choice seafood. Sides include clam chowder ($11.50) and lobster bisque ($12.90). Wash it down with a pint of Little Creatures craft beer (from $16.50), lemonade or brewed teas (from $6.50). Psst: Grilled cheese and lobster sandwiches will be available at a later date.
Luke's Lobster, #01-K4, Shaw House, 350 Orchard Road, Isetan Scotts, Singapore 238868
The Elephant Room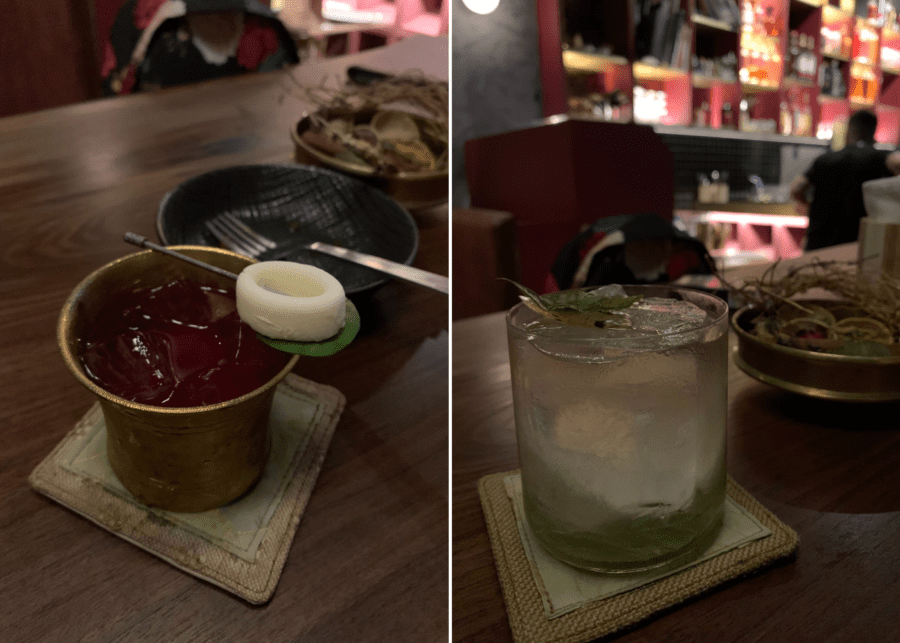 The Indian-inspired cocktail bar celebrates its first year in the biz by doling out a refreshed menu. The culture-forward cocktails take centre stage with bold flavours distilled in house, theatrics and culinary complements. That's right, most tipples come with edible garnishes.
The umami-packed King of Toddy is made with arrack, a distillate from toddy, buttermilk for nuttiness and topped with amaranth leaf and pickled palm seed. We appreciated Banana King's complex flavours, thanks to its mix of slow-roasted banana gin, banana skin oleo and aromatic sandalwood. You're left with hints of banana with every sip.
We were particularly curious to try Indian A.F., which is concocted with Old Monk rum, nostalgic kulfi ice cream, and fragrant pistachios and saffron, with yoghurt sorbet for garnish. One sip from the brass cup and you immediately think of rose syrup – it doesn't get any more Indian than this. Pair your cocktails with Gobi Manchurian ($16), cauliflower fritters coated in a sweet, sour and spicy sauce, or go for the Ter Curry Chicken ($21) with fluffy putu mayam if you're feeling peckish.
The Elephant Room, 20A Teck Lim Road, Singapore 088391
Avenue 87
A new entrant on Amoy Street, Avenue 87 is founded by two local chefs and good friends Glen Tay and Alex Phan. And no, it's not located on 87 Amoy Street. The moniker is actually an ode to their birth year (1987) and where they grew up in Hougang. Step into the two-storey shophouse (the upper floor is a bar in the works) and you'll be welcomed with warm lighting, earthy tones and an open concept kitchen, which piqued our appetite.
Drawing inspiration from their childhood and years of experience in the F&B industry, Alex and Glen created four-course ($76) and six-course ($98) menus that showcase local dishes with a creative twist.
We started off with a plate of salmon sashimi, a culinary amalgamation of the chefs' teamwork. Alex gives the dish texture with soy wasabi granita, crystal pear and Vietnamese crackers, while Glen finishes it off with ponzu-pickled wakame, sour cream and dill oil. As for the sea bass served fish soup-style, taking a sip of the broth really made us feel nostalgic. And the use of anchovy buttermilk sauce adds a layer of depth to the humble dish.
Taking a cue from BBQ seafood, the grilled octopus tentacle is slathered with housemade sambal and wrapped in a banana leaf. That's not all. Just like how we would order other dishes to go with our seafood feast, you'll see a bright yellow confit egg yolk surrounded by market greens when you open the leafy parcel.
For something meatier, the tender baby lamb rack, which comes with a generous glaze of honey, surely satisfies. And for dessert, the standout has to be the Pisang No Goreng. As the name suggests, you get a plate of deep-fried coconut custard paired with banana ice cream. How did it taste? Let's just say we inhaled it in a blink of an eye.
Avenue 87, 47 Amoy Street, Singapore 069873
Josh's Grill
Carnivores, this one's for you. Conceptualised by Minor Food Group, which gave us Poulet and Basil Thai Kitchen, the new casual joint specialises in cook-to-order grilled meats. Highlights include T-Bone Steak ($56.90), char-grilled spicy chicken chop ($10.90), sirloin beef and jumbo prawn combo ($34.90) and char-grilled sea bass with seafood cream sauce ($13.90). All the mains come with a choice of two sides such as fries, brussels sprouts, potato salad and cold spaghetti.
Josh's Grill, #01-69, Bugis Junction, 200 Victoria Street, Singapore 188021
Heart of Darkness
The Keong Saik enclave welcomes a new player to its buzzing bar scene. Well, not technically new as Heart of Darkness is a prominent name amongst beer enthusiasts. Moving from Tras Street, the Saigon brewery takes the space of the now-defunct Neon Pigeon. It's a fitting successor, what with its industrial chic interior and the hard-to-miss mural of a dragon and Merlion intertwined against the backdrop of a setting sun.
With the move comes an entirely new food menu and line-up of beer cocktails. We started with a trio of plates: octopus croquettes ($14), a takoyaki-like dish that's stuffed with octopus bechamel and coated a la tonkatsu, beer-marinated olives ($8), a tangy starter that will have you reaching for more, and the smoky romesco hummus ($10) that makes for a decent vegetarian starter. Those looking for an extra kick can go for the chicken wings aka Wings of Darkness ($14). Don't be fooled by the blue cheese cream topping – after taking a bite of the fiery wings, tears streamed down our faces.
Wanna cool things down with a beer? The core range is still available, alongside limited releases and innovative collabs like the Creatures of Darkness Jam IPA (from $10). After taking a swig, you realise it's a jam donut in liquid form. Safe to say, that was a unanimous favourite at our table. For beer cocktails, try the Bloody Sunset ($19), which is topped with beer foam; Futile Logic ($19), a southside cocktail with a splash of cucumber pilsner; or the Inchilada ($21), made with pho broth and beef tripe cracker.
We continued our meal with mains like beer-battered fish tacos ($18) and grilled wagyu ($38). The former is a riff on the classic English and the latter is a filling dish that comes with a zesty chimichurri sauce and a side of golden fries.
It's an unofficial rule that Keong Saik boasts the best basque burnt cheesecakes (we're looking at Keong Saik Bakery and Olivia Restaurant). And this taproom joins the fray with Marlow's Mellow ($14). Spiked with pomelo IPA, the dessert doesn't disappoint. Another thing worth mentioning is its boozy weekend brunch ($88), where you can enjoy free flow servings of two cocktails and beers of your choice.
Heart of Darkness, 1 Keong Saik Road, Singapore 089109
Lemak Boys
The brainchild of Les Amis Group, Lemak Boys sees three young chefs breathe new life into dishes we're all familiar with. Working off their experience at Indigo Blue Kitchen, the trio have created plates with Peranakan flavours taking centrestage. The premium nasi lemak ($18.50) sees an addition of chicken berempah on top of its usual fixings like otah otah, sambal prawns and anchovies.
Take your pick from three rice plates that will surely hit the spot: Chicken rendang, sambal prawns and turmeric fish curry. End your meal on a sweet note with the innovative cendol pudding that's made up of pandan-flavoured pudding layered with gula melaka, coconut cream and azuki red beans.
Lemak Boys, #03-10, Shaw Centre, 1 Scotts Road, Singapore 228208
Caffe Fernet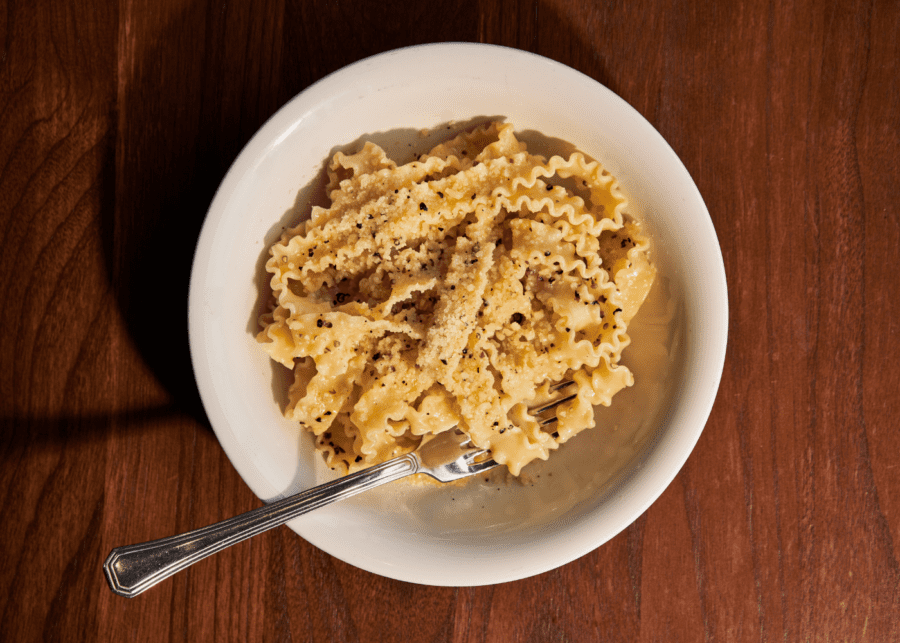 The trattoria at Customs House has just launched a new menu with elevated culinary techniques, unexpected ingredient pairings and local produce. For instance, the cream and mozzarella from burrata ($24) is made right here while the pan-seared pomfret ($42) is sourced locally from Ah Hua Kelong.
What's an Italian meal without pasta? Dig into tonnarelli vongole ($29), which features squid ink pasta and generous servings of fresh flower clams. Or try the mafaldine cacio e pepe ($26), a peppery pasta tossed in a creamy sauce of grated parmesan and pecorino romano cheeses. Top it all off with the revamped aperitivo drinks programme divided into frose, spritz, aperitivo and negroni concoctions.
Caffe Fernet, #01-05, Customs House, 70 Collyer Quay, Singapore 049323
Mad About Sucre
Ever since Phase 2 started, restaurants have been jazzing up their menu. But this French establishment takes things up a notch by revamping the entire place. Combining warm and cool tones, the cheery orange entrance is followed by a spiffy dining area awash in darker hues.
The new menu sports dishes like eight-hour oxtail stew simmered in red wine ($42), barramundi with miso and garlic ($38), and foie gras pasta ($42). Come for the food, but stay for the dessert line-up of pastries, cakes and chocolates. Oh, for the homebodies, you can treat yourself in the comfort of home with its newly launched digital shop.
Mad About Sucre, 27 Teo Hong Road, Singapore 088334
Monti
What if we told you there's a place where you can sip on happy hour drinks all night and munch on amazing nosh while soaking in breathtaking views of Marina Bay? We're talking about Monti's new pop-up patio.
Beers are $15 each while house pours go for $12 per glass. Food-wise, there are classic bar bites like truffle fries ($14) and oven-baked wings ($16). Too hungry for snacks? Try the aglio olio ($20), truffle pizza ($30) or sliced ribeye steak ($69). For something more chi-chi, there's the Rosé-a-go-go ($78) every Friday to Sunday, featuring three hours of free-flow drinks and bites.
Monti, 82 Collyer Quay, The Fullerton Pavilion, Singapore 049327, available till the end of October
---
Best restaurant openings in Singapore: September 2020
Bao by Ce La Vi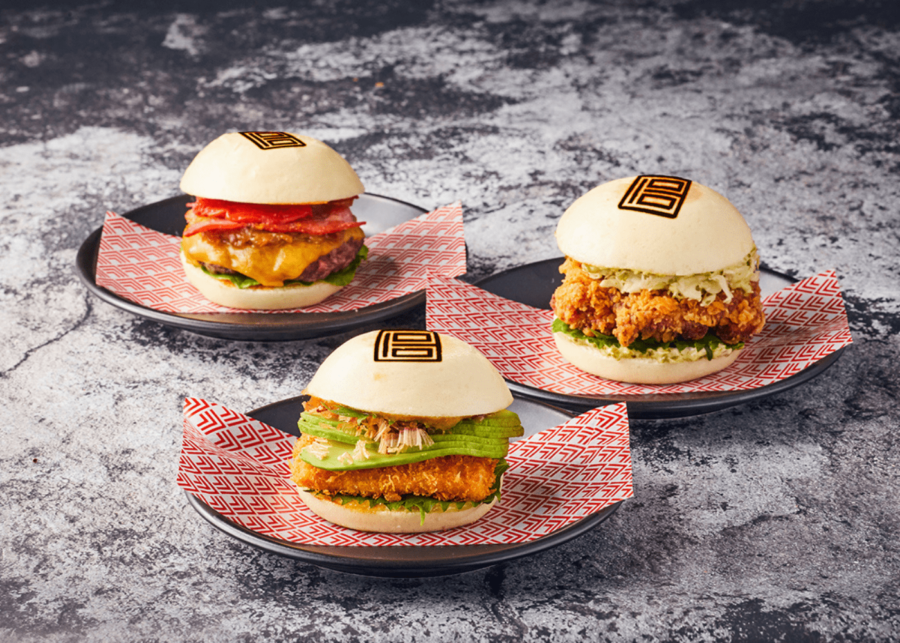 Following in the footsteps of its Tokyo outpost, dining concept Bao by Ce La Vi comes to our shores, 57 storeys high. The baos are stuffed with unique flavours – think of them as Asian burgers, if you'd like. The list includes truffle wagyu beef sukiyaki ($22), chicken karaage ($15), tempura sea bass ($18) and Sichuan eggplant ($14). What's a burger without its iconic sidekick, aka fries? These ones are hand-cut and come with an assortment of toppings and dips like BBQ spice ($10), truffle essence with grated parmigiana ($18) and furikake served with wasabi aioli ($12). All that amazing food against the glitzy skyline? We're sold.
Bao by Ce La Vi, Level 57, Marina Bay Sands Hotel Tower 3, 1 Bayfront Avenue, Singapore 018971
Resorts World Sentosa: Aqua Gastronomy
RWS is pushing the envelope with its latest multi-sensory underwater dining experience. Yes, you heard that right. A first in Southeast Asia, Aqua Gastronomy will take diners under the sea for a one-of-a-kind meal. You'll be surrounded by sounds of the ocean, cool lighting effects and over 100,000 sea creatures including manta rays and hammerhead sharks.
The magic takes place at S.E.A Aquarium's Open Ocean Habitat, where you'll be housed in a molecule-framed pod. Sticking to the theme, the four-course menu ($118) will feature a trove of oceanic delights with Asian influences, made using sustainably sourced seafood and local produce. Think Thai-style glass noodle salad with Canadian scallop or fried Japanese pearl rice with kühlbarra sea bass, mussels and clams. For a memento, you'll walk away with postcards portraying beautiful illustrations of sea creatures by Singaporean artist Wu Yanrong alongside a jar of housemade kelp sea salt.
Resorts World Sentosa: Aqua Gastronomy, available till 31 October, Open Ocean Habitat, S.E.A. Aquarium, 8 Sentosa Gateway, Singapore 098269
Restaurant Jag
At the height of the circuit breaker when restaurant doors were closed for dining in, the owners of Michelin-starred Jag, Anant Tyagi and Chef Jeremy Gillon, took "time off" to breathe new life to the place and experiment in the kitchen.
When Jag finally opened its doors to the public, we were pleased to pay a visit to see and taste what they were brewing behind the scenes. For lunch, diners can go for the Discovery Degustation ($175), an introduction to the whole omakase concept. Come dusk, try the Opulent Indulgence – The True JAG Omakase Experience ($233). Also, we're recommend adding a wine pairing to your meal at extra cost – you won't regret it. Now, onto the food, shall we?
We started with a series of artfully plated appetisers and pre-mains. Our faves? The pea tartelette, a one-bite canape that has a hint of sweetness from the white chocolate; smoked mackerel with kohlrabi served four ways (raw, blanched, pickled and juice); and corn cream topped with grilled popcorn and sage.
For mains, we were expecting meaty proteins to take centre stage but it was refreshing to see vegetables and herbs from Savoie take the lead. The langouste, sourced locally, plays as an accompaniment to a green pool of blanched cream infused with ortie, piedmont hazelnut and coriander. Meanwhile, the turbot fish plays the perfect sidekick to a variation of cucumbers that receive a sweet glaze of verbena herb oil and fish juice reduction.
Who would have thought we would see local elements stand out in a French establishment? The Hokkaido scallop (pictured above) came with a scene-stealing (and complementing) laksa spice puree. Our taste buds and minds were blown. Ending our French omakase meal on a sweet note, chef Gillon presented us a dessert that looked as good as it tasted: Elderflower sorbet with raspberry and beetroot puree.
Our perception of French cuisine has truly changed. Chef Gillon's innovative execution of vegetable-forward dishes is commendable and inspiring, especially in a time when food is deeply rooted in climate change.
Jag, 76 Duxton Road, Singapore 089535
Joy Luck Teahouse
Calling all Hong Kong street food lovers! Robert Chua, who gave us Tim Ho Wan and Kam's Roast, has brought three iconic Hong Kong brands under one roof at Joy Luck Teahouse. Treat yourself to two types of egg tarts (puff pastry and butter cookie) from Hoover Cake Shop, creamy Hong Kong-style milk tea and pineapple buns from Kam Kee Cafe, and curry-flavoured fish balls from Tak Hing Fishball Company. Just be prepared to get in line!
Joy Luck Teahouse, #B4-61, Ion Orchard, 2 Orchard Turn, Singapore 238801
Coucou
Located amidst other stellar establishments along Craig Road, Coucou stands out for its speciality in Swiss cuisine. The moment you enter the premises, you'll be transported to a cosy ski cabin. This establishment is bedecked with kitsch cuckoo clocks (an ode to its moniker), warm lighting and wooden furniture. And the Swiss experience continues with its food…
Start your meal with the cold cuts and cheese platter ($30 for half, $55 for a full one) – we couldn't stop ourselves from inhaling the slices of air-dried beef. Cheese lovers can go straight for the Malakoff ($10), a glorious golden-brown sphere of deep-fried gruyere. Tear it open and you will be treated to a gooey pool of cheese. Another noteworthy plate? Rösti Zermatt ($28). Melted raclette cheese and ham sit on a bed of crispy rosti, resulting in a solid, filling dish.
For light eaters, there's the pike perch fillet ($38) served with lentil ragout, which adds an earthy dimension to the plate. To get a little carby action, order the spatzi (soft dumpling, Swiss pasta-style) to go along with it. Swiss elements also stand out in desserts like Ovaltine – which originated from Switzerland – mousse ($14) served with leckerli. All in all, it's a great spot for an intimate evening with your other half.
Coucou, 9 Craig Road, Singapore 089669
db Bistro & Oyster Bar
Be swept away to the sunny Mediterranean isles at chef Daniel Boulud's offshoot, db Bistro & Oyster Bar. Taking a cue from Boulud's Mediterranean-inspired dining concept – Boulud Sud – the French restaurant will spotlight flavours from the shores of southern France, Italy, Spain and the Greek islands, alongside spice influences from Turkey and the North African coast.
The two-month rotating menu will see dishes like smoky octopus à la plancha with Marcona almonds ($28), herb-spiced beef with pide flatbread ($28) and Moroccan chicken tagine ($68). The Mediterranean effect extends to its bar menu with the likes of Costa Brava ($20), a tequila-centered mixture with melon and cilantro, and Le Provençal ($20), a concoction of lavender honey-infused gin with ver-jus and champagne spritz.
db Bistro & Oyster Bar, available till 31 October, #B1-48, Galleria Level, The Shoppes at Marina Bay Sands, 2 Bayfront Avenue, Singapore 018956
Kafe Samsa
From the folks behind Central Asian resto The Nomads comes a new all-day concept. Kafe Samsa is situated in the same space, just before you enter the Telok Ayer eatery. Best of all, it transforms from a cafe and retail corner in the day to a wine bar in the evening. Named after the local pastry hailing from Uzbekistan and Kazakhstan, the kitchen's clear focus is this buttery treat.
From savoury to sweet, the puff pastry is offered in five flavours ($6 to $8 each). Minced lamb with sauteed spiced onions pays tribute to the original, wagyu beef with caramelised onions makes a perfectly hearty dish, and chicken pot pie is served Central Asian-style with flavourful spices. If you're on a meat-free diet, try the mushroom and lentil option or sate your sweet tooth digging into the apple version with a tinge of cinnamon and cloves.
So you'd like to bring home some goodies? Stop by the cafe or order online for spices, jam, bread, butter, candy and tea. Everything in the selection is either made in-house or sourced from Central Asia. Highlights include apricot chutney ($8), roasted dates jam ($8) and gatherer's butter ($20) made with seaweed or mushroom and truffle. And yes, you can have these spreads with the Nomads naan ($10) that's freshly baked daily. Psst: Come nightfall, the place becomes a hole-in-the-wall wine bar with vino, spirits and bar bites like skewered grilled meats and naan with hummus mash.
Kafe Samsa, 70 Telok Ayer Street, Singapore 048458
Wolfgang's Steakhouse
The perfect liquid companion to an exquisite steak has to be a glass of vino. With that in mind, the NYC steakhouse has rolled out a new menu called The Italian ($280). Taking out the guesswork for us, each steak dish – there are three – comes with a glass of red to bring out the richness of the famous USDA prime black angus beef. End your meal with a slice of New York-style cheesecake that's paired with sweet, sweet moscato.
Wolfgang's Steakhouse, #02-01, Intercontinental Singapore Robertson Quay, 1 Nanson Road, Singapore 238909
---
Best restaurant openings in Singapore: August 2020
Odette
The three Michelin-starred French restaurant is bringing the dreamy experience right to your doorstep with two new set menus under its home dining initiative Odette At Home: Decouverte ($188) and Indulgence ($288).
Curated by chef-owner Julien Royer and the folks from the Lo and Behold Group, the former features iconic Gallic classics like Paté en Croûte de Tradition Bourgeoise, a buttery pastry replete with paté-stuffed foie gras, morilles and black truffles; Poularde de Bresse au vin Jaune, chicken cooked in a creamy white wine stew; and yuzu blac-manger.
Veering away from tradition, the latter sees the restaurant's creativity come to life in the form of silky dumplings stuffed with crabs from Normandy in a ginger and pork broth; juicy milk-fed lambs served with crushed potatoes and confit tomatoes; and almond and cherry clafoutis. Feel free to indulge your sweet tooth with tempting handcrafted pastries like chouquettes and tarts, too.
Odette At Home, order online
Super Loco
Buzzy and breezy, Super Loco is a much-loved Robertson Quay hang that's known for delicious Mexican grub. And now, it's taking on healthy eating the Loco way with a new weekend brunch menu. Don't expect all greens and no fun though. This brunch is all about incorporating superfoods into crowd-pleasing recipes, with a few cheeky cocktails thrown in for good measure.
For a table of cheese-loving folks, go forth and order the super cheesy corn fritters. These wholesome fritters are made with sweet corn, jalapeño, green onion, coriander, Monterey Jack cheese, avocado, pickled red onion and served with sour cream and lime. Add some house-cured salmon for more layers to this already textured bite.
In the mood for a classic brunch staple? Rise and shine with the blue corn waffles (made with gluten-free cornmeal), which you can have either sweet or savoury. The former sees coconut sorbet, blueberries, agave and candied pecans dressing up the plate for a light start to your meal. Alternatively, top your waffles with crispy bacon, fried chicken and maple syrup. Here, this popular cheat day combination of chicken and waffles is made a tad less sinful with a light batter and the use of nutritious cornmeal.
Now for the sweets. If you don't like your chocolate experience tainted by lashings of sugar, you'll appreciate the use of cacao in the brownie. It's incredibly dense and fudgy in a stick-to-your-teeth kinda way, so be warned: this isn't the most first date-friendly pick! That said, this bittersweet dessert topped with a refreshing coconut sorbet is a welcome treat at the end of the meal.
Super Loco at Robertson Quay, #01-13, The Quayside, 60 Robertson Quay, Singapore 238252

Cheek Bistro
While we've enjoyed the numerous takeaway and delivery options during the circuit breaker, there's just something about dining out with your squad on a lazy weekend. In a timely manner, Cheek Bistro has rolled out its first weekend brunch menu with an Australian twist on classic morning faves.
Think mushrooms on toast ($18), which sees a vegemite custard on sourdough; grain porridge ($18), a bowl of superfoods and toppings like quinoa, berries and white chocolate; and fish and chips, a hearty plate of red snapper, peas and tartare. For your fill of morning protein, go for egg-centric breakfast staples such as the shakshuka ($18) or the son-in-law eggs ($18).
Cheek Bistro, 21 Boon Tat Street, Singapore 069620
Basilico
Can you believe this Italian institution has been doling out stellar pastas, pizzas, cheeses and cured meats for 12 years already? To commemorate this special anniversary, it's bringing back its golden dishes (12, to be exact) from yesteryear with a Best of the Best menu.
During our visit, we started with the standout dish of 2013, porchetta alla romana, and it made us eager for what was next. The contrast of the succulent pork belly and the crispy crackling, combined with the tartness and sweetness from the bed of braised sour cabbage and caramelised apple, elevated the entire dish.
Next, the show-stopping focaccia al tartufo of 2011. To the untrained eye, it might look like a pizza. But in fact, it's a flatbread stuffed with a trio of cheeses (three-milk robiola cheese, mascarpone cheese and provolone cheese) and topped with generous shavings of black truffle. We'd say the truffle brings the right amount of earthiness to the briny plate.
Seafood purveyors, let the chargrilled octopus of 2020 sate you. It's a colourful plate of tender sucker-bearing tentacles, crispy potatoes, crunchy greens and fresh pesto. The saffron-tinged risotto (of 2009) also sees a trove of oceanic treasures hidden within. Think chunks of lobster, sweet scallops and tiger prawns. Equal parts comforting and luxurious, we must say.
Lastly, the gut-busting char-grilled and hay-smoked wagyu beef bombette will fill you right up if you're feeling carnivorous. This special menu is available till 31 August for weekday lunch ($65) and daily dinner ($80), inclusive of antipasti, cheese, a choice of main and dessert.
Basilico, 2/F Regent Singapore, 1 Cuscaden Road, Singapore 249715
Escape Restaurant & Lounge
We've seen eateries adapting to the new way of life and Escape Restaurant of One Farrer Hotel has followed suit. It has ditched sprawling buffet lines for a massive a la carte menu. Expect local and international dishes like chicken rice ($20), biryani ($22), beef hor fun ($22), naan pizzas (from $20), pastas (from $20), burgers (from $20) and meat platters (from $88) that are perfect for sharing. Or, you can go for the set menu for a selection of appetiser, main course and dessert.
Escape Restaurant & Lounge, Level 1, One Farrer Hotel, 1 Farrer Park Station Road, Singapore 217562
La Dame De Pic
Polished, memorable and comforting. These are the words that pop in our head when we think of Michelin-starred chef Anne-Sophie Pic's dining concept La Dame De Pic at the majestic Raffles Singapore. Dedicated to present influences from the Asian region and Pic's hometown, Valence, the restaurant presents two new summer set menus: Experience ($248) and Elegance ($338).
Both seasonally inspired menus have something different to offer while doling out mains like wagyu beef, roasted pigeon and Pic's signature berlingots with a fondue centre. The Experience set features a refreshing tomato salad with elderflower-infused tomato consomme and burrata ice cream; and a luxurious tuna belly that's marinated in ginger, pandan and Tasmanian pepper.
For those looking to up the ante, the Elegance set fits the bill with dishes like brown crab with oscietra caviar, grilled langoustine with beetroot served in kombu seafood broth, and turbot cooked meuniere-style. Wine-pairing options are also available for discerning diners.
La Dame De Pic, Raffles Singapore, 1 Beach Road, Singapore 189673
Barbary Coast
When this dual-concept bar opened its doors earlier this year, there was much fanfare for its $10 beers on tap, $14 cocktail and addictive bites like tater tots waffles stuffed with beef pastrami. Now with Phase 2 in full motion, Deadfall is back in the game and hoping to bring the same electrifying energy.
The menu sees new arrivals, including the 200g grass-fed Australian Ribeye ($28), tuna melt ($15) and poutine ($12), a boat of fries drenched in beef jus. The drinks menu gets a little razzle-dazzle too, with eight new colourful cocktails ($20 a glass) like the deadly Scarlet that sees a combination of absinthe, whiskey, Cognac and vermouth. Don't know what to choose? Let the fortune teller menu help you narrow down your options based on your mood and desire.
Barbary Coast, 16 North Canal Road, Singapore 048828
Rebel Rebel
Calling all winos! There's a new wine bar in the scene that pushes natural wines to the forefront. The fresh entrant at Bukit Pasoh, Rebel Rebel has a steady and growing list of more than 200 bottles – just saying. Complement artisanal wines with the food menu created by chef Deborah Yeo, who has sharpened her knives at Burnt Ends and David Pynt's The Ledge at The Waldorf Astoria Maldives Ithaafushi. Tuck into standout bites like prawn uni paste with brown butter toast ($12) that reminds you of otak-otak, pig's head tagliatelle ($28), and the grilled quail ($28) served with rich Middle Eastern flavours.
Rebel Rebel, 14 Bukit Pasoh Road, Singapore 089828
---
Best restaurant openings in Singapore: July 2020
Grammi
Digital dining, anyone? Grammi is the cool new online restaurant brought to you by chef Beppe De Vito, the man behind Michelin-starred Braci, as well as Amo and Art. With ready-to-eat meals, groceries and drinks, the platform makes islandwide deliveries daily for all your Italian comfort food needs. You've got appetisers, soups, breads, pastas, bento boxes and desserts, ranging from healthy and hearty to flavourful and indulgent. We've got our eye on the porchetta sandwich with Iberico piglet, apple, Calabrian chilli and smoked cheese ($16.90), as well as the baked penne with eggplant, basil pesto, scamorza cheese and creamy tomato ($15.90).
On the grocery side, gourmet goodies, quick meals and kitchen staples like organic pastas and housemade sauces can be found. Plus, if you're having a house party, you can stock up on cocktail sets, artisanal gins, craft beers, Italian sodas and biodynamic wines at this one-stop shop.
Grammi, available online
Lucali BYGB
A collab between Mark Iacono, the creator behind Brooklyn's famous Lucali, and Singapore-based hospitality expert Gibran Baydoun, this hotly-anticipated new opening brings the much-lauded pizza pie recipe to our city. Bite into the crispy, fluffy base slathered with secret four-hour tomato sauce and topped with a wicked combination of buffalo mozzarella, low-moisture mozzarella, shaved Grana Padano and basil. Plus, there are more toppings on the menu so you can customise your pizza as you wish!
Wondering what else is on the menu? Meatloaf. Lasagna. Salads. Spicy rigatoni with eggplant, pepper and pecorino. Desserts like Rice Krispy treats, apple hand pies and brownies. Cocktails such as Long Island Iced Tea and Blue Hawaiian, plus natural wines and craft beers from around the world. Also, a special vino you can't find anywhere else. This house exclusive white wine is a collab between Nic Peterkin of L.A.S. Vino and Gibran Baydoun. It's smooth with just the right amount of sweetness, a total treat for wine lovers.
Lucali BYGB, Level M, 66 Kampong Bugis, Singapore 338987
Leckerbaer
If you're craving traditional Danish butter cookies (aka småkager), Leckerbaer is a dream come true for you. Arriving in Singapore with its creative treats, the brand's first outlet outside of Copenhagen makes Isetan Scotts its home. The doors of its 36-seater patisserie will fling open on 23 July at 1pm, giving you a peek into the secrets of #hyggelife.
At $2.80 each, these lovely cookies pop up on the menu in ever-changing core flavours and seasonal creations, with staples like raspberry, caramel with blueberry meringue and vanilla calamansi. You can also expect to see a collection of tarts and cakes on the line-up. Stars to take note of include lemon and sea buckthorn tart ($7) and summer sundae ($8), filled with cookie chunks, sorbet, salted caramel and meringue. As for those who prefer savoury bites, you've got all-day breakfast goodies, quiches and pea avocado tarts to pair with your housemade lemonades, cold brew teas and chai lattes. Wanna bring home a box? Customise your own selection in eight, 12 or 16-piece sizes (from $22).
Leckerbaer, #01-K2 and #01-K3, Shaw House Isetan Scotts, 350 Orchard Road, Singapore 238868
Capital Kitchen
Clubbing remains a no-go right now, but hey, you can still head to Zouk. The nightclub is transforming its lounge space into a pop-up dining concept, Capital Kitchen, serving an assortment of Asian and Western dishes from its RedTail kitchen, plus sakes, wines, spirits and locally-inspired bottled cocktails by Zouk.
Dig into familiar dishes like battered haddock fish and chips ($27), Aussie ribeye strips ($48) and royal broth congee ($15). Or share the love (but not the germs, please) with a feasting platter ($108) of light bites such as mala chicken skin, truffle fries and ebi chilli flatbread. Desperate for a slice of the ever-trending burnt cheesecake? Home bakery Paparch has teamed up with Zouk to serve its creamy classic ($15). Psst: Five Guys' burgers are on the menu too! Just take note that the eatery will only open from Wednesday to Saturday evenings.
Capital Kitchen, #02-05, The Cannery, 3C River Valley Road, Singapore 179022
Maxx Coffee
Heads up, caffeine addicts! (You know who you are.) This popular coffee chain from Jakarta, Indonesia, has opened a new outlet on our shores. It may be a tad out of the way at Jem – unless you're a west-sider – but if you love java enough, you might just be tempted to make the trek. The casual space features light wood elements, communal work stations, cosy booth seats and comfy sofas – great for friendly catch-ups over a cuppa.
Using mostly single-origin coffee beans such as Brazil Cerrado, Sumatera Lintong and Aceh Gayo, the menu highlights drinks like the nutty, chocolate-tinged Signature Latte Freddo ($5.50), made from a blend of Indonesian and South American coffee beans, and the ondeh-ondeh inspired Signature Klepon Freddo ($5.50), with tasting notes of gula melaka, pandan and coconut. Bubble tea fans will be pleased to find limited edition beverages such as brown sugar creme brulee and matcha lattes ($6.50 each), while coffee lovers can take home cold brews to go with the cafe's cruffins ($3.90) in flavours like pandan gula melaka, bandung and Oreo. If you're lunching at the eatery, simple dishes like flatbreads (from $6.70), lasagne pies ($7.60) and croissant sandwiches (from $7.20) will fill you up.
Maxx Coffee, #01-34/35, Jem, 50 Jurong Gateway Road, Singapore 608549
Potato Head Singapore and Three Buns Quayside
Can't get enough of magnificently messy burgers? Chow down on plant-based treats from the new sustainable menu, a selection of the resto's most popular dishes during Earth Month. The series features seven meatless burgers, salads, sides, drinks and desserts, made with ingredients from brands such as Just Egg, SimpliiGood, SeedFuel and, of course, Impossible Foods.
Whether you're a vegan or a meat lover, you'll be happily savouring dishes like the Impossible Hombre, with Impossible meat patty and hot chilli, roasted peppers, sour cream, cheddar, jalapeno pickle and mayo stuffed between toasted demi brioche buns. Or Spirulina in the Sky, a creamy milkshake made of coconut milk ice cream and spirulina. Oh, and for every dish sold from this menu, the eatery will donate a dollar to wildlife charity Acres during its 12-month partnership.
Potato Head Singapore, 36 Keong Saik Road, Singapore 089143; Three Buns Quayside, #01-01, 60 Robertson Quay, Singapore 238252
La Scala Ristorante
Sometimes, when you're craving Italian comfort food, nothing does the trick quite like pizzas. And La Scala does 'em perfectly. Made of flour brought in from Italy, these pies are charred to crisp goodness in the stone oven. Whether you're a fan of tomato sauces or not, you'll find something to your liking here. Must-orders include the black truffle pizza ($48) with parmesan, mozzarella, mushrooms and black pepper, as well as the Pizza Calabrese ($29), topped with mozzarella, pepperoni, black olives and sun-dried tomatoes.
To complete the meal, add on treats like grilled tiger prawns and squid, veal occobuco with buttery polenta, or tagliolini pasta with black truffle and parmesan cheese. End off on a sweet note by ordering bowls of panna cotta with mixed berry compote and the classic tiramisu, because indulgence is a must when you're here.
La Scala Ristorante, #01-86, Arcade @ The Capitol Kempinski, 13 Stamford Road, Singapore 178905
Cicheti
True story: It was great to finally step out for an actual tasting. And boy were we thrilled about this! After seven years, two sister outlets (Caffe Cicheti and Bar Cicheti) – and not to mention a pandemic – Cicheti brings us a refreshed menu.
The team, including group sous chef Dylan Cheong, junior sous chef Reisuke Kiyose and, of course, chef co-owner Lim Yew Aun, created a tantalising menu for the books. The unofficial theme? Seafood City. First up, the grilled sea prawns (market price) fresh from Tekka Market, generously drizzled with smoked herb butter. Another seafood standout is the hearty Zuppa Di Cozze E N'duja ($24++). Plump Australian mussels are sauteed in a flavour-packed spicy tomato and white wine sauce filled with 'nduja (spicy sausage) – trimmings made from off-cuts of salumi. This clever, minimal waste meat is also used in Casarecce ($28++), a tangy tomato-based pasta, whipped into perfection with guanciale, pickled peppers and freshly-made pasta. We particularly enjoyed the twist on the linguine ($29++). It was not the most visually appealing (hence, no pictures) but the vongole dish definitely took us by surprise. The creaminess from the onion puree, together with the crunchy-salty anchovies and a spicy hit from the jalapeno, just elevated the flavour of the hobinosugai clams and linguine.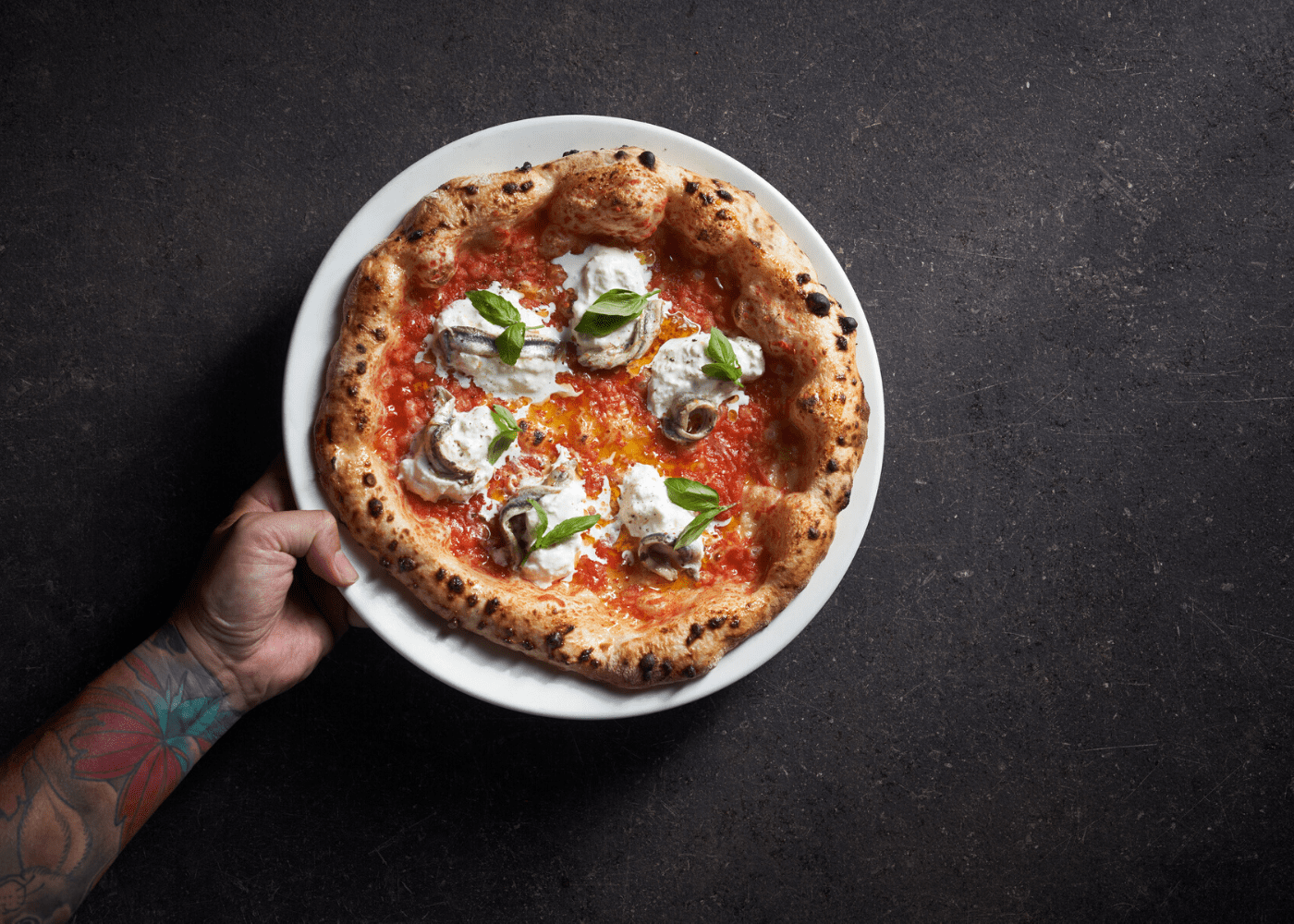 Finally, the cheeky off-the-menu Sicilian-inspired Napoletana has generous dollops of stracciatella and chilli flakes with lemon zest-marinated white anchovies laid beautifully on top of the signature Napoletana base. As with any Cicheti establishment, we were also treated to stellar wine pairings from sommelier Ronald Kamiyama. The smokey 2018 Pievalta, Verdicchio Superiore, Le Marche, and IT. Verdicchio complimented all the seafood well.
Cicheti, 52 Kandahar Street, Singapore 198901
---
Best restaurant openings in Singapore: April 2020
Meatsmith Little India
Known for grilling up Indian-influenced BBQ meats, head chef Kurt Sombero breathes new life to the menu with a smorgasbord of dishes that combines the unlikeliest of ingredients. First, we tucked into fresh oysters ($4.50/piece) enveloped in a layer of cinnamon tomato gazpacho. Slurp 'em up and you'll get a mix of savoury and briny waves. Next, the spiced papadum ($12) lathered with smoked creme fraiche and topped with ikura and tobiko. It's peculiar at first, but the creme fraiche brings down the heat by a notch and the amber spheres add a contrasting texture to the crunchy dish.
If you ask us, the veal brisket chapati ($14) is one of the stars on the new menu. The chapati is served in the shape of a taco and filled with smoked meat, melted cheese, chipotle sauce and pickled beetroot, which lends a nice zing. Another showstopper has to be the soft shell crab curry ($18), which is more crab than curry, but we're not complaining. A true-blue carnivore? The Kerala beef ribs ($45) and lamb ribs ($20) with mint sauce are your best options. The former is rubbed with a black curry spice and smoked for five to six hours, so expect intense flavours that pair well with the accompanying coconut turmeric sauce. The lamb ribs? One word: Fork-tender.
Meatsmith Little India, 21 Campbell Lane, Singapore 209894
Korio
This humble takeaway spot has been gaining traction on social media with its artisanal donuts and oozing sammies that have mastered the art of cheese pulling. Run by husband-wife duo Myron and Shaz, the rotating menu spotlights grub like grilled halloumi, tuna melt and the classic grilled cheese. Now, onto the sweet stuff. Inspired by the donuts he had during his short gig at a pizzeria in NYC, Myron has been putting out these pillowy soft treats in classic and innovative flavours like peanut butter raspberry jelly, passion fruit white chocolate, and coconut with hazelnut. Just take a look at Korio's Instagram page and you'll know what we're talking about.
Korio, #01-03, Far East Square, 135 Amoy Street, Singapore 049964
Porta
As the saying goes, new year, new me. All-day dining bistro Porta has followed suit with its refreshed menu. Vegans and vegetarians will be glad to know the joint has teamed up with Hong Kong social enterprise group Green Monday to create a dedicated plant-based menu. Highlights include the creamy orecchiette pasta ($24) with Beyond sausage and wild mushrooms, and the Beyond burger ($24), which features a juicy meatless patty, Daiya cheese and caramelised onions sandwiched between a brioche bun. Under the a la carte menu, look forward to flavourful new entrees: The black cod ($29) with a pistachio crust, served in a pool of spinach dashi stock; venus clams with capellini ($24) sprinkled with deep-fried sakura ebi; and the parma ham salad ($16), presented with cubes of watermelon compressed in lime juice.
Porta, Park Hotel Clarke Quay, 1 Unity Street, Singapore 237983
Cicada
There's a new restaurant at Clarke Quay. This sprawling 4,000 square feet multi-dining concept comprises a restaurant on the first floor and a lounge on the second, which has yet to open. The menu is embellished with mod-Asian dishes. Take, for example, plates like the tantalising baos ($12 for a set of three) that come in flavours like tempura prawn or chicken katsu with rojak salad, and the nori taco set ($14), which features salmon belly cubes, pan-seared foie gras and beef bulgogi.
Feeling ravenous? Go for signature dishes like the braised duck leg ($24) with crispy yam balls and the char-grilled king prawn served with capellini noodles ($22). For dessert, the sticky date pudding ($14) is the clear winner. It's not sickeningly sweet and the portion isn't too big, so no judgement if you inhale it all by yourself. The drink menu isn't too shabby either, with seven cocktails on tap to choose from. Our fave is their version of the Singapore Sling aka Cicada Sling ($18), which sees an extra splash of Benedictine D.O.M.
Cicada, #01-10, Block C, 3 River Valley Road, Clarke Quay, Singapore 179022
Hongdae Oppa
This new Korean joint brings a slice of the vibrant Seoul neighbourhood of Hongdae right to you. The place has a strong urban aesthetic – think pastel-coloured walls, neon-lit signs and industrial barrels for chairs. Hongdae Oppa specialises in K-style fried rice (from $13.90), colloquially known as bokkeumbap, served in sizzling hotplates with options of pork, beef, chicken or crispy pork belly. You can also find Korean fried chicken (from $10.90) and other typical dishes like army stew (from $29.90), tteokbokki ($11.90) and ramyeon ($14.90) on the menu. It's basically a haven for anyone who has been swept up by the Hallyu wave.
Hongdae Oppa, #B2-47, Plaza Singapura, 68 Orchard Road, Singapore 238839
Gather
Brought to you by the guys behind the now-defunct Ronin, Gather finds its home in the grand dame of Singapore: Raffles Hotel. No wicked French toasts or dim lighting spotted here. Instead, you are welcomed with white walls, brick accents and a minimal menu consisting of sweet and savoury crepes including bolognese, ham, camembert and fig, and burnt caramel (which comes with a tiny block of that famous Bordier butter). Those who miss the coffee from Ronin can get their caffeine fix here as well. Be sure to check out the retail section too, for an eclectic mix of items.
Gather, #01-12, Raffles Hotel Arcade, 328 North Bridge Road, Singapore 188719
---
Best restaurant openings in Singapore: March 2020
Brown Butter
From the folks who gave us Benjamin Browns and its monster milkshakes comes a new concept: Brown Butter. Don't let the moniker fool you into thinking it's another dessert spot, though. This cafe champions clean and tasty dishes, with avocado taking centre stage on the menu: Think avo burger ($23), avo fries ($12.90) and even avo pancakes ($18). Also check out the extensive toasties line-up, which offers interesting flavours like Japanese egg mayo ($12.90), salmon mentaiko cheese ($18) and truffle chicken ($18). On a health kick? Get the beetroot ($15) or avo toast ($14), and pair it with kombucha berry smoothie ($9.50) for a balanced meal.
Brown Butter, #01-18/19, Forum The Shopping Mall, 583 Orchard Road, Singapore 238884
Wrap Bstrd
Ebb & Flow Group joins forces with AI solutions company SQREEM to birth this new F&B brand. Using data from 200,000 individual data points and studying flavours, ingredients and consumer's behaviours, the team picked out popular meals that people are most likely to enjoy. Expect a lot of Asian flavours, all prepared in a dark kitchen (a container where food is prepared for delivery). Salad wraps, these are not. Some of the hearty options that won over our taste buds include cauliflower butter curry with tater tots ($8.80) and spicy chicken Indomie ($8.80) – we're suckers for those Indo noodles! However, although we love carbs as much as the next person, local flavours like chicken satay ($9.90) and char siew ($10) come stuffed with a generous portion of rice, which is a bit of an overkill for us. Keen to try? You can get your hands on them via GrabFood or Deliveroo from 12pm to 3pm on weekdays. With plans to expand to more locations, the brand is only available in the CBD area for now.
Wrap Bstrd, order online.
Steeped Tea Bar
With walls awash in white and ample natural light streaming in from the windows, this minimalist cafe props itself up as a tea version of a coffee bar. Whole tea leaves are freshly ground and natural flavours are extracted with high pressure from an adapted espresso machine here. All that to say, if you're serious about your brews, this is the place to be.
Good grade sencha, high mountain oolong, tie guan yin and Earl Grey feature on the menu, along with real fruits, to deliver a selection that includes popular favourites like soursop sencha ($6.60), pear high mountain oolong ($6.30) and chamomile green apple ($5.60). Each concoction is fresh, aromatic and light, allowing the notes of the brew to really shine through the blend. For latte lovers, try the slightly bitter matcha version ($6.30) or treat your sweet tooth to the melon fruit one ($5.80). If you prefer your drink straight up, go for ice brewed sencha ($6.50) or lavender espresso ($4.50-$5.50). Side note: The space is tiny and seats are limited, but those in the mood for dessert can grab a chair and pair your drinks with an ever-changing line-up of cakes like strawberry souffle and tiramisu.
Steeped Tea Bar, #01-01, 2 Tan Quee Lan Street, Singapore 188091
Ryan's Kitchen
Ryan's Grocery is no stranger to anyone constantly on the hunt for gluten-, allergen- and preservative-free meats and groceries. But with the opening of its second (and largest) outlet at Great World, the new 4,000 sq ft space now comprises its first cafe: Ryan's Kitchen. Most interestingly, the casual 40-seater serves produce that you can select from the retail section. This "pick and grill" service (various prices) allows customers to choose preferred cuts and have the kitchen sizzle 'em for an extra fee. On our visit, we sampled the Borrowdale free range pork chorizo and pork cumberland sausage, as well as the Mara organic herb garlic beef sausage, all scrumptious with the pairing of mustard and cranberry relish.
For something classic, Ryan's Burger ($22) will satisfy your beef-and-bun cravings. But if you're feeling hungry, we'd suggest you share the Five Founders Carbon Neutral Certified Beef OP Rib ($148/1kg) with your fellow diner. The jumbo-sized bone-in ribeye is a flavourful medium rare and comes with a heap of potatoes and greens. Best of all, you can take a stroll through the store after your meal to tick items off your grocery list for the week.
Ryan's Kitchen, #B1-144/146, Great World, 1 Kim Seng Promenade, Singapore 237994
Cafe Baristart Coffee
Hailing from the wintery land of Sapporo, Cafe Baristart Coffee opens its second outlet in Singapore at sunny Sentosa with an alfresco concept. Known for infusing coffee with the creamy Biei Jersey Milk from Hokkaido, the eatery is a great place to seek respite from the heat by grabbing the store-exclusive coffee granita for an icy treat. Another dish that's only available here is the fluffy Japanese souffle pancake that comes in three flavours: Mixed berries, butter and maple syrup, and tiramisu.
Cafe Baristart Coffee, 40 Siloso Beach Walk, Sentosa, Singapore 098996
Merci Marcel
The uber-chic French cafe in Tiong Bahru has revamped its dinner menu, with a special nod to South and Southwest France to add a little zhoosh to old favourites. Start the gastronomical journey with Truffle Tarte Flambee ($25), a French-style pizza topped with onions, coppa pork and a generous drizzle of truffle oil (yes, please!). You won't be able to stop at just one bite. It's only apt that seafood dishes make an appearance on the menu too, since the aforementioned regions border the Mediterranean Sea and the Atlantic Ocean. The prawns ($13), which are sourced from local markets, are juicy and the passionfruit seeds lend a sweet aftertaste. The codfish gratin ($39) comes with eggplant caviar and a chorizo crust that melts in your mouth. Oh, and the duck parmentier ($27) gets a tasty upgrade here: It's basically duck confit on a bed of rosti-like potatoes. Wash it all down with refreshing drinks like the Singa'Spritz ($24), a twist on the Singapore Sling, and the Marcel Spritz ($22), which has hints of elderflower.
Merci Marcel, #01-68, 56 Eng Hoon Street, Singapore 160056
Cassia
Capella's Cantonese restaurant has launched its summer menu that sways fondly around seafood and dim sums. As part of the signature six-course set ($129++), diners can indulge in deep-fried lobster with mango and cheese, wok-fried codfish with cherry sauce, fried rice with pan-fried scallops, and Australian wagyu beef with black pepper sauce. Dim sum lovers, head over during lunch to tuck into innovative treats like steamed prawn dumpling with asparagus ($6/two) and steamed charcoal barbecued pork bun with black truffle ($7/two). The summer menu is available till 31 August.
Cassia, 1 The Knolls, Sentosa Island, Singapore 098297
The Blue Ginger
A household name in the Peranakan food scene, The Blue Ginger has established its foothold in the industry since its debut in 1995. As a nod to its history and heritage, the restaurant has received the Michelin Bib Gourmand stamp of approval for the last three years. And 2020 marks a grand occasion for the brand as it finally debuts its second outlet: A casual, contemporary eatery accented with Peranakan details.
If you've got an adventurous palate, start your meal with a zing by ordering new appetisers like kerabu kacang botol ($11.50), with winged beans tossed in dried shrimps, shallots, grated coconut and a chilli and lime dressing; or kerabu timun ($8.50), starring chicken gizzards with cucumbers, tomatoes and belacan. As for the mains, you've gotta try the ayam panggang ($16), a plate of succulent grilled chicken slathered in a fragrant, spice-laden gravy with elements of lemongrass, galangal and coriander. The restaurant's pork ribs assam ($20), a rendition of the classic babi assam, is fall-off-the-bone tender after hours of braising and boasts a good mix of sweet and sour notes. Oh, and the kitchen crafts its buah keluak (black nut) creation a little differently here: With sotong ($22) instead of chicken, which makes for an unexpectedly delicious dish. Don't forget the veggies, though! Terong goreng cili ($13) is our recommended pick, as the deep-fried eggplant slices get a fiery kick with housemade chilli and a splash of sweet dark soy sauce.
If you've not hit your carb quota yet, try the Nonya noodles ($15) for a unique take on Hokkien mee. Here, the yellow strands are swimming in a prawn and pork stock with fermented soybean paste, bean sprouts, kang kong and omelette strands. For dessert, go the classic route with a bowl of chendol ($5) or opt for the creamier version with a scoop of D24 durian puree ($7).
The Blue Ginger, #01-106, Great World, 1 Kim Seng Promenade, Singapore 237994
---
Best restaurant openings in Singapore: February 2020
Small's
Bjorn Shen is no stranger to the local F&B scene. Who can forget his terrific fried chicken joint Bird Bird (now defunct) or his almost 10 years strong Artichoke, which delivers superb, unpredictable Middle Eastern food? Never one to sit still, he has added a new tasty project to his ranks. Taking up a cosy space in the latter, this four-seater spot is called Small's – how apt.
"It'll be an experience that people will need to book ahead in groups of four; strictly four, no more, no less. I'll be running it three nights a week and cooking up an eight-course menu – three snacks, four pizzas and a dessert," he says. And with him in the kitchen, you don't need all the details to anticipate having a tasty time. Just know that the pizzas will be baked Neapolitan-style, putting a spotlight on the flavours and textures of the crust, as opposed to other pizzerias that focus on the toppings. Want to take a bite? Bookings will be released on the 24th of every month, so mark your calendars.
Small's, 161 Middle Road, Singapore 188978
Butcher's Block
Ever since the grand dame of Singapore, Raffles Hotel, reopened late last year after restoration works, it has been rolling out new restaurants one after another. We're betting they'll soon be iconic, like the just-revamped Raffles Courtyard, which has attracted crowds ever since it opened its doors to discerning drinkers in 1991. And after spending an evening at Butcher's Block, we're firm believers that this meat-centric restaurant will soon be a worthy contender amongst steak joints.
Taking up the space formerly occupied by Long Bar Steakhouse, the location works as an almost poetic ode to its predecessor. It's dimly lit and exudes romance with cobalt blue hues, dark wood panelling and brass accents, along with a glass cooler that showcases fine cuts of meat. Oh, and it only opens in the evening (6pm-10pm), heightening the romance factor.
On to the food! We started with a plate of cured beef, guindilla peppers and slices of bread ($25/$35). Make sure you squeeze in a bite of the pepper with the cured beef and bread to get a tart zing. Your mind (and palate) will be blown. Up next, the Lebanese-style pizza ($35). It's topped with organic lamb – oh, and all the meats served here are sustainable and so are 40% of the wines – and pomegranate molasses, which adds a tinge of sweetness to the savoury dish.
But the highlight of the night has to be the cote de boeuf (ribeye steak) and club steak (sirloin steak) ($118). The former has a marbling score of 7, and while we savoured the medium-cooked steak, we relished in the fatty bits that melt in your mouth instantaneously, probing us to take another bite. After the luxurious ribeye, the lean club steak didn't quite make the cut, though who can blame us? The meats come paired with a trio of vegetables: Carrots with a generous drizzle of tahini dressing, barbecued artichoke ($14), and grilled radicchio ($14). We certainly enjoyed the crunchy, charred radicchio; it was bursting with character and flavours contributed by the delish XO sauce coating.
In every restaurant, there's that one star dessert that diners shouldn't miss out on, and in this case, it's the chocolate tart. Served with passion fruit sorbet, the frosty fruit plays down the bitterness from the dark chocolate. Totally polarising but delightful. If you're looking for something truly different, book the three-metre Oak Table for a chance to try exquisite cuts of meat that are off the menu. Think of it as a meat omakase!
Butcher's Block, #02-02 to #02-07, Raffles Arcade, 328 North Bridge Road, Singapore 188719
Zorba The Greek Taverna
Founded by 1-Group, which brought us Yin, Monti and 1-V:U, Zorba is a new riverside Greek restaurant in Clarke Quay. With a convivial atmosphere (it helps that the Singapore River acts a picturesque backdrop), dishes here are perfect for big groups. While the cuisine is known for being healthy and light, our visit proved that there's more to Greek food than just vegetables and yoghurt.
We started with the dips platter ($28): In the centre sits a ramekin of olives surrounded by colourful dips, the best of which are hummus and tzatziki. Looking for something familiar? The creamy moussaka ($22), which is essentially a Greek-style lasagna, will please even the fussiest of eaters. It features thin layers of zucchini, eggplant, potato and minced beef, and comes topped with a bechamel sauce.
As the dinner progresses, your food will move towards hearty dishes, but we don't foresee any complaining. Cheese lovers will love the spanakopita, a Greek pie that's stuffed with cheese and spinach, then encased in crispy, flaky phyllo dough. We would have gone for a second slice but we had to pace ourselves for what was about to arrive next.
Straight from the kitchen came a plate brimming with grilled meats. The mixed grill platter ($88) has everything: Lamb chops, pork gyro meat, lamb kebab, chicken souvlaki and bifteki (a beef patty stuffed with cheese). The crispy pork goes well with the tzatziki dip (yes, we kept the dips for the mains), while the ratio of cheese to meat in the bifteki is nicely balanced. However, the chicken souvlaki didn't stand out for us as it was a little dry.
After devouring half the platter, we found a base of fries and salad. We were nursing a food coma, to say the least, but the show had to go on. Lamb is typically a tricky meat to cook, but the fork-tender lamb kleftiko ($36) is done right here. For seafood, you can dive into a plate of grilled sea bream ($32), grilled octopus ($30) or jumbo-sized prawns ($28) drenched in spicy tomato sauce. Lazy to peel the prawn shells off? Just eat the entire crustacean, but don't forget to slather it in sauce first for a flavourful bite. We ended our Greek feast with baklava ($12), of course. The walnut and pistachio add a nice crunch and the honey lends a mild sweetness to the dessert.
Zorba The Greek Taverna, #01-02, Clarke Quay, 3A River Valley Road, Singapore 179024
Mott32
Hailing from Hong Kong, this new OTT Chinese restaurant has recently joined the dining scene in MBS. Priding itself on serving premium ingredients and age-old recipes, it offers innovative dishes that are a little closer to home such as the sugar-coated Peking duck bun ($10/3 pieces), crispy prawns with salted egg yolk and oatmeal ($38), and the classic black pepper crab ($15/100g). Drinks-wise, you'll be downing tipples concocted with an Asian influence such as the Hanami ($24), which sees yuzu and chrysanthemum in the mix, and Harbour Dawn ($24), which uses butter-washed vanilla rum, coconut and pandan.
Mott32, B1-42-44, Galleria Level The Shoppes at Marina Bay Sands, 2 Bayfront Avenue, Singapore 018956
Tiong Bahru Bakery Diner
One of Singapore's most premier bakeries takes on a new avatar at its shopping mall locations in Raffles City and Funan. Tiong Bahru Bakery Diner brings you an all-day breakfast menu, dishing out a surprising number of vegetarian and vegan options in the mix.
Chef Paul Albert flaunts his skills and knowledge honed from Michelin-starred establishments in France and Rio, including Rio's top sourdough bakery, The Slow Bake. Almost everything from the menu is made from scratch, keeping waste to a minimum by using ingredients close to home – he even uses some local ice mint from the rooftop garden upstairs. We were pleasantly surprised by the Chayote Kimchi and Mung Bean Salad ($18), 'cos who would have thought a simple toss-up of mung beans and local snake beans could taste so good? And the addition of spicy kimchi made using local chayote and turnip gives it a good kick.
If you're feeling peckish, go for the Hot Chicken Salad and Caramelised Pumpkin ($20). Don't be fooled by the simplicity of its name. One might quip that it's just chicken salad but it's more than that – slow-cooked chicken is marinated with ingredients like lemongrass, turmeric and cinnamon. Finally, it's basted with house-made brown butter. The caramelised pumpkins are just as good, cutting like butter off our fork with a caramelised, toasty flavour. Oh, and that yoghurt wasabi sauce? Bliss.
If you're craving for waffles, try the savoury 100% Sourdough Waffle ($23) made with a mix of traditional Belgium-style batter and the star of the show, a 158-year-old starter all the way from Rio. It's a tad too tangy on its own but have it with crispy bacon, paprika-infused maple syrup and honeyed ricotta, and you've got yourself a winner.
Tiong Bahru Bakery Diner, #04-22-25, Funan, 107 North Bridge Road, Singapore 179105; #B1-11, Raffles City Shopping Centre, 252 North Bridge Road, Singapore 179103
– Review by Nicole Nithiyah
The Nomads
Located inside Bee's Island Drinkery along Telok Ayer, this is one speakeasy you should check out. It's a reimagination of The Silk Road's culinary journey, from Southern Italy to Western China, with a nod to the Southeast Asian flavours that we're all familiar with. There's also a slant towards the flavours of Kazakhstan, as a result of executive chef Dannel Krishnan and co-founder Shawn Kishore's exciting trip to the country.
Select from three tasting menus, an a la carte menu or a communal menu if you book the private dining room. We were offered the 17-course tasting menu (The Odyssey of Fire at $148) which alarmed us at first but to our surprise, did not send us off with a food coma.
Highlights include the Nomads Nan with Hunter-Gatherer's butter, a fluffy Kazakhstan-style bread with seasonal butter (we had foie gras and uni) and seaweed butter; the koji cured scallops served with charred spiced corn and crispy lentil crackers; and Squid Laghman, a noodle dish that uses grilled squid noodles instead, because carbs. Finally, there's the hearty Beshbarmak, a decent chunk of tender wagyu beef cheek served with a spiced broth and crispy potato sheets.
But honestly, the clincher has to be the stories chef Dannel and Shawn shared with us along the way that gave the whole experience a nice, personal touch.
The Nomads, 70 Telok Ayer Street, Singapore 048458
– Review by Nicole Nithiyah
Spice Brasserie
Journey through a multitude of Asian cuisines at Spice Brasserie. Taking the food up a delicious notch, this newly revamped buffet gives you the best of Asian street food from around the world. Start with the Asian salad bar where there's more than just raw leaves to choose from; here, you'll find ingredients like kimchi, shrimp floss, crispy soya beans and more, all ready to be tossed in dressings like mala or Chinese peanut butter.
Satiating pit stops include the tandoor section, with the must-try squid ink naan. We dipped pieces of it into a creamy, hearty bowl of butter chicken and before long, we'd inhaled a whole plate of flatbread. Right by the naan, roasted sweet potatoes are another street food staple that's done just right.
Meat lovers will love the selection at the charcoal grill, with the signature black char siew that features a caramelised exterior, best eaten with a slice of juicy grilled pineapple. The combination may sound odd to you, but give it a go and your tastebuds will tell you otherwise.
Another dish cooked over flaming charcoal, the warm and comforting broken rice claypot porridge boasts a rich briny broth and generous amounts of seafood like white clams and oysters. Speaking of seafood, there's also fresh sashimi on ice and local favourite chilli crab with mantou, which had us going back for a second helping.
By now, you'll likely be stuffed but don't leave without some sweets! The teppanyaki ice cream offers daily specials like pina colada or matcha flavours served with customisable toppings such as marshmallow or chocolate sprinkles. Also save some stomach space for Nyonya kuehs, durian pengat, cempedak cake and the chocolate-covered rum ball.
Spice Brasserie, ParkRoyal on Kitchener Road, 181 Kitchener Road, Singapore 208533
Lunch at $34 per pax from Mon to Fri, $50 per pax for Sat and Sun; dinner at $42 per pax from Mon to Thurs, $60 per pax from Fri to Sun
-Review by Amelia Ang
So France
Coming into 2020 with a new look and refreshed menus, this French bistro is a sweet spot at Duo Galleria for lunch hangouts and evening drinks at its alfresco terrace. It's still very much focused on classic French flavours, with highlights such as the pan-seared sea bass ($32), cheese and charcuterie boards (from $25), scallops carpaccio ($24) and the traditional Oeufs Meurette from Burgundy ($24, featuring poached eggs with pearl onions and sourdough bread). Plus, an entire section of the line-up is dedicated to duck, so you can try the eatery's rendition of duck confit ($32) or go for the salad with cured duck gizzards and cured duck breast tossed in a zesty vinaigrette ($24).
If you're popping by for weekend brunch, we'd recommend checking out the crepe station, followed by orders of French omelette and beef burgers. But don't let your culinary journey through France stop there; browse through the cosy retail section on your way out and bring home all the cheese, wines, tinned sardines, Bordier butter (yum!), artisanal kombucha and jams you want.
So France, #01-51/56, Duo Galleria, 7 Fraser Street, Singapore 189356
---
Best restaurant openings in Singapore: January 2020
Black Marble by Otto
Chef Otto Weibel needs no introduction, with over five decades of experience in the culinary industry. Needless to say, we were stoked to check out his newest venture. His first restaurant, Otto's Deli Fresh, has been rebranded to Black Marble by Otto and the space has gotten a facelift as well. The new 55-seater restaurant is drenched in a monochrome palette of black and grey with brick accents on the walls.
Specialising in grilled food, chef Otto's philosophy is to "keep it simple with perfection". That's lovingly reflected in the dishes, especially since all the sauces are made from scratch and the beef is dry-aged in-house. Take the dry-aged Angus ribeye, for example: Served medium rare, it's so good on its own that you don't need any sauce to go with it. Another worthy contender has to be the grilled lamb rack. No gamey taste whatsoever, and it pairs nicely with the chimichurri sauce for a refreshing flavour. Seafoodies can dig into the fresh ocean platter, which features Boston lobster tail, Tasmanian mussels, tiger prawn, octopus and salmon trout or saffron risotto, which is topped with sweet lobster chunks and scallops.
Black Marble by Otto, #02-01, Raffles Holland V Mall, 118 Holland Avenue, Singapore 278997
Taiwan Food Festival: Ningxia Night Market
From now till 9 February, foodies can head over to Sentosa to have a taste of Taiwan's famous Ningxia Night Market, aka the "stomach of Taipei". This pop-up, which spans from Siloso Point to Siloso Beach, will feature over 30 vendors and expect popular street food like flaming beef cubes, egg-bombed scallion pancake, Taiwanese sausage with glutinous rice and more!
Taiwan Food Festival featuring Ningxia Night Market, Siloso Point, Sentosa, Singapore 099598
Le Petit Chef at Grand Hyatt Singapore
Those who missed out on this immersive dining experience last year will be glad to know that Le Petit Chef is continuing its run till 31 June 2020! At this two-hour culinary experience like no other, you will travel the Silk Road without leaving your seat. From the Middle East and all the way to China, you'll be treated to a feast that pays tribute to each of the locales with music, captivating visuals and delectable dishes. The menu includes a trove of oceanic delights on seashells as the "chef" makes his way to the Middle East by boat; and when you arrive in India, a plate of naan bread, butter chicken and raita await. The hotel's executive sous chef Steffan Heerdt and his team have also crafted an exclusive plant-based menu for vegan diners!
Le Petit Chef at Grand Hyatt Singapore, Mezza9, Grand Hyatt Singapore, 10 Scotts Road, Singapore 228211
BTM Mussels & Bar
New to Duxton Hill, BTM Mussels & Bar specialises in Belgian's national dish: Moules-frites aka mussels and fries. And after sampling what it has to offer, we're convinced that this new restaurant will be as popular as its neighbouring steak counterpart, L'Entrecote.
During our visit, we tried four different flavours of moules-frites: Marinières, ardennaise, thailandaises and au roquefort. Marinières is a classic flavour cooked with white wine, butter, parsley and onion for a light and flavourful broth. For something tangy, the au roquefort fits the bill with a mixture of blue cheese and cream, which helps to mellow the acidity. As much as we loved the European flavours, we were huge fans of the inventive, Asian-inspired thailandaises. Made using lime leaves, chilli, lemongrass and coconut, the tasty broth halted our minds at a crossroads for a split second before we eagerly dived in for a second spoonful. And of course, once you're done with the rustic beauties, sop up the broth with crispy fries.
Joining us at the table was the owner of restaurant group Déliciae Hospitality Management (DHM), Olivier Bendel, and boy, was our dinner eventful. Each dish was paired with a riveting anecdote or fun fact about everything under the sun, from when he first arrived in Singapore to the proper way of preparing mussels and how he has developed over 250 mussels recipes to date. So look out for new flavours popping up on the menu from time to time.
While mussels may be the star of the menu, don't overlook crowd-pleasers like Le Croq-Truffle, a truffle-loaded croque monsieur that is the perfect blend of salty and cheesy; bitterballen, a dutch beef meatball that is crispy on the outside and gooey on the inside; and the escargot tartes flambées, a French-style pizza that had us dreaming about the light and flaky crust for days.
BTM Mussels & Bar, 5 Duxton Hill, Singapore 089591
1-V:U
Don't let the name throw you off; it's pronounced as "one view". And what a great view it boasts, from its perch up high on The Outpost Hotel, the city's first adult-exclusive property in Sentosa. Housing a chill day club and a smart-casual Asian restaurant, the space beckons you with spectacular sights of the Singapore Straits, which makes it an ideal spot to watch the sun go down on another day. If you're all about luxe beach partying, take a dip in the infinity pool or lounge on sunbeds with a cocktail in hand and a beat backdrop of groovy house, soul and nu-disco. In the mood for something heartier than bar bites? Hit up the 60-seater restaurant for sharing plates whipped up in the open kitchen. The communal menu is divided into "Terra" (land) and "Aqua" (sea) dishes, with highlights such as the Korean-inspired glazed beef oyster blade steak, Josper-grilled octopus with gochujang emulsion and lion's head Asian hamburg. To sample a little bit of everything, we'd recommend you try the tasting menu for five to seven courses of unique, flavourful creations.
1-V:U, L7, The Outpost Hotel, 10 Artillery Avenue, Sentosa, Singapore 099951
Allium
Experts in the local F&B scene predicted that one of the food trends in 2020 would be sustainable dining, and the newly-sprouted restaurant Allium confirms that – what perfect timing too, since it's Veganuary. It's not a full-on vegan restaurant, but plant-based dishes like fenugreek white wine curry, pine nut and root vegetable congee, and black truffle braised beancurd steal the limelight. Meat eaters can still get their fill, although beefy dishes take up no more than one-twentieth of the menu. Wash it all down with the curated selection of wines.
Allium, #01-11, Kensington Square, 2 Jln Lokam, Singapore 537846