Get your hands on the best pineapple tarts in Singapore!
Traditional or tarted up? No matter how you like it, there's a perfect pineapple tart in Singapore for you.
As much as we love our desserts, from crepes to tarts to macarons, we're glad pineapple tart season is just around the corner. Buttery and flaky, with a perfect balance of sweet and sour – these glorious Chinese New Year treats are pure gold. As with all things, go for the best in town so you don't waste your calories on unworthy contenders. Here are our top picks for the best pineapple tarts in Singapore.
Best pineapple tarts in Singapore
1. Pineapple Tarts Singapore
Looking for freshly baked pineapple tarts delivered to your door? Shop them from Pineapple Tarts Singapore. This online store promises CNY goodies fresh from the oven for the best tasting quality that will wow your fam.
Its fully handmade pineapple tarts are created with the best quality ingredients for the perfectly buttery bite, stuffed with delicious pineapple filling that will have you reaching for more. Place your orders for traditional Nyonya pineapple tarts that are a must-have for your CNY goodies table! Psst: enjoy free tastings at Primax (22 New Industrial Road, #03-15) from 10am to 7pm daily!
Pineapple Tarts Singapore, available online
2. Wang Lai Bakery
For an authentic, traditional recipe, look no further than Wang Lai's delectable pineapple tarts. The secret? This bakery uses a traditional recipe that's passed down for four generations, offering lovingly handcrafted pineapple tarts that are made with top-notch ingredients.
Have a taste of this heritage recipe by carting out a tub or two. Choose from open-face pineapple tarts or encased ones. Either way, these bites are sure to delight any visiting guests! If you want a taste, get a free tasting at Midview City (20 Sin Ming Lane, #03-58) from 10am to 7pm daily.
Wang Lai Bakery, available online
3. Ding Bakery
​​Ding Bakery offers homemade creations carefully baked with special in-house recipes. The result? Addictive CNY treats, including its popular pineapple tarts. The bakery clocked over 80k happy customers last year and it's back with more!
Try the melt-in-your-mouth pineapple balls for an amazingly buttery bite – these pastries might be small, but they're packed with flavour. The traditional open-faced pineapple tarts will also be a hit with everyone. Just want the pastry without the pineapple paste? Ding Bakery even creates pineapple balls without fillings to satisfy your cravings!
Ding Bakery, available online
4. One°15 Marina
Sink your teeth into soft and flaky pineapple tarts with organic pineapple paste and rich Golden Churn butter. We're not kidding when we say these literally melt in your mouth. The Himalayan salt sprinkled on top is the icing on the cake. Your jar will be emptied in no time! For a little heat, look no further than the spicy dried shrimp sambal pineapple tarts ($34.80). The combination of chilli padi, premium dried shrimp, and sweet pastry is perfect for those who enjoy sweet and spicy flavours.
One°15 Marina, available for takeaway and delivery, order online
5. Janice Wong
If you're looking for your next sweet treat, who better to turn to than Janice Wong herself? The queen of desserts brings you extra beautiful pineapple tarts in their traditional shape. The glistening pineapple jam complements the crispy pastry perfectly. We're also checking out the chocolate-coated pineapple balls that added a layer of decadence to this already luxurious snack.
Janice Wong, available online
6. Kele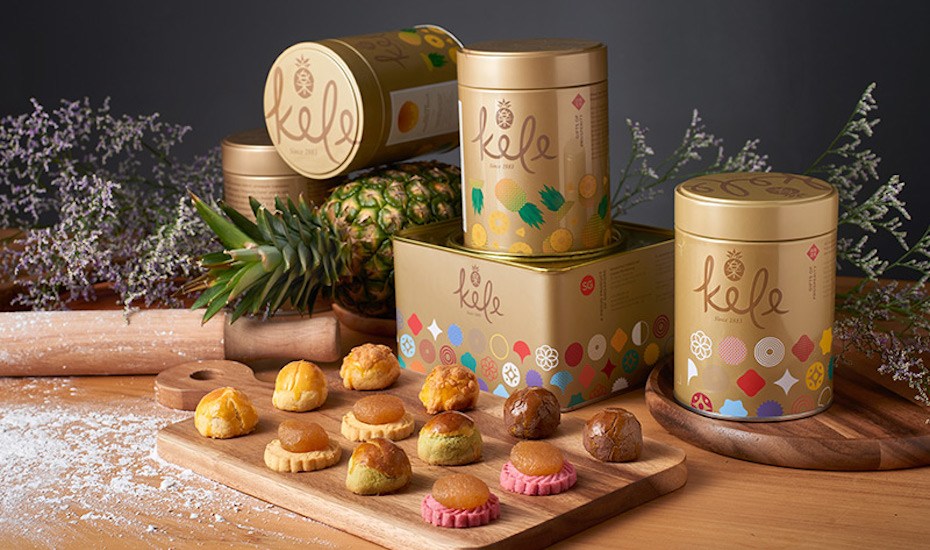 Kele has been around for almost 30 years, so you know it must be doing something right. We love the open-faced pineapple tarts because everything's delicately balanced. From the butter to the texture of the pastry and the sweetness of the pineapple filling. For something different, try the tangerine pineapple balls. It's a creation that mixes traditional and contemporary flavours in one bite.
Kele, available online and at 2 Smith Street, Singapore 058917
7. La Levain
This artisanal bakery has rolled out new pineapple tart creations for Chinese New Year. Ring in the festive season with the original that's melt-in-the-mouth, tangy and sweet. Alternatively, try the osmanthus version for a unique flavour experience. Feeling adventurous? Remember to pick up some bobo chacha or almond hazelnut cookies to add to your snack table! We're eyeing the German cookies made with grade A Uji matcha.
La Levain, available online
8. SunnyHills
Chunky and rectangular, Taiwan's famed SunnyHills pineapple cakes are a delicacy and for good reason. Packed in box decorated with adorable bunny illustrations, these individually wrapped pineapple cakes are heavy on the filling. The dense and textured pineapple jam is not too sweet and sufficiently tart. Plus, the pastry isn't too crumbly so you can have a mess-free binge session.
SunnyHills, available online and at #B2-27A, Takashimaya Shopping Centre, Ngee Ann City, 391 Orchard Road, Singapore 238872
9. Le Cafe Confectionery & Pastry
Nicknamed "golf balls", the pineapple tarts from Le Cafe are round, large and oh-so-tasty. The crust may be a little thin, but not to worry. The store makes up for it by being super generous with the pineapple jam filling.
Le Cafe Confectionery & Pastry, multiple locations including Mackenzie Road and Cambridge Road
10. Thye Moh Chan
Serving handcrafted Teochew baked goods since 1943, this well-known confectionery also dishes out delectable pineapple pastries as part of its colourful CNY festive offerings. A fan of local flavours? Then don't miss out on the pineapple pastry with gula melaka-infused pineapple filling.
Thye Moh Chan, multiple locations including Chinatown Point and Paragon
11. Joyus Pastries
If you're working near the Tanjong Pagar area, here's another place to get your CNY goodies. These traditional pineapple tarts are sold by the tub! Expect a crisp biscuit base and handmade filling, sans colourings and preservatives.
Joyus Pastries, multiple locations including Tanjong Pagar XChange and Ang Mo Kio
12. Yang Yang
This is a homegrown Singapore brand with pineapple tart family recipes handed down over the years. The traditional premium pineapple balls are all-time favourites. Bite-sized and packed with more than 70 in a box, everyone can join in the eating fun!
Yang Yang, available online
13. Home's Favourites
One of our go-to brands when it comes to purchasing festive cookies, Home's Favourite has three types of pineapple tarts. Think traditional pineapple tarts, pineapple balls and the visually appealing black and gold pineapple tarts. There's something for everyone!
Home's Favourites, available online
14. Baker's Well
It's pineapples galore at this cosy shop on East Coast Road that specialises in homemade baked goods. You've got your choice between either the traditional open-faced pineapple tarts, or the melt-in-your-mouth pineapple pillows. Besides these signature products, you can also get apple-shaped Nonya pineapple tarts with cloves on the top.
Baker's Well, 35 East Coast Road, Singapore 428754
15. Teaspoon of Love
Made from real pineapple and infused with fragrant Earl Grey, there's little wonder why this bakery's tea-infused pineapple tarts are a crowd-pleaser. Oh boy, are they generous with the filling! These nuggets are small enough to pop in your mouth so there's no need to worry about crumbs. Remember to stock up on other treats and get some of the special Chinese New Year teas. Get the Lucky Lychee, which is oolong infused with fragrant lychee.
Teaspoon of Love, available online
Who's ready to snack on the best pineapple tarts in Singapore this CNY?