Photography: Capella Singapore
We've got the lowdown on all the best new restaurants in Singapore for 2022.
Look to our list of best new restaurants (and menus) in Singapore for piping hot deets on all things fresh in 2022. We've got everything from omakase experiences to Italian food. These are the coolest new kids in town you don't wanna miss out on, so go ahead and work your way through the list!
Best new restaurants in Singapore: The 2022 list
1. Hatsu
This hidden gem at the unassuming Hotel Royal is the latest addition to Singapore's burgeoning omakase scene. Chef-owner Leon Yap is a traditional Edomae sushi artisan with 15 years of experience (even clinching the title of champion at the World Sushi Cup Japan 2019). His omakase courses range from $60 to $120 for lunch, and $128 to $250 for dinner.
Our experience started off with three appetisers containing fresh salmon roe, shirako, and fig with cod fish roe. For the uninitiated, shirako is fish milt (or semen) and while this was slightly intimidating for us, we liked it better than we thought we would. It had a mild flavour and creamy texture that paired well with the vinegar jelly.
The melt-in-your-mouth sashimi platter comes with thick cuts of scallop, strip jack, surf clam, mackerel and knife jaw. Next, we were warmed up on steamed and cooked dishes like renkon manju (steamed grated lotus root, scallop and egg white) and yaki matsutake (grilled pine mushrooms with salt). The latter had a surprisingly meaty texture for fungi and sported an earthy flavour we thoroughly enjoyed.
Hatsu's menu culminates in a series of nigiri featuring cuttlefish with lime and salt, horse mackerel with chives, and black throat sea perch. Our favourites? The otoro lava stone aburi (fatty tuna torched with a scorching hot lava stone), and chef Leon's signature umami bomb maki. This roll is made with four parts of tuna and pickled and dry-aged bonito, topped with a generous amount of Bafun uni, Poland Oscietra caviar and house-cured egg yolk. Talk about decadent! Our verdict? Hatsu isn't one to be overlooked.
Hatsu, #03-01, Hotel Royal, 36 Newton Road, Singapore 307964
2. Sarai
​​Never experienced Thai fine dining before? Here's your chance. Sarai invites you to rediscover the flavours of North Eastern Thai cuisine through its new lunch and dinner set menus. Chef de cuisine Lisa takes the helm, giving us refined (but never dull) flavours. Case in point: the ice-cold amuse bouche plaa heng tang mo has a sweet and savoury kick, thanks to refreshing watermelon, smoked fish and toasted coconut. Next, a trio of bite-sized appetisers: golae hoy malang pluu (grilled mussels satay), puu sorn glin (crab meat with pickled garlic on a rice cracker), and mieng mak (dried prawns and wild ginger wrapped with betel). Each had its own bursts of flavour but the latter definitely hit the spot with a zing from the wild ginger.
You won't miss the hearty dishes of classic Thai fare as the mains offer just that. Sip gaeng jued pad yang (roasted duck soup) is enjoyable if you love herbal soup. The robust flavour of the duck is paired with tender young coconut and Thai basil. Next, gaeng raweng nuea (wagyu beef short ribs in dry green curry), yum hed goonog yang (wild mushroom salad with grilled prawns and chilli jam), and pad tua gab dok ka joh (stir-fried sweet pea with tokin jasmine flowers) are served with a bowl of rice.
Our fave: the tender beef short ribs with a punchy green curry sauce. Overall, we missed the spice element in the dishes but if you're not good with the chillies, this spot is perfect for you. We were pleasantly surprised to see the restaurant bustling with patrons on a Wednesday night. The space also has private dining areas for work lunches or family dinners.
Sarai, #03-122 Tanglin Mall, 163 Tanglin Road, Singapore 247933
3. Sol & Ora
Sol & Ora may be an extension of its sister outlet at CapitaSpring but it's a different vibe here. Located on the seventh floor of Outpost Hotel, the restaurant is surrounded by sea and pool views (just walk over to 1-Altitude Coast for stunning sights). Pretty apt, since Sol & Ora is Latin for 'the sun and the shore'. Tuck into dishes from the Latin-Mediterranean region like Italy, France, Greece and Spain. Psst: it's one of the only restaurants on the island to serve breakfast, afternoon tea, weekend brunch, lunch, dinner, and craft cocktails.
We began dinner with a petite meze of padron peppers, falafel, tzatziki, Sicilian green olives, and a rosemary and sea salt feuille de brick (wafer thin crackers) to dip into the whipped taramasalata (smoked cod roe dip). The dish of the day was the seared red Norwegian salmon: flaky salmon fillet with crispy skin served with grilled fennel, and bright and herby Trapanese pesto made with pecorino and almonds.
End the meal with a decadent tiramisu. The Italian meringue is disguised as whipped cream – with mascarpone cheese and marsala wine. Yes, this is a boozy tiramisu – we love! Oh, and the cocktails are worth trying too. Amalfi Afterglow (Pig Skin gin, limoncello, ginger, rosemary lemon syrup and prosecco) and Summer Solstice (Old Sprot Gin, lychee liqueur, Greek 5 herbs tea and rose syrup, and raspberry) were the perfect accompaniments to the evening's vibes and dishes.
Sol & Ora, Level 7, The Outpost Hotel, 10 Artillery Avenue, Sentosa, Singapore 099951
4. Goho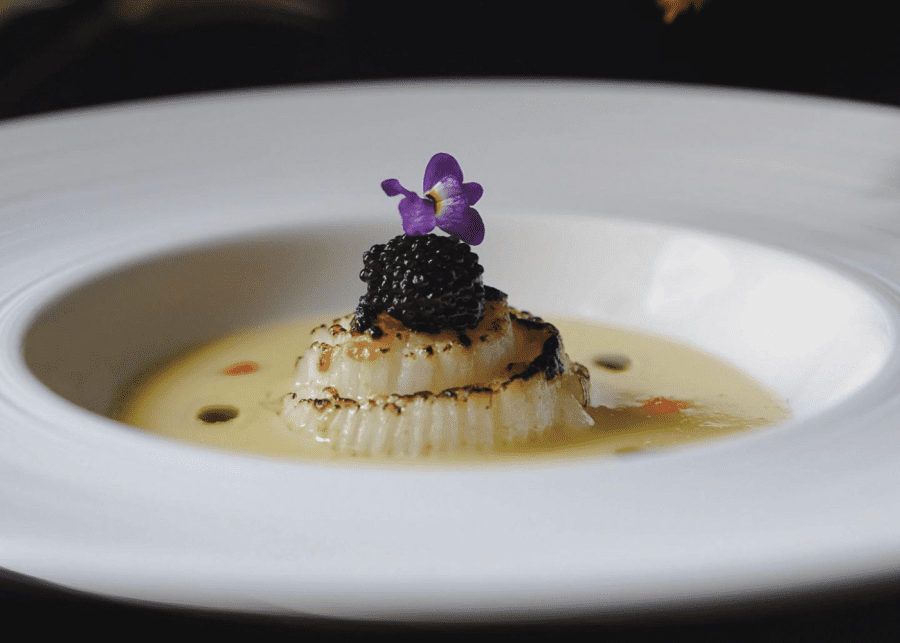 You may have had omakase before, but have you ever tried kaiseki? While both dining styles showcase seasonal ingredients at their peak, omakase menus are typically more fluid and can change from person to person. On the other hand, kaiseki menus are fixed, so you know what to expect when you pop by. Enter through Rappu and you'll be led to a staircase that takes you to the warm but elegant Goho. Settle in front of the bar and get ready for a show with the new Christmas kaiseki menu.
For dinner, you have a choice between the sumire (nine-course, 13 dishes) and ume (10-course, 15 dishes) menus. Our suggestion? Go with the ume menu so you don't miss out on the Togarashi poached lobster. Plus, that means you get to try the signature Mt. Goho. Think uni, wagyu, toro, ikura, kani, and caviar stacked in a glass and smoked right in front of you. Truly an experience. Our favourite is the miso butter engawa. Poached flounder fin sits atop savoury bonito eggnog. The pearls of pomegranate add a refreshingly sweet contrast to the otherwise indulgent sauce.
Enjoy it with a boozy drink that includes sake, beer and wine. Or go for a non-alcoholic pairing with sparkling tea and alcohol-free beverages. And let's not forget the welcoming staff. If you're someone who enjoys added conversation over dinner, the team is happy to chat. You might even order a cocktail or two and linger a little longer (we certainly did).
Goho, 53A Duxton Road, enter via Rappu
5. Supperman Speakeasy & Grill
Supperman is an unpretentious speakeasy that brings you wallet-friendly comfort food. Expect a thoughtfully-crafted menu and drinks that use quality ingredients. Plus, these prices won't completely burn a hole in your pocket. The open dining concept offers cosy diner vibes, inviting you to sit back and relax.
To begin the evening, we went with the Supperman's Great Start ($15) – homemade focaccia served with beef butter and a tasting portion of house wine. Before you turn away at the thought of bread and butter, hear us out. The creamy butter laced with the beefy flavour on top of smokey charcoal-grilled focaccia will blow your mind. It's the perfect way to start dinner. Don't be tempted into ordering a second portion though, because the show's just begun.
While the show-stopping tomahawk tempted us, we decided to go for the black angus ribeye steak ($38) and the grilled half chicken ($28). Finished on high-flame grill, both portions of meat were perfectly seasoned and cooked to perfection. The steak was a beautiful medium rare, while the chicken was juicy and aromatic. We paired these succulent mains with beef fat smashed potatoes ($14) to soothe our carb-loving souls. If you're a fan of pasta with loads of umami goodness, go for the lamb ragout mac and cheese ($16).
To us, no dinner's complete without a tipple to properly wind down. You can thank chef Dini for the lip-smacking cocktails because she's the brains behind Supperman's beverage menu. ​​We had the Swinger ($23), a gin-based cocktail with Fremboise du Ronce and cremant. For coffee lovers, get the Kopi Peng – espresso spiked with whiskey and Baileys. Both drinks pack a punch and are guaranteed to leave you satisfied.
Supperman Speakeasy & Grill, 458 Joo Chiat Road, Singapore 427671
6. Braci
The lovely folks at Michelin-starred Braci are dreaming up an Italian autumn and bringing it right to your table. Chef de cuisine Matteo Ponti takes inspiration from his experiences and memories to create a new fall menu that pays homage to his home in northern Italy. On our visit, the seven-course degustation menu was impeccable ($258++ per person, with an additional $168++ for wine pairing).
We started with a series of snacks that served as a great prelude: crispy beetroot cone stuffed with delica pumpkin, piadina (an Italian flatbread) filled with rucola pesto, beef bresaola and pickled shimeji mushrooms, and tuna tarlet. Three appetisers came next, each more beautifully plated than the last. The radici was a textured garden of cooked and pickled vegetables, smoked eel, baccala espuma and puffed quinoa, while the ossobuco came in the form of an edible "bone" – made from 36 months parmigiani reggiano vacche rosse, flour, butter and eggs – surrounding beef tartare. The handmade ravioli encasing sweet and smoky roscoff onion was a delight, swimming in a buckwheat tea broth.
As for the mains, we adored the spaghettone khorasan topped with charcoal grilled scampi that was seasoned with bright, zesty yuzu pepper and lemon oil. Not to be outdone, the poached river trout served with charcoal burnt leak and fish skin crackers was melt-in-your-mouth stunning. By the time the pine-smoked venison came to our table, we were pretty stuffed. But the meat, boasting an almost buttery tenderness, is not to be missed out on.
Desserts are equally fantastic. The rosa del borgo is a magical treat of delicate textures offering floral and fruity flavours. And the finale of four sweets includes porcini tartlet, grano padano parfait, maritozzo (cream-filled bun) and tiramisu tartlet – a most fitting way to end a perfect meal.
Braci, Level 5/6, 52 Boat Quay, Singapore 049841
7. Restaurant Jag
The creativity and innovation in Singapore's F&B scene continue to amaze us, especially during our dinner at the Michelin-starred Restaurant Jag. It needs no introduction – the contemporary fine dining French restaurant puts seasonal veggies in the spotlight through its La Balade du Végétal (The Vegetable Journey) menu. It's also known to personalise the menu according to dietary preferences.
Fall season takes over now, so brace yourselves for a repertoire of autumn harvests such as the classic pumpkin, sweet potato, celeriac, mushroom and chestnut. Plus, uncommon names like chervil root, chayote, banana shallot, quince and yacon. A friendly server brings around a hefty basket of all the veggies so you get a preview of what's to come.
But don't expect the 17 plates to look anything like their original avatars. Thanks to chef Jeremy Gillon, each has multiple textures and iterations, all perfectly balanced and accented with wild foraged herbs (vacuumed sealed and delivered from the Alps of Savoie). We struggled to pick favourites as each dish showed finesse and respect for the produce. But the ones that we can't stop thinking about? The orange and purple sweet potato with basil and garlic, and the delicate leaf-shaped salsify biscuit sandwiching vegetable puree and topped with almond thyme citron gel.
Moving on to the appetisers: the refreshing kohlrabi was served in raw, pickled, blanched and grilled variations, with melisse oil and sorrel, and topped with a dollop of caviar. We were wowed by the mushroom which came in ice cream, confit, jus and pickled iterations. Orti and seaweed oil, complete with creamy foie gras, bring the earthy dish together. This will turn any mushroom hater. Next, the chestnut is served roasted, pureed, sautéed, shaved and siphoned, along with uni. The dish is blanketed with a creamy infusion of coffee and frene. You bet we were (elegantly) scrapping every bit of it.
Finally, the parsley root added a fresh element to the robust and earthy flavours at the beginning of the meal. The vegetable is prepared in various iterations and served with protein (we had venison) and citrusy sapin herbs. No child (or adult) can hate veggies if they're prepared in chef Jeremy Gillon's talented hands. The dinner menu is presented alongside freshly baked bread, cheese trolley and other seasonal mignaridise offerings. Go ahead and top up for the wine pairing. It's worth it.
Restaurant Jag, Level 1, 76 Duxton Road, Singapore 089 535
8. Meow Barbecue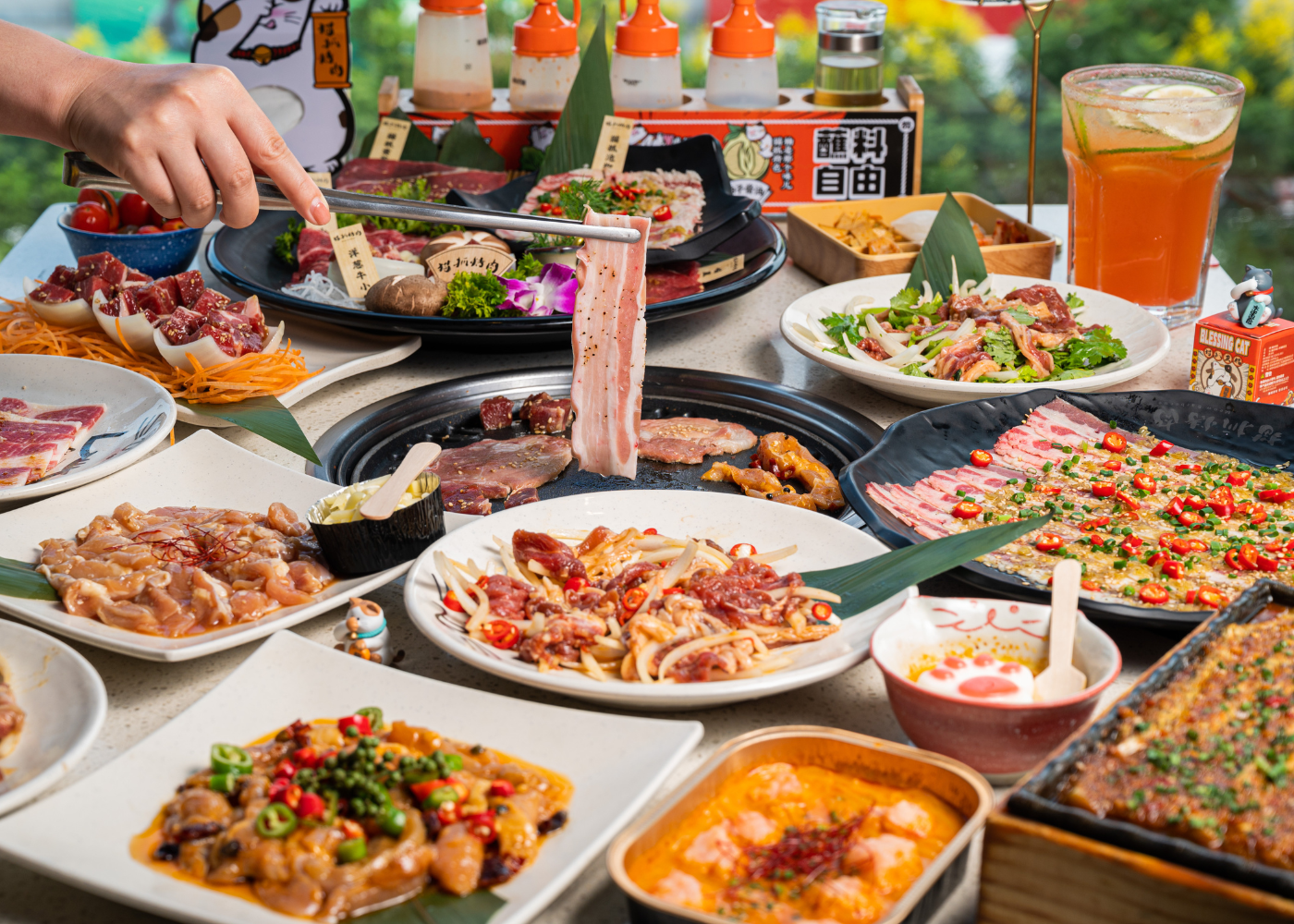 The popular Chinese BBQ restaurant lands on our shores with its first overseas outpost in Bugis. Grab your friends and order beloved dishes like beef cubes with onion (from $10.80), spicy beef ($23.80), chicken with Szechuan peppers ($14.80) and Iberico pork belly with garlic ($19.80). For something unconventional, try the rose beef tongue ($25.80), which is plated in the shape of the flower it's named after – it was actually created for a couple's proposal in Beijing.
Going solo? Grab the beef donburi ($8.80) and finish it off with caramel pudding ($6.80) or snow ice ($10.80) in Oreo and soy flavours. Of course, with a name like Meow Barbecue, it goes without saying you'll be dining amidst kitty-themed murals and decor here.
Meow Barbecue, #01-17, Bugis+, 201 Victoria Street, Singapore 188067
9. Ms Maria & Mr Singh
Telling a culinary story of a love affair between a Mexican girl and an Indian boy, Ms Maria & Mr Singh is Gaggan Anand's first overseas outpost of his restaurant. Launched in collaboration with The Proper Concepts Collective (it's behind brands like The Feather Blade and Rappu), you know it's gonna be good.
Enter the casa-style restaurant and you'll be greeted by a neon sign that reads "Love should never be mild". Well, its menu is far from mild, too. The vibrant selection showcases the marriage of homely Mexican flavours and Indian cooking that kept us wanting seconds. We started with addictive chips and dips of pickled mango, chilli cheese sauce, guaca-chutney and baby pickled corn to whet our appetite. The cold curry ceviche was love at first bite – expect a burst of flavour from the Hokkaido scallops, crispy corn, coco leche de tigre and guaca-chutney.
For mains, the patrani fish tamal is a must-try. Open up the banana leaf to reveal a perfectly cooked and seasoned barramundi fillet, roasted till fork-tender with a savoury, melt-in-your-mouth appeal. Along with the fish, don't miss pairing Gaggan's crab curry with a bowl of biryani. The crab curry features generous chunks of crab meat, with a thick, fragrant curry that'll warrant multiple bowls of rice. The biryani comes in unique flavours too, such as a surf and turf option with seasonal seafood (think succulent prawns and plump scallops).
If your party includes someone unfamiliar with the rich flavours of Mexican or Indian cuisine, order the truffle quesadilla to start. This crowd-pleaser features black truffle paste, truffle honey, Indian cottage cheese masala and other cheeses. It's a warm, cheesy bite that'll satisfy any palate.
Can't leave without dessert? The mango yuzu snowball is our pick for a sweet, light and tart end to the delicious feast. Break into the white chocolate-topped 'snowball' for an alphonso mango and yuzu base that offers the perfect bite with the chopped mangoes on the side. And if you're visiting in the evenings, say cheers with bubbles, natural wines or cocktails!
Ms Maria & Mr Singh, 43 Craig Road, Singapore 089681
10. Col
Every time we think Keong Saik's buzzy 'hood can't get any better, it does. This time, its latest addition comes in the form of a simple (yet sophisticated) neighbourhood restaurant and bar that's bringing the edge of East London to Singapore.
The kitchen is helmed by none other than chef-owner Colin Buchan, well-known for his stunning food programming at members' club 1880. He's joined by head chef Dennis Smit who comes with 20 years of global culinary experience in Michelin-starred restaurants. Together, they've produced a European-accented menu featuring seasonal ingredients, wood-fired meat, seafood and handcrafted pasta.
Our experience started with a refreshing spicy margarita at the bar, and fresh Irish oysters topped with a tangy preserved lemon mignonette. The sharing plates were delightful to taste – think delicate starters featuring ingredients like kristal caviar and hand-dived roasted scallops. But by far, our favourite dishes were the bucatini with girolle mushrooms (that we couldn't help but polish off despite a full stomach), and the uber-tender Iberico pork loin topped with a layer of lardo.
Our verdict? This new restaurant in Singapore is definitely a winner. Add it to your list, because chef Colin doesn't disappoint.
Col, #01-05, The Working Capitol Building, 1 Keong Saik Road, Singapore 089109
11. Altro Zafferano
Sky-high restaurant Zafferano adopts a fresh new name ("altro" means "the other" in Italian), look and concept to mark 10 years in the biz. Highlights from the new space include a 12-metre open kitchen for a close view of chefs in action. Don't forget to look up as you enter the 75-seater main dining area – the steel saffron tendrils make quite a centrepiece. There's also a new private dining enclave (complete with your own entrance!) that holds up to 60 people. The spectacular views at the outdoor lounge and bar still remain true.
The new menu treats us to contemporary renditions of South Italian classics. Executive chef Andrea De Paola helms the kitchen with a la carte items, weekday set lunches, light snacks and an experience menu: it's a 4-course menu you can curate yourself. Start your meal with delightful wild red bream crudo with tomato, basil, and frisella bread ($48). The light and fresh bread-based salad is influenced by the caponata napoletana. For a full-bodied (and indulgent) option, the Oscietra caviar with sea urchin ice cream and red prawn waffle is the way to go. Inspired by a summer night along the Amalfi Coast, the umami, creamy sea urchin ice cream pairs well with the saltiness of the caviar. Best for sharing!
Pasta lovers, treat yourselves to house-made ravioli with wagyu beef Genovese and anchovy colatura ($38). Morsels of ravioli are filled with chitarra anchovies, onion, grana padano cheese and, of course, minced wagyu beef.
As for the mains, indulge in produce from land and sea. The artfully-plated Mediterranean sea bass with caponata elements ($68) combines flaky sea bass fillet and crispy skin with caponata – a Sicilian speciality of roasted eggplant and vegetables. Pine nut cream, olive pate, and caponata jus bring the dish together. You can't go wrong with MBS 8-9 yugo wagyu beef striploin with pizzaiola, blue foot mushrooms, and pink garlic ($88). The dish is a nod to carne alla pizzaiola, a meat and tomato dish from Naples. The blue foot mushrooms seasoned with garlic oil and Sichuan pepper add little pops of flavour.
Don't forget to leave some room for dessert. Chocolate lovers, look no further than Giffoni hazelnut, Guanaja dark chocolate, and raspberry ($18). Cut your spoon into the multi-layered sphere of hazelnut delights (mousse, praline and sponge cake) topped with fresh raspberries.
Altro Zafferano, ​​L43, Ocean Financial Centre, 10 Collyer Quay, Singapore 049315
12. Nami Korean Grill House
If you love Korean barbecue as much as we do, you have to drop by Nami Korean Grill House in the quiet neighbourhood of Greenwood. Escape the hustle and bustle of the city for lunch and head to this casual restaurant surrounded by greenery. On our visit, we were greeted by the friendly staff before being shown to our table to enjoy premium grilled meats.
Whet your appetite with banchan like kimchi, crispy anchovies, and pickled veggies. Next, move on to hot sides like seafood or kimchi Korean pancakes and piping hot steamed egg that'll warm you right up. After we downed a few shots of soju, we sat back, relaxed and watched as the team expertly grilled up the good stuff right in front of us. We loved the signatures like Japanese wagyu chuck ribs, Kurobuta pork jowl, pork collar, and Korean abalone. Round up the fam, 'cos you'll want to order all the dishes to share!
Nami Korean Grill House, 18 Greenwood Avenue, Singapore 289212
13. Shang Palace
The outstanding Michelin-starred Cantonese restaurant has a new chef at the helm, and we're loving the revamped menu. Hailing from Hong Kong, chef Daniel Cheung comes with over three decades of experience – most recently, he spent five years at Shang Palace Kowloon. Expect to enjoy his popular signatures from Hong Kong and nostalgic hits on the new lineup – it's all about reinterpreted Cantonese classics made contemporary.
For a vegetarian appetiser that even the most staunch meat eaters will enjoy, try the applewood smoked bean curd rolls ($18). The recipe calls for time and patience to prepare, but it's absolutely worth it for a smoky, textured bite layered with shiitake mushroom, carrot and green mustard. Chef's steamed spotted garoupa fillet ($48) is another must-try. Swimming in a broth with egg white, broccoli and carrot, the dish is next level delicious with parma ham and deep-fried ginger. We're also big fans of the fried rice with Kagoshima wagyu beef served in a whole tomato ($28) – the sweet and sour goodness is just the right portion for your carb hit.
Of course, a visit to a Cantonese restaurant isn't complete without crispy chicken ($38), and this rendition by chef Daniel plates up a gorgeously crisp bird and some truly addictive crackers. Oh, and if you pick up on a little aromatic sizzle, follow your nose and order the casserole pot of baked live prawns ($58). This HK recipe of crabs and Chinese peppercorn gets the Singapore treatment with local prawns and Sarawak pepper. For something truly unique (to our city, that is), try the traditional Cantonese dish of stewed shrimp pomelo peel ($28) that's all about minimising waste and maximising ingredients.
Shang Palace, Lobby Level, Tower Wing, Shangri-La Singapore, 22 Orange Grove Road, Singapore 258350
14. Elan
A new modern French concept by Les Amis Group, Elan is an elegant 48-seater awash in tinges of copper, gold, brown and dark teal. The menu boasts fine French food, but the portions are generous and the ambience is more vibrant than stuffy. Start with noteworthy appetisers like foie gras bonbon ($38) – liver coated in dark chocolate and served with kumquat and marigold on toasted brioche – or carabinero prawns ($42) with tagliolini, kelp, sea urchin and yuzu sauce.
For mains, you'll be missing out if you don't order the smoked pigeon ($64), an oven-roasted and hay-smoked dish that's simply sublime. After something heartier? Get the charcoal-grilled yamaguchi A4 wagyu striploin ($75). End off with stunning desserts like lemon ($20), a white chocolate shell that resembles its moniker. Crack it open to dig into lemon compote, lemon and kaffir lime cream.
Elan, #01-13, Shaw Centre, 1 Scotts Road, Singapore 228208
15. Hai Tien Lo
Welcoming a new chef (and a new menu), Pan Pacific Singapore's elegant Cantonese restaurant spotlights a refreshed selection of HK chef Ricky's signatures. Bringing 30 years of culinary experience to the table, he dishes out classics, roast meat dishes and dim sum with creative flair.
We just have to mention his standout creation: crispy chicken smoked with royal tie guanyin (from $32). To make it is a lengthy 10-hour process, starting from draining moisture from the bird before smoking it and deep-frying it for that satisfying crunch. Ready your cameras for this one, as the lid is unveiled at your table to reveal wafts of aromatic lychee wood smoke.
Another chicken dish we loved? Fried chicken stuffed with fresh crab meat and egg white ($58) – with the bones removed for easy eating. You absolutely can't avoid ordering the stewed eight treasure wagyu beef cheeks with spring onion and garlic ($78), either. The meat is remarkably tender after being sous vide for seven hours, and the claypot stew is beautifully rich in flavour.
Hai Tien Lo, Level 3, Pan Pacific Singapore, Marina Square, 7 Raffles Boulevard, Singapore 039595
16. Buona Terra
The food at Buona Terra never gets old. How can it, when chef Denis Lucchi always surprises us with fresh and seasonal gastronomic creations? The new Autumn menu is steeped in comforting flavours synonymous with this bountiful time of the year.
From now till December 2022, savour the finest ingredients of the season. Think fresh ovuli, chanterelle and porcini mushrooms, a medley of root vegetables, chestnuts, figs and more. Highlights include the savoury beef carpaccio in a zabayone sauce, and tender, perfectly-cooked pigeon. But our personal favourite was the scampi (pictured above). Think sweet and delicate mozambique langoustine served with eggplant, tomato burrata and anchovies.
Got a sweet tooth? You have to try the ciliegie e cioccolato – a delicious chocolatey dessert served with cherry and hazelnuts. You can bet we'll be back for a second round before the season ends.
Buona Terra, 29 Scotts Road, Singapore 228224
17. Farrer Horse
The gastro-cocktail concept is inspired by the iconic Farrer Park Racecourse – Singapore's first horse-racing venue in the 1840s. Pop into the first level for Asian dishes elevated in flavour and presentation, then continue the night at Stable on level two for cocktails named after popular race horses.
If you're the first to arrive in your group, spend no time waiting for your friends and order the papad and dips ($14). You won't notice the time with this highly addictive basket of crispy pappadam served with raita, mint chutney and Bloody Mary salsa.
Once your group arrives, move on to the deconstructed falafel roja salad ($16) with crispy, potato-y falafel balls and a sweet and spicy homemade rojak sauce. We couldn't stop dipping into that sauce. And you can't go wrong with karaage sprinkled with furikake ($16). Don't forget to dip the tender pieces of boneless chicken in the spicy togarashi mayo.
The smoked duck and prawn pie tee ($16) offered little pops of flavour – though we wish it was spicier. We couldn't help but squeal when the kapitan with nets ($26) arrived. The traditional lace crepes (aka roti jala) got us all nostalgic as we dipped them into the thick and spicy Nonya-style chicken kaffir lime curry.
Farrer Horse, #01-02/#02-00, 101 Jalan Sultan, Singapore 199002
18. Pangium
There's a breathtaking new restaurant sitting on a hilltop at the Gallop Extension of the Singapore Botanic Gardens. Surrounded by black and white bungalows with a sprinkling of lush greens, the exquisite dining experience is located in The Orangery, a new building constructed in 2021. The place is named after the pangium edule tree that sprouts from the buah keluak seed, which is the favourite ingredient of chef-owner Malcolm Lee (you might recognise him from his Michelin-starred Candlenut).
Dishing out what it calls contemporary Straits cuisine in a tasting menu, the culinary team explores and reinterprets the food our forefathers created with a modern spin. The idea is to spark flavour memories, rekindle interest in lost recipes and invite diners to delve into the reasons why we find comfort in dishes we love. Settle down in the intimate space, which seats up to 28 guests, and let the eight-course menu take you through to the past and the future.
Start off with a range of snacks, followed by a bread, a dumpling, a soup and a seafood dish. Next, the star signature: nasi ulam (mixed herb rice), an ever-changing creation of lesser-known vegetables and herbs with sides. Other highlights include buah keluak sambal with oxtail and serunding daging (beef floss with roasted coconut), charcoal-grilled duck satay glazed with kicap manis, and a selection of kueh and sweets such as ondeh ondeh, kueh bingka and buah keluak bon bon.
Pangium, 11 Gallop Road, Gallop Entrance, Singapore Botanic Gardens, Singapore 259015
19. Ce Soir
A posh new dining experience by Nicole Chen, the founder of Le Jardin and Cafe de Nicole's Flower, alongside former Les Amis chef Koh Han Jie, this place is a flower fantasy come true. With a focus on fancy florals and French food, the decor is stunning and the food is just as beautifully plated.
The lustre menu ($98 for four courses) puts the spotlight on seafood. Elegant creations include Norwegian scallops with seaweed and sea grapes, cured Japanese amberjack, and Yukimuro snow-aged A4 wagyu grilled over binchotan charcoal. If you're up for a splurge, the iridescent menu ($198) offers more options including poached Mozambique langoustines, NZ blue cod, challandais duck, and dessert.
Ce Soir, 5B Portsdown Road, Singapore 139311
20. Ka-En Grill & Sushi Bar
This one's for the sushi lovers. Popped by Capitol Singapore lately? You might've spotted this new Japanese grill concept. The classy spot is great for business lunches, after-work drinks and family gatherings. You can't really go wrong with sashimi, sushi and sake!
Try the DIY premium wagyu sumi yaki set ($29), where you'll get to grill your own A4/A5 miyazaki wagyu slices, or get the signature meat platter ($55) to share. The communal dish is stacked with wagyu, Iberico pork cheek, teppan chicken and Japanese veggies. To get your carb fix, order the aburi 12 kinds kaizen chirashi don ($45) to enjoy glistening slabs of bluefin fatty tuna, amberjack, Japanese scallop, salmon, sea urchin, caviar and more.
If you're clinking glasses to end the day, treat yourself to the otsumami trio with sake flight ($39). Three seasonal sakes are paired with light bites such as spear squid with eggs, lemon-marinated jellyfish and simmered herring roe with kelp and squid. Swinging by for lunch? Weekday sets start from a pretty pocket-friendly $14 for a main, salad, appetiser and miso soup.
Ka-En Grill & Sushi Bar, #01-82, Arcade @ The Capitol Kempinski Singapore, 15 Stamford Road, Singapore 178906
21. Casa Pietrasanta
This new private dining concept by Ristorante Pietrasanta at One North doles out Italian cuisine with a Mediterranean spin for intimate gatherings and events. The 20-seater space with an open kitchen is elegant yet homely, offering diners an opportunity to chat with the chefs and watch them in their element.
Lunch and dinner menus start from $49.90 and $64.90 respectively for three courses, with dishes like seabass carpaccio, traditional Tuscan tomato soup, risotto escargot and roasted snow fish. Just remember to save space for the apple crumble tart with vanilla ice cream or the sweet lychee granita with prosecco jelly and roselle syrup! Pair your plates with red, white and sparkling Italian wines – or even vintage varieties and private collection labels by chef-owner Loris Massimini.
Casa Pietrasanta, #02-04, 1 Fusionopolis Way, Singapore 138632
22. Osteria Mozza
Celebrated Cal-Italian restaurant Osteria Mozza returned to Singapore just a couple of months ago, and we've been big fans ever since. Say hello to the friendly team at the open kitchen and take a seat indoors or by the mozzarella bar to watch the chefs in their element. There's also a private dining room for 10 and a chill alfresco area.
Dishes to try include the handmade orecchiette ($32), which is tossed with a meaty and slightly crunchy sausage and Swiss chard sauce. Got a big appetite? Order the light and flaky whole branzino alla piastra ($65), grilled sea bass with herb salad and charred lemon.
Of course, we're buzzing with excitement for the lunch menu, which stars Nancy's legendary pizzas. These wood-fired delights give us a reason to pop by in the afternoon 'cos they're only available for lunch. The menu spotlights nine of Pizzeria Mozza's most famous pies (from $34), all served on an airy, light and crisp crust. Try the fennel sausage with panna, mozzarella, red onion and scallion for a salty, meaty treat, or order the classic burrata for sweet, creamy bites filled with cheese and slow-roasted tomatoes. Other options include meatballs, the BLT and the iconic margherita.
Another lunch exclusive? The American-style salads. Shrimp Caesar ($30) is your classic Caesar salad tossed with juicy pan-fried shrimp, anchovy croutons and parmigiano reggiano. Otherwise, you can't go wrong with Nancy's chopped salad ($26), a mix of iceberg lettuce, radicchio, red onion, provolone, salami, cherry tomatoes and oregano vinaigrette.
End your meal with a delectable banana gelato pie ($20) or rosemary olive cake with olive oil gelato ($20) if you don't have a sweet tooth. Take it from us – dessert is totally worth it.
Osteria Mozza, Level 5, Hilton Singapore Orchard, 333 Orchard Road, Singapore 238867
23. Meters Above Sea Level
Following the Mandala Masters series closely? If you've previously been charmed by chefs Mauro Colagreco from Mirazur and Gaggan Anand, you might be wondering what's next in line. Trust us, it doesn't disappoint. Picture taking a vertical journey through the indigenous cultures, ingredients and flavours of Peru in Meters Above Sea Level (MASL).
This spectacular dining experience is designed and headlined by world-renowned Peruvian chef and restaurateur Virgilio Martínez and World's Best Female Chef Pía León. You might recognise them as the culinary super couple behind award-winning restaurants Central, Kjolle and MIL in Peru. You'll want to book this fast, as lunch and dinner slots are running out quickly.
We tried the 11-course dinner ($448) and were blown away. The most simple of ingredients came together to create an exquisite explosion of flavours. Our favourites include a silky corn puree and dyed kiwicha topped with purple corn crisps for added texture; as well as the tender slow-cooked pork belly that melts almost immediately in the mouth (no exaggeration). Almost every dish was a hit at the table.
The experience culminated in a delightfully decadent cacao dessert, accented with mango and a gel of high altitude mead. It's definitely a culinary experience to remember.
Meters Above Sea Level, #06-02, Art, National Gallery Singapore, 1 St Andrew's Road, Singapore 178957
24. Yantra
The newly-revamped Yantra sports a fresh facelift and a stunning menu curated by Indian culinary historian and former journalist, Pritha Sen, who charmed us with her mesmerising stories of food and history on our visit. Walk through its unassuming entrance at Tanglin Mall and you'll enter a beautifully decorated space that's warm and inviting, traditional and modern – from the emerald wallpaper to the regal archways.
But, don't expect to find standard Indian dishes on the menu. Executive chef Pinaki Ray does a fantastic job helming the kitchen, which plates out vegetarian and non-vegetarian creations inspired by places across India. You won't miss the meat in badal jaam ($18), made of baked aubergine with sun-dried tomatoes and yogurt. And you won't regret ordering a portion of ema datshi ($18), a Bhutanese and Tiberian chilli-cheese soup that packs a punch and makes you instantly think of comfort food.
For something heartier, go for Nizam's kathi kebabs ($24) to enjoy charcoal-grilled mutton skewers wrapped in paratha with mint sauce, or murg ka sula ($22), a barbecued chicken made from a recipe of old. Oh, and the butter chicken, or purani delhi murg makhani ($30), is unlike any you've ever tasted. The gravy, made with fenugreek and tomato, isn't as thick or heavy as the ones you're used to. But make sure you leave space for the classic Hyderabadi chicken dum biryani ($36), which is cooked in 'purdah', a puff pastry top, to keep the meat succulent and the rice fluffy.
If you've got a special occasion coming up, we recommend you book The Polo Room, a gorgeous 10-person private dining space. It's the best way to wine and dine, plus you'll have a direct (and discreet) entry to the restaurant's Corbett Bar. Inspired by India's oldest national park, this cosy, luxurious space is decked out in a safari theme and offers some of the finest gin, whisky and wine for discerning drinkers.
Yantra, #01-129/130/131, Tanglin Mall, 163 Tanglin Road, Singapore 247933
25. Kaarla
Add Kaarla to your list of gorgeous rooftop restaurants to visit in Singapore. The unique concept atop the CapitaSpring tower puts a spotlight on 'coastal Australian cuisine'. We love that it uses seasonal, responsibly sourced, and ethically raised produce in many of its dishes – even tapping on the fresh vegetables and herbs grown from the 1-Arden Food Forest. Take the Kaarla closed loop salad ($28), for example. It uses the day's harvest of edible leaves and flowers from the Food Forest. This can include roselle leaves, fame flower, marigold, Egyptian star, cat whiskers and wild watercress.
If you're hankering for a taste of kangaroo, you can try it here. Executive chef John-Paul Fiechtner serves up a mean 'carpaccio' of kangaroo loin ($32) from Queensland, Australia. We found this light and refreshing, without the layer of funky gaminess that's intimidating to most people. You also can't miss taking a bite of the King Island aged beef ($210). This juicy steak is aged for 35 days and prepared over a wood-fired grill. Simple yet delicious.
Kaarla, #51-02, CapitaSpring, 88 Market Street, Singapore 048948
26. Osteria Bbr By Alain Ducasse
We're not sure if it's the colonial charm or the cooling weather when we visited but there's just something about Raffles Hotel Singapore that puts us in a good mood. The scene at Osteria BBR by Alain Ducasse is a tad different but gives off the same energy. The sprawling space is awash with plush orange upholstery, fun terrazzo table tops, and retro floor tiles that scream the 70s. We were invited to try the refreshed a la carte menu assembled by new chef de cuisine Natalino Ambra. With over 15 years of culinary experience under his belt, chef Natalino transports us to the Italian Riviera with ease, presenting dishes with finesse and flavour.
Start your meal with the dainty crudo di ricciola: slivers of marinated amberjack topped with pomegranate and citrus condiment. Move on to the popular tartar di gambero Rosso di mazara del vallo, the freshest Mazara del Vallo red prawn tartare paired with creamy buffalo mozzarella, jelly and Kristal caviar. It's not a newbie but you can't leave without trying this stunning creation.
There's also the polpo with spuma di patate, grilled-to-perfection octopus with the creamiest potato mash – a new combo favourite! For pasta, we kept going back for the tagliolini with zucchini and Kristal caviar. We loved the umami flavours from seaweed butter. So simple, yet so rich in flavour.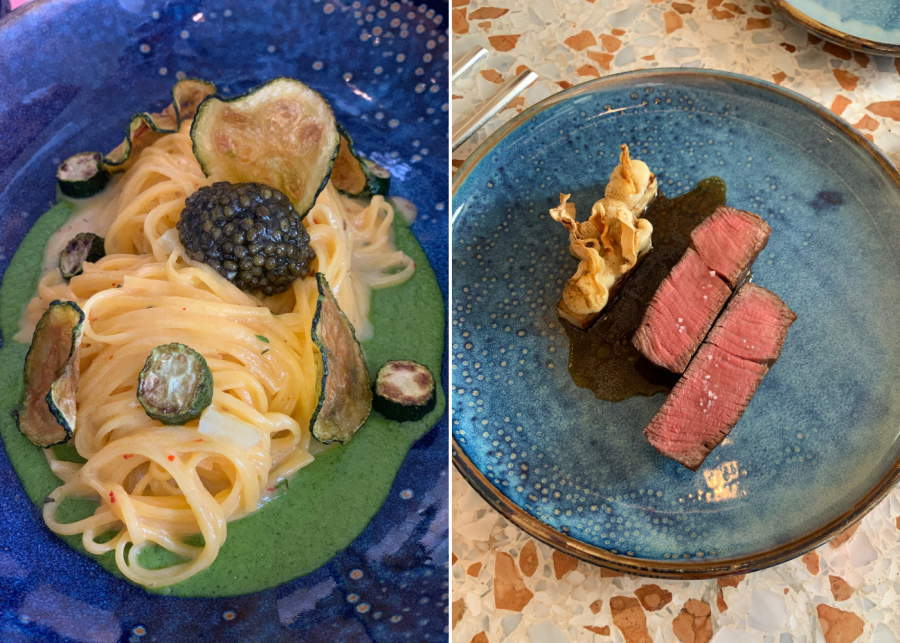 As for the mains, filetto di manzo was a total classico. There's no need to complicate black angus beef tenderloin and they sure know it but we enjoyed the small additions of celeriac cubes and chips, and truffle beef jus.
For dessert, there's no ending on a sweet note here. The focus is less sugar and bold flavours. If you're a sucker for chocolate, the mousse al cioccolato (made with 75% dark chocolate) served with buckwheat ice cream and hazelnut praline will hit the spot. Or try the baba al limoncello, soft and fluffy signature baba (yeast cake) drizzled with limoncello and topped with dollops of whipped cream. We only wish someone's nonna could adopt us so we can enjoy this often. For now, we'll just head to Osteria BBR by Alain Ducasse to get our fix.
Osteria Bbr By Alain Ducasse, 1 Beach Road, Singapore 189673
27. The Butcher's Wife
Love natural wine? All about the gluten-free life? You'll want to make a reservation at this vibrant restaurant, stat. It's been around for a while, but the Brazilian-inspired menu just launched a couple of new dishes, and they're terrific. Seriously, toss aside all your preconceived notions of 'boring' and 'dull' gluten-free or vegan food, because this communal dining experience in Tiong Bahru makes it tremendously exciting.
Surprise yourself with the croquetas ($14), an absolute delight made with soy milk, brined jackfruit, and served with a fermented cashew chilli sauce. Every bite is crispy and creamy, you won't even notice it's vegan-friendly. Oh, and that chargrilled cabbage ($18)? So flavourful, you just can't look at regular cabbage the same way again. It's basted with brown butter, served with pomegranate and pine nut salsa, and topped with red dragon fruit barbeque sauce. The portobello ($20) is another stunner, offering layers of texture and flavour with ricotta, sweet potato puree and a herby chermoula sauce.
Of course, meat lovers aren't left out either. The lamb picanha ($38) is a perfectly tender cut served with pistachio yogurt, fresh orange salsa and coriander. But the winner, hands down, is the acaraje ($25). The restaurant adds a twist to the Brazilian street food dish, giving it a hint of local flavours from familiar favourites like satay, rojak and laksa. Crispy, almost melt-in-your-mouth black eyed pea buns sandwich grilled prawns and a green mango herb salsa in a fusion creation we'd totally come back for. Pair it all with natural wines or the unique (and seasonal) cashew fruit kombucha.
But leave room for dessert, because you don't want to miss out on the decadent choc and caramel lava cake ($18), the Romeo & Julieta ($16), a light baked cheesecake topped with pink guava coulis, and the canjica-inspired sticky white corn brulee ($14) served with passion fruit sorbet.
The Butcher's Wife, 19 Yong Siak Street, Singapore 168650
28. Extra Virgin Pizza
This beloved pizza joint in Singapore churns out a newly updated menu of artisanal pies made with Caputo Nuvola flour – or "the new type 0". This means its pizza crusts are light-as-air, and oh-so-chewy and delicious.
If you've got meat lovers in the gang, you'll want to order Peace Be Ragu ($36). This classic American 'meat lovers' pizza is a salty, flavour-packed dream topped with pork sausage, soppressata and slow-cooked beef ragu. You've gotta have a slice (or five) of Spicy Mami ($32): this pie is covered generously in nduja, caciocavallo silano, tropea onions and spianata calabrese. But the table's favourite? The Secret 'Stache ($28) – we unanimously agreed that the Bronte pistachio pesto on this meatless baby was perfect.
Other hits you might enjoy include EVP's selection of curated small plates, salads and desserts. You'll want to dive into the monkfish cheeks Milanese ($24) – think crisp and golden deep-fried slices of sweet, meaty monkfish. You really knead to try it.
Extra Virgin Pizza, #01-04, Asia Square Tower 1, 8 Marina View, Singapore 018960
29. The Market Grill & Wine 90
You might know The Market Grill as one of the first in Singapore to introduce the now-popular lobster rolls. Well, it's recently rebranded into a cheery bistro and wine bar serving up grilled creations paired with good wine. Expect to enjoy fresh seafood and meat in a casual space decorated with vintage posters, a 1.5m-long tank with live lobsters and oysters, and industrial-style touches. New menu additions to try include crispy pig's ear, cod croquettes and country terrine.
If you're sharing with a group of friends, order communal plates of grilled octopus leg, NZ whole lamb rack or the classic black angus steak to enjoy. Any wine enthusiasts in the house? You'll be psyched to know that this restaurant is the only one in the city to feature a 'keg wine system' for house-pour red, white and rosé, as well as wines by the barrel.
The Market Grill & Wine 90, 208 Telok Ayer Street, Singapore 068642
30. Fiamma
Take a seat in Capella Singapore's new restaurant, Fiamma, and you'll be treated to a convivial Italian feast. Conceptualised by chef Mauro Colagreco of the three Michelin-starred Mirazur in France, the menu focuses on authentic, traditional dishes served in an atmosphere of warmth – perfect for communal dining. Fiamma means "flame" in Italian, and the name represents his fiery passion for cooking, while the food takes inspiration from his childhood memories and his grandmother's recipes.
The elegant space is divided into various areas – the kitchen chamber, the living room, the den and the private table – each with its own unique ambience and mood for a different experience. Of course, you'll have to start with antipasti. The signature carpaccio di pomodoro e pesca ($26) is a fresh, zesty delight with heirloom tomatoes and yellow peach. But we particularly adored the crudo di gambero rosso di mazara ($48), a stunning dish of Mediterranean red prawn crudo, kumquat and green peas.
In the realm of pasta, you can't miss out on the blue lobster tagliatelle ($56), a seafood plate of comfort food at its finest. Don't forget to try the linguine with clams, bottarga and preserved lemon as well ($38). Craving a piping hot slice of pizza? The tartufo ($36) with smoked scamorza cheese, Tuscan salami and fresh black truffle is a total treat, with a light and airy crust complemented by creamy cheese and a hint of saltiness from the salami. Pace yourself, though. There's plenty of good food to go around the table.
Next stop, seafood. Choose from mains like salt-crusted seabass ($76), cioppino ($72), a broth with clams, langoustines, scallops and crab claw, or grilled red prawns ($76). If you're after something meaty, the beautiful tender bistecca alla fiorentina ($160) of dry-aged beef chop with grilled eggplants and baby potatoes will feed two comfortably.
Finally, if you've still got space to sneak in a little dessert, classics take the spotlight here. Think tiramisu ($20), panna cotta with pineapple, mango and passion fruit ($18), and slow-baked meringue with vanilla cream and red berry sauce ($16).
Fiamma, Capella Singapore, 1 The Knolls, Sentosa, Singapore 098297
31. Vin Geek
Calling all vino enthusiasts: there's a new wine bar in town, and it just might become your next weekend hangout. No pretentious vibes (or know-it-all snobs) here, just great wine and good food. What started out as an e-commerce store in 2012 is now a full-fledged drinking and dining concept. The casual spot in Pacific Plaza houses a retail corner, seats by the bar and small tables, with a self-service wine dispenser for you to try all the grape stuff your heart desires.
We love how Vin Geek makes it easy for anyone and everyone to enjoy wine. Its bottles are highlighted in different categories: The Big D*ck Energy Collection offers rare wines and spirits; The Plate Mates Collection is meant to pair superbly with food; The Frankie Say Relax Collection is for drinkers who want to chill and unwind; The Goss-Sip Collection complements conversations; and The Cry Me A River Collection, well, plays buddy to those who just need to let it out after a tough day. You can also stock up on artisanal cheese, tinned seafood, jams and more from the cosy grocery space.
Planning to stay for a bit? We suggest you check out the 24-bottle wine dispenser and explore red, white and orange varieties from France, Italy, Australia and more. It's pretty simple to use – just scan the QR code and follow the instructions to get your sips (in 30ml, 90ml and 150ml). Prices are pretty kind on the pocket, starting from $2.50 for a tasting portion of rosé. You don't need happy hour to get a 'lil happy after work!
Once you've got your wine, have a seat and enjoy light bites like crab cake ($22), tempura squid with black ink mayo ($18) or the seacuterie platter ($55), with up to three sustainably-sourced canned seafood, sea salt croutons, chips, and red tomato and chili jam. For the mains, you'll want to order the ribeye ($48) served with pepper or bearnaise sauce, or the creamy risotto ($26) with forest mushrooms, shaved parmesan and truffle oil. Cheers to your next wine adventure!
Vin Geek, #01-04, Pacific Plaza, 9 Scotts Road, Singapore 228210
32. People Table Tales
If there's one private dining experience (with an emphasis on all things local) that you have to try, it's this new spot in the heart of Tiong Bahru. Head up the stairs and through the doors to find a small but bustling kitchen, and take a seat at the communal table or the slightly more private round table tucked away in a corner.
The space is warm, welcoming and cosy, and the people are wonderfully friendly and knowledgeable about what they do. Best of all, dining at the same table with strangers gives you the rather rare opportunity to mix, mingle and possibly come away with new friends.
We love how the focus is on local and seasonal produce, house-made brews, using scraps from one creation in another recipe (so there's little waste), and innovative experimentation with food – including lacto fermentation and blackening fruits. The result? Each dish is gorgeously plated – a delightful discovery of flavours, textures and aromas.
We started with "mouth pleasers" like crocodile fin crackling, green sambal and toasted koji before moving on to Natsuki's dream, an exquisite, fresh salad that's sweet, tangy and zesty in all the right places. The mushroom "pho" offers umami spoonfuls that are reminiscent of tom yum, while the succulent yet sweet Silkie chicken dish is made with coffee shoyu and blackened garlic and pineapple.
But the star of the show, of course, is the Communal Croc. It's a whole-roasted crocodile rib "rendang" that's served with sides like achar pickles, roti and smoked coconut rice for the entire table. If you've never had crocodile meat before, think of it as a cross between chicken and fish (or, as someone aptly put it, stingray). Surprisingly tender, with collagen-y bits, it pairs beautifully with the rich curry and crispy prata.
It's clear that the folks behind People Table Tales have put a lot of thought into curating the menu and the entire experience to make it a memorable one. So don't wait too long to reserve a seat at this dinner table, as it'll likely be a six to seven-month pop-up before it's reimagined into something else.
People Table Tales, #02-20, 79 Chay Yan Road, Singapore 160079
33. Maison Shuko
The newest kid on the F&B block for the Zouk Group, Maison Shuko is the last of its Japanese concept trio to open in Clarke Quay. The intimate space seats only eight people and offers a six-hands dining experience by chefs Angus Chow, Jeremmy Chiam and Justin Foo.
Elevating the Japanese-French omakase meal with audio and visual elements, a three-minute short is screened before every course. Each one revolves around an aspect of food sourcing – the farmer, the fisherman, the forager, the hunter and so on – and features local producers like Ah Hua Kelong, Hay Dairies Farm and Jurong Frog Farm.
Expect to enjoy eight courses that change seasonally, with local ingredients whipped into shape by the chefs' creativity. Highlights include crocodile and crackers (with tail meat tossed in zesty dressing and served with black charcoal keropok), grilled grouper in soy milk broth, har cheong frog legs with papaya sambal sorbet, and foie gras with daikon dashi broth.
Maison Shuko, #02-02, Clarke Quay, The Cannery, 3E River Valley Road, Singapore 179024
34. Lumbre
Warmest welcome to Lumbre, the new modern Spanish restaurant on the grounds of Chijmes. Its name means "fire" in Spanish, and its open kitchen showcases the chefs whipping up small plates and grilled items on the menu. Round up the fam, 'cause you'll want to order a variety of dishes to share.
Start with the homemade foie terrine ($26) topped with Mexican cheese mousse and served with a pistachio and apple puree. Next, move on to the smoky, charred goodness that is the charcoal octopus and Iberico pork belly with chorizo foam ($38).
For the mains, you can't go wrong with the seafood wet fideua 'arroz caldoso' ($48). With calamari and smoked eel in a casserole, the flavours of the noodle in tomato-pepper sauce and seafood stock really come through. Other meaty dishes include duck breast with confit endives and apple puree ($32), and lamb rack with pistachio praline ($42). You'll want to pair your meal with a bottle of Spanish wine from the extensive vino list!
Lumbre, #01-20, Chijmes, 30 Victoria Street, Singapore 187996
35. Casserole
Make every day Meatless Monday at the first meat alternative pop-up concept to open at a hotel in Singapore. Casserole leads the way to plant-based goodness with no regrets. The cuisines range from Indian to Western, but the dishes all have one thing in common: they're meat-free. Formerly specialising in Moroccan and Indian food, the restaurant has been revamped to spotlight brands like Impossible Foods, Green Rebel Foods, Tindle, OnlyEg and more.
Dishes are made to share, so come in a big group to enjoy communal creations. Think masala dosa ($18), a fermented rice pancake with potato masala and shredded "egg" made with OnlyEg, and spiced kebab with falafel and pita bread ($24). The Casserole fried rice ($18) and banana leaf dry braised "beef" rendang ($28) are must-try mains. To finish off with dessert, order the eggless chocolate cake ($15) or the tropical coconut delight ($18) of passion fruit, coconut and lime sorbet.
Casserole, Level 3, Shangri-La Rasa Sentosa, Singapore, 101 Siloso Road, Singapore 098970
36. Jinhonten
Sure, there are plenty of omakase restaurants in Singapore. But if there's just one you have to set your sights on, it's gotta be Jinhonten. This new concept by the Les Amis Group is helmed by head chef Issey Araki. And he's set to impress with premium and meticulously-procured ingredients from Japan.
The menu consists of either an eight-course lunch ($180++) or 10-course dinner ($450++). Everything is fresh and made with as little seasoning as possible to ensure that the focus lies on the innate flavours of each ingredient. Our favourite dishes were the handroll with nodoguro – a fatty fish that was so buttery – and the juicy Hida beef cubes grilled over binchotan. We also loved that the donabe didn't stinge on crab meat, meaning each bite of rice was accompanied by generous chunks of succulent crab.
If the good food isn't enough to entice you, chef Issey is quite the entertainer. He's always ready to strike a pose for the 'gram in a hairy crab shell mask, or brandish a giant red rockfish in his arms. Trust us, you'll leave with a full stomach and a camera roll full of stunning food pics.
Jinhonten, #01-11, Shaw Centre, 1 Scotts Road, Singapore 228208
37. L'Arte Pizza & Focaccia
When someone has earned the moniker of 'Bulgaria God of Italian Pizza', you know their skills are top-notch. Enter chef Radostin Kiryazov, who has 30 years of experience whipping up pizza, bread and pasta, as well as multiple awards to his name. Taste his iconic pizza Romana at this new establishment, which serves up rectangular slices that are light and crispy.
The classic burrata cheese ($9.50/slice, $34/whole) is all sorts of creamy, sprinkled with cherry tomatoes, pesto basil and Italian tomatoes. Meanwhile, the tartufata ($9.50/slice, $34/whole) is for white sauce lovers. It's made with mozzarella, truffle cream, ricotta, parma ham and rocket leaves. Other options in the 15-pizza menu include margherita, diavola and formaggi. Dessert fans also get a treat with the Nutella pizza ($6/slice, $20/whole) that's topped with the beloved hazelnut spread, banana, strawberry and mint leaves.
Perk alert: Enjoy $5 off with a minimum spend of $60 on your OCBC Cards from 1 July to 30 November 2022.
L'Arte Pizza & Focaccia, #01-14, 5 Wallich Street, Singapore 078883
38. Ocean Restaurant
How's this for unique: an underwater dining experience with a menu created by a Michelin-starred chef. That's Ocean Restaurant for you. Reopening with upgraded interiors and a fresh take on seafood, it's a delight to dine in. Make your way to the restaurant (the entrance is right inside the carpark) and step into the sleek space refurbished with sustainable and ethically sourced materials.
The bar is the first thing you'll see: designed in blue and stone with textured glass bricks, it serves up French-inspired cocktails. Of course, the highlight of the decor is the row of one-way panels that offer mesmerising views of marine creatures in S.E.A. Aquarium's Open Ocean Habitat. It's perfect for intimate catchups or elegant family gatherings, though you might just find yourself drifting off mid-conversation to gaze at the enchanting sight of giant manta rays and fishes swimming by (no judgment there).
Taking charge of the food is Olivier Bellin, chef-owner of two Michelin-starred L'Auberge des Glazicks in Brittany, France. The highlights? Seafood and sustainability. Each dish focuses on fresh flavours of the sea, made with responsibly sourced catches, local produce and house-grown herbs. Expect to spend about $148++ at lunch and $248++ at dinner per person. The menu's still being whipped into shape, but on our visit, we were treated to delicately-plated dishes with unexpected ingredient pairings.
The Josper oven-baked wagyu beef, for example, is served with seared asparagus, seaweed confit potatoes and uni (sea urchin). Slice a bit of each into one mouthful for an umami bite that's creamy, crunchy and rich. Not a fan of frog legs? You might change your mind (we certainly did) after sampling a dish of breaded and minced frog leg meat with parsley and garlic foam. These fried orbs make an addictive starter – you'll be polishing off your plate in no time. The butter-poached dover sole with tomato marmalade also hits the spot with a lovely crackle from the fish skin and tangy flavours from the sauce. You know where to find us on our next date night!
Ocean Restaurant, West B1M Carpark, Equarius Hotel, 22 Sentosa Gateway, Singapore 098136
39. Nobu Singapore
The iconic restaurant arrives on our shores, bringing with it celebrity chef Nobu Matsuhisa's famous signatures. We all know it's the hotspot for Hollywood celebs: notable names sighted at its Malibu outpost include Rihanna, the Kardashians and the Biebs. It also has locations all over the world, but if you haven't had a chance to dine at Nobu, the one at Four Seasons does justice to the brand – if it's a classic experience you're looking for.
Stroll past the open-air Japanese garden and bar, and you'll enter the dimly-lit restaurant. Service is impeccable and the vibe is buzzy – the place was packed on our weekday visit, as if all the cool kids in town were there to check out the swish space. As for the menu, it's a familiar sight featuring the beautiful and tender black cod miso ($68) and the spice-tinged yellowtail jalapeno ($39). You'll be spoilt for choice with an array of wagyu beef, kushiyaki (skewers), sashimi, sushi, tempura, teppanyaki and more.
If you want the full experience of Nobu's smash hits, go for the multi-course omakase menu paired with cocktails or Nobu-exclusive sake made by Hokusetsu brewery. Dining here is an indulgent experience, no doubt. And if the name leaves you starry-eyed, make a reservation and pop by to see what all the hype is about.
Nobu Singapore, Level 3, Four Seasons Hotel Singapore, 190 Orchard Boulevard, Singapore 248646
40. Restaurant Born
This new fine dining restaurant at Jinrikisha Station is run by Malaysian-born chef Zor Tan, who helms the kitchen backed by years of experience in places like Restaurant Raw in Taipei and Sichuan Moon in Macau. The contemporary menu combines the sophistication of French gastronomy with Chinese ingredients and flavours – each dish weaves a story, blending his heritage, life lessons, memories and more.
Start with a unique selection of pickles and snacks before you head into the nine-course meal ($368++) that spotlights creations like 'aged' wagyu beef tartare fried bao with Irish oyster emulsion, Jerusalem artichoke with lily bulbs and caviar, smoked eel with barramundi fish maw, and Alaskan king crab with glutinous rice. The beautiful heritage building space complements the food with unique artworks, feature walls, a show kitchen and shelves stocked with the restaurant's pickle and tea collection at the open lounge.
Restaurant Born, 1 Neil Road, Singapore 088804
41. Sushi Yujo
All hail this new sushi omakase restaurant, which delivers dining experiences that don't hit your wallet too hard (lunch from $98, dinner from $198). Singaporean chef Desmond Fong, former head chef of Sushi Jin, brings his creative spin to traditional omakase. Fresh seafood is flown in regularly from Toyosu Market in Tokyo, with lunch set menus (from $38) of salmon or unagi don.
Come evening, the four omakase-only selections include Hogo ($198) and Chusei ($198) for a seafood-focused meal that includes carpaccio, sushi, sashimi and cooked dishes. For chef Fong's signatures, choose the Yujo ($288) or Shinzoku ($348) to enjoy seasonal creations that can range from hairy crab to Awabi abalone. Of course, you'll find wine and sake on the drinks list to complement the food.
Sushi Yujo, #02-26, Amara Hotel, 165 Tanjong Pagar Road, Singapore 088539
42. The Coconut Club
Your favourite fancy nasi lemak hotspot has officially moved to its new Beach Road home in a conservation shophouse. The first floor houses the all-day dining room kitted out with rattan and terrazzo elements, while the second level features a mural of flora and fauna motifs by local artist Aeropalmics. Try elevated versions of familiar classics for breakfast or afternoon tea – the menu includes charcoal-grilled kaya toast ($7.80), coconut shake ($8.80) and, of course, those signature nasi lemak sets (from $10.80).
For the ultimate family-style nasi lemak communal experience, head upstairs to enjoy a mix of local and regional dishes made with top-notch ingredients and paired with coconut rice. The selection includes gohu ikan (raw yellowfin tuna salad), gado gado, otah, percik kambing (roasted lamb short ribs) and sambal mushrooms. The Coconut Club's flagship also sees its debut of a proper cocktail lineup with drinks such as pineapple old fashioned ($21) made with scotch whisky, Laphroaig 10, pineapple skin syrup and coconut water.
The Coconut Club, 269 Beach Road, Singapore 199546
43. Wakuda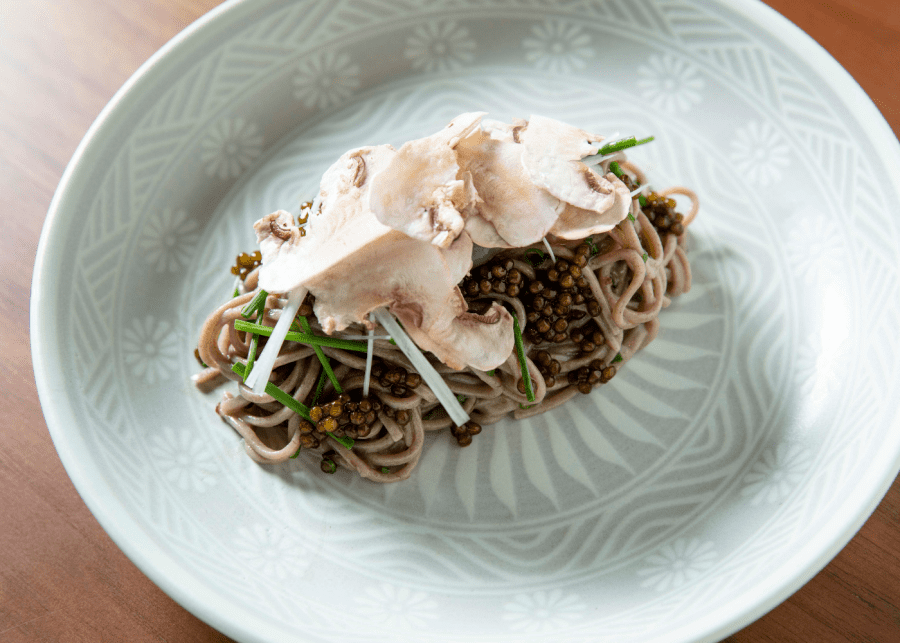 This is one hot new opening you don't want to miss out on: Wakuda is the buzzworthy new restaurant at Marina Bay Sands Hotel, a collaboration between chef Tetsuya Wakuda of two Michelin-starred Waku Ghin and restaurateur John Kunkel of 50 Eggs Hospitality Group. Step into the elegant space and you'll be wowed by the design. It's inspired by traditional Japanese architecture, with elements of rich wood tones, a custom ceiling installation, bronze accents and floor-to-ceiling windows offering a view of a gorgeous Japanese maple tree.
Open from Tuesdays to Sundays for dinner, Wakuda offers an exquisite dining experience. Take a seat at the bar for fancy cocktails, round up your pals for an evening of extravagance at the main dining area, or look forward to the restaurant's soon-to-launch omakase and private sushi room. The line-up of Japanese favourites with a Wakuda twist is pretty extensive. Think sashimi, sushi, tempura, yakimono (grilled items), rice bowls and more.
Everything's made fresh in small batches, featuring incredible ingredients like Tokujyo AA uni from Hokkaido, A5 wagyu and black pork from Kagoshima, yuba from Kyoto, musk melon and fresh wasabi from Shizuoka (chef Tetsuya's home town) and more. The menu is ever-evolving depending on the produce, so you'll be pleasantly surprised on each visit.
We particularly loved the creamy yuba ($38): fresh beancurd skin served in a martini glass filled with Hokkaido sea urchin, mountain caviar, dashi gelee and myoga. The cold soba ($68) made beautifully al dente and served with botan shrimp, truffle sauce and oscietra caviar is another highlight. Don't miss out on the delish carabineros prawn with miso tarragon risotto ($43) either! And the charcoal-grilled Kagoshima wagyu ($108) is simply to die for – paired with smoked eggplant and grilled veggies, this is one dish you can't pass up on.
Complement your meal with fab cocktails or the Wakuda-exclusive Isojiman junmai ginjo sake before you end off with the refreshing Japanese musk melon dessert ($28) served with Cointreau granita and fromage blanc sorbet. Dining here is a splurge, but it's well worth it.
Wakuda, Lobby, Marina Bay Sands Hotel Tower 2, 1 Bayfront Avenue, Singapore 018971
44. California Republic
Transport yourself to 60s California at this new restaurant by The Dandy Collection. It serves up SoCal Italian dishes that'll leave you in a food coma – totally worth it! Kick off your meal with the coastal flavours of California at a seafood and oyster bar. The trio of grilled oysters ($18) are served in a pool of flavourful chipotle and bourbon butter. Move along to stellar small plates like meatballs al Angeleno ($28) – melt-in-your-mouth fantastic veal, pork and beef meatballs drenched in a rich tomato sauce. Or faux artichokes ($18): glazed jackfruit barigoule with tangy herb aioli and pangrattato.
We're still dreaming of the smoked bucatini pasta ($34) tossed in pork ragu bianco, soffritto and bone marrow. Safe to say we were scraping the plate. Seafood lovers will enjoy the lazy man's cioppino ($48), a flavourful tomato broth filled with roasted sea bass, clams, mussels and calamari. Oh, and if you're going for dinner, don't forget to order West Coast garlic mops ($18) – aptly named to mop up your leftover sauces with.
California Republic, 88 Amoy Street, Singapore 069907
45. Luce
Luce by Davide Giacomelli has opened its doors at InterContinental Singapore! You can expect to find traditional Italian cuisine at its purest within this warm and inviting resto. We just know it's gonna be a popular rendezvous spot for casual lunches and romantic dinner dates.
The menu is inspired by Italian classics and the authentic flavours of chef Davide's hometown. Whet your appetite with bruschetta ($19): this dish topped with grated garlic, parma ham and buffalo mozzarella may be simple, but it's such a refreshing way to start the meal. Seafood lovers will absolutely love the moreish Acquerello lobster ($46). Think half a Boston lobster served with savoury carnaroli rice cooked in a rich lobster stock. If that's not enough, sink your teeth into the merluzzo alla puttanesca ($46) – a soft and flaky pan-fried Atlantic cod served in a traditional puttanesca sauce. Delizioso!
Want more from Luce? Keep an eye out for an upcoming convivial weekend brunch experience that'll incorporate classic treats commonly found along the streets of Italy. You can even look forward to a good dose of live music while you wine and dine!
Perk alert: Enjoy 20% off your food bill with your OCBC Cards from 1 July to 31 August 2022.
Luce, Level 1, InterContinental Singapore, 80 Middle Road, Singapore 188966
46. Cowaramup Roadhouse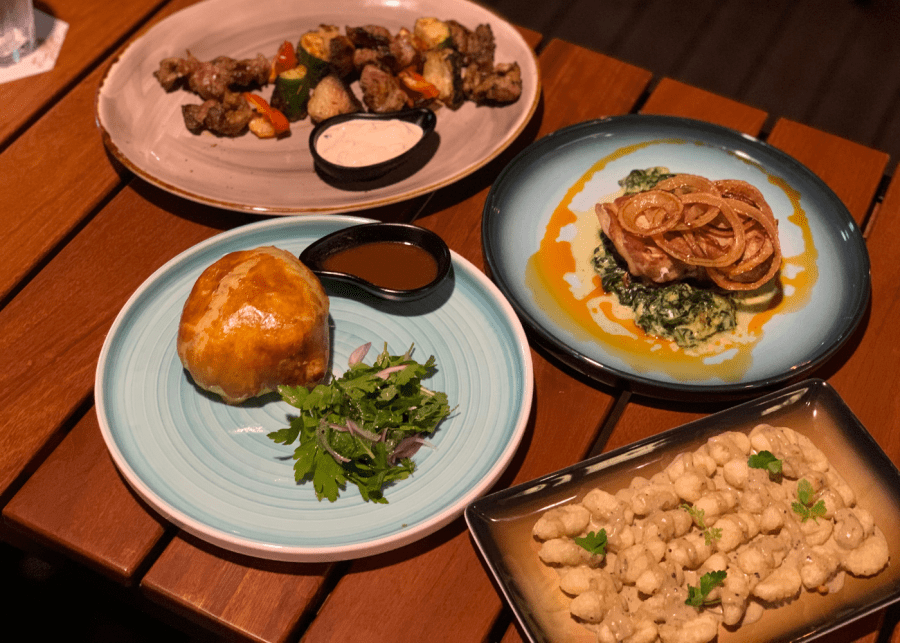 You can't miss the massive colourful signboard plastered above this restaurant. Cowaramup Roadhouse is a great Australian roadhouse-style dining experience for big groups of families and friends. The breezy alfresco area is dog-friendly too! Created in collab with Mooloolabar & Kitchen by JT, the restaurant serves up a variety of starters, grilled skewers, gourmet meat dishes, sharing platters and weekend breakfast plates.
Highlights include the double bacon cheese burger pappardelle ($15), an indulgent iteration of the iconic American cheeseburger with minced pork and beef, tomato sauce and cheese fondue; and the oven-baked barramundi ($22) wrapped in bacon and served with creamed spinach, smoked onion rings and chilli oil.
The star of the show has to be the wellington! That's right, you'll find excellent beef and duck wellington right here. The beef version (from $34) has charcoal-grilled Australian beef tenderloin and mushroom duxelle wrapped in puff pastry. Plus, you can add foie gras too. The duck wellington ($35) is just as delish, made with charcoal-grilled duck breast.
Cowaramup Roadhouse, 404 Telok Blangah Road, Singapore 098840
47. Gary's
Enter the picturesque greenery of Rochester Park and you'll find a number of black and white colonial bungalows, one of which is home to Gary's. It's named after Taiwan-born Singaporean chef Gary Wu, who has swept up multiple awards throughout his 28 years in the culinary scene. Just like the restaurant's lush surroundings, its ambience is tranquil and charming, welcoming you into its embrace with marble counters, warm wood panels, and parquet floors.
Whether it's a celebration for the fam or a romantic date, Gary's is perfect. The menu blends Italian fine dining with a touch of Japanese for a refined menu. You can't pass up on the pasta: think bamboo clam with squid ink pasta ($28) or carbonara with crispy Iberico chips ($26). We loved the beef cheek ragu with pappardelle, red wine sauce and parmigiano ($26) – it's comfort food at its finest.
On the seafood and meat side, the choices are divine. If you're in the mood for fish, the salt-crusted wild-caught sea bass with confit potato and grilled vegetables ($88) is great for sharing around the table. If you've got your eye on meaty mains, take your pick from slow-cooked wagyu beef cheek ($38), lamb rack ($48) and fork-tender Iberico pork jowl ($38). Can't pass up on dessert? Try the tiramisu ($14), nougat parfait ($14) or flambe chocolate cake ($14).
Perk alert: Enjoy a complimentary meat platter with grass-fed tenderloin, lamb rack, pork ribs and more (worth $138) with a minimum spend of $450; and a free glass of house-pour red or white wine with a minimum spend of $100 on your OCBC Cards from 1 July to 30 September 2022.
Gary's, 41 Rochester Drive, Singapore 138582
48. White Marble
Sister restaurant of Black Marble, this Mediterranean grill concept by chef Otto Weibel plays up the region's flavours, with a spotlight on fresh seafood and vegetables. The dining area is casual and spacious, ideal for lunch catch-ups or family gatherings. On the menu, you'll find dishes that travel from the Middle East to Southern Europe to Northern Africa.
Start with the mezze plate ($34) to share. This signature platter is a flavourful start to the meal, featuring tabbouleh with quinoa, fattouche, eggplant moutabbal, hummus, chicken skewer and pita bread. Just as lovely is the prawn bucatini puttanesca ($28), a simple, classic dish you won't regret ordering. This pasta is sauteed with cherry tomatoes, capers, olives, garlic, prawns and anchovies.
But the main must-try is White Marble's chicken leg bone-in tagine ($60). This beautiful Moroccan stew – made of chicken marinated in shawarma spice and slow-cooked with preserved lemon, dates, olives, capers and tomato – feeds two perfectly. Of course, if you've got the meat munchies, you'll have to order the lamb ($48) or seafood ($38) skewers as well. End off your meal with a fig and almond tart ($16) or crema catalana ($16).
Perk alert: Enjoy a complimentary bar snack and sides (U.P. $12) with a minimum spend of $50 on your OCBC Cards from 1 to 31 May 2022.
White Marble, #01-09, Orchard Rendezvous Hotel, 1 Tanglin Road, Singapore 247905
49. Sushi Ichizuke
So you love your sushi? Make a trip to this omakase hotspot for a one-of-a-kind multisensory meal complete with groovy tunes by Zouk. Grab a date and head over to the intimate space, which is decked out in stone walls and dark wood. Must-tries on the menu (from $280 per person) include the Ichizuke don (uni, ikura, golden flying fish roe and Hokkaido hairy crab), house-special handroll (bluefin tuna belly and Japanese radish) and edo-style zuke maguro (tuna sushi). For maximum enjoyment, pair 'em all with smooth sakes from the extensive selection. Cheers to an authentic yet edgy omakase experience!
Perk alert: Get a complimentary 360ml junmai daiginjo carafe or a complimentary 360ml junmai ginjo carafe with an omakase order ($480++) on your OCBC Cards from 1 to 31 May 2022. (Items are subject to seasonal availability.)
Sushi Ichizuke, #02-02, The Cannery, 3E River Valley Road, Singapore 179024
50. Babba
Cafe by day, Peranakan resto by night, Babba is brought to you by the folks behind Glasshouse and The Brewing Ground. Pop by in the morning for Peranakan-inspired brunch grub like dry laksa pasta or pulled rendang burger, as well as a range of traditional Nonya kuehs. Come nightfall, the kitchen whips up traditional dishes based on decades-old family recipes. For the ultimate comfort food experience, order classics like ayam buah keluak, beef rendang, babi pongteh and bakwan kepeting.
Perk alert: Enjoy a complimentary kueh platter or pulut hitam with a minimum spend of $60 on your OCBC Cards during weekdays (excluding PH and eve of PH) from 1 to 31 May 2022.
Babba, 15-9 Jalan Riang, Singapore 358987
51. Here Kitty Kitty
An opulent Japanese speakeasy by the Zouk Group, this den of decadence transports you to 1950s Shinjuku. Once you step into the gorgeous space (it's right next to Sushi Ichizuke), you'll likely forget you haven't left the shores of Singapore. It's home to three concept rooms – the Cathouse, Mamasan Lounge and Shibari Room – as well as a private bar and lounge for undisturbed parties. Sink your teeth into bar bites like wagyu sando, maki rolls and negitoro tataki, paired with stellar cocktails such as Ume Whiskey Sour or Haku Hai (matcha, Haku vodka, calpis and lemon).
Perk alert: Enjoy 10% off Japanese spirits on your OCBC Cards from 1 to 31 May 2022.
Here Kitty Kitty, #02-02, The Cannery, 3E River Valley Road, Singapore 179024
52. Senshi Sushi & Grill
Swing by Dorsett Singapore in the CBD for an amazing Japanese dining experience. This contemporary a la carte buffet concept is housed in a cosy dining area with two private rooms. It's helmed by veteran chef Martin Woo, who's worked with countless celebrities in his career. Focusing on fresh ingredients, the menu changes according to seasonality. Signatures include mekajiki sashimi, spicy salmon roe sushi roll, aburi and nigiri sushi, and sea clam butter monte with herbs and sake mirin. Make sure you also leave room for highlights like unagi maki, pork kurobuta, salmon mentaiko maki and an assortment of sashimi. To take things up a notch, ganpai with glasses of beer, liquor and sake.
Perk alert: Enjoy 10% off your total bill on your OCBC Cards from 1 May to 30 Sep 2022.
Senshi Sushi & Grill, #01-01, 333 New Bridge Road, Singapore 088765
53. Oumi
Perched atop the CapitaSpring tower, within the 1-Arden F&B and lifestyle destination, is Oumi. This new farm-to-table restaurant concept serves contemporary Japanese Kappa cuisine and is helmed by chef Lamley Chua. As the head of Japanese culinary development at 1-Group, he comes armed with a plethora of experience from his time working in several international and Michelin-starred restaurants.
Oumi's culinary team works closely with 1-Arden's head farmer, Christopher Leow of Edible Garden City. Together, they curate plants from the 1-Arden food forest for use in the kitchen. Expect to find plenty of the garden's herbs and vegetables used in its dishes when you dine here.
Our favourite is the tempura crepe ($25), featuring a 'crepe' cracker made with tempura flour and gruyere cheese that's deep-fried and topped with sliced avocado, crunchy Japanese sakura ebi and flying fish roe. Other highlights include Kabocha uni tofu ($30) that comes served with fresh sea urchin and edible flowers, as well as an uber-tender gyutan yaki ($35) – a whole Australian tajima beef tongue grilled over binchotan and sliced thinly.
Oumi, #51-01, CapitaSpring, 88 Market Street, Singapore 048948
54. Firangi Superstar
The gorgeously theatrical and ever-so-popular Firangi Superstar made a splash when it first opened. Less than a year later, it's still making waves – and for all the right reasons. If you're ditching meat or attempting to show a little more love to a plant-based diet these days, you're not alone. But even with the great selection of meatless meats out there, we're especially loving what Firangi Superstar's done for its meat-free menu. The geniuses in this restaurant's kitchen have recreated their original smash hits – keeping the same flavours and all – as veggie versions. That's right, these plant-based babies aren't an afterthought; they're more like the flip side of the coin from their meaty counterparts. And boy oh boy are they just as delicious (if not even more so!).
Take the Sacred Earth Samosa, for example. Meat lovers can go for the original rendition of wagyu beef tartare, caviar and citrus pickle ($26), but we actually much prefer the beetroot tartare creation ($14). It's done so beautifully you may not even realise you're enjoying beetroot for the first time in your life. Another highlight: Grogu's Roast. Tender Iberico pork ($23) or roasted cauliflower ($13)? Take your pick 'cos both are just as scrumptious.
So serious is the menu about its meat and veg that you'll find such twin offerings for all its small and large plates. Think braised and grilled beef short ribs vs young jackfruit, grilled snapper vs eggplant, and fried chicken vs tempeh. Don't leave without an order of the fantastic fried Brussels sprouts with garam masala ($16) either. We love how Firangi gives its plant-based creations the spotlight they deserve – because at this restaurant, everyone's welcome at the table.
Firangi Superstar, #01-03, 20 Craig Road, Singapore 089692
55. Basdban
So you like it hot? Spice up your life at fiery new gastrobar Basdban, a Sichuan-influenced hangout in the CBD perfect for casual after-work drinks. Brought to you by the folks behind Birds of a Feather (and taking over the space left behind by 51 Soho), the restaurant is helmed by chef Pang Kok Keong, who also leads the culinary teams of Sichuan Alley and Halcyon and Crane.
Think of Sichuan cuisine and mala immediately comes to mind. But Basdban veers off the path into a funky and fun direction with what chef Pang calls "rock & roll Sichuanese food". Clearly, the kitchen takes things into unique territory here. Start with the roasted eggplant ($14), a dish that makes the vegetable delish with minced garlic sauce, smoked pork belly, cheese and – get this – Sichuan-spiced caramel popcorn. It's unexpected but oh-so-good; trust us, you'll be reaching for seconds. Love a good hotpot? Order the Sichuanese skewers ($22) to share and snack on bite-sized seafood, greens and meat dipped in chicken broth with a kick.
On to the mains: we loved the mapo tofu with crab meat and ikura ($20), a twist on the classic dish with Sichuan peppercorn and chilli powder on a bed of mixed grain pearl rice. The barramundi en papillote ($32) is another great choice for a lighter dish made flavourful with pickled vegetables and bamboo shoots. Pair your meal with beautiful cocktails for the full experience! Oh, and stop by on weekdays for various promos like happy hour on Lady's Wednesday.
Basdban, #01-01, 51 Telok Ayer Street, Singapore 048441
56. Meadesmoore
Formerly Fat Belly Social, the newly rebranded Meadesmoore stands out from the crowd with a menu that highlights unusual cuts of meat and adventurous dishes. Think starters like breaded pig's head ($18) and bone marrow ($18) topped with house-smoked Hokkigai clams and fried garlic gremolata.
Its large-format sharing steaks are big enough to feed up to four diners – the meat is sourced from award-winning producers in Australia, Spain and the US. We recommend trying the 30-days dry-aged Galician MS 2/4 prime rib ($280) that's charcoal-grilled to bring out its natural flavours. End the night on a sweet note with Chocolate, Chocolate and Chocolate ($16), a decadent dessert that features chocolate ganache, custard, crumble and tuile, paired with a heady chocolate and whisky sorbet. Yum!
Meadesmoore, 21A Boon Tat Street, Singapore 069620
57. Waterfall Ristorante Italiano
Step into Waterfall and it's like you've been welcomed into a cosy Italian home – if your pal lived amidst the lush poolside garden of Shangri-La, that is. The restaurant isn't new, but it recently brought onboard chef Simone Loisi from Puglia, Italy (formerly from iO Italian Osteria). With the new chef comes a medley of authentic Southern Italian dishes added to the menu of starters, salads, pizzas, pasta, seafood and meat.
Start with the crispy and juicy beer-marinated pork belly ($24) paired with tangy sauerkraut and dollops of honey mustard. Next, the classic burrata con affettati ($55) is a cheesy delight complemented with cold cuts like parma ham and mortadella. If you're a big fan of pasta, the orecchiette broccoli e salsicca ($28) is homely comfort food at its best. Creamy but not too heavy, made with handmade pasta, broccoli and Italian pork sausage meat, the dish is finished off with shaved pecorino, toasted fennel seed, chilli and breadcrumbs. The gnocchi mare e monti ($32) is another winner if you love those fluffy potato orbs – it's made flavourful with a prawn bisque sauce. Other highlights include mortadella flatbread ($29), grilled seabass in beetroot sauce ($42) and roasted half spring chicken ($38).
Waterfall Ristorante Italiano, Level One, Garden Wing, Shangri-La Hotel Singapore, 22 Orange Grove Road, Singapore 258350
58. Tigress
Sharing a space with Kommune at 82 Social House in Orchard, Tigress is a funky Korean fusion gastrobar that serves burgers, pizzas and tapas plates with a side of billiards. So if you're looking for a little post-meal fun, go ahead and challenge your mates to a game. Dotted with greenery, the high-ceilinged industrial space gives off cool jungle vibes, making it totally photo-worthy.
Get comfy in a seat and tuck into signatures like the Tigress burger ($34), a juicy combination of Australian wagyu patty, prosciutto, blue cheese, tomatoes, caramelised onions, pickles and the chef's house sauce. Another must-try? The honey soy chicken burger ($25), featuring a crispy chicken patty, caramelised onions, sesame and Korean honey soy sauce – the perfect mix of sweet and salty. Other highlights include Spanish-style grilled spiced octopus ($19) topped with roasted Cajun potatoes and bacon, and creamy burrata with wild mushrooms and black truffle shavings ($16).
Perk alert: Enjoy a complimentary snack or dessert of the day (U.P. $12) with a minimum spend of $50 on your OCBC Cards from 1 April to 30 June 2022.
Tigress, #03-17, Orchard Gateway, 277 Orchard Gateway, Singapore 238858
59. Nox – Dine in the Dark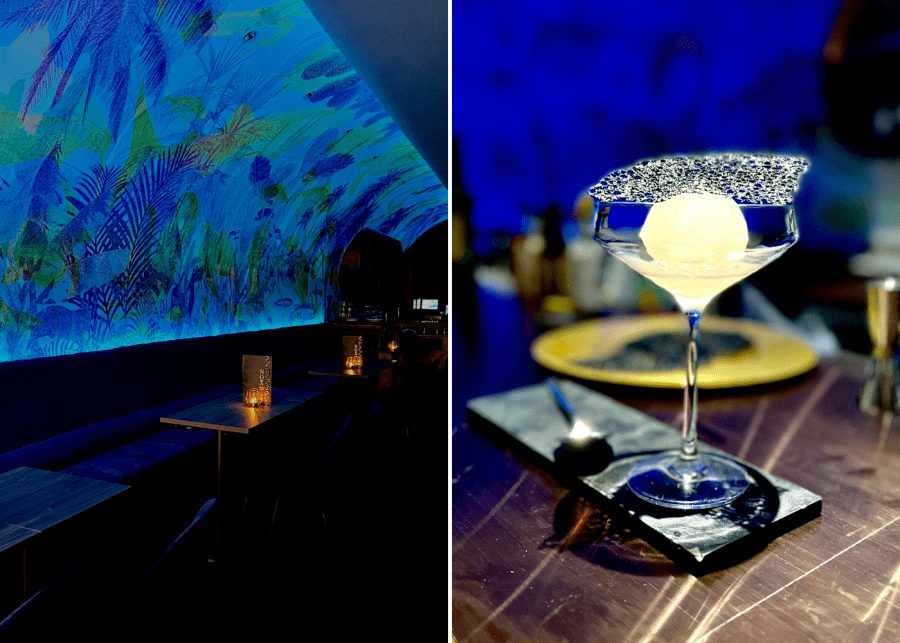 This one-of-a-kind restaurant finds its new home at Club Street. Expect the same unique concept but with new interiors and refreshed menus. If you haven't tried the pitch-black dining experience, take it from us: it's an unforgettable one. The journey begins on the first-floor bar, where you can lounge with a cocktail in hand. Crafted by Sam Wong of Ah Sam Cold Drink Stall, the boozy concoctions include highlights like Kwai Fei (elderflower liqueur, gin, grapefruit juice and tonic water). Settle in snug on fancy velvet seats as you admire the design of the space, with a Braille-inspired wall installation and an RGB art wall.
But the true experience awaits on the second-floor dining area, with a three-course, 12-dish modern European mystery menu (from $88 per person). It takes a while to adjust to the darkness (no phones allowed!), but fret not 'cos the friendly visually impaired hosts are there to guide you. It's a true test of your taste buds as you sample dishes of different flavours, temperatures, textures and aromas – and play the guessing game to figure out what you're eating. Pair it all with cocktail (from $50) and wine (from $30) flights for the ultimate indulgence!
Perk alert: Each diner enjoys a complimentary post-dinner signature cocktail or glass of wine with OCBC Cards from 1 April to 31 May 2022.
Nox – Dine in the Dark, 83 Club Street, Singapore 069451
60. House On The Moon
After a menu revamp and relocation, this dessert bar returns with Instagram-worthy five- and seven-course set menus (from $38 per pax) that will blow your mind. Chef-owner Huseyin Turan takes things out of the box and blurs the line between sweet and savoury, making your dining experience quite the memorable one.
Take the Cauliflower Couscous, for example. The humble vegetable is plated as couscous, with jellified cream of cauliflower, a drizzle of parsley oil and a topping of tangerine sorbet with a sourdough cracker. If you like it savoury, you can replace the sorbet with a scallop for $9. Oh, and that Kalea65 cheesecake? Absolutely delish. But before you dig in, here's a little backstory: the dessert was accidentally created by the chef for an after-party on Street 65 in Sri Lanka. What a tale!
Perk alert: Enjoy 40% off your second order of the seven-course Full Moon set (U.P. $68 per pax) with OCBC Cards from 1 to 30 April 2022.
House On The Moon, #01-13, GR.ID, 1 Selegie Road, Singapore 188306
61. Sol & Luna
We'll never decline a meal with arresting cityscape views, especially one at the new 51-storey skyscraper CapitaSpring. Make your way to the lush Green Oasis and you'll find Sol & Luna, a new Latin-European restaurant by 1-Group. Aptly named after the sun and moon in Latin, the space magically transforms from sunrise to sundown. We experienced it ourselves, watching the sunset through the floor-to-ceiling windows as the space changed from a cool bistro-style hang to a swanky restaurant-slash-bar.
The menu spotlights cuisines from Italy, France, Portugal and Spain with head of culinary development Felix Chong's unique twist. We particularly enjoyed the wood-fired sardine ($19) stuffed with mussels, herbs, breadcrumbs, pine nuts and butternut puree on the side. Reminded us of a stuffed otah-otah, if we may. The white gazpacho ($19) was rich and creamy thanks to Marcona almonds and a grilled half avocado.
Moving on to the mains, the meats shine. The 12-hour slow-cooked Welsh lamb shoulder was fall-off-the-bone tender. Meanwhile, the baked veal shank pie ($25) braised with carrots, zucchini, potatoes and veal jus, and topped with puff pastry, was like a warm hug. Finally, the Sol & Luna tiramisu ($16) had all the makings of a classic. Safe to say we polished it off. The dishes are great for sharing and even more enjoyable with good company. Stay for the great vibes!
Perk alert: Enjoy 1 free cocktail with a minimum spend of $80 on your OCBC Cards from 1 to 31 May 2022.
Sol & Luna, #17-01, CapitaSpring, 88 Market Street, Singapore 048948
62. Roberta's Singapore
The Brooklyn powerhouse pizzeria Roberta's opens its first outpost in Singapore. Located at Marina Bay Sands, the walk-in 44-seater resto takes elements of the four other outlets in the US. A quick walk-through and you'll notice vibrant pop art commissioned by Singaporean artist Andre Tan and New York-based painter Jason Woodside.
All pizzas are baked in the same Pavesi oven used in its outlets. The Singapore menu carries famed classics like the Bee Sting ($28), starring Calabrese salami, basil, mozzarella drizzled with chilli oil and honey; Cheesus Christ ($28), with mozzarella, taleggio, parmigiano and black pepper; and Baby Sinclair ($29), made of dinosaur kale, mushrooms, Calabrese peppers and garlic. Need more carbs? The house bread with stracciatella ($15) will fill you up nicely. You don't expect salads to shine at a pizzeria but the smashed cucumbers with fermented garlic paste, Korean chilli and spicy seeds surprised us with a refreshing and spicy kick.
But with the astounding pizza scene in Singapore, we'd say Roberta's Pizza has some tough competition to stand out from its contemporaries.
Roberta's Singapore, B1-45/46, Galleria Level, The Shoppes at Marina Bay Sands, 2 Bayfront Avenue, Singapore 018972
63. Path Restaurant
Modern Asian dining by chef Marvas Ng finds its home at Marina Bay, finding a balance between French fine dining culinary techniques and East Asian ingredients. The result? Stunning dishes that are elevated yet familiar. With soft pastels and a light-filled, airy space, the restaurant is all at once welcoming and comfortable. Choose your path with lunch sets or a la carte dishes at lunch and dinner. Highlights include butter-roasted herb-brined French poulet, hand-dived Hokkaido scallops, char siew Iberico secreto and chargrilled New Zealand milk-fed lamb rack.
Path Restaurant, #01-05/06, Tower 3, Marina Bay Financial Centre, 12 Marina Boulevard, Singapore 018982
64. Les Bouchons Rochester
Within a beautiful two-storey bungalow in the lush Rochester Park sits the latest outpost of Les Bouchons. Here, you can dig in to new entrees exclusive to the resto. Think rich and creamy French ceps soup with truffle oil ($16), and buttery terrine foie gras served with onion chutney and toast ($26). For mains, the Japanese Hokkaido black wagyu MB ($78) is as succulent as you'd expect. But the real star of the show is the tender and juicy poulet aux 40 gousses d'ail ($32), a traditional 40 garlic roasted chicken. Feeling bored? Take things up a notch with a few rounds of petanque – a game of throwing boules – in the restaurant's very own outdoor petanque court.
Les Bouchons Rochester, Rochester Commons, 10 Rochester Park, Singapore 139221
65. Milano Pizza & Wine
Pizza lovers, rejoice! This hot new table is a collab between the team behind Pasta Bar and American chef-author Anthony "Pizza Czar" Falco. On the menu, you'll find three pizza styles (from $24): Neo-Neopolitan, Sicilian Grandma and Buttercrust Pan Pizza. The first is a sourdough wonder with a beautifully charred crust featuring toppings like potato and caviar, dashi and onsen egg, or char siu. Our pick? Try the beef cheek bolognese made with 24-hour beef ragu, hand-stretched mozzarella and bechamel.
The second style is a square-shaped, two inch-deep pie that's deliciously light and airy, sprinkled with the likes of mortadella, burrata and pistachio. Finally, the buttercrust pan pizza is just as its name suggests. Enjoy a range of salumi on top of a pizza that has its dough folded over and over again with creamy butter.
To keep things interesting, add starters like spiced honey brussels sprouts with guanciale ($20) and handmade pasta options such as pappardelle with Sunday gravy ($28) to your order. But don't miss out on the generous slabs of pies ($18 each)! From Amalfi lemon meringue with basil cream to banana cream with torched banana and caramel, these slices taste just as good as they look. Finish off your meal with cocktails and wines as you take in the cosy space with its leather banquets, candle lights and open kitchen action. You can also choose to take a seat at the alfresco area for a casual bistro-style dinner.
Perk alert: Enjoy 10% off with a minimum spend of $100 on your OCBC Cards from 1 to 31 March 2022.
Milano Pizza & Wine, 10 Craig Road, Singapore 089370
66. Slake
Fresh off its move from the Opera Estate neighbourhood to The Riverwalk, this modern Southeast Asian restaurant whips up cool reinterpretations of beloved local dishes. Missing its signature creations? Head to Slake's new home for crowd favourites like chye poh fries ($12) served with aged black vinegar mayo and sticky date huat kueh ($12).
Begin your meal with unique starters like cold rendang custard ($9) made of prawn rendang, charcoal egg custard and tobiko, and battered pig ears ($14), a crispy treat with a sprinkle of mala powder for that spicy kick. Next, get your fill of greens with the charcoal-grilled vegetable platter (from $18) featuring butternut squash, portobello, broccoli, asparagus and corn. They're all dehydrated, grilled, and drizzled in orange juice and fish sauce for a sweet and savoury mix of flavours. For more charcoal-grilled goodness, try the charcoal-grilled pork collar ($24), served with a laksa leaf beurre blanc sauce, or the US rib eye ($48) made with a twist: pickled jambu, gula melaka mustard and spicy shiok rice.
Pair it all with a Chilli Crabby Mary ($19): this take on a Bloody Mary is made with your choice of bourbon, gold rum or vodka and shaken with Jumbo Seafood's iconic chilli crab sauce.
Perk alert: Enjoy 20% off your food bill with your OCBC Cards from 1 to 31 March 2022.
Slake, #B1-48, The Riverwalk, 20 Upper Circular Road, Singapore 058416
67. Love Handle
So you've tried Love Handle's plant-based burgers and loved 'em. Now, get excited for its next-stage transformation into Asia's first plant-based butcher, complete with a dine-in deli. Shop raw, marinated and prepared "meats", condiments and dairy products from the selection that includes brands such as Omnimeat, as well in-house creations. This place isn't just for vegans, though. Meat-eaters gunning for a more cruelty-free, environmentally-friendly diet can also join in the fun for good eats.
We're talking about smashing double cheeseburgers ($21) made with plant-based cheddar, caramelised onions and Impossible patties, and fried chicken burgers ($18) stuffed with spicy Tindle chicken, cabbage slaw and mayo. These hit the spot so perfectly, you won't even miss the meat. Other impressive mains include a "beef" wellington made with Impossible meat ($28), and a big breakfast plate featuring a frittata, Love Handle sausage patty, waffles, avocado and oyster mushrooms ($22). Plus, grab snacks like tempura broccolini ($10), calamari ($8) made from plant-based squid and even meatless luncheon meat ($10) to round off your meal.
Perk alert: Enjoy $5 off with a minimum spend of $50 (for the first 500 customers), and receive a complimentary 225g jar of Love Handle plant-based butter (worth $8) with any purchase on your OCBC Cards from 1 to 31 March 2022. Also available online with promo code "LHXOCBC-XXXXXX" (use the first six digits of your OCBC card).
Love Handle, 8 Ann Siang Hill, Singapore 069788
68. Zing
Eat and show support for a good cause at Zing, a new "conscious dining" concept done up in partnership with social enterprise The Social Kitchen to employ individuals from disadvantaged communities. Step into the cheery space and you'll be greeted by vibrant flora and fauna motifs, pockets of greenery and colourful furniture. The extensive menu covers everything from light bites and healthy bowls to meaty dishes and plant-based creations with an Asian spin.
Spoilt for choice? Try the "legit wagyu" ($48), a juicy slab of grain-fed Aussie wagyu ribeye or striploin. The Sichuan-style braised beef with linguini and crispy fritters ($20) is another must-have. For more Asian fusion treats, order the tteokbokki prawn gratin ($23), a dish of baked kimchi prawns, mozzarella and Korean rice cakes. But if you're on a clean diet, go for the Super Bowl ($16) chock full of goodies like salmon, organic quinoa, avocado, spinach, charred kale, broccoli and goji berries.
Perk alert: Enjoy selected dishes (priced $15 and below) at just $1 with a minimum spend of $50 on your OCBC Cards from 1 to 31 March 2022.
Zing, #01-06/07/08, PLQ Park Place, 2 Paya Lebar Road, Singapore 409053
69. Shabu-Go
Japanese hotpot? Check. Affordable prices? Double check. Make this place your new go-to when those steamboat cravings kick in. With pocket-friendly meat and veggie hotpot sets from $9.90, dining here is a steal. First, take your pick from nine soup bases including must-tries like yuzu dashi, sukiyaki and ginseng tonkotsu. Next, throw in the meat of your choice: from pork belly to double beef to salmon seafood set, there's something for everyone. If you're going for a family feast, order up seafood like the Go special prawn paste, salmon, mussels and prawns. Plus, all the veggies, mushrooms, tofu and noodles your heart desires. Don't forget dipping sauces like tangy green chilli and sweet lemongrass spicy dip!
Perk alert: Enjoy a complimentary Go-Ball Platter (worth $6) with a minimum spend of $60 on your OCBC Cards from 1 March to 31 May 2022.
Shabu-Go, #B1-80, Nex, 23 Serangoon Central, Singapore 556083
70. Rosemead
For a taste of modern Californian fine dining, step into this gorgeous 1920s heritage building in the CBD. It's home to a bar for tipples and wine, a bakery counter displaying bread, pastries and cakes, a 10-seater private dining room in the basement, an alfresco area prettified with fairy lights, and an indoor dining space. The newest concept by Jigger & Pony Group takes inspiration from executive chef David Tang's memories of California – Los Angeles, in particular. It's all about natural flavours, sustainable ingredients and seasonality.
Get comfortable in your seat and start with dishes like hama hama oyster ($27 for three) and mangrove crab tartine ($32). The mains are equally sensational, cooked over orange and lychee wood embers. Try the slow-cooked wagyu short rib ($65) or grilled Canary Island bass ($68). Next stop: dessert. Go for the Chitose Farm strawberry and heirloom beetroot ($18), a twist on strawberries and cream.
Rosemead, 19 Cecil Street, Singapore 049704
71. Koal
The chefs at Koal sure love their grills, and we're not complaining. The newest dining concept by Les Amis Group blends Japanese, Korean, Chinese and Western flavours on its beautifully grilled meat and seafood dishes. Pop by for lunch and tuck into rice bowls piled high with Japanese rice, onsen egg, shredded nori and meat options like US rib eye ($42), chicken leg ($22) or salmon fillet ($30). Each set comes with a starter like cauliflower soup or beef and tofu, as well as a dessert.
When evening comes around, dig into smokey meats like grass-fed rib eye ($25) or Iberico collar ($19) paired with dipping sauces ($4). In the mood for seafood? Choose from dishes like pan-fried salmon with kimchi butter sauce ($18) or grilled tiger prawns ($16). On the drinks side, you can order everything from sake and wine to cocktails, beer, coffee and tea.
Koal, #03-09/10/11, Shaw Centre, 1 Scotts Road, Singapore 228208
72. The Lawn at Panamericana
For an exquisitely romantic dining experience, make a reservation at The Lawn at Panamericana. Touted as the city's only clifftop dining destination, the lush green space is breezy and beautiful. Looking out at the glittering view of the Singapore Straits, you almost feel like you're somewhere tropical like Bali. Anywhere but Singapore, really. The best time to visit? At sunset, where you'll get a front-row view of the stunning golden hour.
Pick from the bar, communal table and lounge seatings for a chill brunch or a fancy dinner, and get comfy 'cos the food is worth every single bite. Start with the Peruvian ceviche ($28) made of Japanese amberjack, papaya, red onion and coriander. It's served with a fab chilli coconut milk dressing. Next, sink your teeth into the perfectly charred and tender octopus tentacles ($46) with parsnip puree, tamarillo and negra mayo. The wild caught green tiger prawns ($46) are no slouch either – this dish comes with an addictive laksa-reminiscent paste made from bread, shrimp, coconut milk, peanuts and palm oil.
If you're dining in a group, order up the Colombian chicken (from $30) and the lamb al asador ($65), plus sides like wood-fired padron peppers ($15) and cubano baby corn ($14). Don't stop there! End the meal with sweet treats like classic churros with dulce de leche ($14). Or go for our top dessert pick: the Romeo & Juliet ($14). It's an incredible mix of tastes and textures, consisting of cheese custard, sago, pink guava and crumble.
The Lawn at Panamericana, Sentosa Golf Club, 27 Bukit Manis Road, Singapore 099892
73. 5 ON 25
Craving Cantonese cuisine? Go the modern route at this fancy new restaurant in Andaz Singapore. Its name takes after the five taste senses and its location on the hotel's 25th floor (formerly occupied by Auntie's Wok and Steam). The classy contemporary makeover by interior architect Andre Fu gives 5 ON 25 an elegant look with elements of velvet, lacquer and timber in shades of ruby, dark chocolate, dusty pink and emerald green. Each piece of furniture is bespoke, giving the space a glamorous touch – it's a fitting nod to Chinese supper clubs. Oh, and if you dine at sunset, you'll get to enjoy the view from above.
On the menu, Cantonese dishes are made with familiar ingredients and flavours, but with a bit of a twist. Highlights include stir-fried birds' nest, jasmine tea-smoked duck and chicken steamed with Jinhua ham and Chinese mushrooms. We love how sustainably sourced ingredients are used as much as possible – from cage-free eggs to fresh live fish. Popping by for dim sum? The bite-sized dumplings and delicacies are fragrant and fantastic. Tip: enjoy your meal with the restaurant's signature tea by sommelier Li Guan Yi. It's a unique blend of oolong, goji berries, osmanthus, longan, rare snow chrysanthemum, anxi royal guan yin, and vintage pu-er.
Perk alert: Enjoy 10% off with a minimum spend of $100 on your OCBC Cards from 1 April to 30 June 2022.
5 ON 25, Level 25, Andaz Singapore, 5 Fraser Street, Singapore 189354
74. Aether House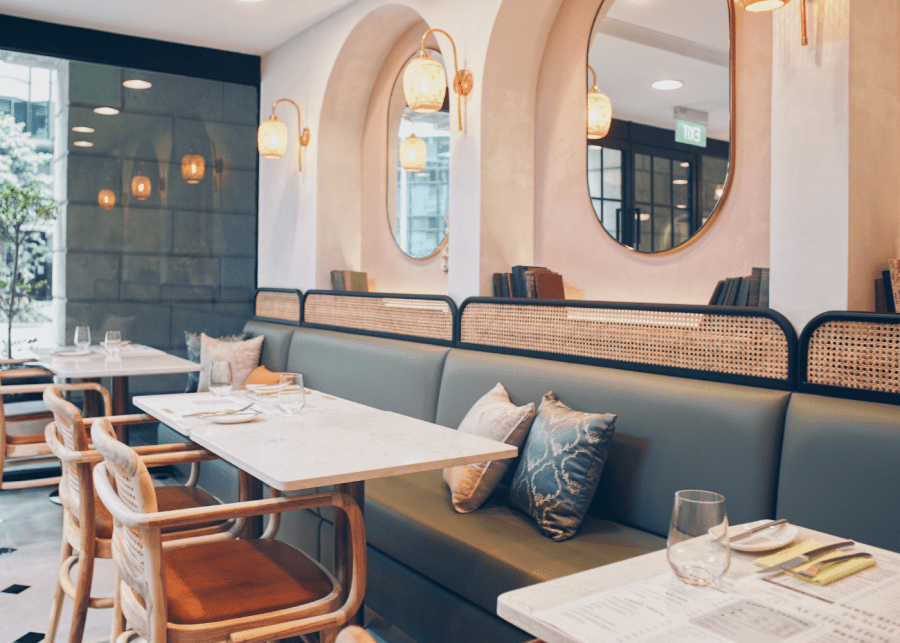 There's a new French bistro and wine bar in town, and it's quite the chic hangout. From French cuisine to French wine, you'll be enjoying it all in the pastel-hued space of Aether House. Start with small bites like escargot ($18) and artichoke ($14) or dig into salads (from $20) piled high with roasted veggies, trout or even foie gras. If you're swinging by for lunch, grab a sandwich (from $18) in flavours such as truffle bechamel, ham and comte cheese, or veggies with sundried tomatoes and pesto.
In the mood to nibble? Try the cheese and charcuterie platters paired with a glass of wine. Oh, and if you like your meal with a side of surprise, order the chef's tasting menu (from $33), sit back, and enjoy. Psst: don't leave without checking out the cosy retail space featuring everything from exclusive collector's wines and jams to wine journals and even wine-scented candles like champagne and mulled wine.
Aether House, #01-05/06/07, 35 Robinson Road, Singapore 068876
75. Timbre+ Eastside
Timbre+ flings open its doors in a new location: Expo. The sprawling, stylish space is the city's first sustainable food park, housing food and retail stalls, a drive-through pick-up, and facilities like a playground, cycling pitstop and book swap corner. Besides green infrastructure like solar panels, the place offers electric vehicle charging points and houses an on-site food digester to compost food waste. You can also get involved with the Gift-it-Bag initiative to donate washable tote bags that will be reused and redistributed for free for takeaways (instead of plastic bags). Love the eco-friendly elements!
Oh, and you'll want to come hungry, 'cos the place is packed with international and local food stalls including Iskina Cebu, Huat Huat BBQ Chicken Wings, Kebabs Faktory, Lao Niang De Dian (for fusion Malaysian and Thai food), Ajiya Okonomiyaki, Wolf Burger and Kopifellas (try the smoked duck lor mee!). Let's not forget The Bottle Shop, where you can get beer, cider, spirits and more. And live music, of course – once the restrictions are lifted.
Timbre+ Eastside, 1 Expo Drive, outside Singapore Expo Hall 5, Singapore 486150
76. Binary
Inspired by the binary star, a celestial phenomenon that sees two stars orbiting close to each other, the gastro-bar champions two popular cuisines. The word 'fusion' isn't used here. Instead, both Asian and Western cuisines are perfectly balanced, each shining on its own. Pick from the two variations of cuisines or simply enjoy both styles if you're sharing. First off, you can't leave the place without trying the homemade kubaneh bread ($14) with garlic butter and kombu butter. The Jewish Yemeni pull-apart bread is highly addictive and we cleared it in minutes. If you like a little zing in your meal, go for the Asian option of the octopus ($28) doused in "lao gan ma" chilli crisp. Oh, and the gammas al ajillo tiger prawns are little flavour bombs with a generous amount of sauce to mop up your kubaneh bread with.
Next, the mains ($38): Iberico Pluma in chimichurri or gochujang; and tiger prawns served thermidor-style or with mentaiko. Don't be afraid of the gochujang Iberico. It's perfectly balanced with just the right amount of spice. If you're coming for drinks, the wine wall and range of sakes, cocktails and craft beers will welcome you nicely. The sides are just as good. Forget boring fries; the mushroom fritti ($14) impresses with every crunch. And the parmesan bacon cauliflower ($14) reminds us of carbonara. Round off your meal with an egglet with blue sea salt ice cream, chocolate pop rocks and yuzu jam ($16).
Binary, #01-01, Palais Renaissance, 390 Orchard Road, Singapore 238871
77. Claudine
Sitting beautifully in a colonial chapel at Dempsey Hill, Claudine is the second and latest concept by chef Julien Royer (from Odette) in Singapore. The space, vacated by The White Rabbit, is warm, inviting and inspired by a traditional French brasserie. It's home to the bar and lounge for pre-dinner drinks on leather armchairs, and the dining room, which features plush velvet banquettes and an open kitchen. When you're seated, take a moment to admire the immersive installation, Singapore Pastoral – a landscape of pressed wild grass within 50 custom-made glass panels bordering the dining room.
The restaurant, named after Royer's mother, offers a mix of French classics and recipes from Royer and the culinary team. Highlights include the bouillabaisse, his take on the traditional Provencal fish stew, and vol-au-vent, a puff pastry filled with veal sweetbread, cockscomb, chicken quenelle and morel. All of which you can pair with your bottle of choice from the wine list of over 300 labels. For dessert, don't miss out on profiteroles and baked Alaska, served with chestnut ice cream, pear ginger sorbet and hazelnut dacquoise, and flambeed at the table.
Claudine, 39C Harding Road, Singapore 249541
78. Marguerite
Surrounded by the lush and lovely blooms of the Flower Dome, Marguerite is chef-owner Michael Wilson's new fine dining restaurant in Singapore. Taking over the space left behind by Pollen, it focuses on seasonal ingredients with its seven-course tasting menu (from $228 per person). To start, enjoy smoked eel served with seaweed vinegar, dill oil, oyster leaf, granny smith apple and Amur caviar-topped horseradish gelato. Another exquisite dish? A New Zealand Ora King salmon that's dry-aged and poached in olive oil before it's paired with salmon roe, French breakfast radish and fried kelp. For sweets, the tropical fruit vacherin is beautifully presented as a Marguerite flower with coconut meringue petals, yogurt bavarois, and a mango and passion fruit sorbet core.
To complement your meal, take your pick from fine wines or a non-alcoholic selection of clarified juices and fermented jun teas. The dining room features a stunning garden setting with Scandinavian furniture and white marble tabletops – it's delightfully charming in the day and incredibly romantic when evening falls. But, you can also choose the 10-seater private dining space decked out in blue, burgundy, grey and dark forest green with a statement table in the centre of it all.
Marguerite, #01-09, Flower Dome, Gardens by the Bay, 18 Marina Gardens Drive, Singapore 018953
79. Caviar
A fine dining gem hidden in Palais Renaissance, Caviar sets its sights on one exquisite ingredient: sturgeon roe. Opened by restaurateur Jason Ong, who's behind Uni Gallery, this new restaurant in Singapore highlights eight varieties of the world's best caviar in modern European style. We're talking about Kaluga Queen, Oscietra, Sevruga and Beluga. And we love how the degustation menu features dishes prepared with zero waste, as every element of each ingredient goes into the recipe. Creations include wild-caught cod cured with kombu kelp and served with leek in plum extract, and botan ebi tartare with water chestnut and Polanco Oscietra caviar. Pair your meal with champagnes, wines and spirits from across the globe. Psst: you can also indulge in a tin of caviar served with six shots of the vodka or spirit you like.
Caviar, #B1-07, Palais Renaissance, 390 Orchard Road, Singapore 238871
80. Kilo Singapore
Kilo has reopened its doors at Duxton with an evolved concept and we're lovin' it. You'll still find the raw, rustic space kitted out with concrete walls, natural stones, pops of greenery and splashes of colour adding a little vibrance to the decor. The menu takes you on a journey through Latin America with starters like ceviche ($22) with chunks of tuna, seabass and red prawn, and the cold cuts platter ($34) for you to nibble on pork terrine, baba ganoush and Mont d'Or.
Mains are all about applewood and cherry wood grilled meats, including Australian grass-fed ribeye ($48), New Zealand lamb rack ($36) and Iberico pork ribs with sweet potatoes ($36). Of course, you can go down the seafood path if you'd like: simply choose from fish of the day, oysters, clams and mussels. Don't forget sharing plates of steak tartare on confit potato ($22) and squid ink rice with crispy calamari ($26). Love your wines? Take your pick from natural labels. Alternatively, go for cocktails such as the Cuban Manhattan ($18, with Myer's dark rum) and rhubarb gin fizz ($16, with rhubarb, Bombay, lemon and soda).
Kilo Singapore, 97 Duxton Road, Singapore 089541
Go ahead and feast at the best new restaurants in Singapore!