Photography: Tim Hortons
Need a cool hangout for coffee and brunch? We help you keep tabs on the best new cafes in Singapore each month.
Ready those hungry stomachs and smartphone cameras! It's time for a cafe-hopping adventure. Bookmark this page if you love kicking back in an aesthetic cafe with a good cup of coffee, an indulgent slice of cake, and a delish brekkie spread. We've got your back with an exciting list of new cafes in Singapore this December.
Best new cafes in Singapore: December 2023
Moonchild
Atlas. Columbus. Neptune. Supernova. If you're familiar with any (or all) of the names, listen up. The team behind the previously mentioned cafes has launched its newest baby, Moonchild, in the hip Jalan Besar enclave. It's not hard to spot the newest kid on the block: just keep a lookout for a hanging lightbox sign with bright red hippy text. Step inside and you'll be greeted by a striking bottle tree in the middle of the cafe. Or, take advantage of the sun by dining alfresco, which is also pet-friendly.
Diners are spoilt for choice when it comes to food. The cafe's menu is split into The Morning Situation, which presents brunch classics with a unique twist from 9am to 3pm, and Midday to Close, featuring hearty mains for the rest of the day. Can't decide what to order? The bowl of pork dan dan scallion noodles comes highly recommended.
Moonchild, 351 Jalan Besar, Singapore 208988
Butter The Grease Station by Two Men
Smooth like butter, like a criminal undercover… If you have the BTS song in your head, join the club and say hello to Two Men Bagel House's latest greasy adventure. Following the recently opened Two Men Rice Bar, this is the collective's second themed eatery.
This time, it focuses on items that share one key ingredient. Butter, of course! In fact, there's a platter offering nine types of butter, including smoked maple, spicy takana (Japanese mustard), and sriracha honey, alongside your choice of a plain bagel, croissant, or pancake.
The menu also boasts bagel-wiches, rice and noodles, sides for sharing, and sweet treats. Be sure to order the Heritage, which pays homage to our humble brekkie set, toast and eggs. The "croissant-wich" is stuffed with pandan kaya, pastry creme, hanjuku eggs, and salted gula melaka butter. Wash everything down with a refreshing glass of crisp plum lemonade or try its range of wellness drinks.
Butter The Grease Station by Two Men, #01-01, Trifecta, 10A Exeter Road, Singapore 239958
Tim Hortons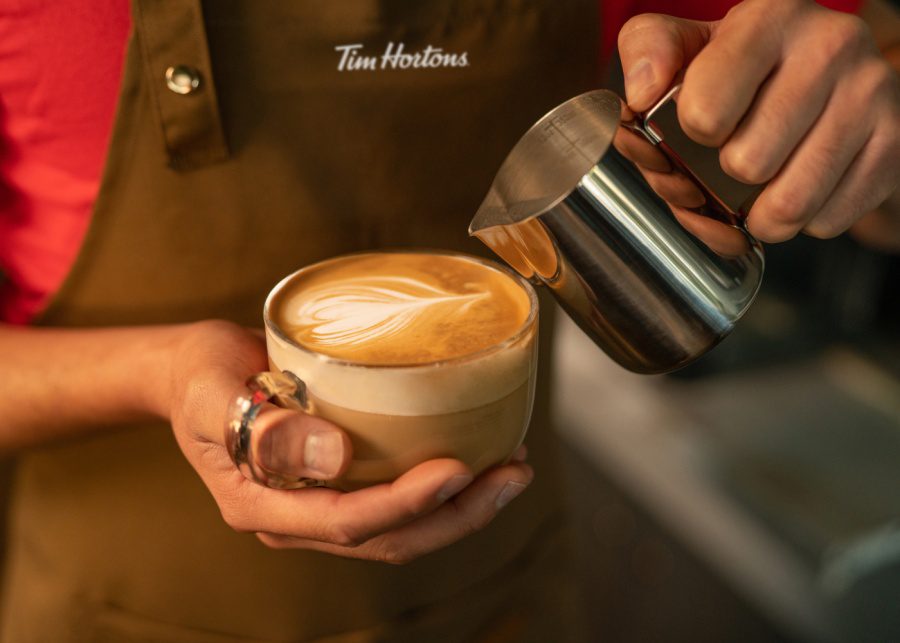 Did you smell that refreshing brew the moment you stepped into VivoCity? Follow the scent and you'll end up at Tim Hortons. The iconic Canadian brand has set up shop at our favourite Harbourfront haunt, and we're so here for it. Coffee connoisseurs can sip on signature blends and flavoured lattes made with premium Arabica beans. Pair your selected drink with sourdough melts, freshly dipped doughnuts, and the fan favourite Timbits.
Tim Hortons, #01-207, VivoCity, 1 HarbourFront Walk, Singapore 098585
Three Little Coconut
Mr. Coconut fans, you can now finally savour your favourite drinks at the brand's newest dine-in establishment. Taking up space in One Punggol, the tropical-themed 30-seater cafe offers desserts and beverages that heavily feature its fruity namesake.
Croffles with coconut ice cream? Check. Coconut cheesecake? You read that right. Peach gum coconut tang shui? Yup, that's on the menu too. Plus, sink your teeth into treats like cendol burnt cheesecake, mango sticky rice cheesecake, and black glutinous rice. Of course, you must get the signature coconut shake when you're here, too.
Three Little Coconut, #01-03, One Punggol, 1 Punggol Drive, Singapore 828629
Toast Box Coffee House
This beloved Nanyang coffee chain has unveiled a new concept in the heart of Tiong Bahru. Toast Box Coffee House wants to evoke the charm of old school coffee shops with its curated displays, vintage memorabilia, and diverse menu of Asian delights.
Park yourself on the rustic furniture and work your way through dishes such as Chinese pomfret fish soup, claypot Hokkien prawn mee, traditional black sesame toast, roasted peanut cake, and an array of kueh and desserts. Want to enjoy its brews in the comfort of your home? Go ahead and purchase the in-house roasted coffee beans, which are available at the retail counter.
Toast Box Coffee House, #01-31, 58 Seng Poh Road, Singapore 160058
Delato
Even though Tampines is chock a block with dessert cafes, there's a new player in town that's sure to excite all sweet tooths. Sandwiched between a laundromat and a hair salon, this nondescript ice cream parlour is all about handcrafted Sicilian-style gelato in various flavours on rotation. These include maple walnut pie, caramelised banana prata, and kopi toast. Pair your frozen treat with a charcoal cone or its signature matcha mochi waffles. Don't forget to zhush up your selection with toppings like rice crispy puffs and biscoff crumbs.
Delato, #01-154, 477 Tampines Street 43, Singapore 520477
---
Best new cafes in Singapore: November 2023
Marymount Bakehouse
Attention Upper Thomson fans: another bakeshop has landed in this cool enclave. A stone's throw from the Thomson-East Coast Line, this popular online bakery has finally settled into a cosy physical store, sharing the space with Mr Bucket Chocolatier. Drop your money on its artisanal sourdough bakes, including the classic house loaf, shepherd's pie, and focaccia with black truffle and burnt leek cream. Seating is limited, so get your orders to go. Oh, don't forget to grab some bon bons from the chocolate maker before leaving.
Marymount Bakehouse, #01-15, 23 Sin Ming Road, Singapore 570023
F'east
Come for the plants, stay for the nosh. Singapore's leading nursery Far East Flora has called Clementi its new home with an 11-storey building that stocks fruits and vegetables, pet products, and gifting services on top of its extensive range of plants and flowers. But we're here to talk about its in-house cafe, which serves familiar fares such as avo toast, ricotta pancakes, fish and chips, and smoked duck aglio olio. The botanical theme follows through here, which means diners can expect to feast among plants.
F'east, Level 1, Far East Flora Centre, 435 Clementi Road, Singapore 599873
Two Men Rice Bar
If rice is life, you should run to this new rice bar by the masterminds behind Two Men Bagel House. Occupying a prime spot at Tanjong Pagar's Guoco Tower, here's where you can get upgraded economical rice. Choose your bowl, the grains you prefer, and which size to fill your grumbling stomach; each order comes with house soup. Add the rice cakes with seafood chilli and sweet sauce or chicken lollipops to your tab if that's not enough. By the way, this is a standing-only bar, so take your food to go if you want a relaxing lunch or dinner.
Two Men Rice Bar, #01-12, Guoco Tower, 5 Wallich Street, Singapore 078881
Clovelly
It's only been a short while since Wimbly Lu vacated its premises in Serangoon – and what do you know, a brand new cafe has taken over the space! Here's where you can lap up handcrafted pastas, all-day brunch staples, desserts, and more. Start with the burrata salad, which comes with homemade pesto sauce and a generous serving of the greens. Famished folks, be sure to order the highly-raved crab cream pasta cooked in white wine and the crab croissant florentine (yes, we're sensing a theme here). When it's time for sweets, you can't go wrong with the banana orange foster: caramelised bananas, mandarin oranges, and coconut gelato. That sounds absolutely divine.
Clovelly, 15-2 Jalan Riang, Singapore 358987
Bing Tang Tang Shui
No one told us retro's back in style – and we're diggin' it. Shake off the present the moment you step into this dessert place, which is decked out in vintage furniture and decor, such as foldable metal chairs, wooden office tables, cassette tapes, copies of vintage magazines, and even a typewriter. Whip your phones out and take loads of photos for the 'gram! What about the food? Expect traditional Chinese desserts infused with florals, like tang yuan (glutinous rice balls) with osmanthus and orh nee (yam paste) with pearl chrysanthemum. If you prefer something savoury, there are snacks such as chee cheong fun and chwee kueh to sink your teeth into.
Bing Tang Tang Shui, 15 Thomson Hills Drive, Singapore 574759
Kenangan Coffee
Hankering for a brew to perk up your day? We know the latest spot in town for your next caffeine fix. Indonesia's coffee chain welcomes everyone to its first Singapore outpost with a specialty menu that's affordably priced. Taking centre stage is the Kenangan latte, a blend of espresso and Javanese palm sugar that boasts sweet and fruity flavours alongside subtle smoky notes. Elevate your coffee experience with treats like pain au chocolate, salted caramel cruffin, or creamy chicken pie.
Kenangan Coffee, #B1-K10, Raffles City Shopping Centre, 252 North Bridge Road, Singapore 179103
---
Best new cafes in Singapore: October 2023
The Homme Baker
If you recognise this name, you're a certified foodie. The popular home-based business has finally set up its first physical store in Queenstown, which means you can easily get its gastronomically whimsical creations. We're specifically talking about the T&J collection, which pays homage to chef Pond's favourite cartoon, Tom and Jerry. It comes in six flavours and each piece resembles Swiss cheese encased in a chocolate shell. Très cute! Those into decadent desserts should go for the bestselling "Be Proud & Gorgeous" chocolate cake: it's rich, dense, and pure indulgence.
The Homme Baker, #01-08, Margaret Market, 38 Margaret Drive, Singapore 141038
Nowafter Cafe
Into monochromatic aesthetics? You'll feel right at home in this Korean-inspired cafe. Taking over the third-level space in Design Orchard, Nowafter Cafe is all about the grungy industrialist theme, accented with black furniture and floor-to-ceiling windows. We dig it! The black and white theme even extends to its meticulously crafted menu, which includes the signature Charkey Bun (charcoal bun with mozzarella, garlic herb butter, and truffle sour cream), black cocoa vanilla latte, and sourdough charcoal waffles with gelato. This spot is our new fave hang this month.
Nowafter Cafe, #03-01, Design Orchard, 250 Orchard Road, Singapore 238905
Cafe Wabi Sabi
When did you last visit Everton Park? Now's a good time to drop by: this charming 'hood has welcomed the Japanese-inspired cafe into its fold. The menu offers sandos made with house-made shokupan bread, donburi, and various sides. Get its highly-raved pork katsu sando and add fries for a hearty lunch; if you're absolutely famished, we suggest going for the yakitori don, which comes with an onsen egg. Complete your meal by topping up with miso soup, salad, and karaage or gyoza. Sip on its dirty matcha and you'll be ready to take on the day.
Cafe Wabi Sabi, #01-79, 3 Everton Park, Singapore 080003
The Coffee Code Singapore
Hailing from Sarawak, this popular Malaysian cafe has made its way to our sunny shores. Its Singaporean outpost sports a minimalist look, with muted grey shades and soft pastels. The Coffee Code specialises in waffles – you can get it plain, or top up $1 for black rice or nian gao. We totally recommend the bak kwa waffle, a flower-shaped waffle topped with chicken dried meat and floss. Of course, you can also enjoy sourdough ciabatta, a classic big breakfast, and butter cakes here.
The Coffee Code Singapore, 37 Neil Road, Singapore 088822
Great Nanyang
Let's take a trip down nostalgia lane to Great Nanyang, the newest coffee shop concept cafe in Singapore. Inspired by local kopitiams as well as those from Malaysia, the menu serves familiar favourites like Hainanese chicken chop, nasi lemak kukus, Penang assam laksa, and kaya toast. Not that hungry? Choose from small nibbles such as curry fishballs, sambal kangkong, and prawn paste chicken wings. Be sure to get the signature coconut coffee, which blends Nanyang brew and condensed coconut milk. Ready to step back in time?
Great Nanyang, 5 Craig Road, Singapore 089665
Cédric Grolet Singapore
This famous French patisserie has finally opened in Singapore to much fanfare, and we can see why. The crafted confections, inspired by fruits and flowers, are a sight to behold in real life – they're just too gorgeous to be eaten! Our pastry of choice is the Paris Brest Flower, a hazelnut-based sweet gem that's robust and not too cloying. The dragonfruit, a local exclusive, is another offering you should get your hands on. It's accentuated with passion fruit and enveloped in a chocolate shell.
If you don't have an adventurous palate, the cafe also sells traditional viennoiseries and pastries such as croissants, cinnamon rolls, French toast, and pain au chocolat. The stunningly minimalist space is decked out in flower motifs and gorgeous lighting that lends an ethereal ambience. Pro tip: wait till the queues die down before you make your way here. We're all for the hype, but we don't encourage queueing three hours under the sun!
Cédric Grolet Singapore, Level 1, Como Orchard, 30 Bideford Road, Singapore 229922
---
Best new cafes in Singapore: September 2023
Lou Shang
There's been some controversy regarding this cafe's aesthetics; safe to say, it really knows how to grab your attention. Masquerading as a corridor of an HDB estate, this hidden speakeasy, located on the second floor of Mama Diam, operates as a cafe and cocktail bar. Swing by in the daytime and savour fascinatingly familiar offerings like chilli crab pasta and pei pa koa latte. Come nightfall, sip on cocktails inspired by Singapore and the individuals the team has met. This could be the new hip hangout, so it's best to drop by before it gets too crowded.
Lou Shang, 38 Prinsep Street, Singapore 188665
White Bird Scramble
The brains behind A Noodle Story have done it again. Chef-owners Gwern Khoo and Ben Tham recently opened White Bird Scramble, a funky toast cafe in the CBD. Patrons build their own bentos by picking the carb base, proteins, and sides. Each order is specially made to order and comes with a mini roll or toast, scrambled eggs, and French butter in a quirky pipette. So, if you've been scrambling for a new lunch spot to dine with your colleagues, you know where to go.
White Bird Scramble, #02-14, Frasers Tower, 182 Cecil Street, Singapore 069547
Park Bäckerei
Tanjong Pagar welcomes a new kid on the block: Park Bäckerei, Singapore's first German bakery. The first thing you'll notice when you step into the space is the handcrafted bread and pastries. That includes the signature Swabian-style pretzels and stuffed bagels. One bake we highly recommend: the totally adorable caramel hedgehog, which is generously filled with homemade sweet spread. Can you bear to eat it? You can also get freshly brewed coffee and sweet treats such as the Belgian chocolate mousse.
Park Bäckerei, #01-41/42/52/53, Icon Village, 12 Gopeng Street, Singapore 078877
Justin
If you've been following Singapore's culinary scene, you know that celebrity chef Justin Quek has opened a new gastro cafe-bar in Orchard Road. You'll definitely be spoilt for choice with the curated menu, which features creations ranging from French recipes to popular local delights. We're talking crabmeat capellini, Korean ikan bilis fried rice, duck foie gras xiao long bao, and more. Caffeine addicts, you'll be glad to know Justin is serving brews by Vittoria Coffee, Australia's top pure coffee brand. Its merchandise is also stocked here.
Justin, Level 4, Tangs @ Tang Plaza, 310 Orchard Road, Singapore 238864
Uptown
When you're alone and life is making you lonely, you can always go… uptown! This quaint cafe at Zion Road isn't hard to find – just keep a lookout for the white awning with lowercase letters. Step inside and you'll find yourself transported to a boho-industrial world, with exposed brick walls, dark couches, and mismatched furniture. The food is predominantly Asian-style brunch, so expect dishes such as kimchi fried chicken burger, kaya butter toasties, and even a sausage muffin that'll remind you of a certain fast food chain.
Besides being a cafe, Uptown is also a vintage store where you can shop for pre-loved streetwear items lovingly curated by the founder. We spy letterman jackets, cool sneakers, and gorgeous bags. Psst: the racks are updated every week, which means you're bound to find something new to fawn over (and eventually buy) each time you visit.
Uptown, 55 Zion Road, Singapore 247780
South Side
Looking to get away from it all, even just for a short while? We know just the place. Located at Keppel, South Side – not to be confused by the other similarly-named cafe at Sentosa – is the latest glasshouse cafe serving comforting dishes and a good cuppa. We have our eye on the decadent big breakfast, which includes cheese pork sausage, mushrooms, eggs, and mesclun. Those who are into the sweet and savoury combo should get the crispy chicken and waffle, which comes with moreish maple syrup.
South Side, #01-04, 1557 Keppel Road, Singapore 089066
Glow by SuperNature
Say hello to Dempsey's new kid on the block: an organic and natural retail and dining experience. Moving from its former premises at Forum The Shopping Mall, SuperNature settles into its bigger and brighter home amidst lush greenery. The homegrown brand, which has been around since 2001, houses the lovely Glow cafe in its new space.
It's a haven for wholesome eaters, with a Mediterranean and Asian-influenced menu that's created in collaboration with an in-house naturopath. Best of all, everyone can enjoy a healthy meal here, as it caters to vegetarians and vegans, as well as those with gluten, dairy, nut and egg intolerances.
Fill up on fresh salads, soups that are perfect for rainy (or sick) days, sandwiches, bakes, and cleansing juices. Some of our favourites include the Rainbow Slaw (shaved cabbage, carrots, green apple and honey mustard), pumpkin soup, and mezze platter (with three dips, crudites and crackers). Before you head out, pick up a gluten-free orange almond cake, dairy-free carrot and raisin loaf, or strawberry rhubarb crumble tart to take home.
Glow by SuperNature, 26 Dempsey Road, Singapore 249686
---
Best new cafes in Singapore: August 2023
Ralph's Coffee
Luxury shopping with a side of coffee and light bites: sounds divine, don't you think? The Shoppes at Marina Bay Sands welcomes the first Ralph's Coffee in Singapore, and we're beyond excited. Each cup of joe is made from Ralph's Roast, the brand's signature beans grown in Central and South America. If you're feeling peckish, its gourmet offerings, which include cookies, cakes, and the Ralph Lauren soft serve ice cream, will surely tide you over. It's definitely a wonderful way to end your shopping spree.
Ralph's Coffee, #01-71, The Shoppes at Marina Bay Sands, 2 Bayfront Avenue, Singapore 018972
Wunderfolks
East-siders, make like a tart and get your pastry on at Wunderfolks' new flagship store in Tampines. Check out the viennoiserie taster box, which features a selection of five for only $20. That's a steal, if you ask us. Be sure to grab the tiramisu boxes, which come in strawberry, Biscoff, and original flavours and can feed up to three people. Or you can have them all to yourself – no judgment here. There aren't any seats though, so get everything you need want and enjoy them in the comfort of your home.
Wunderfolks, #01-40/41, Tampines Mall, 4 Tampines Central 5, Singapore 529510
Back to Eden
What comes to mind when we mention a plant-based menu? If the term you're thinking of is 'flavourless', perish the thought. This new cafe at Prinsep Street serves vegan-friendly brunch faves that don't compromise on taste and quality. Come with an empty stomach and fuel up on filling dishes such as shakshuka, crispy potato rosti, and corn zucchini kimchi pancakes. Those in the mood to share plates must get the oyster mushroom berempah. Wrap up your brunch with whole wheat "buttermylk" waffles and you're all set.
Back to Eden, 64 Prinsep Street, Singapore 188667
Nakey
Now, you donut want to miss this new spot if you're cafe-hopping in Singapore. The highlight is obviously the fluffy soft bombolini, which comes with various fillings. The Custard Bastard (excuse the rude name) comes highly recommended, though if you prefer something zestier, go for the lemon basil flavour. For all the bagel fans, Nakey has an interesting selection to choose from. Psst: the charcoal bagel is waiting for you…
Nakey, 10 Trengganu Street, Singapore 058464
Cafe Margaret
Life isn't meant to be square… unless you've got enjoyment in cake form! Cafe Margaret, a popular South Korean cafe, has taken over the spot in Bali Lane formerly occupied by Brotherbird Bakehouse (sobs). The must-get item is its signature cube pie, a 72-layer flaky pastry generously filled with decadent sweet cream. There are five flavours to choose from: matcha cream, Nutella, lotus cream, vanilla, and injeolmi. If that's not your thing, get your hands on the exclusive pound cakes, which come in juicy lemon and raspberry flavours. Grab a table on the second floor and enjoy your sweet treats.
Cafe Margaret, 32 Bali Lane, Singapore 189868
Avenue on 3 Cafe
The Instagrammable cafe in the heart of Orchard Road is one place we're loving this month. Tastefully decorated with gorgeous rattan chairs and palm fronds, the expansive space makes the perfect backdrop for your OOTDs. Its menu comprises wholesome meals made with fresh organic produce sourced locally and from Europe. Sample dishes such as spring lamb shank, soba noodle salad, baked Norwegian salmon, and delish bakes. Go ahead, start your day right or end it on a good note here.
Avenue on 3 Cafe, #03-47, Paragon Shopping Centre, 290 Orchard Road, Singapore 238859
Surrey Hills Grocer Raffles City
You may have been to Surrey Hills' other outlets, but here's a new one you'll love. Inspired by the chill vibes of an Australian backyard "moment", where family and friends gather for good food and great conversations, the space takes up a cosy corner in the mall's new wing. You'll be greeted by lush foliage at the entrance, but we recommend you head all the way in to dine with a bustling street view next to the floor-to-ceiling window. This place marks the brand's first open kitchen, complete with a menu led by chef Pang Kok Keong (previously of Antoinette). Exclusive dishes include duck leg confit with spaghetti, and a mussel pot with sausage and potato in a white wine-based soup.
But don't miss out on the stunning seafood plates created specially by MasterChef Singapore Season 2 champ, chef Derek Cheong. His seafood shakshuka and barramundi are clear winners in our book. The former is a spiced, flavourful medley of eggs, prawns, sausages and pan-seared sashimi scallops served in a pan, while the latter pan-sears the locally-farmed fish and pairs it with a truly unforgettable coconut broth. If you're brunching out, get the crab avo with house-made guac and roasted sourdough.
Save space for dessert – our fave was the banana bread topped with sea salt butterscotch, fruit cream and vanilla ice cream. You can also stock up on Aussie groceries and sweet takeaway treats before heading out.
Surrey Hills Grocer Raffles City, #03-42, Raffles City, 252 North Bridge Road, Singapore 179103
---
Best new cafes in Singapore: July 2023
Cotelato
Life's batter with cake, and if you wholly agree with that, you'll love this new cafe. Every bake is made with premium ingredients, including high-grade Japanese flour, Valrhona chocolate, and French butter. Kick off your sweet treat journey with its selection of whimsical tea cakes served on a carousel. Impressive presentation, we say. Psst: see if you can spot a mini cake that resembles a handbag! Afterwards, dig your spoon into edible flowers, fresh fruit, strawberry cream cheese sauce, and fluffy hotcakes. Speaking of flowers, we're told the gelatos use them on top of fruits and pods for a burst of flavour. Delicious.
Cotelato, #01-01, HillV2, 4 Hillview Rise, Singapore 667979
Snap Cafe
Those working in the CBD will be glad to know there's a new joint to hit up. Snag a cuppa made with in-house roasted beans imported from Brazil and Rwanda. Can't decide what to get? We recommend the pistachio espresso latte, which contains real nuts. If you're not a fan of coffee, the menu has tea, toasties, and pastries. While waiting for your order, get up close with Bos, Monster, and San, the cafe's resident plants. Mark our words: this minimalist cafe will be the latest hangout this month. Snap, share, eat, repeat.
Snap Cafe, #01-01/02, The Clift, 21 McCallum Street, Singapore 069047
PS.Cafe
Say "bonjour" to a new food option at Marina Bay Sands. PS.Cafe's latest outlet boasts a Parisian theme, featuring its signature black and white aesthetics alongside tile, brass, and marble. See the floating island platform within the canal, sheltered by parasols and flooded with light? That's where you'll be dining – as if you're along the river Seine.
Expect the cafe's standard classics on the menu, such as the beef and smoked bacon burger and the iconic truffle shoestring fries. Diners can also look forward to new additions like buttermilk chicken nasi lemak and duck confit curry with crispy roti. Dessert lovers, you'll be happy to know the sticky date pudding and double chocolate blackout cafe are available here, alongside fresh creations like the deliciously zingy sweet and sour lemon tart.
PS.Cafe, #B2-119, Marina Bay Sands, Canal Level, 10 Bayfront Avenue, Singapore 018956
ToMo Cafe
We always enjoy a day out at Joo Chiat, and there's a new Japanese-style cafe inviting us to go back to the 'hood. You'll sample modern fusion food such as miso butter crab pasta, cold crab sandwiches, and red wine char siew jowl. Sip on the cloud coffee selections, or go for its signature honeycomb latte. Of course, we can't miss out on the desserts. The honey pannacotta is our top choice – not too sweet, with a generous serving of honeycomb. (Yes, if you can't tell, we do love our honeycomb!) Fun fact: "tomo" means friend in Japanese, which is adorably reflected in the cafe's motto.
ToMo Cafe, 189 Joo Chiat Road, Singapore 427460
M5 Coffee
Caffeine addicts, here's a new spot in town to check out. Hailing from Taiwan, this new cafe tucked in the basement of Orchardgateway offers a wide variety of coffee and tea. Exclusive to our sunny island is the Mount Faber drink, which combines coffee, blue curacao syrup, sea salt, and milk. Snap a picture for the 'gram before sipping! You can also grab cakes to go with your drink. The cactus cupcake looks too cute to be eaten, honestly.
M5 Coffee, #B1-01, Orchardgateway, 277 Orchard Road, Singapore 238858
---
Best new cafes in Singapore: June 2023
Wildcard
If you've not ridden on the Thomson-East Coast Line, now's your chance. Wildcard is located at Furama Riverfront, near Havelock MRT station. The latest establishment by the folks behind Maxi Coffee Bar is all about the dual concept: coffee by day and wine by night. The daytime menu boasts Maxi's famed cereal milk latte as well as interesting must-try offerings such as prawn sando and oxtail doughnut. Come nightfall, the menu switches to a wider selection of items that include pasta, braised lamb, fried artichoke, kombucha, and wine. If there's one new cafe in Singapore to try in June, Wildcard should be on your cards.
Wildcard, #01-03, Furama RiverFront, 405 Havelock Road, Singapore 169633
Chiko Pollo
Lola Faye fans, listen up: the team has opened a new cafe in Jalan Besar. Unlike its predecessor, Chiko Pollo serves Asian and Western fare, including pizza, pasta, fried rice, and even tulang merah. We have our eye on the salted egg XL sotong with tom yum fried rice. Sounds delish! The portions are massive, so if you're a light eater, it's best to share the plates with others. Bring your loved ones here and enjoy the family package, which can feed up to 10 people. Come with an empty stomach, 'cuz we're certain you'll leave this place feeling full.
Chiko Pollo, 28 Madras Street, Singapore 208422
Elijah Pies
We love being in Tanjong Pagar for all its food options, and now there's a new eatery to add to the list. Homegrown bakery Elijah Pies has set up shop in the hood, replicating the comforts of home with sweeping curved walls and lights that brighten up the interior. The 20-seater cafe is split into five areas filled with quality furniture such as ottomans, armchairs in plush bouclé, a daybed in Java teak wood, and more.
But we're not here to talk about furniture and decor – the main character is the pies. Everything here is handcrafted in comforting and familiar flavours, such as its bestselling Nutella pie, and new creations including the mac and cheese pie. There's also a drinks menu, all concocted with baking techniques. The vanilla pistachio with real nut butter pairs perfectly with any pie selection.
Elijah Pies, #01-102, 7 Tanjong Pagar Plaza, Singapore 081007
Mister Donut
Spot the snaking queue at Junction 8 in Bishan? You know what that means – a new food joint has landed. Japan's famous Mister Donut brings its iconic mochi treats to Singapore. The pon de ring comes in myriad flavours; be sure to get the exclusive chocolate and strawberry chocolate donuts, which are only sold here. If you prefer something crunchier, go for the Old Fashion, which has more bite. French cruller and traditional yeast doughnuts are also on the menu. FYI: everything is produced and sold in limited quantities, so join the queue early and get these sweets before they're gone for the day.
Mister Donut, #02-27A, Junction 8, 9 Bishan Place, Singapore 579837
Ceres Haus
It's time to drop by Circular Road and visit hidden food gem Ceres Haus. Walk up a flight of stairs and you'll be greeted by the dimly-lit space and minimalist look, which set the stage for moody aesthetics. The cafe's drink menu is lean, with coffee and chocolate options, while you can get munchies such as madeleine and brunch plates. If you're planning to drop by at night, try sourdough bakes, tempeh chips, and wine. Psst: looking for a quiet space to read or work? Ceres Haus comes highly recommended. Imagine working on your laptop by candlelight… vibey.
Ceres Haus, 18A Circular Road, Singapore 049374
---
Best new cafes in Singapore: May 2023
Luckin Coffee
China's largest coffee chain has made its way to our shores! Luckin Coffee now has two locations here, and with its new outlets come the launch of a series of creamy lattes made with premium-grade Chinese teas. Head to its Guoco Tower branch if you're looking for a cosy cafe. The cool interior, plush seating, and expansive space make it the perfect place to enjoy your afternoon brew.
Luckin Coffee, multiple locations including Guoco Tower and Aperia Mall
Elixir
By day, Elixir is a chic cafe that serves hearty brunch favourites and artisanal coffee. The all-day menu features simple eats that are good for sharing. We recommend starting off with the French toast, which comes with ispahan cream, roasted hazelnuts, and dried rose petals. If you want something savoury, go for a bowl of golden baby octopus fritters served with black aioli.
By night, the space transforms into a lively pizza and wine bar. The sourdough pizzas are made fresh daily, so expect them to be crispy on the outside and chewy inside. Adventurous eaters can try the not-carbonara pizza, Elixir's signature pizza bianco inspired by pasta carbonara. Otherwise, stick to the classics. But be sure to make space for desserts! Choose between the white chocolate custard or the pistachio cake.
Elixir, #01-18, Parksuites, 24 Holland Grove Road, Singapore 278803
Coffee byWassies
An NFT cafe in Singapore? Yes, you read that right. Located on the first floor of Asia's first NFT hotel, Coffee byWassies is helmed by an award-winning barista. The coffee is a blend of beans from Brazil, Laos, and Congo, which you can enjoy as an espresso or pour-over. So sit down with your freshly brewed cuppa and have a chat with the barista as she shares her coffee knowledge with you. This pop-up cafe runs till September.
Coffee byWassies, 5 Hong Kong Street, Singapore 059648
La Savoir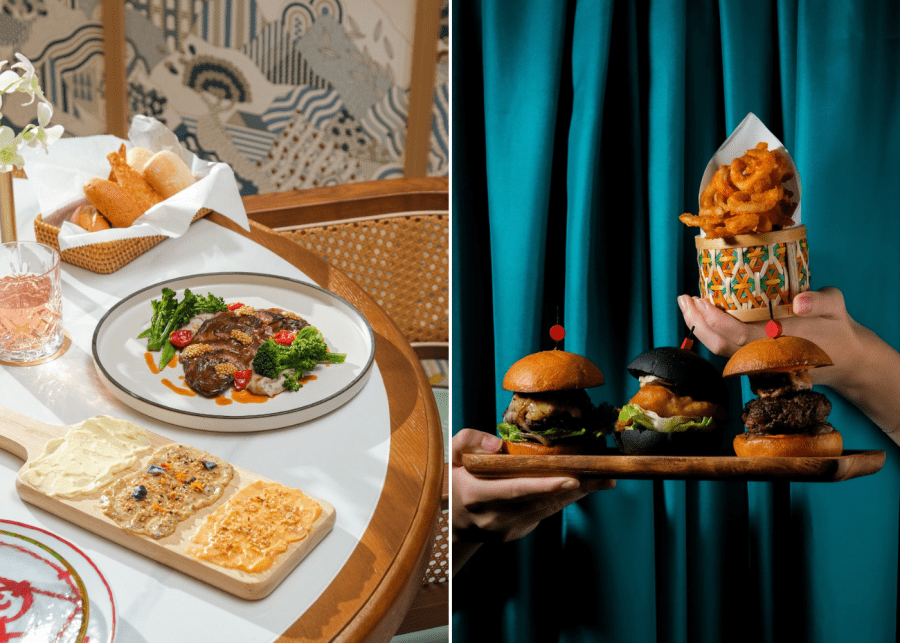 If you're into high-end labels, exceptional craftsmanship, and all things French, hit up La Savoir. This cafe practically screams opulence, from its Hermès wallpapers that complement the decor to the branded tableware. The six areas within the space are done up in a cohesive and immersive theme, allowing guests to enjoy a visually stunning experience. Oh, and the menu showcases a combination of French and local cuisine, which includes La Savoir's signature butter board and Angus beef tartare. Why jet off to Paris when you can easily experience it here?
La Savoir, #02-01, Scotts Square, 6 Scotts Road, Singapore 228209
Allpress @ 73 Duxton
Get your caffeine fix at Allpress @ 73 Duxton, the latest new coffee joint to pop up in the buzzing spot. Hailing from New Zealand, the specialty coffee roaster will now be serving its roast blends through a six-month pop-up. Make yourself comfy in one of the pods and have the usual suspects from a humble espresso ($5) to an iced latte float ($11) with artisanal ice cream – we love the Dulcey Latte flavour!
For sweet yet complex flavours, try the Allpress Espresso Blend with caramel, milk, chocolate and dark fruit notes. Browns Mill Organics gives a hint of acidity, toffee and citrus flavours. If you're feeling peckish, there's also a range of savoury bagels, pastries, and cakes. The highlights are the coffee Basque cheesecake ($8) and affogato sundae ($16). End your visit by browsing through mechanise like t-shirts, tote bags, coffee canisters and even espresso chocolate granola, coffee blends and cold coffee cans.
Allpress @ 73 Duxton, 73 Duxton Road, Singapore 089532
The Fat Kid Bakery
Doughnut lovers, you can now get The Fat Kid Bakery's sourdough bombolinis at its new outlet. The bakery's Amoy Street premises is a stone's throw from Telok Ayer MRT station, making it easier to head down and bag some sweet treats. Besides bombolinis, the store also offers freshly-made bread loaves, chocolate brownies, and croissants. Psst: we hear sandwiches will be on the menu soon, so keep a lookout for that. While you're here for the sweet treats, go ahead and get your coffee fix too.
The Fat Kid Bakery, 39 Amoy Street, Singapore 069865
---
Best new cafes in Singapore: April 2023
Ten+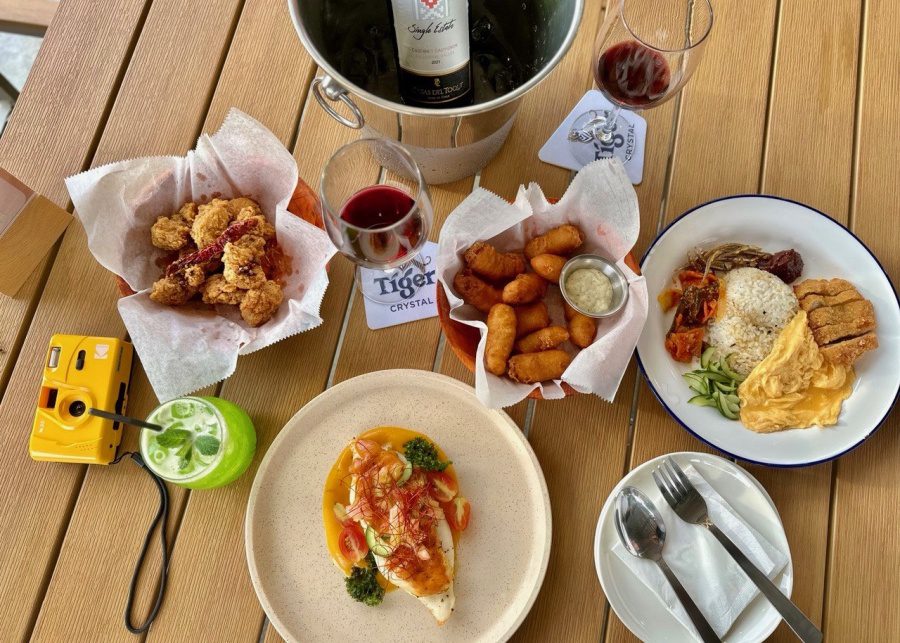 Looking for a break from fast-paced city life? Take respite at Ten+. This new safari-themed bistro is tucked deep within Sungei Tengah's verdant nature. Enjoy a mix of Western and Asian cuisine at the indoor cafe. We tried delectable dishes like the Asian-style big breakfast with furikake rice and scrambled eggs, as well as the baked snapper with sambal aioli, Szechuan mala karaage, and battered fish bites. Of course, we couldn't resist washing it all down with red wine, refreshing cocktails, and craft beer. For the full experience, opt for a barbecue under the bistro's charming outdoor glamping tents. It evokes the same vibes as Pinterest-worthy glamp-sites you'll find overseas – perfect for a relaxing afternoon or evening with friends and family.
Ten+, 65 Sungei Tengah Road, Singapore 699000
Good Chai People
Nothing warms our soul more than a steaming cup of chai. But it can be pretty hard to find a cafe that does it well. Enter Good Chai People. Tucked away in the bustling streets of Joo Chiat, this chai cafe is the first of its kind, putting a spotlight on artisanal sticky chai. Settle in and browse the extensive list of drinks. You can go for a sticky chai latte or the karak chai mixed with condensed milk and saffron. Our recommendation? Salted maple chai. The dash of pink Himalayan salt brings out the sweetness of the drink while creating a balance between the chai and maple syrup.
Come hungry, because the all-day brunch menu is to die for. Our absolute fave is the Mommy's Spinach dish. Don't be deceived by the simplicity because this comfort food treat is indulgent but not heavy. Crispy sunny side up eggs cover a hearty bowl of spinach stewed in bechamel and gruyere cheese. Pile it all on sourdough toast and you'll have the perfect bite. Save some room for the French toast (perfect for two): it's an elevated peanut butter and jelly sandwich with whipped cream cheese and a homemade berry compote. It's the stuff of dreams.
Good Chai People, 225 East Coast Road, Singapore 428922
88 Pocha
88 Pocha has opened its doors in Holland Village, offering a Korean street food-inspired menu. We love that it serves a variety of alcoholic beverages ranging from bottled beer to makgeoli. Dig into a diverse selection of delectable offerings made with ingredients sourced directly from South Korea. We're talking about Korean street food favourites like tteokbokki, sausage gimbap, kimchi pancake, oden soup, and ramyeon in varieties such as corn cheese and spicy tofu. You can even indulge in 88 Pocha's unique specialty highball cocktails that are available on tap.
88 Pocha, 26A Lorong Mambong, Singapore 277685
Chocoelf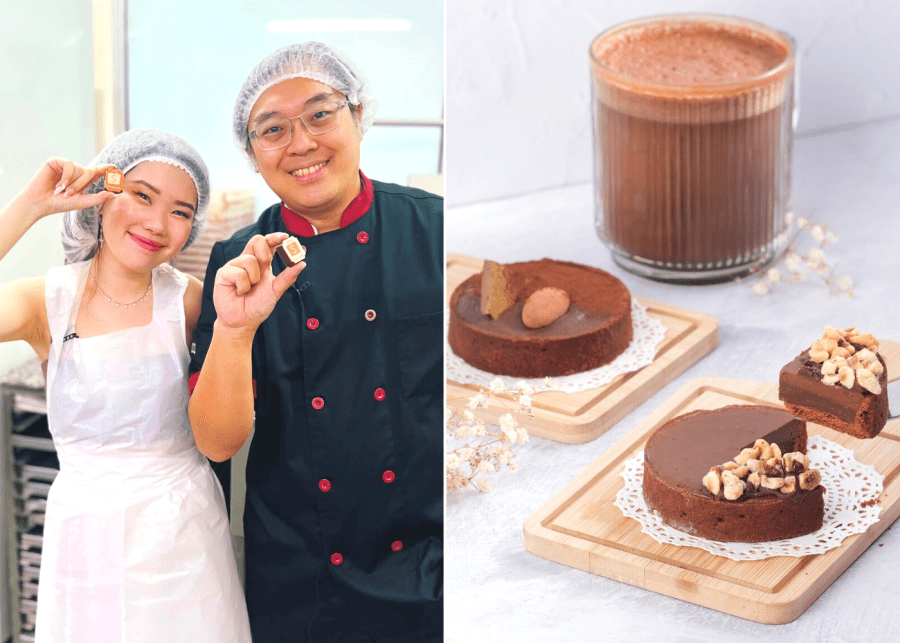 You don't have to travel to chocolate factories abroad for a taste of quality chocolate. Just head to Chocoelf's specialty chocolate cafe in Chinatown. Founded by a master chocolatier and a chocolate-loving surgeon, this store infuses flavours from beloved local dishes (like kaya toast and Nanyang coffee) into its sweet treats, bringing a taste of home to every bite. Don't miss the chance to indulge in its delicious chocolates and expertly crafted hot cocoa drinks.
Chocoelf, 232 South Bridge Road, Singapore 058781
Catbake
The Star Vista is now home to the world's first Catbake outlet, where you can indulge in charming neko-inspired bread, cakes, and pastries. The establishment is the brainchild of patissier-and-chef Shinya Tajima, renowned for his creation of the wildly popular Neko Neko Shokupan – a feline-inspired bread that's popular in Japan. Savour the signature croque monsieur, luscious cheesecakes, and decadent chocolate confections.
Catbake, B1-43, The Star Vista, 1 Vista Exchange Green, Singapore 138617
---
Best new cafes in Singapore: March 2023
Cafe Limonci
The Tai Seng 'hood is about to get better with the entrance of Cafe Limonci. This new cafe serves botanical-inspired gelato in flavours such as earl grey lavender and oolong osmanthus to keep you cool on warm afternoons. You can get them in cups or cones, or atop warm crispy waffles. Wash it all down with a good cuppa made with roasted beans from Rwanda. Talk about a sweet spot!
Cafe Limonci, #03-17, Oxley BizHub, 61 Ubi Road 1, Singapore 408727
Fujiwara Tofu Concept Shop
Consider yourself an Initial D mega-fan? Then you've got to add this themed cafe to your bucket list. This tofu shop from the anime and manga has drifted into Aljunied and even features a Toyota AE86 at the storefront. Snack on karaage and fried gyoza dumplings, and don't forget to snag some cool merch from the rack before you head out the door.
Fujiwara Tofu Concept Shop, #01-02, 169 Sims Avenue, Singapore 387488
Cloud Cafe
This cloud-themed cafe in Duxton Hill will take you to seventh heaven. Think filtered coffee and lattes, plus a selection of fresh bakes like banana cake, financiers, and sea salt chocolate cookies. The space itself is industrial-themed, with cement floors and grey walls – the perfect backdrop for the 'gram.
Cloud Cafe, #01-01, 1a Duxton Hill, Singapore 089480
Ms Durian
If you're just as obsessed with the King of Fruit, you've got to visit Ms Durian. Its new flagship cafe and bakery down at Jalan Besar features an indulgent brunch menu and durian-centric desserts. Choose from a wide selection of durian high tea, pastries, and coffee. You can even select the intensity of flavour in your sweet treats with the store's durian-intensity meter (what!). We've got our hearts (and stomachs) set on the whisky Mao Shan Wang cake and durian cheese mousse.
Ms Durian, 11 Kelantan Road, Singapore 208604
---
Best new cafes in Singapore: February 2023
Surrey Hills Deli
Walking into Surrey Hills Deli feels like sauntering right into one of your favourite cafes in Melbourne. Its bright-lit interiors are covered in greenery and you'll be hit by the smell of freshly-brewed coffee. Plus, you're greeted by a countertop full of golden croissants and shelves of jam and chocolate hailing from the land down under.
Aside from caffeinated drinks and chocolatey beverages (think 'Magic' coffee and Margaret River chocolate), this brand new deli offers an array of simple yet decadent sarnies loaded with goodness. Our favourites? Truthfully, everything – but we'd recommend first-timers try Spam the Positivity (gochujang-glazed spam with fried egg and kimchi), and Energise To-Ma-Toes (marinated tomatoes with mozza, basil pesto and caramelised onions).
Did we mention it transforms into a chill space for after-work gatherings after 5pm? Grab your office buddies and head down for fresh Australian craft beer, wine, cocktails, and tasty bites like Whoppie wings and triple truffle fries. We hear there'll be a one-for-one sandwich promo during its grand opening on 1 February, so don't miss it!
Surrey Hills Deli, #01-02, Raffles Place, 6 Battery Road, Singapore 049909
The Hainan Story
Are you a fan of The Hainan Story? Swing by its first-ever coffee house concept at Nex. This new cafe offers exclusive dishes like Hainanese Ah Mai's chee cheong fun (jazzed up with fried fish ball and hard-boiled egg), and uber-tender pig's trotter assam curry noodles. We're also eyeing the baked Hainanese rice cake lasagna that puts a spin on traditional chwee kueh. If you've got room for old school dessert, order the pandan waffles that start at just $1.80. Now, that's a good dose of nostalgia.
The Hainan Story, #02-17, Nex, 23 Serangoon Central, Singapore 556083
Equate
Equate has opened its first concept store at Orchard Central, and visitors can expect a new experiential space where coffee meets art. Spot a unique installation anchored around two uprooted trees planted upside down in the main dining hall – it'll make a really cool pic for the 'gram. Of course, there are plenty of artisanal bakes, hefty sandos, and signature croissants to sink your teeth into.
Equate, #01-17A, Orchard Central, 181 Orchard Road, Singapore 238896
Seng House
If a minimalistic cafe serving local delights (with a twist) sounds right up your alley, you've got to drop by Seng House. Open from 10am to 8pm daily, this new addition to the East Coast incorporates traditional Hainanese flavours into modern cafe fare. Menu standouts include the Seng Breakfast Club (toast with homemade kaya, luncheon meat, and charred tomatoes and eggs), and the Donut Kiap (a deep-fried donut bun sandwiching yam ice cream). It even has an alfresco corner that's pet-friendly – so you can dine beside your furry best friend after a long, satisfying walk.
Seng House, 214 Tanjong Katong Road, Singapore 437007
---
Best new cafes in Singapore: January 2023
Humble Bakery
There's nothing humble about the bakes at Humble Bakery. It takes scones to the next level with flavours like parmesan white chocolate, or double chocolate and kaffir lime. But the ones we really can't get enough of are its muah chee mochi scones. These are filled with peanut-ty, stretchy goodness. If you're a fan of its online store, head down to its new physical outlet at One Raffles Place for fresh, wholesome pastries that are totally worth raving about.
Humble Bakery, #02-27, One Raffles Place, Singapore 048616
Cafe Kitsune
This cafe on the ground floor of Capitol evokes the dreamiest Paris-meets-Tokyo vibes and serves up the most fragrant roasted coffee prepared by experienced baristas. Swing by for an espresso, americano or latte just the way you like it. And pair your cuppa with delish savoury snacks and pastries (we've got our eye on the cafe's iconic fox-shaped shortbread).
Cafe Kitsune, #01-11, Capitol Singapore, 13 Stamford Road, Singapore 178905
Puzzle Coffee
Step into Puzzle Coffee. This socially responsible bean-to-cup artisan coffeehouse was created and designed in Melbourne and offers specialty coffee with a focus on sustainability. It serves only the best fairly-traded coffee beans from farmers around the world and doles them out in compostable and biodegradable coffee cups and straws made from plant pulp. Puzzle also plants one tree for every 100 cups of coffee it sells. So you know you're doing a good deed whenever you get your morning cuppa.
Puzzle Coffee, #B1-38/39, Ion Orchard, 2 Orchard Turn, Singapore 238801
Moonglow Cafe & Winebar
Can't get enough of Australia's cafe and wine scene? Reserve a seat at Moonglow, a cafe and wine bar at Telok Ayer. Come hungry for dishes like the juicy signature wagyu striploin, tender Iberico Secreto jowl, and zingy Szechuan wings in mala gravy. Wash it all down with a glass of vino from Foggo Wines – a boutique vineyard in Southern Australia known for its cabernet sauvignon and shiraz grapes. Fancy a G&T instead? No problem. Order the refreshing Columba, Moonglow's own concoction of Berry Bliss gin, dried pears and pawpaws.
Moonglow Cafe & Winebar, 2A Stanley Street, Singapore 068721
Aphrodite Waffles & Gelato
Need a break after shopping at Mustafa Centre? This cute cafe sits just a two-minute walk away and is a great place to stop and rest your feet. Of course, you'll find all the classic flavours you love. But we recommend trying some of its more unique creations. Think blood orange, thyme, salted honey, and even goat cheese.
Aphrodite Waffles & Gelato, 106 Desker Road, Singapore 209628
Cafe Natsu Clemenceau
Love Cafe Natsu? You'll be pleased to know it's opened a second outlet at Clemenceau Citadines Connect Hotel. Picture the same well-loved Western brunch classics seasoned with Japanese flair. Pop down for a feel-good BBQ shirobuta pork bowl, poached Florentine eggs, thick and juicy wagyu sandos, and creamy baked Hokkaido cheese tarts. We can feel our mouths watering already.
Cafe Natsu Clemenceau, 182 Clemenceau Ave, Singapore 239923
Add these new cafes in Singapore to your 2023 bucket list!