Photography: Ten+ via Facebook
Need a cool hangout for coffee and brunch? We help you keep tabs on the best new cafes in Singapore each month.
Ready those hungry stomachs and smartphone cameras! It's time for a cafe-hopping adventure. Bookmark this page if you love kicking back in an aesthetic cafe with a good cup of coffee, an indulgent slice of cake, and a delish brekkie spread. We've got your back with an exciting list of new cafes in Singapore for 2023.
Best new cafes in Singapore: April 2023
Ten+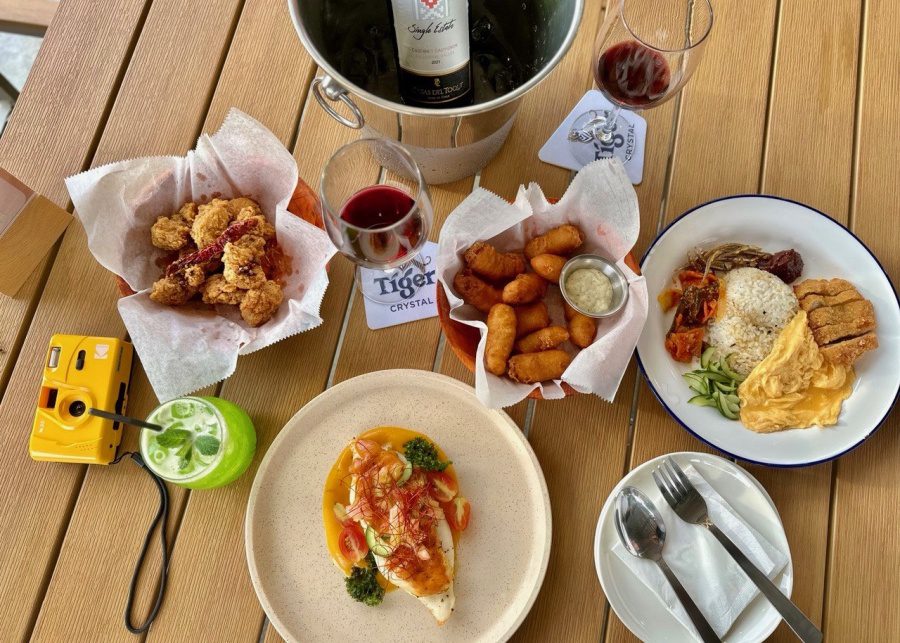 Looking for a break from fast-paced city life? Take respite at Ten+. This new safari-themed bistro is tucked deep within Sungei Tengah's verdant nature. Enjoy a mix of Western and Asian cuisine at the indoor cafe. We tried delectable dishes like the Asian-style big breakfast with furikake rice and scrambled eggs, as well as the baked snapper with sambal aioli, Szechuan mala karaage, and battered fish bites. Of course, we couldn't resist washing it all down with red wine, refreshing cocktails, and craft beer. For the full experience, opt for a barbecue under the bistro's charming outdoor glamping tents. It evokes the same vibes as Pinterest-worthy glamp-sites you'll find overseas – perfect for a relaxing afternoon or evening with friends and family.
Ten+, 65 Sungei Tengah Road, Singapore 699000
Good Chai People
Nothing warms our soul more than a steaming cup of chai. But it can be pretty hard to find a cafe that does it well. Enter Good Chai People. Tucked away in the bustling streets of Joo Chiat, this chai cafe is the first of its kind, putting a spotlight on artisanal sticky chai. Settle in and browse the extensive list of drinks. You can go for a sticky chai latte or the karak chai mixed with condensed milk and saffron. Our recommendation? Salted maple chai. The dash of pink Himalayan salt brings out the sweetness of the drink while creating a balance between the chai and maple syrup.
Come hungry, because the all-day brunch menu is to die for. Our absolute fave is the Mommy's Spinach dish. Don't be deceived by the simplicity because this comfort food treat is indulgent but not heavy. Crispy sunny side up eggs cover a hearty bowl of spinach stewed in bechamel and gruyere cheese. Pile it all on sourdough toast and you'll have the perfect bite. Save some room for the French toast (perfect for two): it's an elevated peanut butter and jelly sandwich with whipped cream cheese and a homemade berry compote. It's the stuff of dreams.
Good Chai People, 225 East Coast Road, Singapore 428922
88 Pocha
88 Pocha has opened its doors in Holland Village, offering a Korean street food-inspired menu. We love that it serves a variety of alcoholic beverages ranging from bottled beer to makgeoli. Dig into a diverse selection of delectable offerings made with ingredients sourced directly from South Korea. We're talking about Korean street food favourites like tteokbokki, sausage gimbap, kimchi pancake, oden soup, and ramyeon in varieties such as corn cheese and spicy tofu. You can even indulge in 88 Pocha's unique specialty highball cocktails that are available on tap.
88 Pocha, 26A Lorong Mambong, Singapore 277685
Chocoelf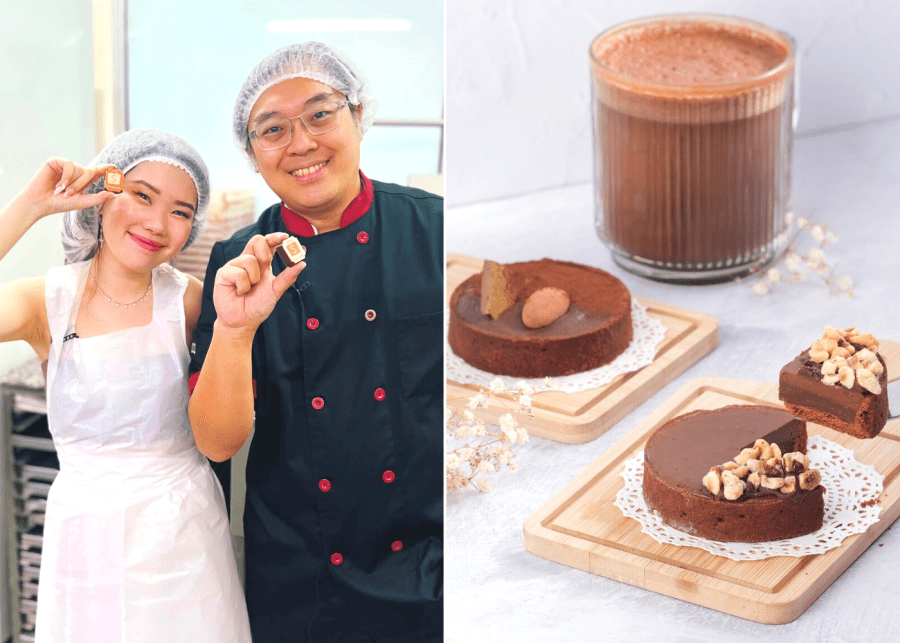 You don't have to travel to chocolate factories abroad for a taste of quality chocolate. Just head to Chocoelf's specialty chocolate cafe in Chinatown. Founded by a master chocolatier and a chocolate-loving surgeon, this store infuses flavours from beloved local dishes (like kaya toast and Nanyang coffee) into its sweet treats, bringing a taste of home to every bite. Don't miss the chance to indulge in its delicious chocolates and expertly crafted hot cocoa drinks.
Chocoelf, 232 South Bridge Road, Singapore 058781
Catbake
The Star Vista is now home to the world's first Catbake outlet, where you can indulge in charming neko-inspired bread, cakes, and pastries. The establishment is the brainchild of patissier-and-chef Shinya Tajima, renowned for his creation of the wildly popular Neko Neko Shokupan – a feline-inspired bread that's popular in Japan. Savour the signature croque monsieur, luscious cheesecakes, and decadent chocolate confections.
Catbake, B1-43,  The Star Vista, 1 Vista Exchange Green, Singapore 138617
---
Best new cafes in Singapore: March 2023
Cafe Limonci
The Tai Seng 'hood is about to get better with the entrance of Cafe Limonci. This new cafe serves botanical-inspired gelato in flavours such as earl grey lavender and oolong osmanthus to keep you cool on warm afternoons. You can get them in cups or cones, or atop warm crispy waffles. Wash it all down with a good cuppa made with roasted beans from Rwanda. Talk about a sweet spot!
Cafe Limonci, #03-17, Oxley BizHub, 61 Ubi Road 1, Singapore 408727
Fujiwara Tofu Concept Shop
Consider yourself an Initial D mega-fan? Then you've got to add this themed cafe to your bucket list. This tofu shop from the anime and manga has drifted into Aljunied and even features a Toyota AE86 at the storefront. Snack on karaage and fried gyoza dumplings, and don't forget to snag some cool merch from the rack before you head out the door.
Fujiwara Tofu Concept Shop, #01-02, 169 Sims Avenue, Singapore 387488
Cloud Cafe
This cloud-themed cafe in Duxton Hill will take you to seventh heaven. Think filtered coffee and lattes, plus a selection of fresh bakes like banana cake, financiers, and sea salt chocolate cookies. The space itself is industrial-themed, with cement floors and grey walls – the perfect backdrop for the 'gram.
Cloud Cafe, #01-01, 1a Duxton Hill, Singapore 089480
Ms Durian
If you're just as obsessed with the King of Fruit, you've got to visit Ms Durian. Its new flagship cafe and bakery down at Jalan Besar features an indulgent brunch menu and durian-centric desserts. Choose from a wide selection of durian high tea, pastries, and coffee. You can even select the intensity of flavour in your sweet treats with the store's durian-intensity meter (what!). We've got our hearts (and stomachs) set on the whisky Mao Shan Wang cake and durian cheese mousse.
Ms Durian, 11 Kelantan Road, Jalan Besar, Singapore 208604
---
Best new cafes in Singapore: February 2023
Surrey Hills Deli
Walking into Surrey Hills Deli feels like sauntering right into one of your favourite cafes in Melbourne. Its bright-lit interiors are covered in greenery and you'll be hit by the smell of freshly-brewed coffee. Plus, you're greeted by a countertop full of golden croissants and shelves of jam and chocolate hailing from the land down under.
Aside from caffeinated drinks and chocolatey beverages (think 'Magic' coffee and Margaret River chocolate), this brand new deli offers an array of simple yet decadent sarnies loaded with goodness. Our favourites? Truthfully, everything – but we'd recommend first-timers try Spam the Positivity (gochujang-glazed spam with fried egg and kimchi), and Energise To-Ma-Toes (marinated tomatoes with mozza, basil pesto and caramelised onions).
Did we mention it transforms into a chill space for after-work gatherings after 5pm? Grab your office buddies and head down for fresh Australian craft beer, wine, cocktails, and tasty bites like Whoppie wings and triple truffle fries. We hear there'll be a one-for-one sandwich promo during its grand opening on 1 February, so don't miss it!
Surrey Hills Deli, #01-02, Raffles Place, 6 Battery Road, Singapore 049909
The Hainan Story
Are you a fan of The Hainan Story? Swing by its first-ever coffee house concept at Nex. This new cafe offers exclusive dishes like Hainanese Ah Mai's chee cheong fun (jazzed up with fried fish ball and hard-boiled egg), and uber-tender pig's trotter assam curry noodles. We're also eyeing the baked Hainanese rice cake lasagna that puts a spin on traditional chwee kueh. If you've got room for old school dessert, order the pandan waffles that start at just $1.80. Now, that's a good dose of nostalgia.
The Hainan Story, #02-17, Nex, 23 Serangoon Central, Singapore 556083
Equate
Equate has opened its first concept store at Orchard Central, and visitors can expect a new experiential space where coffee meets art. Spot a unique installation anchored around two uprooted trees planted upside down in the main dining hall – it'll make a really cool pic for the 'gram. Of course, there are plenty of artisanal bakes, hefty sandos, and signature croissants to sink your teeth into.
Equate, #01-17A, Orchard Central, 181 Orchard Road, Singapore 238896
Seng House
If a minimalistic cafe serving local delights (with a twist) sounds right up your alley, you've got to drop by Seng House. Open from 10am to 8pm daily, this new addition to the East Coast incorporates traditional Hainanese flavours into modern cafe fare. Menu standouts include the Seng Breakfast Club (toast with homemade kaya, luncheon meat, and charred tomatoes and eggs), and the Donut Kiap (a deep-fried donut bun sandwiching yam ice cream). It even has an alfresco corner that's pet-friendly – so you can dine beside your furry best friend after a long, satisfying walk.
Seng House, 214 Tanjong Katong Road, Singapore 437007
---
Best new cafes in Singapore: January 2023
Humble Bakery
There's nothing humble about the bakes at Humble Bakery. It takes scones to the next level with flavours like parmesan white chocolate, or double chocolate and kaffir lime. But the ones we really can't get enough of are its muah chee mochi scones. These are filled with peanut-ty, stretchy goodness. If you're a fan of its online store, head down to its new physical outlet at One Raffles Place for fresh, wholesome pastries that are totally worth raving about.
Humble Bakery, #02-27, One Raffles Place, Singapore 048616
Cafe Kitsune
This cafe on the ground floor of Capitol evokes the dreamiest Paris-meets-Tokyo vibes and serves up the most fragrant roasted coffee prepared by experienced baristas. Swing by for an espresso, americano or latte just the way you like it. And pair your cuppa with delish savoury snacks and pastries (we've got our eye on the cafe's iconic fox-shaped shortbread).
Cafe Kitsune, #01-11, Capitol Singapore, 13 Stamford Road, Singapore 178905
Puzzle Coffee
Step into Puzzle Coffee. This socially responsible bean-to-cup artisan coffeehouse was created and designed in Melbourne and offers specialty coffee with a focus on sustainability. It serves only the best fairly-traded coffee beans from farmers around the world and doles them out in compostable and biodegradable coffee cups and straws made from plant pulp. Puzzle also plants one tree for every 100 cups of coffee it sells. So you know you're doing a good deed whenever you get your morning cuppa.
Puzzle Coffee, #B1-38/39, Ion Orchard, 2 Orchard Turn, Singapore 238801
Moonglow Cafe & Winebar
Can't get enough of Australia's cafe and wine scene? Reserve a seat at Moonglow, a cafe and wine bar at Telok Ayer. Come hungry for dishes like the juicy signature wagyu striploin, tender Iberico Secreto jowl, and zingy Szechuan wings in mala gravy. Wash it all down with a glass of vino from Foggo Wines – a boutique vineyard in Southern Australia known for its cabernet sauvignon and shiraz grapes. Fancy a G&T instead? No problem. Order the refreshing Columba, Moonglow's own concoction of Berry Bliss gin, dried pears and pawpaws.
Moonglow Cafe & Winebar, 2A Stanley Street, Singapore 068721
Aphrodite Waffles & Gelato
Need a break after shopping at Mustafa Centre? This cute cafe sits just a two-minute walk away and is a great place to stop and rest your feet. Of course, you'll find all the classic flavours you love. But we recommend trying some of its more unique creations. Think blood orange, thyme, salted honey, and even goat cheese.
Aphrodite Waffles & Gelato, 106 Desker Road, Singapore 209628
Cafe Natsu Clemenceau
Love Cafe Natsu? You'll be pleased to know it's opened a second outlet at Clemenceau Citadines Connect Hotel. Picture the same well-loved Western brunch classics seasoned with Japanese flair. Pop down for a feel-good BBQ shirobuta pork bowl, poached Florentine eggs, thick and juicy wagyu sandos, and creamy baked Hokkaido cheese tarts. We can feel our mouths watering already.
Cafe Natsu Clemenceau, 182 Clemenceau Ave, Singapore 239923
Add these new cafes in Singapore to your 2023 bucket list!