An aerial view of Henderson Waves. Photography: Emma_Griffiths via Shutterstock
Feeling on top of the world? Hike through these nature walks in Singapore for peak views.
Ah, the fresh air and calm greenery of nature. We can never get enough time spent outdoors, whether it's at parks and gardens, secret hideaways in the city, hiking trails, cycling routes or nearby islands. But our fave open-air spaces are the ones that lead us on a walk to enjoy a bird's eye nature view of Singapore. So if you're constantly on the lookout for panoramic vistas and stunning scenery, follow us on our journey through the country's highest natural spots to appreciate their beauty.
Nature walks with a view in Singapore
1. Mount Faber Park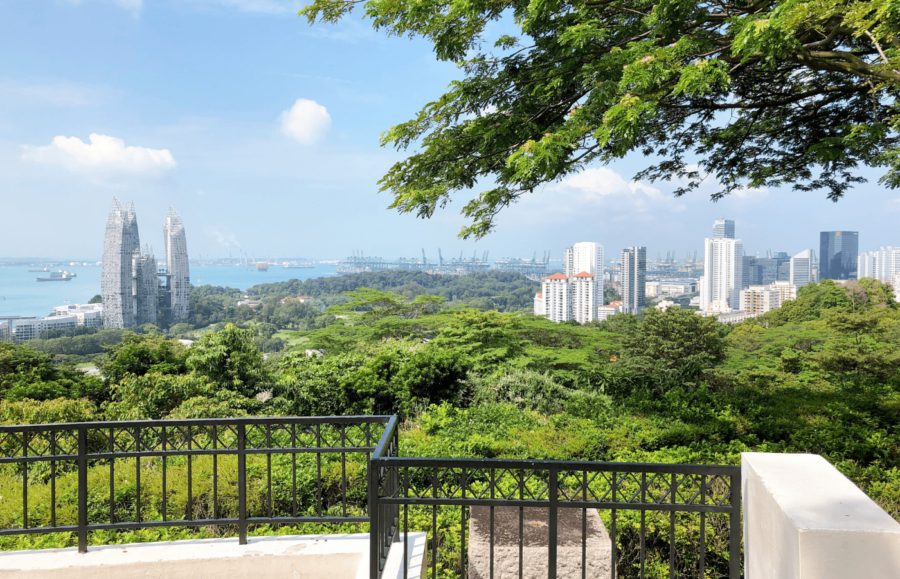 You may know it as a buzzing tourist hotspot since it's home to romantic restaurants and cable cars that glide back and forth to Sentosa. But Mount Faber Park is also one of the oldest of its kind in the country. Climb up the forested slopes and stairs to be rewarded with a glimpse of southern Singapore and its offshore islands, then take a closer peek through one of the telescopes at the lookout spots. When you've reached the peak, aka Faber Point, you'll be welcomed by a Merlion statue and a mural displaying scenes from our history. From your perch up high, slowly savour sweeping sights of the cityscape and Singapore's surrounding waters.
Mount Faber Park, located at the junction of Kampong Bahru Road and Telok Blangah Road
2. Fort Siloso Skywalk
Towering above mere mortals at 11 storeys high, the 181m-long trail offers visitors a picturesque treetop journey that leads straight to Fort Siloso. As you admire Sentosa's emerald waters and sandy shores from above, you'll pass by signboards divulging historical fun facts about nearby spots like Labrador Park and Keppel Bay. Best of all, you don't even have to ascend to the top on your own two feet. The bubble lift will show you the sights on your way up. Psst: We also uncovered Fort Siloso's hidden underground tunnels and wartime features!
Fort Siloso Skywalk, located at Siloso Point, Sentosa
3. TreeTop Walk
MacRitchie Reservoir Park has plenty of nature walks for varying fitness levels, but its TreeTop Walk is one of the coolest in Singapore. Just imagine yourself a giant towering among trees, gazing out on the flora and fauna below! The free-standing suspension bridge, linking the two tallest points in the park, stands 25m above ground and is the region's first of its kind. Its actual length is only about 250m, but a round trip all the way there and back will take about three to five hours, so plan accordingly.
TreeTop Walk, located near the car park at Venus Drive
4. Rifle Range Nature Park
With boardwalks and trails around the area, this park is great for a leisurely morning stroll. Explore the Gliders Boardwalk to spot animal crossing features or the Forest Exploration Trail for kid-friendly play areas. Alternatively, the Banyan and Gaharu Trails are perfect for those who want quiet time amidst rustic nature. Afterwards, hike up Colugo Trail for panoramic views of the surroundings. You'll be admiring lush greenery and the quarry wetland from above.
Rifle Range Nature Park, along Rifle Range Road
5. Supertree Observatory and OCBC Skyway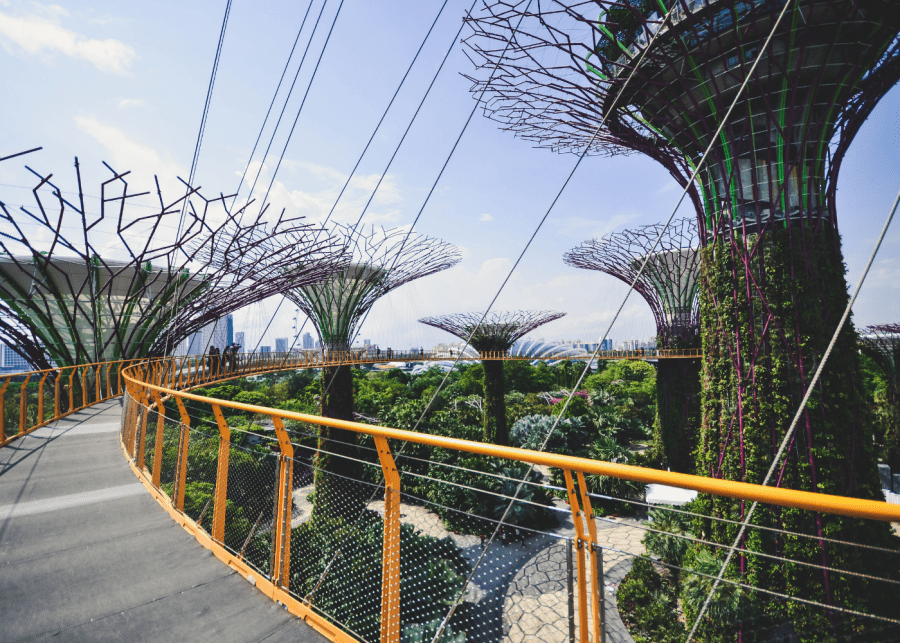 No doubt, Gardens by the Bay is a sleek, futuristic attraction. But if you'd like to see the sprawling greenery from a novel viewpoint, head to the Supertree Grove for striking sights. The OCBC Skyway, a 128m-long aerial path that connects two colossal Supertrees, offers panoramic vistas of the landscape and beyond. To continue admiring nature's view, head to the Supertree Observatory to gaze out on the city from the alfresco rooftop.
Supertree Observatory and OCBC Skyway, located at Supertree Grove, Gardens by the Bay
6. Henderson Waves
The iconic wave-like structure, a 274m-long wood-panelled walkway, is the tallest pedestrian bridge in the city. It's pretty much the perfect spot for admiring the treetops and migratory birds above Henderson Road. Oh, and if you visit during the evening, watch out for lights that come on from 7pm to 7am daily.
Henderson Waves, located at Telok Blangah Hill Park
7. Canopy Walk
Linking HortPark to Kent Ridge Park, Canopy Walk welcomes you with its eye-level nature views of the forest canopy. The 280m-long boardwalk takes just 10 minutes to explore, but feel free to stick around to immerse yourself in the peace and serenity of the grounds. While you're there, keep an eye out for wild orchids and creatures like sunbirds, squirrels and doves in their natural habitat. To end off with a little history lesson, head to the Reflections at Bukit Chandu museum to learn about Opium Hill and the area's World War II past.
Canopy Walk, located off Pepys Road
8. Alexandra Arch & Forest Walk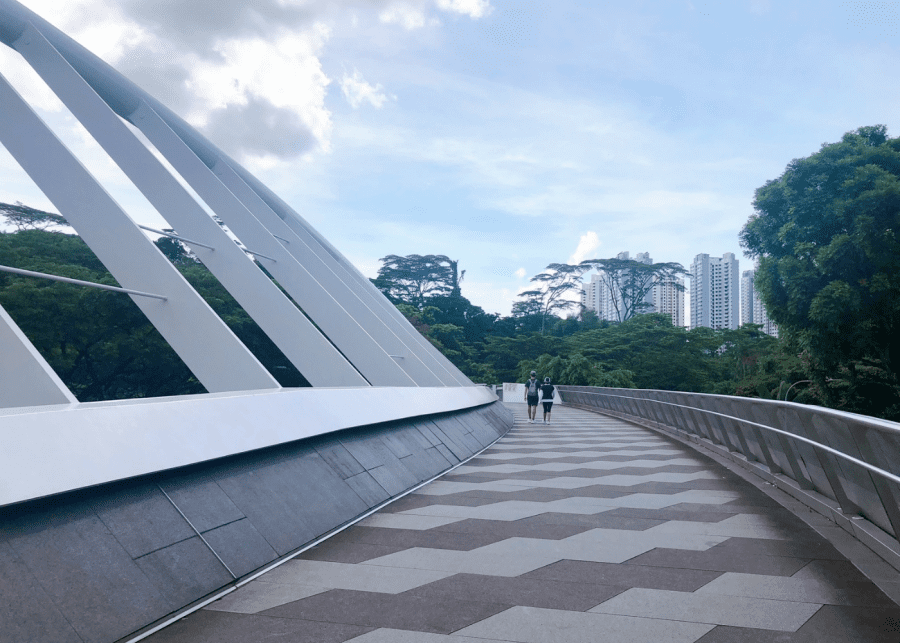 Part of the Southern Ridges, which spans 10km of green spaces from Mount Faber Park to Kent Ridge Park to Labrador Nature Reserve, Alexandra Arch and Forest Walk are the connectors between Telok Blangah Hill Park and HortPark. The 80m-long steel and granite design, inspired by an open fig leaf, peers over Alexandra Road. If you pop by in the evenings, you'll be treated to multi-coloured LED lights giving the bridge a radiant glow. Nearby, the foliage trail is a 1.3km-long elevated pathway that's ideal for bird-watchers. Both are relatively smooth and short walks that make for breezy strolls!
Alexandra Arch & Forest Walk, located off Alexandra Road
9. Bukit Batok Nature Park
For a peek into the past, lace up your comfiest walking shoes and head to Bukit Batok Nature Park. Sitting on an abandoned quarry site, it's a quiet place to escape from the city crowds for an afternoon. Whether you're brisk walking or jogging, don't forget to swing by the idyllic pond at the foot of a cliff wall – it's a remnant from the area's mining days – and head up the lookout points (they're more than 10 storeys tall!) for incredible nature views of the quarry.
Bukit Batok Nature Park, located along Bukit Batok East Avenue 2 and Bukit Batok East Avenue 6
10. Marina Barrage
We love strolling from Gardens by the Bay to Marina Barrage to admire the waterfront sights – as long as the sun isn't blazing up high. You can pack a picnic to enjoy on the grass patch or fly a kite on a windy day while you take in those stunning views of the city skyline.
Marina Barrage, 8 Marina Gardens Drive, Singapore 018951
The next time you need a breath of fresh air away from the crowds in Singapore, try these nature walks with a view!