Photography: Pauline Loroy via Unsplash
These museums in Singapore feature rare masterpieces, historical artefacts, thought-provoking paintings and cultural relics.
As a booming cultural hub, Singapore has attracted loads of big-name museum exhibitions in recent years. We've seen permanent exhibits with historic Southeast Asian pieces and ground-breaking art exhibitions by famous painters. The best part? Most museums offer free admission to locals and permanent residents. But don't just pop by museums – the city's also dotted with independent art galleries featuring fantastic works by established and up-and-coming artists in Singapore. Let's explore!
Best museums in Singapore
1. National Gallery Singapore
When the National Gallery opened, it made a major impact on the art world. It houses the largest public collection of Singaporean and Southeast Asian art in the world! The building alone is breathtaking and the facilities are state-of-the-art. It's home to some amazing restaurants and, perhaps most importantly, the stories from within are a reflection of Singapore's history, values and vision. Head to the rooftop garden or rooftop bar Smoke & Mirrors for some a-maze-ing fun!
National Gallery Singapore, 1 St. Andrew's Road, Singapore 178957
2. National Museum of Singapore
If you want to know more about our little red dot, the National Museum of Singapore is the place to go. Established in 1887, the city's oldest museum delivers our history and culture through live performances and modern multimedia exhibits. Permanent galleries to visit include the Singapore History Gallery, which charts the development of the city.
National Museum of Singapore, 93 Stamford Road, Singapore 178897
3. ArtScience Museum
Combining art, science, design, media, architecture and technology, ArtScience Museum has housed notable exhibits and works from iconic artists including Andy Warhol, Salvatore Dali and Leonardo da Vinci. A permanent exhibit you have to add to your list is Future World, which features interactive digital installations and gets refreshed every few months.
ArtScience Museum, 6 Bayfront Avenue, Singapore 018974
4. Battlebox
Located in the heart of the city at Fort Canning Hill, this unique museum takes the place of a former underground command centre used by the British in WWII. Get a snapshot of history while you explore the bunker. There are 30-minute guided tours for you to get an authentic historical experience.
Battlebox, Fort Canning Park, 2 Cox Terrace, Singapore 179622
5. Mint Museum of Toys
Mint – also known as Moment of Imagination and Nostalgia with Toys – is the world's first purpose-built museum for toys. Its collection is valued at over $5 million. That's a lot of toys! Relive your childhood memories as you browse through 50,000 vintage playthings collected from different eras, including pre-WWII. Check out the Instagram page for interesting tidbits of your favourite toys, too.
Mint Museum of Toys, 26 Seah Street, Singapore 188382
6. Trick Eye Museum
We're not pulling the wool over your eye; this museum is dedicated to playing tricks on your mind. The world-renowned, four-dimensional attraction has six themed zones that'll help you create unique photographs to amplify your Instagram feed. Become a part of the artworks as you explore and interact with the installations.
Trick Eye Museum, #01-43-44, [email protected] World Sentosa, 26 Sentosa Gateway, Singapore 098138
7. Asian Civilisations Museum
You'll want to put aside a whole afternoon for this sprawling museum. It presents over five thousand years of recorded history through a diverse collection of Asian artefacts, including detailed sculptures of Buddha and Gandhara culture. Oh, and the museum is located along the Singapore River, so you can grab a beer at one of the chill bars after you're done.
Asian Civilisations Museum, 1 Empress Place, Singapore 179555
8. Red Dot Design Museum
This design museum looks like something out of a sci-fi film. Despite its small venue, the museum is THE home for innovation in Singapore. It showcases award-winning ideas and mind-blowing prototypes across product design, communication design and clever concepts.
Red Dot Design Museum, 11 Marina Boulevard, Singapore 018940
9. Singapore Musical Box Museum
If inventions pique your interest, a trip here will transport you to a time when these contraptions reigned. Displayed in a Unesco heritage building (that used to be a school) next to the iconic Thian Hock Keng temple on Telok Ayer Street, the collection features over 40 antique musical boxes from the 1800s and 1900s. Set up by Naoto Orui, a Japanese collector, it tells you about the rise and fall of this invention. You'll even get the chance to see a rare Edison Opera phonograph with a wooden horn handmade by Thomas Edison himself. For real!
Singapore Musical Box Museum, 168 Telok Ayer Street, Singapore 068619
10. Reflections at Bukit Chandu
This WWII interpretive centre returns newly revamped with an exciting combination of multimedia works and unique artefacts. Take a trip to the past with exhibitions that express the battles of brave soldiers. Managed by the National Museum of Singapore, this centre similarly promises to educate you with tidbits about our little red dot.
Reflections at Bukit Chandu, 31-K Pepys Road, Singapore 118458
11. Indian Heritage Centre
A cultural centre and museum rolled into one, this establishment celebrates the heritage of Indian Singaporeans. Sign up for a walking trail of the bustling Little India precinct, explore the permanent exhibit that traces the history of the Indian community through artefacts and displays, and play traditional Indian games while you're there.
Indian Heritage Centre, 5 Campbell Lane, Singapore 209924
12. Malay Heritage Centre
Want to learn more about Singapore's Malay culture and heritage? Swing by the Malay Heritage Centre located at Kampong Glam. It's an iconic structure that was once the royal seat of the Malay sultans of Singapore. The well-preserved centre is home to historical artefacts, interactive multimedia and exhibits that illustrate the rich history of the community.
Malay Heritage Centre, 85 Sultan Gate, Singapore 198501
13. Vintage Cameras Museum Singapore
If you find a special sort of charm in vintage photography equipment, pay a visit to this museum at Jalan Kledek. Founded by businessman Solaiyappan Ramanathan and his artist cousin AP Shreethar, it boasts an incredible collection of more than 1000 vintage cameras. The building itself is set in the form of a massive camera, and it holds the distinction of being the world's biggest camera-shaped building.
Vintage Cameras Museum Singapore, 8C-8D Jalan Kledek, Singapore 199263
14. Lee Kong Chian National History Museum
Do dinosaur fossils, displays of extinct animals, and skeletons of giant mammals pique your interest? If so, you're in for a treat. Wildlife lovers get to enjoy over 10 zones showcasing a plethora of specimens from plants and fungi to dinosaurs and sea creatures. Don't miss out on visiting the gardens surrounding the museum, which chart the evolution of plants and their habitats.
Lee Kong Chian National History Museum, National University of Singapore, 2 Singapore Drive, Singapore 117377
15. Changi Chapel Museum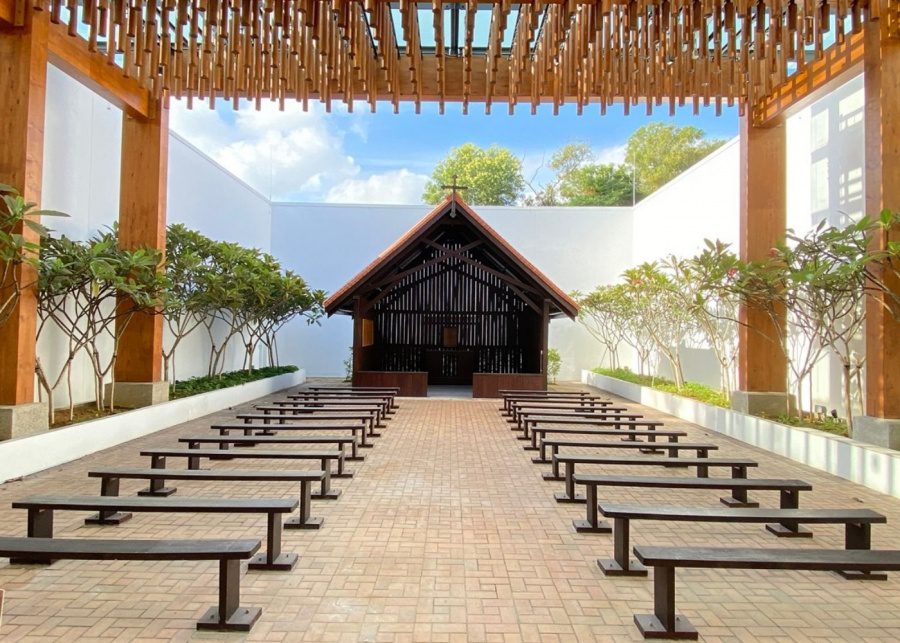 Remnants of the war are littered throughout the city, but a good place to start your journey into the past is Changi Museum. It serves as a memorial to the soldiers and victims of the Japanese Occupation with documentation of the emotional events that happened during the tumultuous period. With a recent revamp, you can explore more new artefacts from POWs.
Changi Chapel Museum, 1000 Upper Changi Road North, Singapore 507707
16. Parkview Museum Singapore
Singapore's very own 'Gotham City' building – or as it's officially called, Parkview Square – houses a contemporary art museum within its ritzy Art Deco premises. The private gallery hosts exhibitions focusing on contemporary art, alternating between solo shows, themed showcases and displays from the museum's extensive collection.
Parkview Museum Singapore, Level 3, Parkview Square, 600 North Bridge Road, Singapore 188778
17. Chinese Heritage Centre
As the name suggests, the Chinese Heritage Centre at Nanyang Technological University focuses on overseas Chinese communities and explores the question of ethnic identity within its 6,000 sq ft exhibit.
Chinese Heritage Centre, Nanyang Technological University, 46 Nanyang Avenue, Singapore 639817
18. Peranakan Museum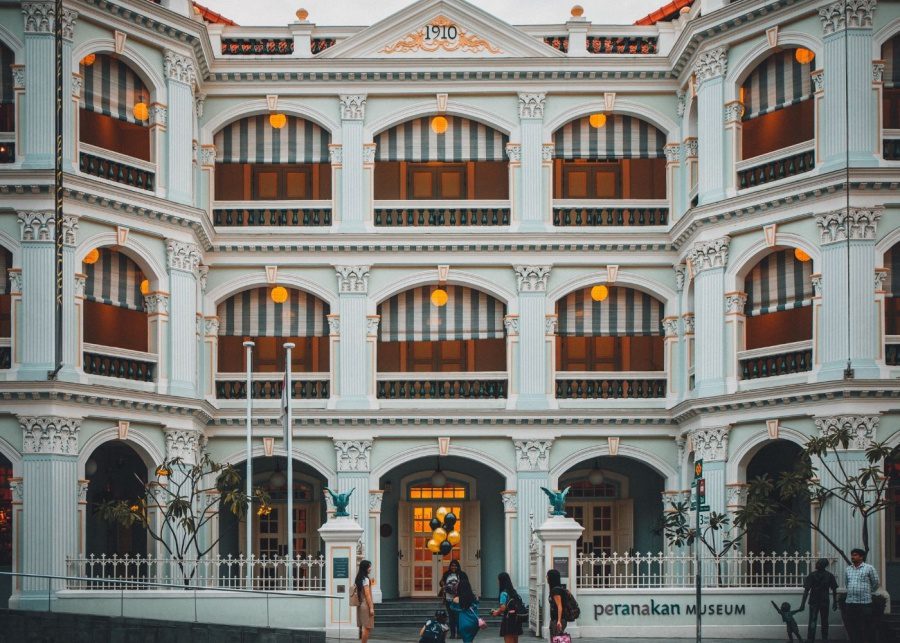 Located in a quaint three-storey Peranakan shophouse along Armenian Street, this is the sister museum to the Asian Civilisations Museum. Also the first of its kind in the world, it showcases collections of Peranakan items including jewellery, furniture and art. Go on and get a glimpse into the grand lifestyle of this prominent community.
Peranakan Museum, 39 Armenian Street, Singapore 179941
19. Singapore Philatelic Museum
This one's for stamp enthusiasts. The museum celebrates the hobby and features private collections of philatelists as well as international and themed exhibitions. Head over to admire unique stamps from Singapore's past and present.
Singapore Philatelic Museum, 23B Coleman Street, Singapore 179807
20. Singapore Art Museum at Tanjong Pagar Distripark
Once a Catholic boys' school (St. Joseph Institute) for 135 years, the beautiful historic building now holds a fine selection of contemporary artworks from across Southeast Asia. Put aside your entire day when you visit this place. The art museum has over 7,000 permanent art pieces.
Although their Bras Basah building is currently being redeveloped, that hasn't stopped this pioneering art museum from showcasing jaw-dropping pieces of art and installations that wow everyone. Singapore Art Museum has commissioned art projects and programmes that can be found housed within Tanjong Pagar Distripark. Get your fill of art with creative light installations with both physical and virtual experiences and interactions.
Singapore Art Museum at Tanjong Pagar Distripark, Tanjong Pagar Distripark, 39 Keppel Road, Singapore 089065
Psst: Singapore Art Museum, Singapore Philatelic Museum, Peranakan Museum, and Parkview Museum are currently closed for renovations. Stay tuned for updates!
---
Best art galleries in Singapore
21. Art Now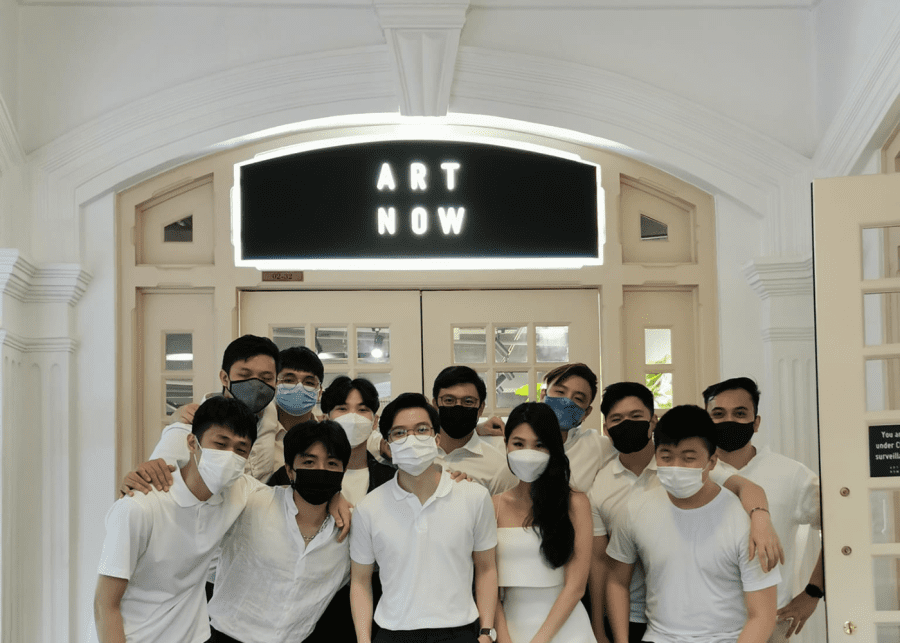 Art Now is basically the MoMA of Singapore. This state-of-the-art space nestled in the Raffles Shopping Arcade is not only a gallery, but also a lifestyle retail store, furnishing space, and members' lounge. It's an innovative concept to showcase contemporary art and design. Previous exhibitions include BrandLove by Eduardo Enrique, exploring the concept of societal obsession with idols and branded goods. For NFT lovers, drop by to check out their huge showcase of NFT artworks.
Art Now, #02-28/32, Raffles Arcade, 328 North Bridge Road, Singapore 188719
22. Cuturi Gallery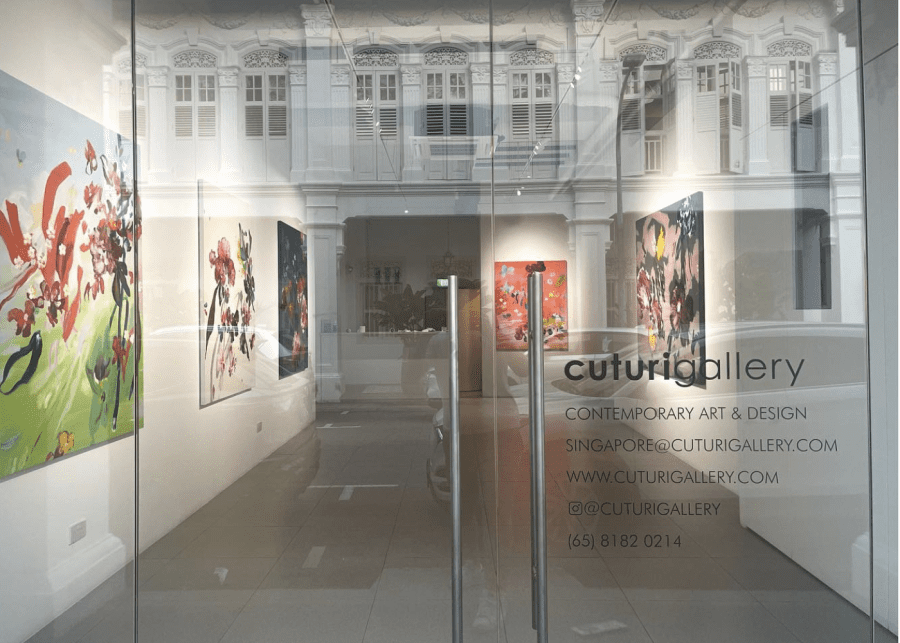 Surrounded by white, this minimalist gallery located in Singapore's vibrant Bras Basah is home to local and international artists alike. Cuturi Gallery is a curator of change and challenges the status quo by pushing the boundaries of what it means to be a gallery. It presents an inclusive art ecosystem that aims to foster collaboration, understanding, and appreciation amongst artists, collectors, and the industry. It also hosts a residency programme that supports local and international artists to nurture their talent, which culminates in a solo exhibition within the gallery.
Cuturi Gallery, 61 Aliwal Street, Singapore 199937
23. Shout Art Hub and Gallery
Hailing from Hong Kong, this art hub and gallery is unabashed when it comes to both its art and personality. This huge space within Scotts Square is constantly filled with colourful and contemporary artwork that's both playful and thought-provoking. Plus, if you really love a piece, you can purchase it from the website. Artworks include paintings on a canvas, ceramic sculptures, and even origami pieces.
Shout Art Hub and Gallery, #02-04/05/06/07, Scotts Square, 6 Scotts Road, Singapore 228209
24. Gillman Barracks
This colonial barracks-turned-cool art enclave is the go-to spot for those seeking a dose of contemporary art with its distinctive art galleries. Folks with a penchant for Japanese art must make it a point to visit Mizuma Gallery and Ota Fine Arts – both are known for curating snazzy exhibitions by renowned Japanese artists. To support local pride, check out Fost Gallery, which pays a special focus on emerging local artists. And don't forget Yeo Workshop, a contemporary art gallery that curates intriguing exhibitions by local and international artists and hosts programmes that give art lovers a chance to engage with talents in Singapore.
Gillman Barracks, 9 Lock Road, Singapore 108937
25. Goodman Arts Centre
Tucked away within the heritage-rich Mountbatten precinct, Goodman Arts Centre is home to seven acres of art goodness. This art gallery enclave in Singapore is the abode of the National Arts Council of Singapore, several arts and creative groups, and plenty of shared facilities for art aficionados.
Goodman Arts Centre, 90 Goodman Road, Singapore 439053
26. Tanjong Pagar Distripark
Art galleries in Singapore can't get any cooler than this. At Tanjong Pagar Distripark, you can spot several spaces hidden within the vicinity of the warehouse. First, check out the exhibition venue [email protected] Then, head over to Gajah Gallery for contemporary works by artists around the region.
Tanjong Pagar Distripark, 39 Keppel Road, Singapore 089065
Plan your weekends wisely with these amazing museums and art galleries in Singapore!