Photography: Seedlip via Facebook
Want a non-hangover-inducing drink that's big on taste? These mocktails in Singapore will do the trick.
Zero-proof cocktails are gaining steam in the bar scene. And frankly, why not? There's no reason why you can't enjoy the cocktail bar ambience without getting intoxicated. If you're in the mood to forgo booze, these non-alcoholic mocktails, spirits and aperitifs in Singapore ought to be high on your list. Besides, not getting a hangover in the morning is always a plus!
Best mocktails in Singapore
1. Summer in Paris at Atlas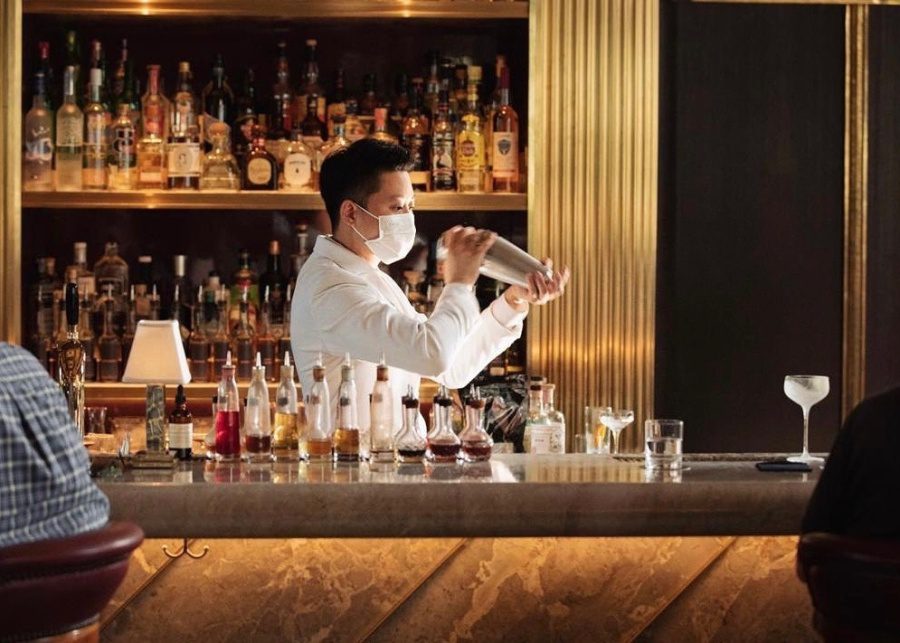 You know our love for Atlas and its impressive Art Deco-inspired cocktail lounge. It's always ranked high on The World's 50 Best Bars list, so you know it's a spot you can't miss. Love its selection of curated tipples, but not feeling an alcoholic bevvy? Treat yourself to mocktails like Summer in Paris: a non-alcoholic blend of chardonnay grape verjus, old world tonic and lemon berry tea.
Atlas, Parkview Square, 600 North Bridge Road, Singapore 188778
2. Dous Et Frais at Sol & Luna
Checked out this new Latin-European spot at CapitaSpring yet? We're obsessed with its baked camembert. If you're in the area for tea, take a stop at Sol & Luna for a slice of cake and some zero-proof mocktails. Our favourite is the Dous Et Frais, a revitalising mix of fresh passionfruit, honeycomb syrup, cinnamon and purple cabbage soda.
Sol & Luna, #17-01, CapitaSpring, 88 Market Street, Singapore 048948
3. Salted Passionfruit at Gibson Bar
We can't resist an evening of shaken tipples and fresh oysters at Gibson Bar. This sexy joint on Bukit Pasoh is perfect for a night out with the girls or a chill gathering with friends. If you're sober curious, try the mocktails on its non-alcoholic menu. The Salted Passionfruit is a hit among the team, containing fermented passionfruit, granny smith apples, Giffard vanilla and soda.
Gibson Bar, Level 2, 20 Bukit Pasoh Road, Singapore 089834
4. Peach Sangria at The Great Mischief
The Great Mischief has made a home for itself within the walls of the iconic National Gallery. This halal cafe serves up delish mocktails in Singapore made with fresh fruity ingredients and Non No. 5 wine – a non-alcoholic wine alternative. Order the Peach Sangria for a refreshing drink: it's a delightful concoction made with peach fruit mix, Non No. 5, and a dash of caramel and ginger.
The Great Mischief, #01-17, National Gallery Singapore, 1 St Andrew's Road, Singapore 178957
5. Virgin Pina Colada at Empress
This restaurant at the Asian Civilisations Museum is another favourite of ours. Once again, the bar menu is deceptively devoid of any mocktails. Don't let that fool you though! We've discovered that the bartender will happily mix up a non-boozy drink of your choice and a tasty one at that. We recommend the virgin pina colada. Stripped of alcohol, the delightfully tropical taste of pineapple and coconut really shines through.
Empress, #01-03, Asian Civilisations Museum, 1 Empress Place, Singapore 179555
6. Seedlip
This brand of non-alcoholic spirits has blown us away. It launched in 2015 and has since found its way into a number of our favourite watering holes – and we couldn't be happier about it. Created from botanicals (the Garden 108 features notes of spearmint, rosemary and thyme), Seedlip's spirits are also a zero-calorie, sugar and artificial flavour-free upgrade to your mocktail.
Seedlip, available at multiple locations including The Secret Mermaid, 28 HongKong Street, Native, Jigger & Pony, Nouri, and Caffe Fernet.
Let's raise a toast to these delish mocktails and zero-proof concoctions in Singapore!