Photography: Alena Zadorozhnaya via Pexels
Set the mood and bliss out on these scented candles that have extra #shoplocal feel-good factor.
So you've got great lighting, cool art mounted on your walls and stylish sofas for chillaxing. But your home isn't exactly complete without the one accessory interior designers swear by – candles. Scented candles and tealights are not only perfect for (ahem) setting the mood. Thanks to their divine scents, they're perfect for elevating sensory levels when kicking back and relaxing at home. Bring out the aromatherapy in full force, we say, with fresh-smelling candles created right here in Singapore.
Where to buy artisanal candles in Singapore
1. Sniff & Snuff
Besides the adorable moniker, we're in love with the fun candle names too! Sisters Aileen and Angeline love putting adventurous spins on typical candle scents. Shop special creations such as After The Rain by Angeline (gives off strong floral notes) while Knight in Distress by Aileen has mellow, masculine scents. For the avid candle lovers amongst us, we recommend going with the sniff box. Every month, you'll get three different candles delivered to you. The first box starts you off with secret subscription-exclusive scents. After that, you'll get Sniff & Snuff's candle of the month and new scents!
Sniff & Snuff, available online
2. Oyasumi Scents
The team behind Oyasumi Scents has our hearts. Candle-making was a hobby turned obsession for this family of three. Fine-tuned over the course of many years, it was a constant state of experimentation. And we think it paid off! Now you get Oyasumi Scents in squishy soaps, essential oil sprays and of course, candles. Try out unique scents like matcha and yuzu, or orange and chocolate.
Oyasumi Scents, available online or at Therapy Market
3. Scented Splendours
The beautiful candles here come in little tealights or jarred beauties. Scents like To The Moon and Back have pear, peach, mandarin, and freesia – the perfect scent to keep you going through the day. The decorative wax tablets are also adorned with flowers that are almost too pretty to burn. For candle aficionados out there, you'll be pleased to know that it also supplies candle care kits! This includes a candle tray, wick trimmer, dipper, snuffer, and a USB candle lighter. That's everything you need to keep a healthy, happy candle.
Scented Splendours, available online
4. Mira
Alluring candles that smell good and beautify your abode? Yes, please. We love that typical container scented candles aren't the only thing this local purveyor sells. Mira also offers unique and aesthetic sculpture candles to zhush up your living space. The set of two Ava and Grace candles are perfect for styling any corner. And we're obsessed with the unique swirl pattern on the elegant Eloise artisanal candle.
Prefer classic container creations? No problem. At Mira, you'll find myriad scented candles that emanate soothing scents such as Japanese yuzu, rose nutmeg, lavender bergamot, and maple pancake. Each one is hand-poured in small batches, mixed with essential oils or phthalate-free premium fragrances, and uses 100% soy wax from Australia. You can get them packed in a lovely set of two to eight using Mira's build-a-box service as well. We can't think of a better gift to tease the olfactory senses.
Mira, shop online and at multiple locations including Design Orchard and Tangs
5. Nine Wicker Ave
These small-batch lovelies will immediately turn your day around. We love the bits of spices, dried flowers and fruits, as well as gemstones that peek out of the candle. They make a great home accessory and are almost too beautiful to light up! These lovelies sell out quick, so fastest fingers first! Pro tip: Remove any dried botanicals that get too close to the wick so you don't set your house on fire.
Nine Wicker Ave, available online and 225 East Coast Road, Singapore 428922
6. Sally's Room
It's scents galore at this local candle artisan. Choose your favourite scent, which ranges from sweet and fruity to luxuriously floral. Whatever the mood, there's definitely something for you. Getting a gift? Go for the two-candle set where you can choose your own scents. Love some DIY action? Candle-making workshops are available too!
Sally's Room, available online
7. Lynk Artisan
One thing that Lynk Artisan stands by? The importance of the transparency of ingredients used in candles. That's why only clean, cruelty-free and phthalate-free natural palm wax is used. You get to toggle between exquisite scents that ignite fond memories. Go for scents that'll send you on a luxury holiday or to a fresh field of flowers.
Lynk Artisan, available online and at PaperMarket and selected Cold Storage outlets
8. HighGarden Candle
This home-bred brand infuses crystals into the candles so you can soak up all that healing energy. Each candle contains up to five crystals like amethyst (calms the mind), moonstone (for good fortune) and tiger's eye (for mental clarity). In addition, they're prepared in soothing scents. Think lemon of Sicily, white tea and ginger, and sea salt ocean.
HighGarden Candle, available online 
9. Soul Good Project
Having tried its deodorants, we were ecstatic when the local wellness brand launched a series of candles. The candles are made right here in Singapore with vegan coconut wax and rapeseed wax premium fragrance oils. Then hand-poured in glass jars with a bamboo lid. Take your pick from sweet rhubarb and black plum (with peach), or citrusy summer yuzu with grapefruit and satsuma scents.
Soul Good Project, available online and at The Min List or Weekend Sundries
10. Artisan of Sense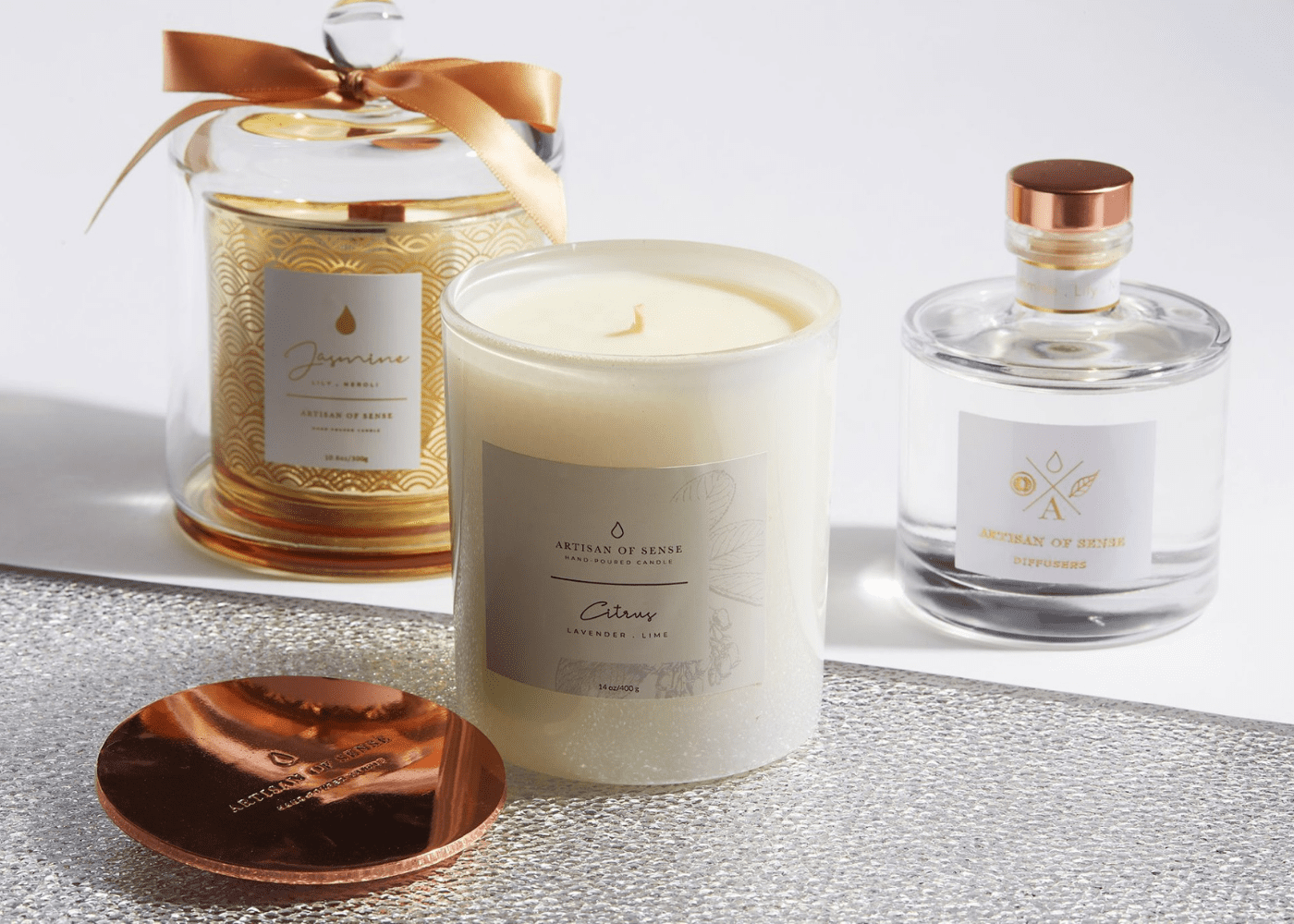 No one does sophisticated and gift-worthy candles quite like Artisan of Sense. Gorgeous packaging aside (love the rose gold lid!), each soy wax candle is created with 100% pure, therapeutic-grade essential oils. Calm your mind with scents like coconut palm lime, peppermint and eucalyptus, grapefruit, and lemongrass.
Artisan of Sense, available online  
11. Houghton & Gough
We'd like to call Houghton & Gough's candles mood enhancers, thanks to its use of calming aroma oils. We particularly love the natural citronella and lemongrass scent that helps repel mosquitoes. If you prefer burning essential oils, there's a range of oils that you can get. The one thing we really love though is the fact that you can refill your candles! The artisans are happy to replenish your containers with your favourite fragrance (or a new one). All you have to do is wrap up your container and deliver it back to the studio.
Houghton & Gough, available online
12. Maison 21G
Bespoke perfumery Maison 21G now carries candles and they're far from ordinary. The dual candles combine two half-moon-shaped candles to create unique, complementary fragrances. Create your own winning combo with choices like sage, sandalwood, rose, amber, cedar, fig, vanilla and raspberry. Or pick candle set recommendations from the pros themselves. Plus points for the sleek black matte packaging and elegant brass-plated holder.
Maison 21G, available online and at multiple locations including Raffles City and Duxton Road 
13. Hush Candle
Hush is one homegrown candle brand in Singapore we can't keep mum about! It's jam-packed with artisanal candles that are made from organic soy wax and essential oils. Its scented candles aren't just something to keep your home smelling fresh. The lemongrass candle has natural insecticidal properties that drive mosquitoes and other insects away. Excellent for tropical countries like Singapore. For a pop of colour in your space, go with the candles inspired by travels.
Hush Candle, available online and at multiple locations including Paper Market and The Editor's Market
14. To Be Calm
This go-to local store stocks a luxurious collection of fragrant candles and diffusers. Create the perfect ambience with candles, temple tamers and atmospheric home sprays. Above all, To Be Calm carries scented candles of all sizes, from extra large to mini candles. And if you're all about getting handsy, it also conducts candle-making workshops for all you candle enthusiasts. Plus, with a name like that, how can we not feel at ease?
To Be Calm, available online and at multiple locations including Tangs Orchard and The Providore
15. Candles of Light
If you're all about bringing out the smells of the garden in full-force, make Candles of Light your go-to store. This homegrown candle brand in Singapore offers handcrafted, luxury candles made from pure soy and beeswax. So treat your nose (and home) to its tropical and botanical scents made using spices, herbs, essential oils and more.
Candles of Light, available online and at multiple locations including Design Orchard and Essential Extra
16. Artisan's Garden
This homegrown candle brand offers unconventional candles. Ever heard of soy wax melts? Think of them like essential oils. All you have to do is toss a few melts into a ceramic diffuser and let a candle heat it up. If you're all about organic products, swap your department store home accessories for Artisan's Garden's vegan wax, a better alternative to paraffin wax. With over 20 different scents ranging from fresh ocean breeze to sweet yet spicy frankincense and myrrh, you'll be sure to find the one best for your home.
Artisan's Garden, available online and at Unpackt, 6 Jalan Kuras, Singapore 577724
Add these candles in Singapore to the cart for soothing scents at home!