Photography: The Barracks Hotel Sentosa
Whether you're local or visiting Singapore, you'll discover amazing staycations on our list of best Sentosa hotels.
How often do you catch yourself dreaming of an island vacay, only to have your hopes dashed by a busy schedule? For times when you simply can't squeeze in a short getaway, staycations are the answer. A weekend in Sentosa even lets you enjoy those vacay vibes! As tiny as it may be, the island is a tropical paradise with lovely beaches, major attractions and hotels that cater to every type of vacationer. Whether you're looking for a unique underwater room, a private pool pad, or a colonial-style heritage hotel in Singapore, Sentosa has it all.
Best Sentosa hotels in Singapore
1. Capella Singapore: For luxe living
The next best thing to a vacay? A staycation that feels miles away from the bustle of Singapore. Fake those vacation vibes at Capella Singapore! The jaw-droppingly gorgeous resort spread across lush gardens is one of our fave hotels in Sentosa.
Pull up to the private driveway and you'll be in awe as modern and colonial buildings fuse together in one spellbinding property. Whether or not you can swim is irrelevant; the vitality pool calls for long hours of lounging as it boasts jungle views with the South China Sea as its backyard. Rooms are as sumptuous as the facilities, with suite, villa and manor options that will leave you feeling gloriously pampered. Don't forget to try resort activities like cooking or cocktail-making classes!
Capella Singapore, 1 The Knolls, Singapore 098297
2. W Singapore – Sentosa Cove: For the party animal
Welcome to the playground of the rich and fabulous. Tucked away in Singapore's most coveted postcode, W Singapore's star is its WET pool. It's one of the largest outdoor resort pools with views of the South China Sea, plus private cabanas and a bar for snacks and drinks. Little wonder why it's the destination for hip pool parties! Rooms are made for A-listers, with mood lighting, massive beds, sleek furnishings and balconies overlooking stunning sights.
W Singapore – Sentosa Cove, 21 Ocean Way, Singapore 098374
3. Oasia Resort Sentosa: For a wellness retreat
Need a breather from the bustle of life? Oasia Resort Sentosa is one of the newer hotels on the island offering exquisite rooms and lush suites for a relaxing time. You're in for a tranquil treat as the hotel is all about holistic wellness, offering sunset yoga and meditation sessions, wholesome food, and pampering experiences at the spa. Unwind in peace with a soothing massage, nourish your skin with a facial treatment or opt for a grooming sesh for a wellness boost.
Oasia Resort Sentosa, Palawan Ridge, 23 Beach View, Singapore 098679
4. Amara Sanctuary Resort Sentosa: For a lush getaway
Bliss begins as you step through the doors. Nestled amongst foliage, the 140-room colonial property is home to a gym, a spa and three swimming pools. But its star accommodation is its couple suite. It's located on the luxe Larkhill Terrace block and directly opens up to the pool. Alternatively, stay in the courtyard suite for your own private jacuzzi or the family suite that comes with an outdoor verandah. To fuel up, pop by its all-day dining restaurant Shutters or head to the alfresco Tier Bar for evening cocktails.
Amara Sanctuary Resort Sentosa, 1 Larkhill Road, Singapore 099394
5. The Barracks Hotel Sentosa: For luxury and heritage
If you think this is just another luxury hotel, think again. Oozing equal parts old world charm, sophistication and heritage, the beautifully restored British artillery outpost has remnants of history peppered around the premises. It's like diving into the past – sans a time machine. Even the rooms reflect colonial charm with a modern twist. Think vintage curios, leather-accented and dark wood furnishings, plus rattan and brass accessories complemented with chic marble tiles and hints of ochre and forest green.
Guests can also enjoy heritage tours and lounge by the 30m-long lap pool for an idyllic afternoon. To get the ultimate luxury experience, book a room on the ground floor where the balcony opens up to the pool. Absolute bliss.
The Barracks Hotel Sentosa, 2 Gunner Lane, Palawan Ridge, Singapore 099567
6. Ocean Suites: For an underwater stay
Located on one side of S.E.A Aquarium, these 11 exclusive suites are designed to resemble a two-storey townhouse, with private underwater views of marine life in the lower level bedroom and an outdoor patio and jacuzzi on the upper floor. Oh, and here's a cool feature: room lights will automatically dim when the viewing panel is raised. It's an incredibly unique stay as you'll be sleeping with the fishes – all 40,000 of them.
Ocean Suites, Resorts World Sentosa, 8 Sentosa Gateway, Singapore 098269
7. One°15 Marina Sentosa Cove: For a waterside holiday
If you're hoping for a getaway without any tourist hustle, a stay at this 26-room sleek hotel will suit you just fine. It feels a lot more like an upscale country club! Relaxation station is found by the infinity pool, where you can unwind with a tipple at the bar and admire the beautiful yachts docked in the marina.
One°15 Marina Sentosa Cove, #01-01, 11 Cove Drive, Singapore 098497
8. The Outpost Hotel Sentosa: For that second honeymoon
Nothing says, "I love you" like a surprise staycation for your significant other. Enter The Outpost Hotel Sentosa, a brilliant island retreat exclusively for adults (you read that right, you won't find kids below 12 here). All guestrooms are adorned with a chic black-and-white theme, along with pillow mist kits, bespoke tea blends for a good night's sleep, and sea, pool or island views. Fancy a minibar you'd actually love? Curate yours in just a few clicks. But the clincher has to be the mega pool deck. It encompasses themed pools including a Pamukkale Pool inspired by the original pools in Turkey, a lazy river pool and an adventure pool.
The Outpost Hotel Sentosa, #03-01, Palawan Ridge, 10 Artillery Avenue, Singapore 099951
9. Sofitel Singapore Sentosa Resort and Spa: For a beach retreat
Perched atop a cliff with panoramic views of the South China Sea, this resort is a Sentosa sanctuary away from the city noise. Accommodation ranges from impeccably designed suites combining French sophistication and local flair to quiet villas boasting private swimming pools. Book an afternoon's worth of pampering at Sofitel Spa before wandering back to your abode in a delicious, sleepy daze.
Sofitel Singapore Sentosa Resort and Spa, 2 Bukit Manis Road, Singapore 099891
10. Village Hotel Sentosa: For family-friendly adventures
Planning a vacation with kids can be tough – selecting the right hotel is key. Village Hotel Sentosa is one of the island's best kid-friendly accommodations, boasting spacious family rooms (with two separate rooms and bathrooms, hallelujah!) and myriad activities for the little ones. Think family scavenger hunts and movie nights by the pool. Join your kids or chill by the pool deck (featuring four themed pools) and watch them have the time of their lives. There's even a children's play pool that mimics a beach!
Village Hotel Sentosa, #02-01, Palawan Ridge, 10 Artillery Avenue, Singapore 099951
11. Beach Villas: For a tropical sanctuary
Want to soak up serious Bali vibes? This place is a cluster of secluded villas with up to four bedrooms. Book a stay at The Palace if you're with the gang! You'll be luxuriating in four oversized bedrooms with your own private lap pool and timber sundecks for sun-soaking. Rain showers and freestanding tubs with exclusive toiletries make this one heck of a pampering stay.
Beach Villas, 8 Sentosa Gateway, Singapore 098269
12. Shangri-La Rasa Sentosa, Singapore: For family fun
Relaxing isn't the first word that comes to mind with family staycations. But this hotel will have you taking back your words. The beachfront resort is home to 454 rooms and suites with views of the hills, sea, pools or gardens. Plus, it has six restaurants and bars serving up a good selection of cuisines. In between enjoying fun family activities, kick back at Chi, The Spa at Shangri-La for a mind-numbingly relaxing massage, dip in the pool or simply take your time to hit up the superb buffet.
Shangri-La Rasa Sentosa, Singapore, 101 Siloso Road, Singapore 098970
13. Equarius Hotel: For a nature retreat
Want to wake up to amazing nature views? Book a stay at Equarius Hotel and enjoy its balconies that offer bird's eye vistas of the forest or ocean. From deluxe rooms to deluxe pool suites, you'll be getting superior slumber on comfy Egyptian cotton sheets.
Equarius Hotel, Resorts World Sentosa, 8 Sentosa Gateway, Singapore 098269
14. Siloso Beach Resort: For the eco-conscious
Siloso Beach Resort ups the game on eco-luxury with its environmental measures. Much care was taken to keep the environment intact and minimal digging was done to preserve more than 200 trees. The hotel is serious about its green initiatives in its design, energy and water usage, landscaping and waste management. In line with its surrounds of lush foliage, rooms boast an earthy palette with rattan furnishings. Check in to villas, sea-facing rooms, or roof garden suites and enjoy lazy afternoons by the natural spring water pool or hot water spa pool.
Siloso Beach Resort, 51 Imbiah Walk, Singapore 099538
15. Hotel Michael: For design enthusiasts
As far as aesthetics goes, Hotel Michael gets two thumbs up. Everything, right down to the mosaic shower tiles, is inspired by America's greatest contemporary architect, Michael Graves. Don't be surprised if you wake up feeling like you're living in an art gallery. The hotel is also closest to Universal Studios Singapore, which makes it a great resting spot if you plan to scream your lungs out at the theme park.
Hotel Michael, Resorts World Sentosa, 8 Sentosa Gateway, Singapore 098269
16. Treetop Lofts: For a real forest retreat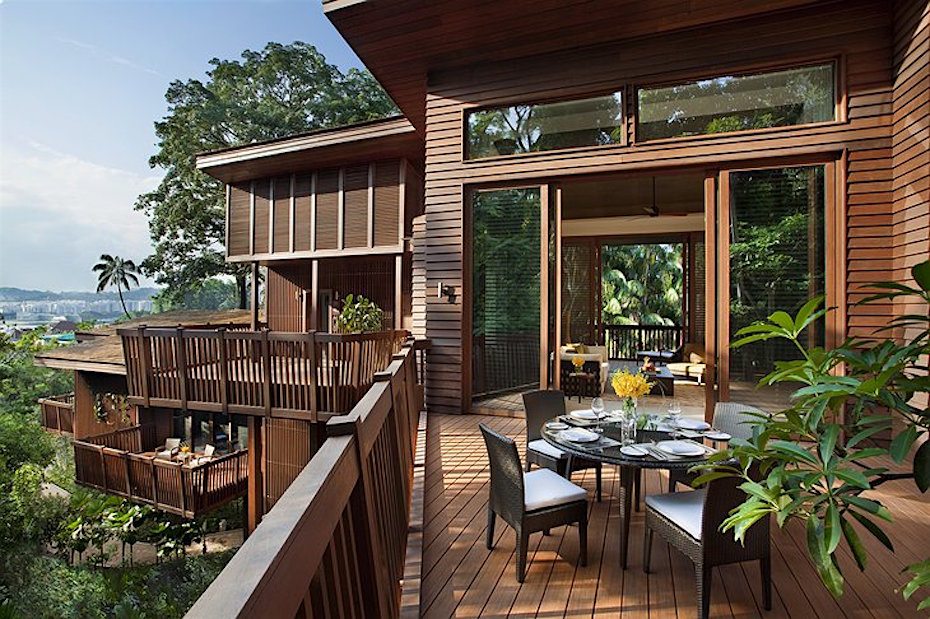 If it's a quiet lovers getaway you seek, head to Treetop Lofts. Perched 12 metres above the ground and nestled amidst a canopy of trees, it houses only two one-bedroom lofts. Within each, you'll find a spacious living room, en-suite bedrooms with walk-in wardrobes, and private outdoor terraces. But seclusion doesn't mean a lack of service, as each loft comes with a personal butler.
Treetop Lofts, 8 Sentosa Gateway, Singapore 098269
17. Hard Rock Hotel Singapore: For rock and roll fans
The newly refreshed hotel is all kinds of hip and trendy with sleek modern interiors. Get your tan on at the man-made beach, lounge by the pool in a cabana, or make a splash followed by a boozy drink at the submerged bar. Love music? You'll enjoy The Sound of Your Stay, a complimentary music amenities programme that lets you download songs for free or jam out with your fave Fender guitar. For a rejuvenating experience, the wellness yoga programme will have you relaxed in no time.
Hard Rock Hotel Singapore, Resorts World Sentosa, 8 Sentosa Gateway, Singapore 098269
18. Crockfords Tower: For the glam squad
Crockfords Tower is so exclusive, it'll make you feel like you're part of the elite world of Gossip Girl. Decked in red and gold of the finest fabrics and stately dark wood, its rooms range from suites to villas. They're made for royalty with in-built steam rooms in the bathrooms and a dedicated round-the-clock butler at your beck and call.
Crockfords Tower, Resorts World Sentosa, 8 Sentosa Gateway, Singapore 098269
Pack your bags and pick a hotel in Sentosa for your next staycation!