Photography: Open Farm community via Facebook
If you're tired of the city bustle, our guide to farms in Singapore is perfect for animal and nature lovers!
When you think of Singapore, visions of bountiful local farms don't immediately come to mind. But our dynamic metropolis is actually home to several green spots offering the freshest veggies, goat milk and fish. Purchasing straight from these wonderful aqua and agricultural establishments also mean cutting down on air miles (and your carbon footprint) for imported food — which is kinder on Mother Earth. Plus, these delightful local farms in Singapore are perfect when you need a quick escape from the claustrophobia of city living. Go forth, green warriors!
Farms in Singapore for a countryside visit
1. Bee Amazed Garden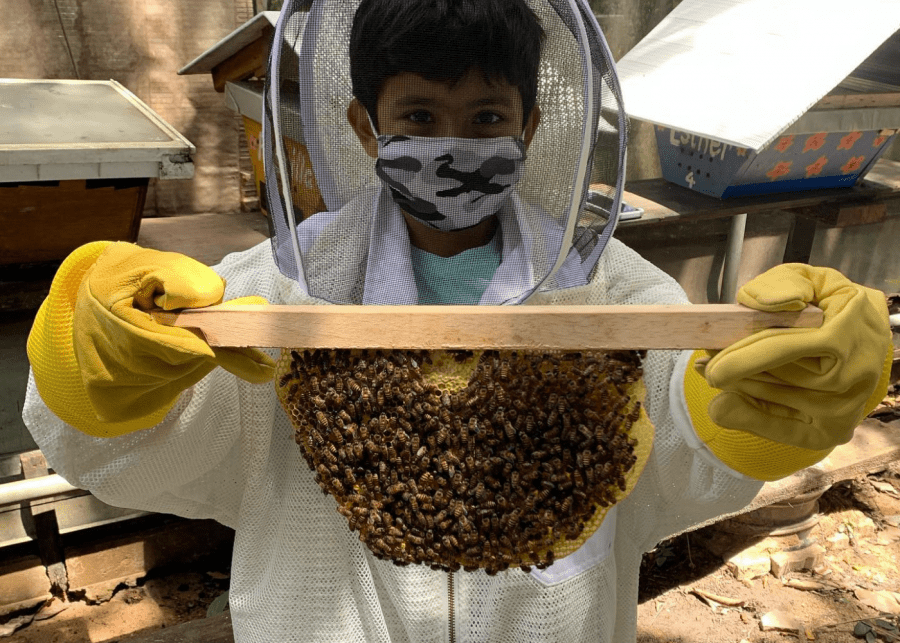 Are you buzzing to show off your bee-related knowledge or want to know more about these fascinating creatures? Bee Amazed Garden allows you to do just that. It offers educational programmes and corporate workshops that include honey tasting and basic beekeeping lessons that can be customised accordingly. A tour of the garden includes an informative history lesson on bee-keeping and local breeds, plus a visit to the beehives observatory where you can witness the bees in action from a safe distance.
Bee Amazed Garden, Kampung Kampus, 91 Lorong Chencharu, Singapore 769201
2. Hay Dairies
If you think Singapore only has animals (that aren't pets) in the zoo, think again. As the only goat farm on the island, Hay Diaries has over 800 goats of different breeds. On your visit, you can get up close and personal to view the goat milking sessions or feed them alfalfa hay from the US. Loved your animal adventure? Bring home fresh goat milk in original or chocolate flavours and souvenirs such as cotton shopping bags and handmade goat milk soap.
Hay Dairies, 3 Lim Chu Kang Lane 4, Singapore 718859
3. Bollywood Veggies
A city slicker's best bet for a serene farm break, Bollywood Veggies is home to acres of land sustainably farming all kinds of veggies and herbs. It also boasts a rustic farm-to-table bistro, Poison Ivy, and an Earth Shop that sells seasonal produce from its farm and neighbouring ones. Stock up on leafy greens, eggs and organic fertilisers while you're here! Bollywood Veggies also hosts farm tours and activities for anyone interested in a glimpse of the countryside life in Singapore.
Bollywood Veggies, 100 Neo Tiew Road, Singapore 719026
4. Jurong Frog Farm
Having been around for decades, this frog farm is home to bullfrogs, catfish, tilapia and snakehead. Keen to find out more about the amphibians? Take a tour of the sustainable facility to meet the frogs, feed them and learn about their life cycles. You can also bring home fresh frog meat, fish and even crocodile tail from your visit.
Jurong Frog Farm, 56 Lim Chu Kang Lane 6, Singapore 719164
5. Kin Yan Agrotech
Touted as Singapore's largest wheatgrass and mushroom farm, Kin Yan Agrotech is located near Sungei Buloh Wetlands Reserve. Besides specialising in wheatgrass, this quaint farm in Singapore also grows a selection of edible cacti, winter melons and aloe vera. You can get everything from king oyster mushrooms and golden spring mushrooms to black fungus and sweet potato leaves here. Best of all, the farm stays away from pesticides, chemicals and artificial fertilisers to grow its organic crops.
Kin Yan Agrotech, 220 Neo Tiew Crescent, Singapore 718830
6. Quan Fa Organic Farm
Avoiding pesticides, chemicals and harmful fertilisers, Quan Fa is one of the best organic producers in town. Farming all sorts of fruits and vegetables including pumpkins and bananas, Quan Fa has been around since 1999. Besides its locally grown crops, it also brings in leafy veggies, herbs, spices and organic condiments from neighbouring countries. That's everything you need from the farm to your dining table!
Quan Fa Organic Farm, 2G Neo Tiew Lane Plot 119, Singapore 719095
7. Open Farm Community
Want farm-fresh produce but don't have time to cook? Here's your answer! Sitting on lush greenery, Open Farm Community is a sprawling horticultural hub. At its centre are a farm-to-table restaurant and a small retail store. Surrounding these two rustic spaces is a garden brimming with herb and vegetable produce that are used to create stunning dishes. Grab a seat on the patio or park yourself on the terrace for lovely garden views. As for post-meal entertainment? Wander the grounds and you'll find kid-friendly play areas.
Open Farm Community, 130E Minden Road, Singapore 248819
8. Green Circle Eco-Farm
In this organic farm in Singapore, chemicals are banned. Water for plants come from rainwater (captured by a roof and gutter system) and materials used to support the plants are made from reused wood and items within the farm. The owners are dead serious about the quality of their farm, and you can find out more when you join a tour or opt for hands-on activities. Don't wear any perfume or smoke when you visit, though! These plants and animals need fresh air. Wanna get your goods fresh and delivered to your home? Simply shop online for vegetables, fruits, herbs and condiments.
Green Circle Eco-Farm, 41 Neo Tiew Road, Singapore 719028
9. Citizen Farm
Here's something a little different. The brainchild of Edible Garden City, Citizen Farm focuses on locally-grown food. It's a collective of farmers coming together in a community, working towards a sustainable urban farming model. Besides bringing in volunteers to help out, the farm in Singapore also offers employment opportunities for those with intellectual disabilities. Since it's an operational farm, you can't really pop by anytime, but you can keep tabs on its weekend workshops and tours to check it out. Oh, and for a regular dose of farm-fresh local produce, subscribe to the weekly Citizen Box for veggies, herbs, microgreens, mushrooms and even flowers.
Citizen Farm, 60 Jalan Penjara, Singapore 149375
10. Gallop Kranji Farm Resort
So you'd like to escape from the city and find a little countryside peace and quiet? Head to this farm resort in Singapore for some one-on-one time with nature. The place is tranquil, private and relaxing – perfect for a farm stay experience (you can bring along your furry friends, too!). Its sprawling land is home to 35 rustic villas, and to ensure you'll never be bored, family-friendly activities include in-house fruit and vegetable tours, bottle koi feeding, prawn fishing, visits to the birdnest museum, and dining at restaurants with outdoor play areas for kids.
Gallop Kranji Farm Resort, 10 New Tiew Lane 2, Singapore 718813
11. Khaiseng Fish Farm
Since 1997, this fish farm in Singapore has been sustainably farming fresh fish across more than 30 ponds. Besides rearing freshwater fishes such as catfish, the farm also imports live freshwater eel and snakehead from nearby countries. It's open for walk-ins, so you can head over to make your purchases.
Khaiseng Fish Farm, 181 Neo Tiew Road, Singapore 719023
12. Kranji Countryside
Can't decide which farm to visit? Simply escape the bustle of the city and immerse yourself in the quaint environs of Kranji Countryside. This agricultural cluster offers a slew of community activities that make the cluster's many farms more accessible to the public. Don't forget to keep an eye out for the regular farmers' market that showcases the freshest produce from local farms!
Kranji Countryside
13. Bonus: Gardenasia
Okay, this one's not quite a farm, but you do get to unwind in quiet, away from the busyness of the city. Yup, we're talking about a farm stay in the heart of the Kranji countryside. With villas modelled after black and white colonial houses, a staycay here puts you in the centre of farm life, as you're free to explore the nearby landscapes. Oh, and its on-site bistro is a chill, casual farm-to-table experience surrounded by a pond and lush greenery, with ingredients sourced from neighbouring farms. You can also shop at The Local Farm, a grocer on its premises that sells fresh produce and sustainable items.
Gardenasia, 240 Neo Tiew Crescent, Singapore 718898
There you have it, all the farms in Singapore for outdoor experiences!