Photography: M W via Unsplash
Who can resist the lure of a dozen red velvet cupcakes? Not us! Satisfy your cravings with our pick of the best in Singapore.
Hands up if you think dessert is the best part of every meal – because we sure do! Whether it's ice cream, hot chocolate, bubble tea or cakes, we've never met a sugary treat we didn't like (bad news for our waistlines!). But for the ultimate petite pick-me-up, there's no denying the appeal of a perfectly frosted cupcake. So treat yourself and indulge your sweet tooth with our roundup of the tastiest cupcakes in Singapore.
Best cupcakes in Singapore
1. Delcie's Desserts and Cakes
Worried about allergies or dietary restrictions? Your safest bet is Delcie's – and you won't have to sacrifice on flavour either. This bakery offers a fun selection of gluten-free cupcakes and other delish bakes. Choose from vegan-, diabetic-, keto- and baby-friendly sweet treats to satisfy your sweet tooth. Our favourites are the banana vanilla and molten chocolate numbers!
Delcie's Desserts and Cakes, #01-83, 34 Whampoa West, Singapore 330034
2. Creme Maison
While you might know it for its picture-perfect customised cakes, Creme Maison also churns out quality cupcakes made with the finest and freshest ingredients. Just check out these adorable terrarium-inspired ones pictured above! It has its share of classic flavours, but we love ordering the citrus berry vitamin C cupcake box. These contain cupcakes packed full of vitamin C from fresh fruits cooked into chunky jams. It even does gender reveal cupcakes if you're having a baby and want to surprise your friends and family.
Creme Maison, #08-03C, 30 Tai Seng Street, Singapore 534013
3. Butter Studio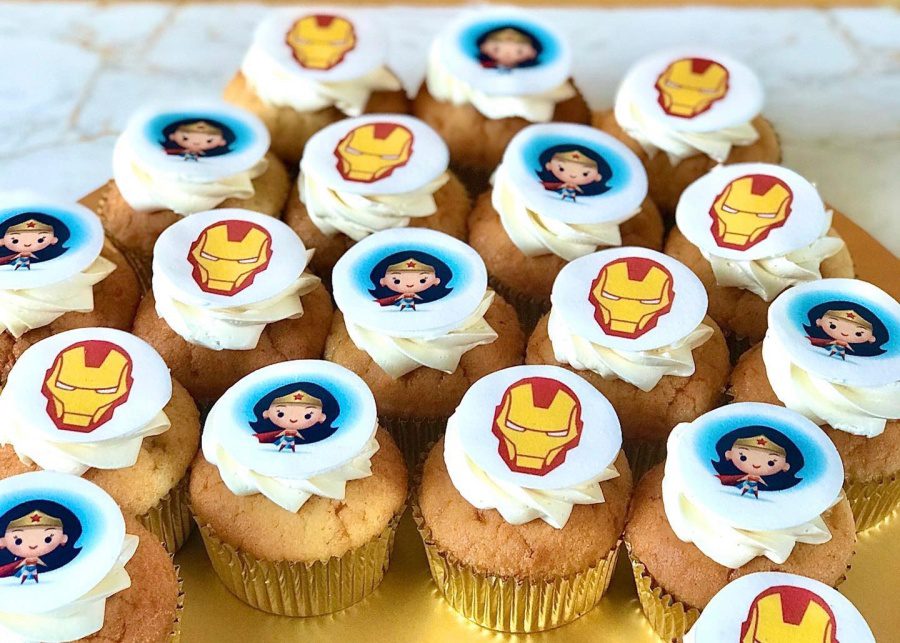 This fun bakery slaps together some of the best cupcakes in Singapore using time-tested recipes passed down from generations. Think classic flavours like chocolate, vanilla and red velvet. If you have little ones, trust us when we say these cupcakes will delight them. Order yours in varying themes for birthday celebrations – popular ones include dinosaur, mermaid and Marvel superhero designs. They'll be the talk of the party!
Butter Studio, multiple locations including Takashimaya and Bugis Junction
4. Fluff Bakery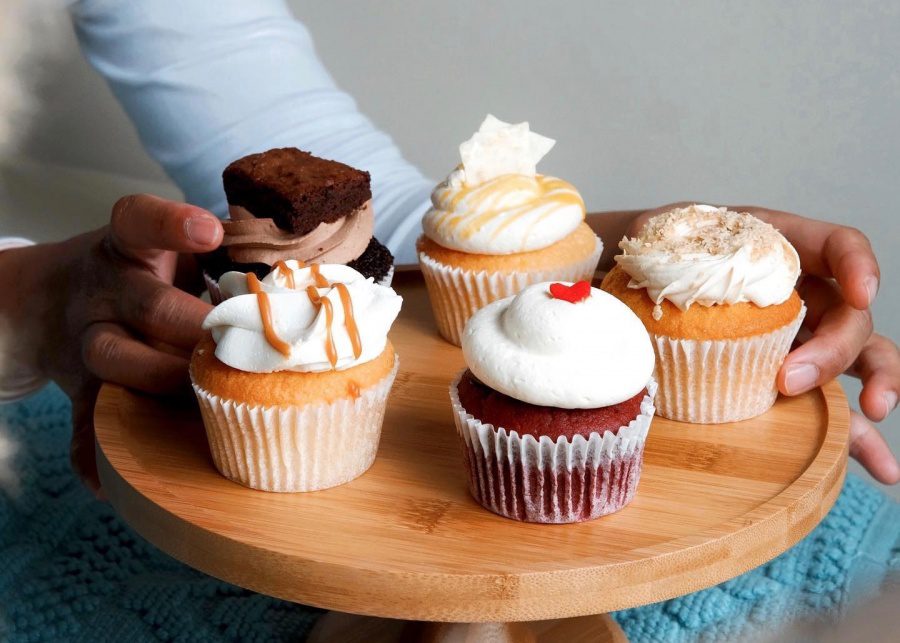 The name doesn't lie: this halal-certified bakery has been delivering confections that are delightfully fluffy and sinfully delicious since 2013. Many will agree that these bad boys are so popular, they sell out as soon as they hit the shelves. Get in quick to nab some of the most original flavours – you can't go wrong with the luscious Nutella red velvet or locally-inspired ones such as triple Milo, bandung and ondeh ondeh. Top tip: check out Fluff's Instagram page before heading over to find out the weekly specials and cupcake availability.
Fluff Bakery, 4 Jalan Pisang, Singapore 199071
5. Spatula Bakery
Believing that food should look as good as it tastes, this bakery whips up exceptional cupcakes and other baked goods such as cakes and macarons. Stuffed from brunch? Get the mini cupcakes to share for a light, (sort of) guilt-free dessert.
Spatula Bakery, 80 Changi Road, Singapore 419715
6. Plain Vanilla
What started out as a quaint little takeaway bakery in Holland Village has since become a household name. Plain Vanilla prides itself in sticking to classic age-old recipes and using quality ingredients. As a result, you get light, fluffy cupcakes that pack a punch. Delectable flavours worth trying include the classic red velvet and cinnamon brown sugar. But, without a doubt, our top pick goes to the beautifully perfumed Earl Grey lavender.
Plain Vanilla, multiple locations including Tiong Bahru and Telok Ayer
7. The Marmalade Pantry
The Marmalade Pantry is synonymous with brunch fare, but you shouldn't miss out on its decadent cupcakes. The range veers from classic to unique, including flavours like red velvet, s'mores, raspberry swirl cheesecake (with graham cracker cookies and raspberry coulis), and cloud nine, which features white coconut and cream cheese. Fans of frosting may find the icing a little on the thin side, but hey, our diets aren't complaining.
The Marmalade Pantry, multiple locations including Ion Orchard and Novena
8. Swirls Bake Shop
A cupcake bakery that boasts 101 flavours? We're fans already. With different creations rotating every month, the shop whips up American-style cupcakes that are fresh, dense and moist with saccharine-sweet frosting. We especially love that they come in three different proportions: bite-sized, regular and colossal.
Swirls Bake Shop, #01-08, 8 Rodyk Street, Singapore 238216
9. The Cake Shop
Regular, old-fashioned cupcakes aren't meeting your expectations? Add a little razzle-dazzle to your dessert table by choosing edible 3D whimsical fondant atop each cupcake. Warning: they may be too cute to eat!
The Cake Shop, multiple locations including City Square Mall and JCube
10. Little House of Dreams
The inspiration for Little House of Dreams? New York's famed Magnolia Bakery. 'Nuff said! But in all seriousness, the cafe is uber-chic and we give it brownie points for its hip location: Tiong Bahru. The desserts, especially the cupcakes, are a must-try. Think delicately frosted playful designs in pastel hues.
Little House of Dreams, #01-15, 58 Seng Poh Road, Singapore 160058
11. River Ash Bakery
This bakery knows exactly how to spruce up your bash with its rainbow swirls of frosting and floral-themed cupcakes. Oh, and those who want a cohesive concept for your party can opt for a bundle deal consisting of one cake and half a dozen cupcakes – all in the same theme.
River Ash Bakery, #B1-28, The Promenade@Pelikat, 183 Jalan Pelikat, Singapore 537643
12. Oni Cupcakes
Oni Cupcakes has been around the sugary block for more than a decade, serving up OTT cupcakes that are pleasing to the eyes and palate. Choose from regular or large-sized cupcakes and plump for tastebud tingling flavours. If you're getting a bit of baker's envy, you can always sign up for one of its classes and brush up on your decorating skills.
Oni Cupcakes, #02-09, Depot Heights Shopping Centre, 108 Depot Heights, Singapore 100108
We bet you can't wait to taste the best cupcakes in Singapore!