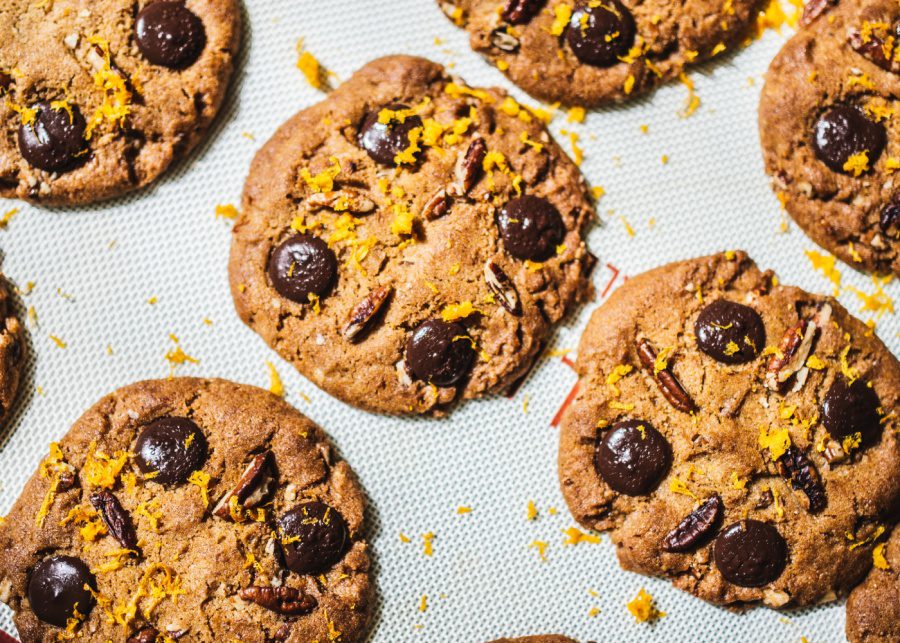 Photography: Jade Wulfraat via Unsplash
Follow the crumbs and they'll lead you to the best cookie spots in Singapore.
Did someone say cookies? As much as we love our burnt cheesecakes, macarons, scones, donuts and cupcakes, we'll always have space in our hearts for this classic baked treat. From chewy and soft to chunky and crunchy, these are our go-to spots when we're craving cookies in Singapore.
Best cookies in Singapore
1. Ben's Cookies
Guess who's back? Funnily enough, the English brand returned to the same spot in Orchard Road, and it's gotten us all excited. Expect to see the iconic red tins on the shelves again alongside classics like milk chocolate chunk and white chocolate chunk. In celebration of its comeback to our shores, Ben's Cookies has unveiled two exclusive flavours: orange and milk chocolate, and ginger and dark chocolate.
Ben's Cookies, #B1-50, Wisma Atria, 435 Orchard Road, Singapore 238877
2. Spatula & Whisk
If you're looking for one-of-a-kind cookies, this homegrown brand is your best bet. Where else can you find flavours such as Milo and coffee chocolate? We love that the cookies contain none of the nasties and preservatives, so you can keep munching on the treats without feeling guilty. Bonus points for its eco-conscious efforts of using kraft packs in order to reduce carbon footprint and environmental impact.
Spatula & Whisk, #01-42, 9 One-North Gateway, Singapore 138643
3. Folks & Stories
Forget about calories and sink your teeth into Folk & Stories' bakes goods. The cookies are a beaut and look like tasty moons. For a classic flavour, try the Ambitious Sailor, a simple but decadent sea salt dark chocolate cookie. Other popular creations include the Edgy Connoisseur, a miso and cashew cookie topped with caramelised white chocolate, and the Nutty Professor, a roasted pistachio and brown butter cookie. We suggest going for the signature box to try all the best-selling flavours!
Folks & Stories, multiple locations including Everton Park and Toa Payoh
4. The Cookie Museum
For a fine dessert, a museum is definitely in order and the "exhibits" here are all edible! Jokes aside, this store has been offering gourmet cookies in Singapore for more than a decade. Popular choices include pandan chiffon, madeleine rose and honey violet. For a hint of savoury, there's the nasi lemak cookie.
The Cookie Museum, multiple locations including Suntec City and Raffles City Shopping Centre
5. Nasty Cookie
What started out as an online store in 2018 has since turned into a brick-and-mortar shop. Before we go on, let's get one thing straight. There's nothing nasty about these calorie-laden, jumbo-sized cookies. We don't know how they do it but each cookie is chewy, chunky and a tad bit crunchy – trust us, the proof is in the pudding. The flavours may seem standard for dessert fiends, but boy are they decadent. Take the Oh! Smores and Choco Bueno, for example. The former is stuffed with gooey marshmallows (break the cookie and watch it stretch), while the latter is mounted by a piece of Kinder Bueno.
Nasty Cookie, multiple locations including Funan and Orchard Gateway
6. Kooks Creamery
Here's an ice cream parlour that puts out decadent molten lava cookies. Cut your spoon into the cookie and you'll get a sweet puddle of matcha or chocolate oozing out. Don't forget to top it with a scoop of ice cream to add a little frost to the warm cookie. Oh, and the e-store offers more cookie flavours such as red velvet with cream cheese filling and chocolate chip with speculoos filling.
Kooks Creamery, multiple locations including Serangoon and Bedok
7. Old Seng Choong
Known for its bakes inspired by local flavours, Old Seng Choong takes its experimentation to the next level by doling out crunchy cookies in flavours like laksa, cereal prawn, sambal nasi lemak and satay. If you're a traditionalist at heart, you can stick to Earl Grey and coffee cookies, which are equally delish.
Old Seng Choong, multiple locations including Clarke Quay and Marina Bay Sands
8. Famous Amos
We're pretty sure there's a Famous Amos store just a stone's throw away from you. Or you can simply follow the heady scent of these crunchy cookies baking in the oven. Get 'em by weight: 200g, 300g or 400g. Our top flavours would have to be no-nut chocolate chip, butterscotch chip pecan, and white chocolate chip macadamia.
Famous Amos, multiple locations including Wisma Atria and Nex
So, there you have it. The best cookies in Singapore. Happy munching, folks!
[This article was originally published in 2021 and updated in 2023 by Sufyan Saad.]