Photography: Roman Odintsov via Pexels
In the mood for brunch or coffee? Here's our edit of the best cafes in Singapore...
To say we're obsessed with food is an understatement. We've got top-notch restaurants and bars, amazing breakfast spots and fab cafe culture. With the rise of great cafes setting up shop at residential estates, you're just a five-minute stroll from home to good grub and coffee (or tea). Say hello to your barista neighbours, or better yet, venture to a new neighbourhood with our nifty guide to the absolute best cafes in Singapore.
Best cafes in Singapore: Orchard
1. Mr Holmes Bakehouse
If you haven't had a cruffin, now is the time to try one. Mr Holmes Bakehouse serves up this delicious hybrid of croissant and muffin – sugar-dusted and cream-piped to perfection. Pop down and enjoy them in flavours like lemon meringue and pistachio. Wanna grab a savoury sandwich to go instead? No problem. It also doles out delish sammies like tomato and pesto, or tuna salad.
Mr Holmes Bakehouse, multiple locations including Pacific Plaza and MYP Centre
2. Wild Honey
This homegrown cafe is a popular go-to spot for comforting brunch food. Pop in for a respite from the hustle and bustle of the city, with photo-worthy interiors and delicious food. Signature favourites include Corsican, a classic omelette folded with goat and feta cheese; Delancey, sliced beef pastrami with poached eggs; Tunisian, a spicy shashouka dish with brioche, and more.
There are also sweet treats like apple crumble, Basque cheesecake and artisanal ice cream to end your meal, alongside a selection of coffees and teas. Alternatively, drop by from Sundays through Thursdays for a tipple during happy hour.
Wild Honey, multiple locations including Mandarin Gallery and Scotts Square
3. Hvala
Boasting teas such as matcha, hojicha and genmaicha from different prefectures in Japan, this minimalist cafe lets you find your inner calm away from the bustling streets of Orchard. Sip on lattes, ice blends and cold brews for a quick pick-me-up. Looking to stay longer? Pair your drinks with a wide array of cakes and tarts in flavours like yuzu, goma, and matcha.
Hvala, multiple locations including Somerset and Craig Road
4. Bacha Coffee
Experience a dash of Moroccan culture at Bacha Coffee's posh space, which is drenched in accents of blue, brass and chrome. With more than 200 single-origin coffees, flavoured coffees, fine blended coffees and naturally decaffeinated coffees displayed on saffron-lined wooden shelves, you'll be spoilt for choice. Oh, and did we mention all brews are served in a golden gooseneck coffee pot? Truly, it's coffee fit for a king. Psst: don't miss out on the croissants!
Bacha Coffee, multiple locations including Ion Orchard and Takashimaya
5. Nassim Hill Bakery Bistro Bar
Tucked away in the Tanglin Post Office building, this bistro located at the edge of Orchard Road may be an extra bus ride from the MRT station, but it's sure worth the extra legwork for the food. A casual atmosphere good for group gatherings, the place offers an extensive menu comprising brunch and dinner options alongside desserts and drinks.
Nassim Hill Bakery Bistro Bar, #01-03, Singapore Post – Tanglin Branch, 56 Tanglin Road, Singapore 247964
6. PS.Cafe Palais Renaissance
PS.Cafe is never a bad idea. You know to expect great food, chic aesthetics and a fab dining experience. Looking for something classy? The Palais Renaissance outlet is ideal for brunch, with its iconic high ceilings, classic decor, an outdoor eating area and plenty of natural light for that perfect Instagram shot. Of course, the food doesn't disappoint either – heap on pasta plates, sandwiches, truffle fries and chocolate cakes to your order.
PS.Cafe Palais Renaissance, #02-09A, Palais Renaissance, 390 Orchard Road, Singapore 238871
7. Oriole Coffee + Bar
Cold brew lovers, Oriole Coffee is the one for you. The signature in-house cold brew coffees are delicious, and you can have them either in black, with milk or with cold-pressed nut milk made of macadamia, almonds and dates (aptly called M.A.D. milk). Do check out the all-day breakfast dishes and a wide selection of mains including the juicy Oriole truffle burger, sweet soy pork ribs, and treats such as the gula melaka lava cake.
Oriole Coffee + Bar, #01-01, Pan Pacific Serviced Suites Orchard, 96 Somerset Road, Singapore 238163
8. Little Farms Cafe at Valley Point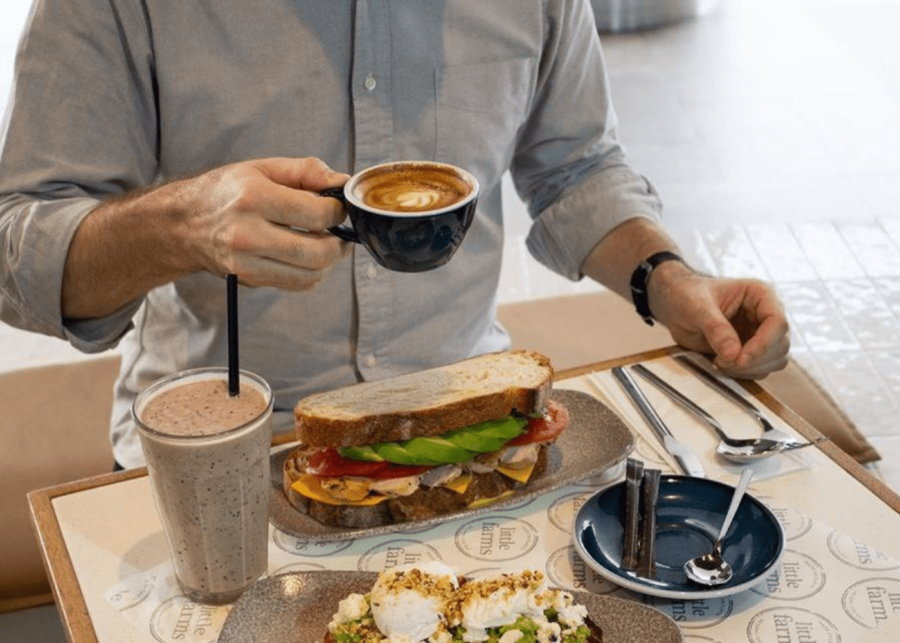 With a mindful approach to eating well, Little Farms prides itself on bringing ethically sourced food to your table. This cafe at River Valley is a go-to for healthy meals in the 'hood. It features light bites like salads alongside hearty and healthy mains that'll satisfy. We're also digging its in-house baked treats for a sweet end to the meal.
Little Farms Cafe at Valley Point, #01-25, Valley Point Shopping Centre, 491 River Valley Road, Singapore 248371
9. The Coffee Academics
This coffee chain from Hong Kong sure knows its stuff. No wonder we keep going back for more! Take your pick from classics like latte and cappuccino, and browse through the menu for popular Okinawa and Manuka drinks – it's coffee with Okinawan brown cane sugar and honey respectively. In the mood for a fizzy one? Try the espresso sodas to go with your all-day brekkie plate.
The Coffee Academics, multiple locations including Scotts Square and Raffles City
10. Plain Vanilla
You may think the cupcake craze is over, but big players like Plain Vanilla ain't going anywhere. One of the OGs on the scene, the secret to its success is an emphasis on quality – only the finest of ingredients like French butter, pure Madagascar Bourbon vanilla and bittersweet Belgian chocolate are used. No shortcuts, no preservatives.
Plain Vanilla, multiple locations including Tiong Bahru and Ion Orchard
11. The Assembly Ground
It's founded by the folks behind menswear brand Benjamin Barker, but they certainly know their stuff when it comes to food and drinks. Here, you'll find particularly intriguing brunch items including a rosti benedict and a hearty Assembly brunch. The pasta dishes are scrumptious too – we suggest you go for the truffle carbonara or crab pomodoro.
The Assembly Ground, #01-01, Cineleisure, 8 Grange Road, Singapore 239695
12. Lady M
Looking for outstanding mille crepes? You can find them all at Lady M. Get a window seat at the Orchard Central branch for some people-watching as you tuck into one of the seasonal delights. For something different, Lady M also whips up fantastic confections like vegan chocolate tarts and eclairs.
Lady M, multiple locations including Orchard Central and Jewel
13. Merci Marcel
Looking for rustic, authentic French cuisine? You'll be saying "Merci" (that's "thanks" in French) to Merci Marcel for its stunning ambience and a vast selection of grub. From ravioli filled with succulent tete de moine cheese to the rosemary-infused chicken breast with blue-foot mushroom cream sauce, it'll leave you saying "saybon"!
Merci Marcel, multiple locations including Palais Renaissance and Tiong Bahru
---
Best cafes in Singapore: Siglap & Joo Chiat
14. Good Chai People
In need of some chai to tide you through the day, but having a hard time finding it on the beverage menus of your favourite cafe? We've got you. Good Chai People is the first cafe in Singapore to specialise in handmade sticky chai. It offers variations of hot or cold chai with unique flavours, as well as coffee and a spread of brunch options.
Good Chai People, 225 East Coast Road, Singapore 428922
15. Craftsmen Specialty Coffee
Wondering where to get a potent cuppa joe in Siglap? We point you in the direction of this quaint coffee connoisseur, huddled within a charming store filled with whimsical details like Danish pottery and nutcracker dolls. Once you're done getting googly-eyed at the decor, order anything from hazelnut and butterscotch latte to espresso and cortado – it's all on the menu. Oh, and did we mention the waffles are a must-try?
Craftsmen Specialty Coffee, multiple locations including Siglap Village and Clarke Quay Central
16. Cafe Natsu
Missing the cafes in Melbourne? This fun fusion concept dreamed up by Lewis Barker, head chef of Michelin-starred Sommer, will impress you. Make your way to Joo Chiat and chow down on brunch staples with a Japanese flair. Think wagyu sandos and shio kombu gnocchi in a laid-back, elegant setting. Oh, and you won't catch us saying no to dessert here. We recommend filling up on its creamy baked Hokkaido cheese tarts.
Cafe Natsu, 283 Joo Chiat Road, Singapore 427537
17. Hello Arigato
We're familiar with the thicc sandos and fragrant coffee at Hello Arigato's Upper Thomson outlet. But its newly opened second space in Joo Chiat is just as sweet. Swing down for crispy kombu tater tots and sandwiches filled with thick and juicy slabs of beef. The gyu sando in particular contains Angus beef sirloin and caramelised sweet onion jam. Delish!
Hello Arigato, 314 Joo Chiat Road, Singapore 427565
18. Baker's Well
Besides the flavoursome line-up of coffees that will keep you up all day, Baker's Well is also home to sweet treats like muffins, buns and even whole cheesecakes if you feel like having a decadent feast! Plus, the cosy cafe exudes a relaxing ambience that's perfect for a long, lazy catch-up.
Baker's Well, 35 East Coast Road, Singapore 428754
19. Little Farms Bistro at Katong Point
Little Farms Bistro offers only the freshest, healthiest and tastiest natural and organic foods. Its kitchen creates healthy and delicious meals, while baristas serve beverages and pastries at the coffee kiosk. Popping by to grab and go? Opt for a hot cappuccino and pistachio raspberry rose cake. If you're craving a drink or two, there's a bar counter offering artisanal wine, craft beer on tap, and bespoke cocktails such as the refreshing spritz. Don't miss out on breakfast, brunch, lunch and dinner menus with signature dishes and creations like homemade falafel for starters. Plus, smashed avocado on toast and the O'Connor rump steak and eggs for mains alongside salads, plant-based dishes and fresh pasta.
Little Farms Bistro at Katong Point, #01-04, 451 Joo Chiat Road, Singapore 427664
20. The Royals Cafe
All-day breakfast places aren't only congregated in the heart of town; there's one right here in Siglap! The cafe feeds you like royalty with delish pasta and juicy burgers alongside Asian options such as Nyonya mee siam and nasi lemak.
The Royals Cafe, Crescendo Building, 19 Upper East Coast Road, Singapore 455209
21. Dutch Colony Coffee Co.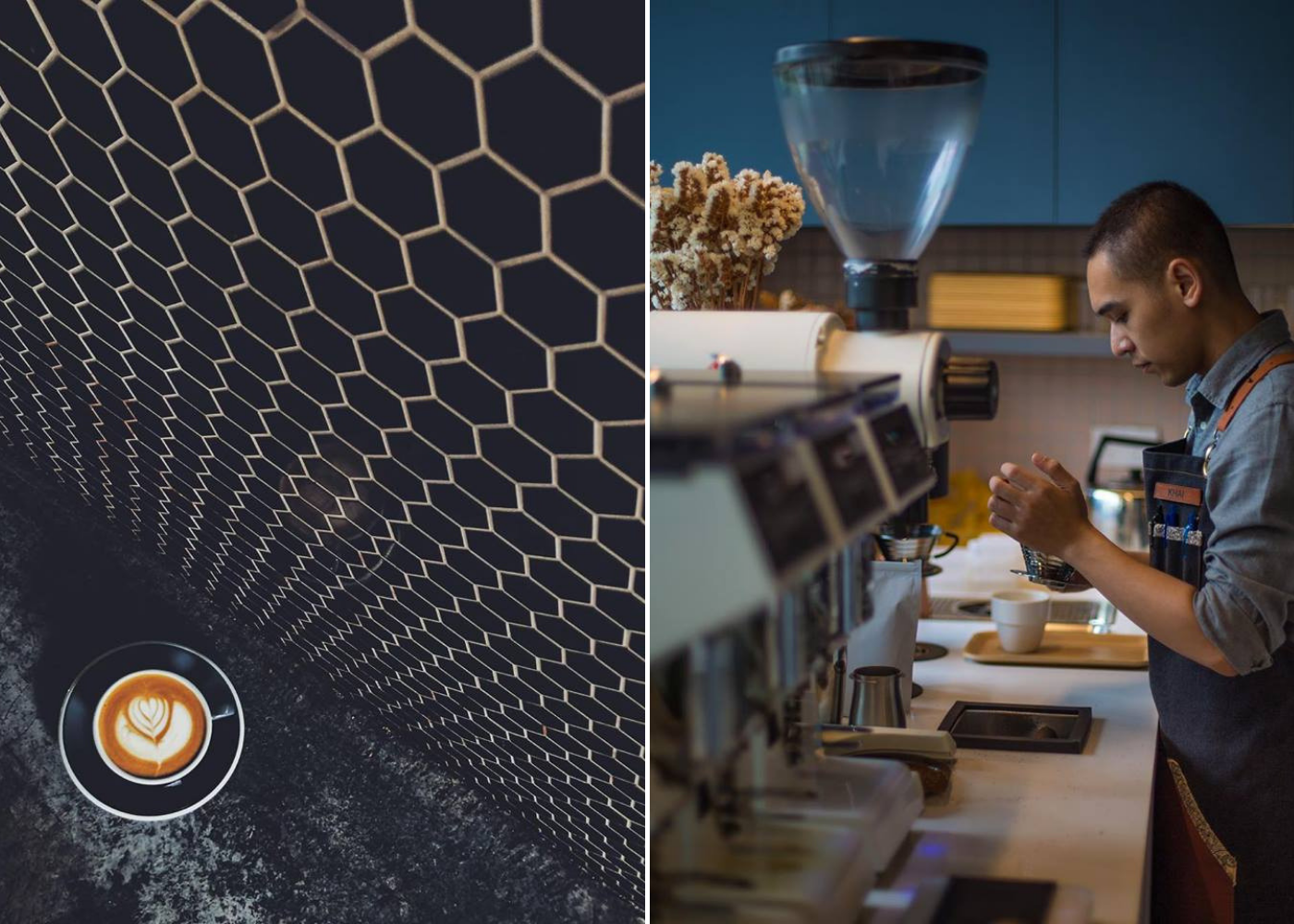 This place serves a mean cup of coffee and divine brunch selections. Together with chill vibes and its sleek interior design (look, glass ceiling roofs!), this is our go-to spot for a date with our books.
Dutch Colony Coffee Co., 113 Frankel Avenue, Singapore 458230
22. Chanterelle Cafe
Planning on going veg anytime soon? Stop by Chanterelle for delicious grub and tasty drinks. We're talking savoury classics such as vegan egg-free "egg" toast, meat-free bolognese pasta and sweets like Nutella toast. Wash it all down with an array of unique concoctions like purple sweet potato latte and rooibos cream orange tea. Psst: pawrents and your four-legged kids are welcome, too.
Chanterelle Cafe, #01-02, Siglap Village, 2 First Street, Singapore 458278
---
Best cafes in Singapore: Balestier & Novena
23. FatCat Ice Cream & Coffee Boutique
Charcoal waffles with salted caramel sauce and iced butter coffee … these are just a few of FatCat's fancy menu offerings. This chi-chi cafe even offers unique and absolutely stunning ice cream cakes. Get the one shaped like a giant cookie or a rose for that next special occasion.
FatCat Ice Cream & Coffee Boutique, 15 Simon Road, Singapore 545907
24. The Clueless Goat
The Clueless Goat is a no-frills coffee house serving brews that will excite any coffee junkie – piccolo, anyone? Perpetually crowded on weekends, it's popular for typical brunch fare like poached eggs on toast and yogurt with granola.
The Clueless Goat, Goldhill Plaza, 189 Thomson Road, Singapore 307631
25. Otto Sourdough Pizza & Espresso Bar
Tucked away in an unassuming location (on the eighth floor of a medical centre), this cafe is a hidden gem. With its cosy atmosphere and wooden interiors, it makes you want to cuddle up in one of the nooks armed with a hot cuppa and a good novel. And you can't walk away without trying the sourdough pizzas and bakes.
Otto Sourdough Pizza & Espresso Bar, #08-37, Novena Medical Centre, 10 Sinaran Drive, Singapore 307506
26. The Ritual
This underrated gem sits cosily on the outskirts of Novena. The Ritual provides a chill, intimate space for you to munch on grub and smash out your workload. Be sure to try the housemade Swiss rosti with smoked salmon or truffle mushroom pasta. Sip on cold-pressed juices or smoothies to escape the heat of the day.
The Ritual, #01-09B, Alocassia Apartments, 383 Bukit Timah Road, Singapore 259727
---
Best cafes in Singapore: Bedok
27. Percolate Coffee
Percolate is an unpretentious joint for coffee connoisseurs, stocking a decent range of beans from all over the world including Colonna Coffee from the UK. Stop by for brunch and dig into the buttery croissants and sandwiches stuffed with curry egg mayo, smoked salmon or hae bee hiam.
Percolate Coffee, #01-152, 136 Bedok North Avenue 3, Singapore 460136
28. Milk and Honey
Furnished with plastic stools and foldable tables, the tiny ice cream shop may not look like much, but it churns out lovely house-made gelatos and fluffy waffles. Order a tub to go – it'll make for the perfect movie night companion.
Milk and Honey, #01-179, 86 Bedok North Street 4, Singapore 460086
29. Refuel
Hey, early birds. Pop by this charming coffee house into your weekend plans for a generous yet affordable brunch. The pancake stack with vanilla ice cream will only set you back $9.90! If that doesn't tickle your fancy, get a slice of the earl grey lavender or red velvet Nutella cake.
Refuel, Reservoir Village, #01-3029, 744 Bedok Reservoir Road, Singapore 470744
30. Black&Ink
Looking for a quiet corner for an overdue catch-up session with your mates? Bedok has a hidden gem perfect for you. Packed with a menu to satisfy your brunch, dinner and tea time cravings, this place dishes out plates of tipsy otah fries and momma's laksa pasta for spice lovers.
Black&Ink, 29 Swan Lake Avenue, Singapore 455718
---
Best cafes in Singapore: Buona Vista & Clementi
31. Jimmy Monkey Cafe & Bar
These folks were one of the first to set up shop in the area. An Australian-style hangout, it's mostly known for brunch items such as avo toast, pancakes and eggs benedict, but many coffee aficionados make the journey to try blends made with its legendary Slayer espresso machine.
Jimmy Monkey Cafe & Bar, #01-51, One-North Residences, 9 One-North Gateway, Singapore 138643
32. Olla Specialty Coffee
As Singapore's first mobile coffee catering company, Olla finds its home in Clementi, providing good food, good drinks and good vibes for the community. Indulge in buttermilk waffles with gelato and pair your dessert with a vast selection of hot and cold brews for a lazy weekend afternoon.
Olla Specialty Coffee, #01-03, 109 Clementi Street 11, Singapore 120109
33. The Lawn
Don't want to miss out on the cafe-hopping fun, but watching your diet closely? Have your cake and eat it too at The Lawn. It's a health-conscious salad stop where you can customise your green bowl with an array of toppings and meats. We're not talking plain steak cubes and grilled chicken, by the way – chow down on items like grilled salmon, sous vide pesto chicken breast, and chargrilled prawns.
The Lawn, #01-07, Nanos, 31 Biopolis Way, Singapore 138669
34. Bodacious Bar & Bistro
Big, bold and bodacious best describes this under-the-radar cafe's grub – think lobster roll, wine-braised lamb and duck confit. Major plus points for the floor-to-ceiling windows and breezy atmosphere despite the industrial decor style. And if you're there at the right time, you can catch live music acts.
Bodacious Bar & Bistro, #01-05, Biopolis Way, 70 Biopolis Street, Singapore 138547
35. Buttercake n Cream
Planning to pair your coffee with a proper meal and dessert? Buttercake n Cream's extensive menu features stews, pasta and grilled meats. With its flora-surrounded rustic decor, you'll feel like you're dining in an indoor garden.
Buttercake n Cream, #01-52, Sundet Way, 106 Clementi Street 12, Singapore 120106
---
Best cafes in Singapore: Holland Village
36. Sunday Folks
This famous cafe has it all: sleek decor and Insta-worthy desserts. Indulge your sweet tooth with the iconic soft-serve ice cream that comes in seasonal flavours. Keep a lookout for new interesting flavours on its Instagram page, too! We highly recommend pairing your scoop of ice cream with the crispy waffles – that's the quintessential Sunday Folks experience.
Sunday Folks, #01-52, Chip Bee Gardens, 44 Jalan Merah Saga, Singapore 278116
37. Baker & Cook
We love Baker & Cook for its delish brunches, fab bakes and irresistible desserts. The Holland Village cafe offers both savoury and sweet dishes worthy of all the calories. Don't miss out on the chocolate croissants, savoury cheese twist and salted jam bombolini!
Baker & Cook, #01-56, Chip Bee Gardens, 44 Jalan Merah Saga, Singapore 278116
---
Best cafes in Singapore: Paya Lebar
38. Coexist Coffee Co.
This Instagrammable cafe will have you falling in love at first sight. It sports industrial-style decor with splashes of warm wood. And this coffee-centric establishment doesn't just serve up great looks. The food is delicious! The cafe is a massive two-storey outlet at the Lifelong Learning Institute, so you'll find plenty of spots to sit and enjoy your cuppa.
Coexist Coffee Co., #01=02, Lifelong Learning Institute, 11 Euons Road, Singapore 408601
39. Knots Cafe & Living
Kill two birds with one stone at Knots Cafe & Living. It's where you can get your coffee fix and nip that itch to shop. Admire the wide variety of home decor pieces on display. See something you like? Snap it up once you're done tucking into the all-day breakfast menu. The warm and comforting ambience of the cosy space will have you relaxed for the weekend.
Knots Cafe & Living, #01-07, 160 Paya Lebar Road, Singapore 409022
---
Best cafes in Singapore: Hougang
40. Two Cranes
For an afternoon of coffee and chill, make this your go-to. It offers a full brunch menu, with signatures like the big breakfast: creamy scrambled eggs, sautéed mushrooms, baked beans, bacon and all that jazz. Or hop in at lunchtime for spicy kimchi fried rice or wonda army stew.
Two Cranes Cafe, #01-291, 211 Hougang Street 21, Singapore 530211
41. Lola's Cafe
A quick stroll from Kovan MRT, the laidback cafe offers brunch classics such as crab cake benedict, croissants and sammies. For a neighbourhood haunt, the craft beer selection is pretty decent too – it's got beers categorised into different types.
Lola's Cafe, 5 Simon Road, Singapore 545893
42. Lickers
A gem of a find, Lickers is the perfect spot for a sweet midnight rendezvous as it stays open till 2am. You won't spot any synthetic flavourings or off-the-shelf mixes in the house-made ice cream, which we love for its wacky flavours. If you're not up to travel all the way to Hougang, the store delivers too.
Lickers, #01-1446, 124 Hougang Avenue 1, Singapore 530124
---
Best cafes in Singapore: Seletar and Punggol
43. Wheeler's Estate
We all know and love the industrial-looking Wheeler's Yard (mostly for its Insta-famous blue door) in Balestier. Here, meet its sister establishment. Consisting of a restaurant, cafe, bar and events space, Wheeler's Estate is every cafe-hopping, latte-sipping, brunch-loving foodie's dream come true: It's set on two acres of lush greenery in a cluster of beautifully restored colonial bungalows at Seletar Aerospace Park – need we say more? Menu-wise, the joint plates up brunch staples like eggs benedict, alongside heartier mains such as lamb kofta and battered black cod.
Wheeler's Estate, Seletar Aerospace Park, 2 Park Lane, Singapore 798386
44. Whisk and Paddle
This massive open-air bistro provides tranquil views of the river and its surroundings. On the menu, you'll find a whole host of comfort grub, including macaroni and cheese, eggs benedict with smoked salmon served atop waffles and a wide selection of pizzas. It's also a charming watering hole in the evening; come by to kick back over cocktails and bar bites.
Whisk and Paddle, #01-01, 10 Tebing Lane, Singapore 828836
45. Rise & Grind Coffee Co.
Punggol has its fair share of cosy cafes serving comfort food. Expect bites like truffle fries and spicy buffalo wings to gear you up for tasty mains such as the signature chicken chop and pasta selections. If you're a dessert person, treat yourself to a scoop of ice cream with buttermilk waffles. These folks definitely rise to the occasion!
Rise & Grind Coffee Co., #01-06, Oasis Terraces, 681 Punggol Drive, Singapore 820681
46. Wildseed Cafe & Bar
Together with The Summerhouse, Wildseed is a cafe nestled within the dining enclave of Seletar Aerospace Park. Thanks to its original colonial architecture and tranquil gardens, the space oozes old world charm – total Instagram fodder! Expect a menu of brunch bites, sandwiches, cakes, pastries and freshly roasted coffee. It gets better: Wildseed transforms into a bar at night, offering floral and herb-inspired tipples.
Wildseed Cafe, 3 Park Lane, Seletar Aerospace Park, Singapore 798387
---
Best cafes in Singapore: Mountbatten
47. Sweet Garden Dining Cafe
Just a stone's throw from Mountbatten MRT station, this cosy spot serves a selection of savoury and sweet delights. Pull up a chair and order an array of mains, pastas, and pastries. With chillax outdoor seating and free Wi-Fi, you'll be back for more. The best part? No GST!
Sweet Garden Dining Cafe, #01-50, 32 Cassia Crescent, Singapore 390032
48. Cafe Melba
Located in the one and only Goodman Arts Centre, Cafe Melba delivers quality, unpretentious nosh made with the freshest ingredients possible. Come on, these folks even cure their own bacon! While the food is top-notch, what we really adore is the alfresco dining area – the space is so cleverly designed that it's cosy and intimate, yet breezy and private all at once.
Cafe Melba, #01-56, Block N, Goodman Arts Centre, 90 Goodman Road, Singapore 439053
49. Brawn & Brains
Temporarily closed.
In a quiet part of Guillemard Road, Brawn & Brains is a refreshing respite from the crowds of Geylang. The minimalist cafe is every bit magazine-perfect and you can't go wrong with the coffee here. Don't forget to tuck into the daily selection of pastries for a quick treat.
Brawn & Brains, #01-02, 100 Guillemard Road, Singapore 399718
---
Best cafes in Singapore: Queenstown
50. Tiong Hoe Speciality Coffee
Surprise: this coffee house actually started way back in 1960. Yes, Tiong Hoe was probably the mother of all hipster neighbourhood cafes. Besides serving a mean cuppa, it also conducts coffee appreciation workshops for bean aficionados. If you're in pursuit of the perfect roast at home, give the beans here a try. You can get them pre-roasted or raw, or even subscribe to get a monthly bean delivery.
Tiong Hoe Specialty Coffee, #01-1133, 170 Stirling Road, Singapore 140170
---
Best cafes in Singapore: Jalan Besar
51. Apartment Coffee
With a minimalist approach, you'll feel right at home amidst the intimate corners and counter seats. Fun fact: the furniture is Scandinavian and the ceramic cups are locally designed. Its menu puts out fragrant cups of fresh brews. Pair these tasty beverages with warm bakes such as brownies, croissants and cookies.
Apartment Coffee, #01-01, 139 Selegie Road, Singapore 188309
52. Chye Seng Huat Hardware
Chye Seng Huat Hardware is a sought-after Jalan Besar hangout home to Singapore's first 360-degree coffee bar. If the heat's getting to you, sit down for a bottle of this cafe's smooth, cold-brewed coffee for a perk-me-up. Also on the menu: brunch treats like quinoa salad and the hangover-slaying Papa's Breakfast of toasted multi-grain bread piled high with pork sausage, portobello mushrooms, tomato jam and eggs.
Chye Seng Huat Hardware, 150 Tyrwhitt Road, Singapore 207563
53. Butter Studio
There's nothing we love more than the buttery smell of baked goods, and that's what pulls us into Butter Studio time and again. Cupcakes here are all-round winners and they get extra points for the nostalgic decor.
Butter Studio, 147 Jalan Besar, Singapore 208865
---
Best cafes in Singapore: Tiong Bahru
54. Drips Bakery
If you're all about that sweet life, you need to check out Drips Bakery. The patisserie has everything from cakes and scrummy tarts to cookies and scones served with homemade jam. Pair it all with a cup of signature cold drip coffee to ease the sweetness.
Drips Bakery, #01-05, 82 Tiong Poh Road, Singapore 160082
55. Tiong Bahru Bakery
The iconic Tiong Bahru Bakery is, unsurprisingly, still one of our top spots for French pastries. Hot sellers such as the butter croissants and chocolate croissants look almost too good to eat – the layers are distinctly fanned out and provide a great crisp to the pastry. To satisfy your sweet tooth, you have to give the kouign amann a go; and don't get us started on the rich, fudgy brownies!
Tiong Bahru Bakery, multiple locations including Tiong Bahru and Funan
56. Prive
Looking for classy but cool neighbourhood cafe vibes? Prive offers just that. You can't go wrong with anything off the all-day breakfast menu. Wash it all down with some boozy beverages like the signature Singapore Sling and gummy bear margaritas.
Prive, #01-88, 57 Eng Hoon Street, Singapore 160057
---
Best cafes in Singapore: Toa Payoh
57. Kopifellas
Kopifellas runs with one main objective: to keep the Singapore coffee shop heritage alive and well in today's world. Striving to appeal to all ages, it offers dishes that suit diners for breakfast, lunch and dinner. Expect bites like kaya butter toast and soft boiled eggs alongside fishball noodles and laksa. And of course, enjoy it all with a fresh cup of kopi!
Kopifellas, #01-532, 190 Lorong 6 Toa Payoh, Singapore 310190
58. Creamier
Remember when Creamier broke our hearts after it closed its first outlet in Toa Payoh? Well, it came back in a hot minute at a new spot but still in the same 'hood. It's one of our go-tos for two of our favourite things: ice cream and coffee. The simple cafe attracts everyone from all walks of life, and we love it for the popular Earl Grey lavender ice cream.
Creamier, #01-02, 131 Lorong 1 Toa Payoh, Singapore 310131
59. The Larder Cafe
The casual cafe sits quietly along Toa Payoh Central, serving up mostly Western fare with a fusion twist. You'll be pleasantly surprised by the menu – it includes baked escargots, tom yum seafood spaghetti and grilled buttermilk chicken, as well as desserts, wine and ciders.
The Larder Cafe, #01-124, 177 Toa Payoh Central, Singapore 310177
---
Best cafes in Singapore: Tampines
60. Three's A Crowd
Can't get enough of multi-coloured foods? This little cafe, sheltered under a housing estate, is a feast for the eyes with its modern and vibrant decor. Plus, it's also enticing with its homemade ice creams and gourmet milkshakes. Talk about guilty pleasures!
Three's A Crowd, #01-11, 802 Tampines Avenue 4, Singapore 520802
61. 19Tea
Hidden inside Our Tampines Hub, the kitsch cafe whips up souffle pancakes and bubble tea – sugar rush, anyone? The former comes in three flavours: original, matcha and tiramisu. For the latter, you can expect classic and peculiar flavours like taro, dalgona and joripong.
19Tea, #01-K7, Our Tampines Hub, 1 Tampines Walk, Singapore 528523
62. Kraft Kitchen
This cafe offers a neat combination of comfort and food. Its small intimate setting is perfect for dates and catch-up seshes with your mates. What's on the menu? Sriracha chicken and fries, mac and cheese with steak, and seafood boil. Finish it off with a milkshake and you'll be fuelled for the day.
Kraft Kitchen, #01-526, Tampines Polyview, 820 Tampines Street 81, Singapore 520820
---
Best cafes in Singapore: The CBD
63. Surrey Hills Deli
There's no reason to wait till the weekend to visit this cafe because the sandwiches are perfect for lunch! This little spot is situated right by Raffles Place. It's convenient to grab a pastry or two along with your coffee. Our recommendation? The Energise To-Ma-Toes. This ciabatta sandwich slathered with basil pesto is filled with marinated tomatoes, mozzarella, rocket, caramelised onions, and provolone cheese.
Surrey Hills Deli, #01-02, 6 Battery Road, Singapore 049909
64. Penny University
This cosy little cafe on East Coast Road champions the "made in Singapore" concept. It sources coffee beans from local roasters, serves fresh, house-baked bread daily, and often collaborates with local bakers on new creations. All that said, you can't go wrong with an order of French toast or waffles.
Penny University, 17 Jalan Klapa, Singapore 199329
65. Free The Robot
Drop by in the mornings for coconut-infused coffee or head over during lunch for affordable, hearty sandwiches and toasties. At night, the robot-themed cafe in Telok Ayer transforms into a buzzy alcove of specialty cocktails and bar snacks.
Free The Robot, 118 Telok Ayer Street, Singapore 068587
66. The Providore
For fun times in the CBD, get your English breakfast fix at The Providore's OUE Downtown Gallery outlet. Its menu also features other nourishing, spirit-lifting bites like Spanish baked eggs with chorizo sausages and the club sandwich with grilled chicken breast. The multi-concept venue houses a bakery and a host of indie grocers too, so feel free to shop for some fresh buns and gourmet products to help you get through that mid-afternoon slump.
The Providore, #B1-07, OUE Downtown Gallery, 6A Shenton Way, Singapore 068815
67. Sarnies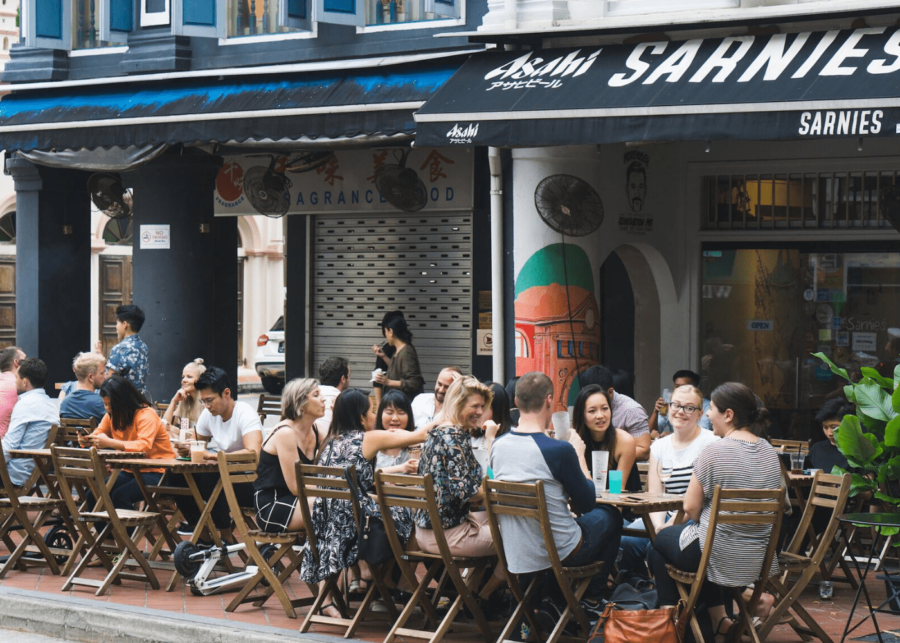 If you're yearning for an Australian hipster cafe, this is your place. Sarnies was one of the first decent coffee shops to open in the CBD, making it a hotspot for breakfast and lunch crowds. Wondering what should you get? You can't go wrong with avocado toast, smoked salmon and cheese bagels, or tropical acai bowl alongside a cup of joe.
Sarnies, 136 Telok Ayer Street, Singapore 068601
68. Dapper Coffee
Have a breakfast of champs with an array brekkie options. It's a great reason to rise and shine early! Up for a drink or two? Check out the selection of beverages such as the dappercino with orange zest served with a pound cake bite. If coffee's not your vibe, go with shaken ice teas like Ruby Fruity or Blue Streak.
Dapper Coffee, Second Floor, 73A Amoy Street, Singapore 069892
69. My Awesome Cafe
With its Chinese medicinal store facade and charming interior made up of random bits and bobs, My Awesome Cafe is absolutely endearing. The cafe sources ingredients carefully in order to get high quality produce, so you know it takes the food seriously here. Whether you get a salad or a sandwich, you're sure to get something to nourish your soul.
My Awesome Cafe, 202 Telok Ayer Street, Singapore 068639
There you have it; the ultimate bucket list of Singapore's best cafes!