Photography: Team Picsfast via Pexels
Ready for free-flow food? Hit up these buffet restaurants in Singapore for a massive feast.
Can't decide if you want Chinese, Japanese, Indian or Spanish cuisine? Easy. Hop on the buffet train so you can eat all you want. We all know that buffets are the place to be if you want to have seafood, steak, and everything in between. Not sure where to go? We've rounded up the best buffets in Singapore for you to get a hearty lunch or dinner – sans the stress and headache. Go wild!
The best buffets in Singapore
1. Lime Restaurant at Parkroyal Collection Pickering
Ask anyone where's the best buffet in Singapore and many will point to Lime Restaurant at Parkroyal Collection Pickering. For years, the establishment has been synonymous with great lunch and dinner buffet offerings, and with good reason. Enjoy The Lime Capsule buffet, an international spread with local and Southeast Asian delicacies in the mix, too. Satiate your appetite with fresh seafood, salmon and tuna sashimi, and scrumptious meats at the live carving station. The restaurant also welcomes new Executive Chef, Alvin Leong, who introduces his signature beef short rib rendang.
Savour Lime's iconic dishes over the years, such as Pickering lobster laksa, roti jala with pepper lamb curry, and braised beef cheek bourguignon. As night falls, elevate your dining experience with highlights like Pickering lobster risotto, 'Beggar's Chicken', and Alaskan king crab char kway teow. Don't forget to save room for delish desserts like durian pengat and the matcha chocolate fountain. With floor-to-ceiling windows, comfy seating and vast spaces for communal dining, the restaurant is great for big family dinners or a cosy date night.
Lime Restaurant, Parkroyal Collection Pickering, 3 Upper Pickering Street, Singapore 058289 
2. Atrium Restaurant
In the mood for a fantastic feast? Throw on your best stretchy pants for a lunch or dinner buffet. We're eyeing the stunning showcase of international treats and local favourites at the halal-certified Atrium Restaurant.
First things first, make your way around the space to check out what's available. You'll find over 40 dishes on display, from fresh seafood and meat carvings to Chinese and Indian cuisines to an amazing array of desserts such as traditional wafers and rainbow bread with ice cream. Oh, and don't miss out on Singaporean classics such as beef rendang, roti prata, Hainanese chicken rice, the signature laksa and more. Whether you're dining with family or friends, this casual restaurant is a great place for an affordable buffet that won't break the bank.
Perk alert: enjoy 50% off for every adult. Plus, children aged five and under dine for free with every paying adult!
Atrium Restaurant, Holiday Inn Singapore Atrium, 317 Outram Road, Singapore 169075
3. The Line at Shangri-La Singapore
Situated within the esteemed Shangri-La Singapore, The Line is a culinary haven. Step in for a smorgasbord of international flavours and specialty dishes. Food enthusiasts, you'll want in on this one! With a dedicated team of multi-national chefs, expect an extensive menu that draws from each of their unique heritage. You'll go on a culinary journey through Middle Eastern, Indian, Western, Peranakan and Asian cuisines.
We love the restaurant's eight live stations, featuring chilled seafood, perfectly roasted meats, delicate cuts of fresh sashimi, and a medley of Asian delights, as well as a delectable range of sweet treats at the dessert bar. Take it from us: whether you're here for a family gathering, a birthday celebration or any other special occasion, the buffet menu will be a crowd-pleaser.
The Line, Shangri-La Singapore, 22 Orange Grove Road, Tower Wing, Singapore 258350
4. Peppermint at Parkroyal Collection Marina Bay, Singapore
Pining for a sumptuous feast along with a view of greenery? Step into a serene haven surrounded by lush foliage at Peppermint. Helmed by chef de cuisine Leon Yee, the restaurant offers a diverse range of all-time favourites, from Asian and international cuisines to healthful farm-to-table options and plant-based delights. The dishes are specially prepared in the open display kitchen with locally-sourced, sustainable ingredients. Psst: step out to the terrace for a peek at the hotel's urban farm, where over 60 varieties of herbs, edible flowers, fruits and vegetables are grown and used in the restaurant's dishes and drinks!
With fresh seafood at the seafood island, nourishing options at the salad bar, Japanese delights, local favourites and its signature roasts, you'll be spoilt for choice at Peppermint. Book a table at this halal-certified restaurant for lunch or dinner, and get ready for an unparalleled buffet dining experience at Singapore's first 'garden-in-a-hotel'.
Peppermint, Parkroyal Collection Marina Bay, Singapore, 6 Raffles Boulevard, Singapore 039594
5. Luce by Davide Giacomelli at InterContinental Singapore
Spend a spirited afternoon at this international champagne brunch buffet – it's relaunched with an expanded array of international delicacies and beloved Italian specialities. From fresh seafood on ice to Asian-inspired brunch classics, every dish speaks to chef de cuisine Davide Giacomelli's rich culinary experience. We've got our eyes on the four cheese pinsa, traditional Italian beef stew, slow-cooked baby octopus and oven-baked Duroc pork loin.
Cap off this epicurean feast with a delectable selection of desserts, meticulously handcrafted by the hotel's pastry team. Savour the crowd favourite Luce-misu, a saccharine treat made with mascarpone cream, espresso syrup, lady finger sponge and crunchy feuilletine; or indulge in well-loved Asian delights, such as pillowy-soft mochi and green tea panna cotta. You'll want to secure a spot at this boozy weekend escapade, available on Sundays and the first Saturday of every month, from 12pm to 3pm.
InterContinental Singapore, 80 Middle Road, Singapore 188966
6. Ikoi Japanese Restaurant
All-you-can-eat Japanese dishes make your heart flutter? Ikoi should be your go-to buffet restaurant in Singapore. Expect the likes of sashimi, sushi, tempura and yakitori. It's one of our top picks when we need a full-on feast, but be warned: you need to book early to avoid disappointment.
Ikoi Japanese Restaurant, #01-01, Hotel Miramar, 401 Havelock Road, Singapore 169631
7. Monti
All-you-can-eat brunch? Yes, please. The weekend colapranzo menu at Monti will satisfy all your cravings. You've got brunch faves like eggs benedict with your choice of mortadella or smoked salmon, or a marinated tomato salad. For something more indulgent, get yourself a plate of handmade pasta with all the fixings. Not forgetting desserts like Monti's tiramisu and the watermelon rose panna cotta. Add on some free-flow drinks and that's your Italian feast sorted.
Monti, The Fullerton Pavilion, Singapore 049327
8. Carousel
Arguably the most popular halal buffet in Singapore, Carousel boasts an extensive, all-encompassing spread. Seriously, it has everything from Japanese to Mediterranean and Indian. Not only is the restaurant famous for its variety, but it's also known for serving fresh, quality seafood. Top that with exceptional customer service, and it's no surprise the place is often booked out on weekends and festive seasons.
Carousel, Royal Plaza on Scotts, 25 Scotts Road, Singapore 228220
9. Oscar's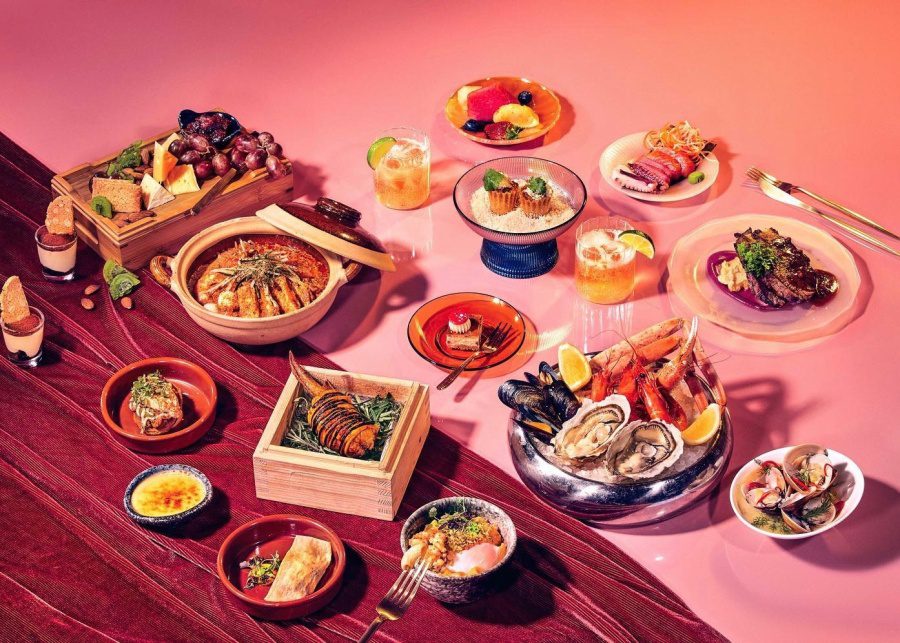 This fancy buffet spread will make your jaw drop. Highlights include a cold seafood station serving fresh oysters and lobsters, as well as a live station that dishes out delectable barbecued meats. The vegetarian options aren't too shabby either. You can browse the huge array of salads with different toppings. End on a high with a chocolate fountain, waffles, and premium ice cream.
Oscar's, Conrad Centennial Singapore, 2 Temasek Boulevard, Singapore 038982
10. Shin Minori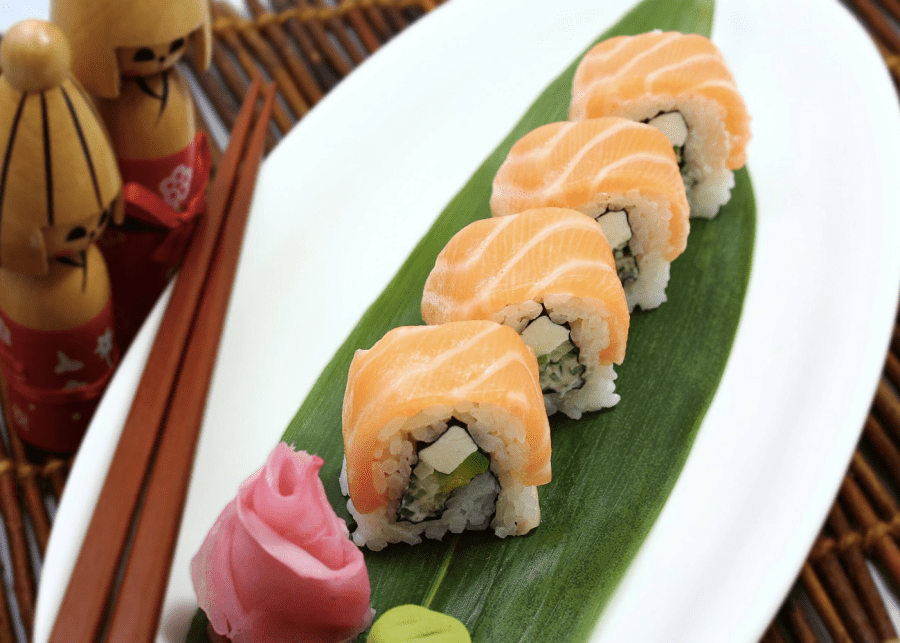 Can't get enough of absolutely delish Japanese food? Shin Minori's got one of the most affordable buffets in our opinion. Stuff yourself silly with omizu, premium, or the buffet with oyster options. Choose from a range of sashimi, various styles of sushi, and grilled, deep-fried, and simmered dishes. There's also free-flow Asahi beer that goes perfectly with all the seafood goodness.
Shin Minori, multiple locations including UE Square and Katong Square
11. Edge
Edge has seven different kitchens that put on a culinary show, featuring well-renowned cuisines like Indian, Peranakan and Cantonese. So expect to feast on a huge variety of dishes available in spades. Don't miss out on the seafood! You'll enjoy oysters, Boston lobster and crab meat. The restaurant also offers a decent selection of vegetarian eats like a variety of meat-free salads.
Edge, Level 3, Pan Pacific Singapore, Marina Square, 7 Raffles Boulevard, Singapore 039595
12. Ginger
When you're at Ginger, you can't miss out on its spectacular spread of local faves. From the classics to premium selections and even dimsum options, you'll be stuffing yourself silly. After the indulgent feast, we suggest walking off the calories by exploring the nearby cultural enclave of Kampong Glam.
Ginger, Parkroyal on Beach Road, 7500 Beach Road, Singapore 199591
13. Permata Singapore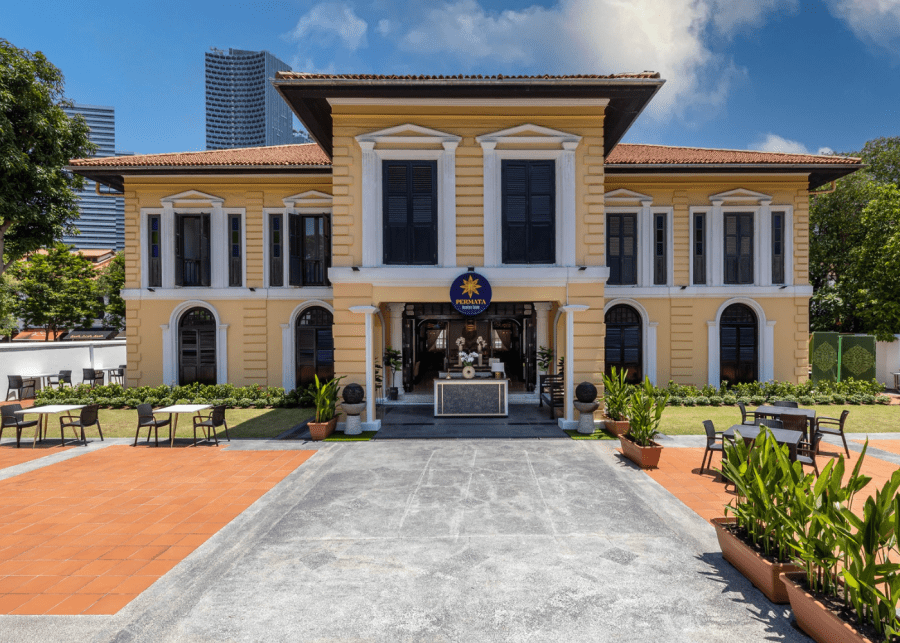 Housed in the majestic palace of Gedung Kuning (right next to the Malay Heritage Centre), Permata specialises in all-you-can-eat Nusantara plates. Pile your plates with Malay and Indonesian dishes including rojak, ayam buah lekuak risotto, and kuih pie tee. For dessert, you've got unique desserts that include pengat durian and pulut hitam.
Permata Singapore, 73 Sultan Gate, Singapore 198497
14. The Three Peacocks
This alfresco buffet spot with peacock-inspired elements is both warm and inviting. Expect a huge range of cuisines to satiate even the most discerning of buffet-goers. Get the best of both worlds with barbecue and steamboat options, plus a huge selection of ingredients. We're talking about huge tiger prawns, marinated pork, and enoki mushrooms. Don't forget to pick up some seafood on ice, sashimi, and freshly shucked oysters!
The Three Peacocks, Labrador Park, 8 Port Road, Singapore 117540
15. Beach Road Kitchen
Looking for a buffet that's chock full of scrumptious local and international bites? Arrive hungry at Beach Road Kitchen for its chefs-on-show buffet. Located within the swanky JW Marriott Hotel Singapore South Beach, the restaurant boasts a smorgasbord of fresh seafood, charcoal-grilled meats, Asian soups and noodles, and desserts. There are even freshly baked pizzas and premium charcuterie boards available on the menu.
Beach Road Kitchen, Level 1, JW Marriott Hotel Singapore South Beach, 30 Beach Road, Singapore 189763
16. Ellenborough Market Cafe
Ellenborough Market Cafe stands out for its Peranakan spread. Yes, we're talking about an endless flow of ayam buah keluak (braised chicken in black nut gravy), kueh pie tee and chap chye. If you can't resist durian, make sure to try the ever-popular durian pengat – that's decadent durian pulp with coconut milk for you.
Ellenborough Market Cafe, Paradox Singapore Merchant Court, 20 Merchant Road, Singapore 058281
17. Colony
If you're feeling bougie, Ritz Carlton is calling your name. Boasting seven live conservatory kitchens, the dining experience is quite a treat. We're talking Indian, Indonesian, Malaysian, and Western cuisine all in one space. Start with a treasure trove of seafood on ice at The Ice Bar. Next, pad your stomach succulent meats from The Grill & Rotisserie station. Other noteworthy dishes include the local roast meats, butter chicken and the patisserie full of handcrafted desserts.
Colony, The Ritz-Carlton, Millenia Singapore, 7 Raffles Avenue, Singapore 039799
18. Empress
Traditional Chinese food in a swish contemporary setting? Sign us right up! This snazzy riverside restaurant in Singapore offers an affordable all-you-can-eat weekend dim sum buffet brunch you can't miss. As part of the buffet brunch, you'll get a single serving of soup, three mains (per table) and dessert. The unlimited dim sum buffet features must-tries like siew mai and decadent steamed molten egg custard buns.
Empress, #01-03, Asian Civilisations Museum, 1 Empress Place, Singapore 179555
19. Embu
If you're looking for an all-you-can-eat spot with a breath of fresh air, Mandarin Oriental's rejuvenated Embu may be what you're looking for. Tucked away from the hustle and bustle of the city, this all-day buffet restaurant provides a dining sanctuary with lush green interior spaces and outdoor patio seating areas.
Expect a gastronomic experience with local and international flavours, including Indian and Asian specialties, premium seafood, wood-fired pizzas and homemade desserts. Not to mention, there's even a specially curated kids' buffet corner to keep the little ones busy!
Embu, Mandarin Oriental, 5 Raffles Avenue, Singapore 039797
20. Straits Kitchen

Temporarily closed.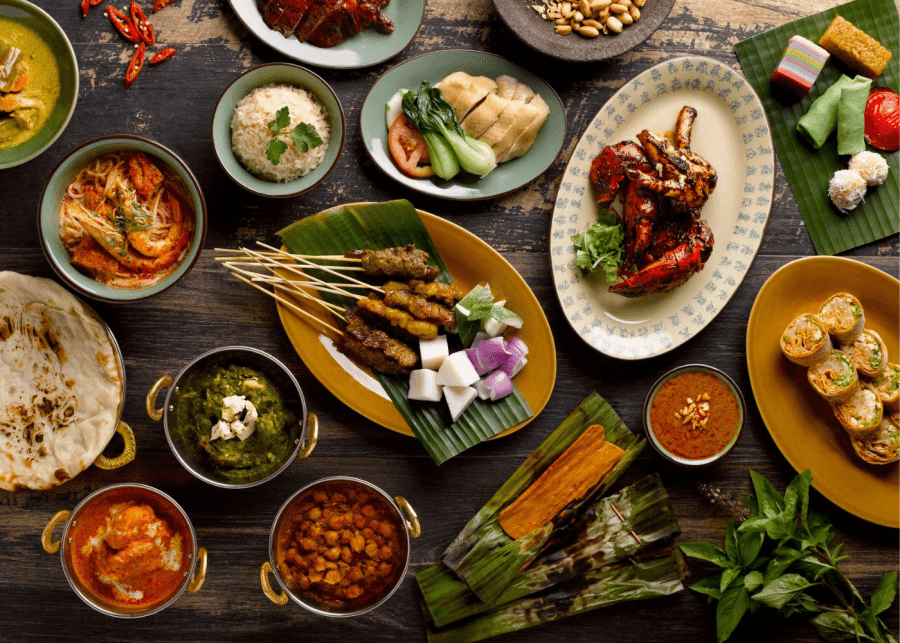 Nab a table at Straits Kitchen for a spectacular spread of local food. We're talking about unlimited servings of beef rendang, Singaporean chilli crab, Nyonya otak-otak, satay, biryani and the like. Dessert lovers, you're all covered too. Enjoy iconic sweets like chendol, pandan kaya cake, kueh lapis and sago gula melaka. Really, resistance is futile.
Straits Kitchen, Grand Hyatt Singapore, 10 Scotts Road, Singapore 228211
21. Carnivore Brazilian Churrascaria
Temporarily closed.
For one of the most unique buffets in Singapore, pop by Carnivore. You'll be treated to both dinner and a show. This haven for meat lovers serves up juicy cuts of meat in skewers that are sliced directly at your table. Complement them with an array of hot or cold sides, salads, and desserts. Dine alfresco with one of the tables outside and enjoy cuts like beef brisket, chicken thighs, and roasted pork belly. Anyone on a keto diet, bookmark this page.
Carnivore Brazilian Churrascaria, #01-10/11, 30 Robertson Quay, Singapore 238251
Are you game to try the best buffet restaurants in Singapore?
[This article was originally published in 2021 and updated in 2023 by Ashe Liao.]