Photography: Dayanara Nacion via Unsplash
Feeling hungry? We present you a list of America's most iconic eats at top restaurants around Singapore.
Besides giving us Netflix, pop culture and solid craft beers, America is home to seriously soul-satisfying food scattered across its 50 states, from Maryland's crab cakes to Philadelphia's cheesesteak sandwiches. Thankfully, with the ever-growing pool of American restaurants in Singapore, we have plenty of places to chow down on burgers, milkshakes, mac and cheese, steak, fried chicken, sticky ribs and more. Here are our favourite spots. But be warned, you might need a Grand Canyon-sized appetite to get through all of 'em.
Best American restaurants in Singapore: BBQ
Tap into our guide to the best American BBQ restos for a smoky surprise.
1. Decker Barbecue
For delish BBQ meats that are cooked using low and slow smoking methods, head down to Decker Barbecue. This joint does a great Texas barbecue at honest pricing, and with a good dose of Southern hospitality. We particularly love the perfectly smoked pork spare ribs that you can find in the Decker feast set. Go ahead and add on juicy wagyu brisket and spicy lamb sausage – we won't judge.
Decker Barbecue, #01-17, The Quayside, 60 Robertson Quay, Singapore 238252
2. Meatsmith
This lively modern smokehouse specialises in tender, juicy meats prepared on-site using smokers specially flown in from the US. Its beef brisket hits the spot with just enough charred and fatty bits, while the Nashville chicken chop is battered to perfection. If you're going in a group, load up on the mother of all platters (it feeds five). One order includes pastrami burnt ends, sausages, fried buffalo wings, brisket spring rolls, tomahawk steak, beef short rib and spiced pork ribs. On the drinks side, you'll find a range of craft beers. But we encourage you to down the famous pickleback (a whisky shot chased with pickle brine) at least once.
Meatsmith, multiple locations including Telok Ayer and Little India
3. Smokey's BBQ
Firing up an authentic barbecue experience, this joint slow roasts and smokes all its meaty mains with a secret blend of seasoning and wood chips carted in straight from the US. Feast on ribs and beef brisket seasoned in a special dry rub and doused in BBQ sauce – or chow down on burgers, jalapeno poppers and hush puppies.
Smokey's BBQ, 73 Joo Chiat Place, Singapore 427790
4. Jerry's Barbecue & Grill
A mainstay in Club Street and Jalan Kayu, this eatery's reliable bounty of barbecued goodness doesn't disappoint. Expect flame-licked ribs, chicken, burgers and sandwiches, as well as the famous deep-fried mushrooms and buffalo wings. Its happy hour promos will also leave you wanting to stay all day.
Jerry's Barbecue & Grill, multiple locations including Club Street and Jalan Kayu
5. Red Eye Smokehouse
Strictly for meat lovers, this laidback American-style BBQ smokehouse knows what's up. We're talking fall-off-the-bone tender beef short ribs, brisket, pork ribs, pulled pork and short plate. All doused in smoky rubs and sauces that'll make you thank the creator of BBQ. Oh, and don't forget sinful sides like mashed potatoes with stout gravy and bone marrow butter, cornbread with honey butter, burnt ends beans, and dirty rice with chopped brisket and drippings. Round the crew for a filling meal!
Red Eye Smokehouse, 1 Cavan Road, Singapore 209842
6. Dallas Restaurant & Bar
The restaurant has been around for more than 10 years – a testament to the good food and great vibes. Its secret? Finger-lickin' mains like decadent pork ribs, slow-cooked for two hours to achieve a perfect texture that's tender without being flaky. Plus, a full rack of fiery ribs that will test your spice tolerance, and berry ribs that offer a unique but decidedly moreish tangy berry glaze.
Dallas Restaurant & Bar, multiple locations including Boat Quay and Marina Bay Sands 
---
Best American restaurants in Singapore: Classic brunch
Start your weekend right with a hearty brunch at one of these popular eateries.
7. Breakfast Club Holland Village
If you've ever wanted to visit an American diner, this is one to put on your list. We absolutely adore the retro decor here. Just think old jukeboxes, neon signboards, and classic black and white checkered floors. Dig into all-day American breakfast staples, including crispy slices of bacon served with creamy scrambled eggs, and a quintessential bowl of mac and cheese.
Breakfast Club Holland Village, 17A Lor Liput, Singapore 277731
8. Overeasy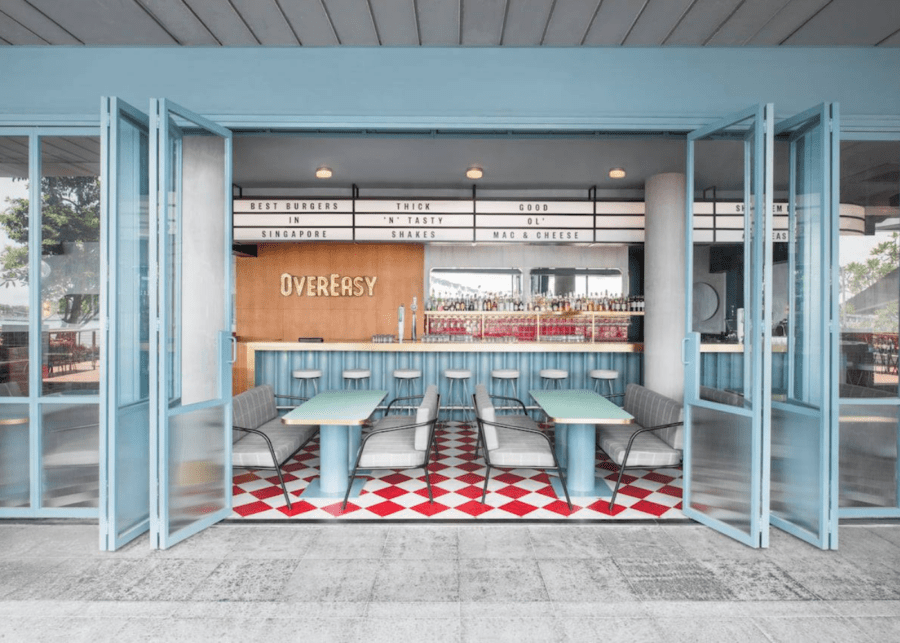 Loved equally for its kitschy vibe and dressed-up yet unpretentious grub, this all-American restaurant is great for any group. Star dishes on the menu include truffle burger (wagyu beef patty, truffle mayo, Swiss cheese, sauteed onions and mushrooms) and truffled lobster mac and cheese. But the dish that'll garner oohs and aahs around the table is the beer can chicken, a whole roasted chicken stuffed upright with a beer can. To wash down all that hearty grub, we suggest ordering milkshakes and root beer floats.
Overeasy, #01-06, One Fullerton, 1 Fullerton Road, Singapore 049213
9. Clinton Street Baking Company
A trip to New York City isn't complete without visiting this brekkie mecca. It's practically perfected the fluffy pancake stack. If you aren't visiting NYC, you can now get your fix at the Singapore branch. The aforementioned pancakes come with three mouthwatering choices: blueberries, chocolate chunks and banana walnut. Other highlights include the buttermilk biscuit sandwich and the brownie sundae topped with a generous mound of whipped cream.
Clinton Street Baking Company, 31 Purvis Street, Singapore 188608
10. Two Men Bagel House
If you've ever been to New York, you'll know bagels mean serious business. Two Men Bagel House comes pretty close, doling out hand-rolled bagels reminiscent of The Big Apple. Tuck into loaded beauts such as Hangover Helper (bacon, scrambled eggs, cheddar, tater tots and parmesan aioli), Elvis (candied bacon, caramelised banana jam, peanut butter) and Primal (smoked brisket, cheddar, chimichurri and charred peppers). Each outlet has a different menu for variety but the plain bagels with schmears are just as good.
Two Men Bagel House, multiple locations including Tanjong Pagar and Holland Village 
---
Best American restaurants in Singapore: Burgers
Peer at our epic list of thicc, juicy burgers that'll have you running to the nearest burger joint in no time.
11. Fatboy's The Burger Bar
Oh yes, there's nothing like an American-style burger. Fatboy's may be a local name, but its greasy babies really hit the spot. Get your classic cheeseburger fix and indulge in other oddities like The Elvis – a lip-smacking combination of bacon stuffed pork patty topped with grilled bananas and peanut butter. Trust us, it's better than you think.
Fatboy's The Burger Bar, 187 Upper Thomson Road, Singapore 574335
12. 25 Degrees Singapore
Know the precise temperature difference between a raw and well-done burger patty? The answer is in the name of this Los Angeles export that promises authentic American-style burgers done just right. Pop by for burgers, bacon-wrapped Sonoran hot dogs, pancakes, waffles and truly American sides. Psst: we hear these folks are a hit with Hollywood A-listers, too!
25 Degrees Singapore, Hotel G Singapore, 200 Middle Road, Singapore 188980
13. Burger Bar New York
If you're no stranger to NYC, you're probably well-acquainted with this burger institution. The Singapore outlet, hidden away in Gemmill Lane, brings to mind retro diners and unpretentious American fare. This simplicity works in its favour. By eschewing exotic sauces and even salt and pepper, you're left with a burger that easily shows off the quality of its ingredients. The proof is in the first bite – from the crisp, fresh lettuce and onions to the generous portions of melty cheese and, of course, the all-beef patties (served at your choice of doneness; we recommend the medium).
Burger Bar New York, #01-03, 115 Amoy Street, Singapore 069935
---
Best American restaurants in Singapore: Cajun and soul food
Perfect for satisfying your chicken 'n waffles, biscuits and gravy or Cajun-style seafood cravings.
14. Yardbird Southern Table & Bar
Soaring amongst the elite establishments of MBS is Yardbird Southern Table & Bar set up by founder John Kunkel. Embarking on a rodeo outside the US (its flagship is in Miami), this American restaurant sees the passing down of Kunkel's grandmother's southern recipes. Think tried-and-tested renditions of chicken and waffles, shrimp 'n grits, buttermilk biscuits and other kitchen comforts.
Yardbird Southern Table & Bar, #B1-07, The Shoppes at Marina Bay Sands, 10 Bayfront Avenue, Singapore 018956
15. Big Bern's American Grill
We'd eagerly shake hands with Big Bern himself for incorporating a chunk of Louisianan culture into his all-American menu. You'll find Cajun-style meat and an abundant showcase of one of Louisiana's comfort foods here. For centuries, the po' boy has been one sub sandwich that's part of the southern state's heritage. Taste the tradition yourself with fried fish, black pepper chicken and cheesesteak sammies. Thank you, Big Bern!
Big Bern's American Grill, multiple locations including Kampong Ampat and Holland Drive
16. The Boiler
Always trust a seasoned backyard cook to take care of the ravenous, food-longing masses. Finding joy in satisfying the appetites of friends and family, The Boiler's owner opened this Cajun-style seafood boil resto in 2008, spreading the love with pepper-buttered platters of Dungeness crabs, Boston lobsters, crawfish and clams. Another feature that catches our attention is the exceptional supply of Louisiana beer. Always a party at The Boiler!
The Boiler, multiple locations including Howard Road and Esplanade
17. Cajun on Wheels
Cajun on Wheels brings exclusivity to Louisiana and New Orlean's soul flavours with a halal-certified menu. Now everyone can enjoy Cajun boil buckets of Sri Lankan crabs, Boston lobsters, prawns, clams, mussels and more. There's also a selection of Asian charcoal grill options with a spicy kicap manis sauce. Skip the cutlery – you'll want to get your hands dirty for this!
Cajun on Wheels, multiple locations including Suntec City and Plaza Singapura 
---
Best American restaurants in Singapore: Famous names from the US
There's no need to book a flight to enjoy these iconic dishes now!
18. Five Guys
Back story: Five Guys was founded by the Murrel family in 1986 in Arlington, Virginia as a takeout burger joint. Today, you can have these burgers at one of the 1,600 locations across the globe – including our little red dot. Customise your hot dog buns, burgers and sandwiches with up to 15 toppings. For sides, there are Five Guys or Cajun-style fries and slurp-worthy milkshakes.
Five Guys, multiple locations including Plaza Singapura and Ion Orchard
19. Black Tap
The New York institution's claim to fame may be its massive Crazy Shakes (think extravagant milkshakes that will hit you with a massive sugar rush), but the burgers are just as good. The thick, juicy stacks are griddled and loaded with mouth-watering fillings. Try Mexico City (prime burger with pepper jack cheese, pickled jalapenos, chipotle mayo and crispy onion ring) or The Greg Norman (half pound wagyu beef burger with house buttermilk dill, blue cheese and arugula). Cue the food coma!
Black Tap, #L1-80, The Shoppes at Marina Bay Sands, Bay Level, 10 Bayfront Avenue, Singapore 018956
20. Shake Shack
Who can resist the iconic picture-perfect burgers and crinkle-cut fries from this burger joint? Ever since Shake Shack landed in Singapore in 2019, there's been no stopping its expansion plans. Each outlet has a unique dish but no visit to the eatery is complete without trying the mainstays. Get messy with the ShackBurger (the iconic cheeseburger) or SmokeShack (with applewood smoked bacon, chopped cherry pepper and ShackSauce). Vegetarians, we're happy to report that the 'Shroom Burger is just as delish. The thick AF classic hand-spun shakes are also a must-try.
Shake Shack, multiple locations including Jewel Changi Airport, Neil Road and Orchard Road
21. Luke's Lobster
Who else loves sinking your teeth into lobster rolls? You can now satisfy your cravings at Luke's Lobster Singapore. Hailing from NYC's East Village, this seafood shake serves sustainably sourced lobsters. You get a hefty amount of meat in a buttered bun, topped with lemon butter and secret seasoning. We suggest trying Luke's Trio, a sampler of the lobster, crab and shrimp rolls, to taste it all.
Luke's Lobster, #01-K4, Isetan Scotts, Shaw House, 350 Orchard Road, Singapore 238868
---
More amazing American restaurants in Singapore
Told ya you'd be spoilt for choice!
22. Roberta's Pizza
This famed Brooklyn joint has opened its first outpost in the Lion City, and you can bet we were there for it – just read our review of Roberta's Pizza. The secret to the chewy crust is in the use of a 15-year-old natural starter in its dough. Come for a drink with friends, because the craft beers are legit. And don't leave without trying the LA bestseller Bee Sting, topped with Calabrese salami, basil and mozzarella, drizzled with chilli oil and honey!
Roberta's Pizza, B1-45/46, Galleria Level, The Shoppes at Marina Bay Sands, 2 Bayfront Avenue, Singapore 018972
23. Wings Bar
Buffalo, New York, is a good 28 hours away from Singapore by flight. So of course, we're happy to share you don't have to go that far to taste authentic buffalo wings. Head down to Wings Bar for the best wings in town – we're talking the perfect blend of spice and tang. If you're not feeling it, why not go for the ribs? We hear those will bring tears to your eyes!
Wings Bar, #01-02, Block D, 3D River Valley Road, Singapore 179023
24. Luke's Oyster Bar & Chophouse
For your fill of seafood from the East Coast, head to this classy spot in Chinatown. As its name implies, the selection of fresh, raw oysters isn't to be missed. Don't forget about the thick, creamy clam chowder, lobster pot pie and crab cakes. Meanwhile, meat lovers can dive into tender chops, ranging from kurobuta pork chop to prime ribeye. Delish!
Luke's Oyster Bar & Chop House, 22 Gemmill Lane, Singapore 069257
25. Humpback
Opened by the folks behind Jigger and Pony, this Seattle-style joint serves plump, fresh oysters flown in from Hama Hama. Plus, small plates like octopus terrine, lemon scampi spaghetti, scallop ceviche and swordfish meatball. Fancy a tipple? Enjoy enticing concoctions like the savoury lobster bloody Mary, and the sakura martini made with sake vermouth and sakura leaf essence.
Humpback, 20 Bukit Pasoh Road, Singapore 089834
26. The Market Grill
This snazzy, industrial-chic restaurant has us salivating after its sizzling meats and naturally flavourful seafood. The buttery lobster and sinful burgers are top choices. For a unique take, try the bleu cheese burger that comes with sweet burnt onion marmalade and bacon sandwiched in a walnut raisin bun.
The Market Grill, 208 Telok Ayer Street, Singapore 068642
27. Manhattan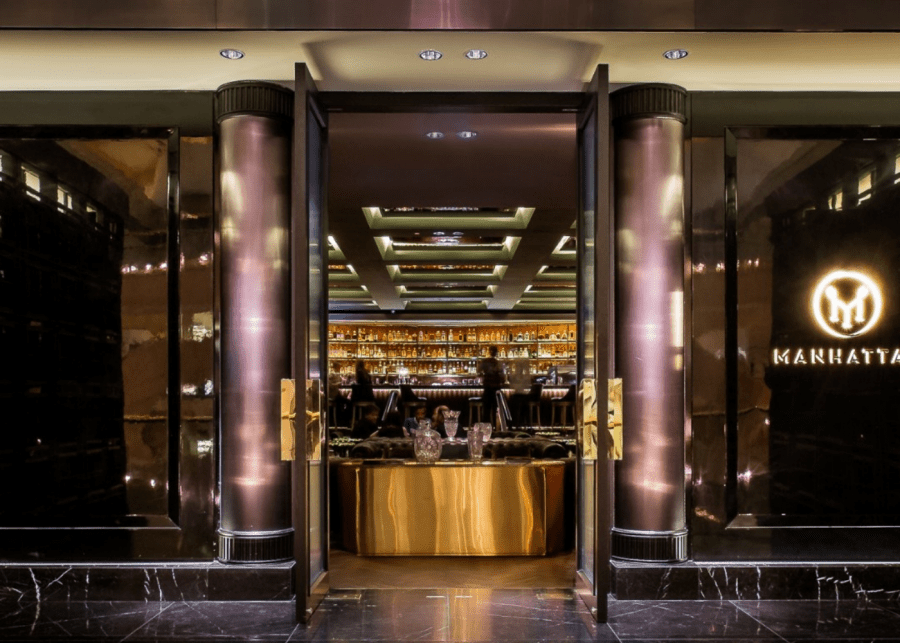 Evoking the swanky watering holes of NYC's Great Gatsby era, Manhattan is the first bar in the world with an in-hotel rickhouse. It's used to age bitters and single-cask cocktails, as well as store exquisite spirits. A special ingredients room also houses heaps of intriguing flavour enhancers, such as smoked sea salt and wild cherry bark. While most flock to the bar for its NYC-inspired cocktail menu, the modern bites are also worth a shout. Swing by the adults-only Sunday cocktail brunch for homemade bagels, freshly-shucked oysters, spiked milkshakes and a build-your-own Bloody Mary station.
Manhattan, Level 2, Regent Singapore, 1 Cuscaden Road, Singapore 249715
28. Morganfield's
Self-proclaimed as the "home of sticky bones", it's no surprise that Morganfield's signature dish is fork-tender, rustic pork ribs. The classic, hickory wood-smoked version is coated in an addictive, cider-infused barbecue sauce. Char-grilled chicken, succulent pork chops, steaks and seafood round out the menu.
Morganfield's, multiple locations including VivoCity and Orchard Central
29. Handlebar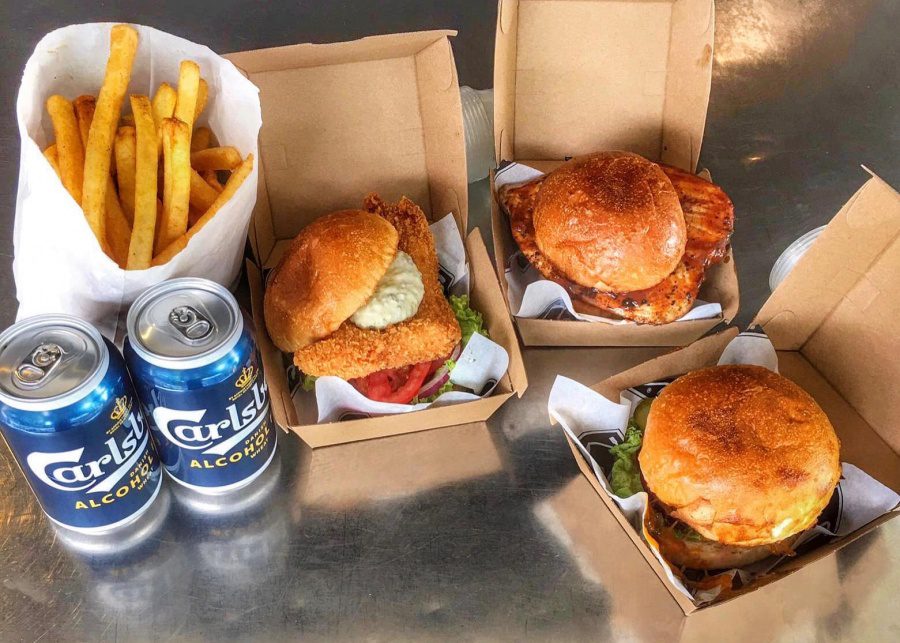 Like your bars a little grungy or just need an excuse to slip into that old leather jacket? This one-of-a-kind biker-themed bar is a top spot for motorbike enthusiasts. But don't worry, we promise they're a friendly bunch. The bar also serves a selection of American classics and small bites to go with your jugs of beer.
Handlebar, 10 Lock Road, Singapore 108938
30. Mischief
Inspired by the food truck frenzy in the US, Mischief serves American street food with a twist. Gather your posse to share playful bites like buffalo wings, clams, burgers, grilled meats and brunch classics. If you're here to pre-game, check out the tidy list of craft beers and cheeky cocktails.
Mischief, #01-12, Esplanade Mall, 8 Raffles Avenue, Singapore 039802
Brace yourself for the meat sweats at these American restaurants in Singapore – they're all worth it!