Photography: Autumn Goodman via Unsplash
We break down the most puzzling and popular beauty buzzwords out there so you don't have to crack your head thinking about them.
Keeping up with the newest beauty buzzwords and trends is no easy feat. You hear words like "clean beauty", "essence", "ampoule" and "BB cushion" mentioned all the time, but do you really know what they mean? Even as a beauty writer, the struggle to stay updated is real, especially with all the incredible inventions and trends. Here's a good place to start – to help you out, we shed some light on popular makeup and skincare terms.
Beauty buzzwords explained
Overnight mask
Overnight masks or sleeping masks are just that – masks that you leave on throughout the night. Packed with ingredients, these masks target various concerns such as dry or dull skin and boost skin cell renewal and hydration in return.
Try: Laneige Water Sleeping Mask or Sigi Skin Dream Capsule
Microneedling
Don't be alarmed by the word "needling". Microneedling is a minimally invasive procedure that lightly punctures the first layer of skin to pave way for a new layer. It improves the appearance of acne scars and pigmentation while boosting collagen. Add a dermaroller to your home facial or visit the pros for a facial treatment.
Try: Wellaholic Microneedling Treatment or Glopro Facial Microneedling Tool
Lit-from-within or Glowing skin
A complete opposite of a matte finish, the lit-from-within phenomena is all about that dewy finish. The illusion of glowing skin can be created with iridescent highlights, illuminating primer and shimmering bronzer. If you're all about a supple and healthy-looking complexion, turn to an ace regime filled with vitamin C and AHA-loaded skincare.
Clean beauty
We hear this buzzword thrown around A LOT along with natural, green and organic beauty. Although there is no clear definition, we believe clean beauty essentially stands for using ethically sourced and non-toxic ingredients, and being transparent in packaging and carbon footprint. Read about what the co-founder of The Inkey List has to say about clean beauty.
Try: The Inkey List via Sephora or homegrown brand Re:Erth
'Skinimalist' (minimalist skincare) routine
Move aside, 10-step routines, everyone's all about the 'skinimalist' approach right now. This stripped-back regime is great for those with sensitive skin and it saves so much time. The three key steps you shouldn't skip –  cleanser, moisturiser and SPF!
Multi-tasking products
Taking a page from the 'skinimalist' mantra, multi-tasking or multi-use products target one, two and even three steps in one magical product. Not only do they save time and cost, but they're also great for travelling or when you're on-the-go.
Try: Whal Myung Skin Elixir or Milani Cosmetics Conceal + Perfect 2-In-1 Foundation
Anti-blue light skincare
Blue light damage is a beauty buzzword we shouldn't sleep on, now that our skin is exposed to so much screen time (thanks, Covid!). Also known as High Energy Visible (HEV) light, blue light is emitted from smartphones, computers, tablets and TVs, and can penetrate deeper than UV and UVA rays. Too much of this can cause oxidative damage, hyperpigmentation and wrinkles.
Try: IDS Skincare DermaShield Serum or Chantecaille Blue Light Protection Hyaluronic Serum
Anti-pollution skincare
Did you know that the effects of pollution can cause premature ageing, inflammation, wrinkles, acne and dark spots? Just like sun protection, our skin also needs a barrier against the city grime. No wonder anti-pollution has been such a buzzword in recent times. Anti-pollution skincare usually comes in the form of serums filled with vitamin C, ceramides, pro-vitamin B5 and antioxidants.
Try: Antipodes Blessing Anti-Pollution Light Face Serum or Rooki Anti Pollution Nano Drops
Dupe
Short for duplicate, this beauty buzzword is used when an underrated makeup or skincare product boasts similar (or the same) specs as its luxurious, popular counterpart. A great example is Colourpop's Ultra Matte lippies, which are great dupes for Kylie Cosmetics' Matte Lip Kits.
Contouring
Love her or hate her, we gotta thank Kim K for reviving this technique. Contouring is a smart and hassle-free way to define, enhance and elevate your facial structure. Use a mix of darker and lighter shades to sculpt cheekbones, enhance the nose bridge and drag light to the centre of the face. It takes some practice to ace this technique but it's well worth the extra minutes.
Strobing
Remember the lit-from-within look we talked? Channel that glowing goddess with this makeup technique. Strobing is all about piling on the highlighter without contouring. Use a highlighter on areas that catch the light – including your cheekbones, temples, the bridge of your nose, below your brow bones, above your cupid's bow and even in the inner corners of your eyes.
Try: Hourglass Ambient Lighting Powder or Becca Cosmetics Shimmering Skin Perfector Pressed Highlighter
Empties
We use this beauty buzzword when we've finally emptied a product. How's how to use it in a sentence: "There's nothing more satisfying than dumping your product empties for recycling."
Swatching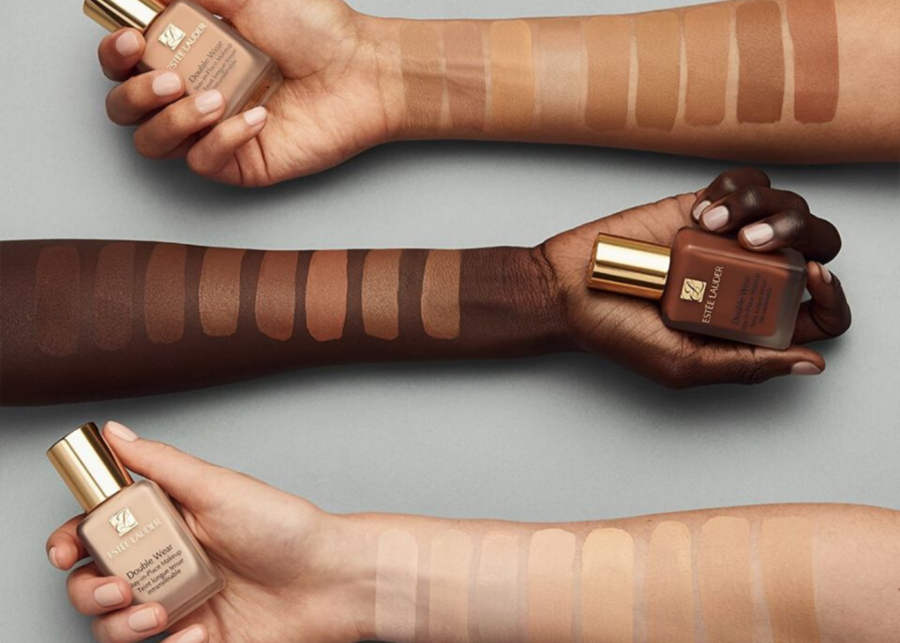 We've been doing it all our lives – swatching is basically testing makeup on your skin to get an accurate look, feel and shade of the product. Best for trying concealer and foundation shades.
Cushion compact
If you like the fuss-free method of compact application with the fuller coverage of liquid foundation, you'll love the cushion compact as it's a lightweight foundation soaked into a sponge cushion. To apply, simply press down on the sponge with your puff. It's a fab travel must-have – no need to pack your brushes, beauty blenders or worry about tightly sealing your foundation. Best of all, it leaves your skin looking flawless without the cakey finish of liquid foundation.
Try: Chanel Les Beiges Healthy Glow Gel Touch Foundation or Laneige Pore Control BB Cushion
Baking
Baking isn't exactly a new technique; it's an age-old method popularised by drag queens to set their face makeup. Here's how to bake: Apply your foundation and concealer, then pat on a heavy layer of translucent powder. Leave it on for five to ten minutes to let the heat "melt" your makeup into skin, then brush it away with a blush brush. For an alternative way to set your makeup, check out setting sprays.
Try: Kat Von D Lock-It setting powder or Cover FX Illuminating Setting Powder
Peel off lip tint/stain
We've got K-beauty to thank for this ingenious invention. The peel off lip tint does exactly as its name suggests – simply apply it to your lips and wait for it to dry. Once the glossy formula dries, you can peel it off to reveal naturally stained lips.
Try: Berrisome My Lip Tint
Peel off eyebrow tattoo
Similar to peel off lip stains, this eyebrow tattoo involves applying the tint to your brows, letting it sit for a certain amount of time, and then peeling it off for fuller eyebrows that stay put all day.
Try: Etude House Tint My Brows Gel
Brow stamping
Invented by K-beauty experts, brow stamping involves using a sponge stencil to stamp eyebrow powder onto your eyebrows. Brows on fleek are easily achievable – you just have to get used to knowing where to pivot your stamp.
Try: Ienvy by Kiss Brow Stamp
Ampoule
This supercharged serum is made with an extremely high concentration of quality, active ingredients – think of this as a skin booster for when your skin's playing up. Apply before massaging in your serum.
Try: Bio-essence Bio-Gold Rose Gold Ampoule or Estee Lauder Advanced Night Repair Intensive Recovery Ampoules
Essence
Some believe that serums and essences are essentially the same thing but we say the latter is more likely to boast a watery formula that's power packed with moisturising nutrients.
Try: Biotherm Life Plankton Essence or Porcelain Face Spa's Balance, Sebum Control Essence
Emulsion
Lighter than a moisturiser and less concentrated than a serum, an emulsion is especially useful for hydrating oily skin as it's water-based. The in-between product of a serum and cream, emulsions are less likely to clog your pores.
Try: Laneige Essential Balancing Emulsion Light or Iope Moisture Intense Emulsion
Micellar water
Some foaming cleansers and makeup removers strip your skin of its natural moisture. The solution? Micellar water. While it may look like water, it's supercharged with micelles (tiny balls of cleansing oil molecules suspended with water), which gently remove makeup and grime off your skin. We love this best with double cleansing.
Try: Bioderma Sensibio H20 Micellar Water or Garnier SkinActive Micellar Cleansing Water
Microblading
Also known as eyebrow embroidery, microblading is a form of semi-permanent tattooing, which involves tiny needles cutting into your skin to deposit vegetable dye. This results in a finer and more detailed finish.
Try: Browhaus or Errabelle
Got a beauty term or buzzword you just can't get your head around? Let us know at [email protected]!