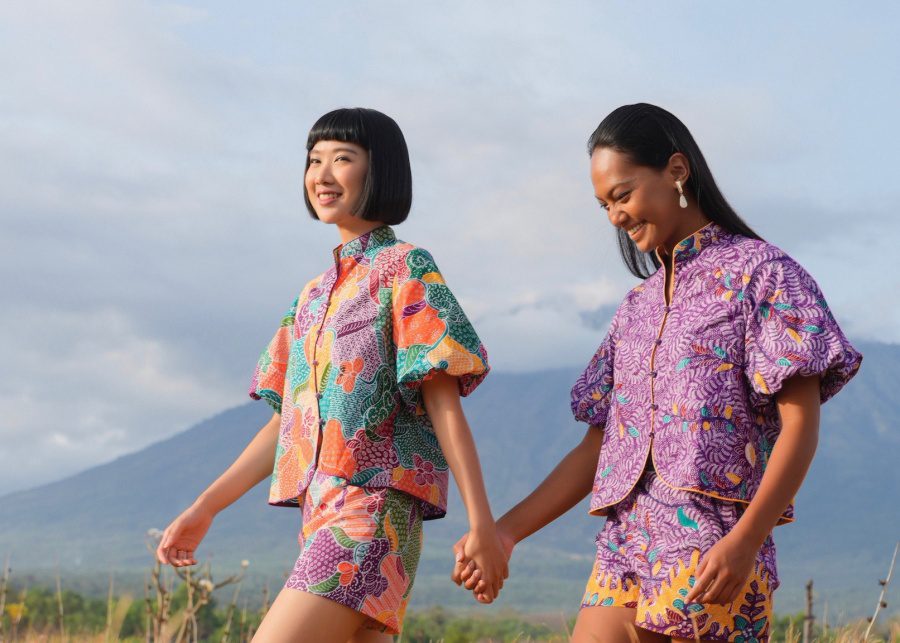 Photography: YeoMama Batik
The beautiful Indonesian art form is elevated for modern fashionistas at these cool batik shops in Singapore.
Sometimes we like to keep it traditional when it comes to fashion. What can we say, we're proud of the cheongsams, sarees and batik shops in Singapore. Batik itself is full of history – this ancient hand-dyeing technique from Java, Indonesia uses wax to map out intricate designs. The motifs themselves hold significant meaning – from the parang which symbolises war and victory, to the kawung which represents wisdom and power. These days, thanks to a new generation of designers, batik has been given a fresh transformation with modern cuts and elegant designs that can be worn by anyone, anytime.
Best batik shops in Singapore
1. Utopia Apparels
Find your next statement piece at Utopia Apparels. This shop offers everything from eye-catching block print palazzo pants to bright halter neck jumpsuits. There are even matching sets available for the whole family. Complete your look with complementary accessories. We're obsessed with the scenic jade drop earrings that are the perfect mix of traditional and chic.
Utopia Apparels, shop online and at multiple locations including The Centrepoint and Parkway Parade
2. AkaMotif
This authentic handmade brand offers unique motifs on textiles. We particularly love the Japanese-inspired sashiko and seigaiha in multiple styles. The shop caters to both adults and kids, and sells beautiful Indonesian accessories such as porcelain dolls, paper fans, brooches and coasters – all batik-inspired!
AkaMotif, #01-01/02, Tanglin Mall, 163 Tanglin Road, Singapore 247933
3. Ozel
Chic, classy and oh-so-easy to match. That's exactly what we thought when we first saw the designs from local label Ozel. The brand seamlessly fuses traditional batik and songket designs for an edgy, modern ensemble for both genders. If that's the look you're going for, step right in to get a wardrobe upgrade. The collection highlights peplums, pinafores, high-waisted skirts and cardigans with a batik twist. Sizes go up to three XL, so full-figured ladies can join in the fun!
Ozel, #03-20, Golden Landmark Shopping Centre, 390 Victoria Street, Singapore 188061
4. Think Batik
From wrap skirts and kebaya tops for ladies to suave batik shirts for guys, Think Batik has all the versatile pieces you need to infuse traditional batik prints into your everyday looks. Yup, this brand is the perfect example of how you can easily incorporate traditional looks into your modern outfits.
Think Batik, shop online
5. Makerly
This brand is shaping the perception of batik fashion with modern silhouettes that are far from your basic styles. Think wrap dresses, ruffled sleeves and ribbon tie back tops. It's the brainchild of Ruth Lum, who started altering her own clothes back in 2015 with a really basic sewing machine. Fast forward a few years and she has names such as Alyne Tamir from the Nas Daily team and Singapore's Sportswoman of 2019, Martina Veloso, donning her SIA kebaya batik and maroon ribbon tops. Plus, she holds regular pop-ups, which she shares on her social media pages.
Makerly, shop online
6. ANERDstore
We're all for conscious practices, and we swooned over the ethos of this batik shop in Singapore. Each item is handcrafted using traditional methods – handstamped (batik cap) and hand-drawn (batik tulis) by artisans in Indonesia. The meticulous technique is applied to modern looks like culottes, blouses and outerwear. But if you want to take it up a notch, check out the #VeryOneKain collection of uncut batik clothes that can be worn as chic sarong-style skirts and shawls.
ANERDstore, 29 Perak Road, Singapore 208146
7. Batique
Hunting down uber cute matchy outfits for the whole fambam? Batique is your go-to. Shop new designs of batik sets for everyone. Rock those sarong wraps and kebayas or dress the young ones in adorable batik shirts. Sizes go up to double XL for ladies and eight XL for gents.
Batique, shop online
8. Gypsied
We're all for a conscious label so when we heard about Gypsied's lovely cause, we were smitten. Gypsied works closely with textile artisans and cooperatives and expert craftsmen to bring you conscious pieces with a story. If a maxi dress or jumpsuit is too 'out there' for you, ease your way into batik with a bag or clutch for starters. Alternatively, you can extend it to your home with a gorgeous cushion cover.
Gypsied, shop online
9. YeoMama Batik
If you aren't already following this lovely brand on Insta, get to it now. This label is all about handmade batik designs spanning tops, dresses, the cutest jumpsuits and even dungarees. Sizes range from UK 6 to UK 16, including options for the guys and kiddos. Just drop by the boutique to try some pieces on – trust us, you might suffer from choice paralysis.
YeoMama Batik, shop online and at #01-87, Oxley Bizhub, 65 Ubi Road 1, Singapore 408729
10. Wellie Batik
Specialising in authentic Indonesian batik, Wellie Batik has traditional shirts, fabric, sarongs and assorted home decor pieces like cushion covers, tablecloths and aprons. The shop has been in the business for over 40 years, so you can bet these folks really know their batik.
Wellie Batik, #03-18, Holland Road Shopping Centre, 211 Holland Avenue, Singapore 278967
11. Baju by Oniatta
Created by a full-time educator and mother, Baju by Oniatta is driven by Oniatta Effendi's love for batik and seeing it being embraced in contemporary fashion. Her signature pants are made from quality batik sourced from different parts of Indonesia and the beauty of it is its versatility. You can wear it formally with a kebaya top or go casual and match yours with a t-shirt. No two pairs are the same, so you'll be wearing something completely unique! Besides pants, she also has shirt dresses, skirts, blouses and even batik fabric itself. Go ahead and do your own thing with it.
Baju by Oniatta, 757A North Bridge Road, Singapore 198725
12. Amanda Hartanto Batik
With styles for every woman, Amanda Hartanto's pieces are edgy and fashion-forward. But, you can also find feminine and dreamy silhouettes in her collection. One thing she doesn't shy away from? Traditional prints, which she utilises proudly.
Amanda Hartanto Batik, shop online
13. Heartakarun
This brand's name is a play on the word 'harta karun', which means 'treasure' in Bahasa and Malay. You'll find lots of interesting pieces here, from wrap skirts to pants to bags. They're all carefully created in different forms and styles of batik. That's not all – the shop also collaborates with a batik village in Kelantan to create limited edition artisanal gems.
Heartakarun, shop online
14. Vespertine
This shop is all about batik with a French twist: you'll find none of the traditional cuts here. Instead, feast your eyes on jumpsuits, summery dresses and knot twist tops suitable for our tropical weather. French-Chinese founder Emmanuelle Chiau says Vespertine is her way of expressing her Eurasian roots.
Vespertine, shop online
15. Little Nyonya Batik
Unlike the other places giving batik a modern twist, Little Nyonya Batik keeps it old school. Celebrating Peranakan culture, this designer offers authentic and traditional pieces. Check out pretty embroidered kebaya tops, along with vibrant-coloured batik fabric to pair with.
Little Nyonya Batik, shop online and at #02-01, The Adelphi, 1 Coleman Street, Singapore 179803
16. Warangka Batik
Using traditional prints in muted, natural and even on-trend pastel colours, the pieces from Warangka are surprisingly easy to wear. By sampling batik with modern daily wear, you'll find something for every event – from the workplace to a night of casual drinks.
Warangka Batik, shop online
Add a touch of tradition and culture to your looks at these batik shops in Singapore!