Photography: Melike Benli via Pexels
Planning a bachelorette party for a close friend? We share amazing ideas for an epic hen's night in Singapore.
Not too keen on the usual ladies' night at your favourite bar for your once-in-a-lifetime bachelorette bash? Of course, there are other cool (and not so clichéd) ways to celebrate your impending nuptials. Whether you prefer something quiet and intimate or loud and proud, you'll have the most fun with your girls on your hen's night out with these amazing bachelorette party ideas in Singapore.
Bachelorette party ideas in Singapore
1. Paint a pretty (boy) picture
Looking for a laid-back art painting session with your girls that's a little… cheeky? At this sip 'n' paint experience at Paintblush, you can sign up for the special 'magic man' event that involves a little more activity than just brushing paint on canvas. The session comes with a live male model who'll pour you glasses of wine and let you paint his body (or the image of it, at least). We're sure there'll be lots of giggling.
2. Live it up at a swanky hotel
Singapore's brimming with amazing five-star hotels and villas – perfect for a memorable bachelorette party in Singapore. Not sure where to go? We recommend checking into the stunning Villa du Jardin at Sofitel Singapore Sentosa Resort and Spa. It's the ultimate private party pad for any hen's night. Spanning 300 square metres and equipped with two bedrooms and a private pool, it offers plenty of space to party with your girls. Gather the squad and get ready for a night of bonding in total luxury.
3. Indulge in a spa day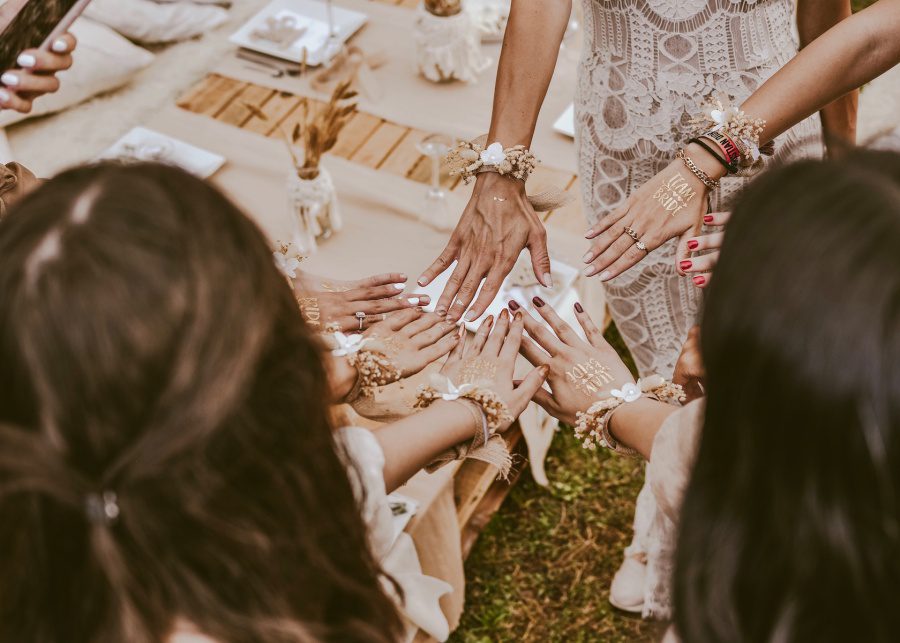 Nothing says 'girls day out' better than pampering at the spa. Think glow-inducing facials, stress-melting massages, and gorgeous manicures and pedicures. For the ultimate pre-party experience, pop into Blow + Bar for makeover packages. Besides doing your hair, nails, and makeup, it also serves complimentary bubbly or wine to get you in a party-ready mood. Want to go all out on a spa party instead? Head to Spa Estheva. This exquisite spa has four signature parties – Choc-Honey, Luxespa, Chocolat and Honey. Our top pick is the anti-ageing and mood-boosting Chocolat party, which consists of a thermal gommage polish, a chocolatier's massage, a chocolate fondue wrap and a luxurious BodyLife rub.
4. Cook up a storm
Want to pick up a new skill while bonding with the girls? Unleash your inner Martha Stewart at cooking classes like Commune Kitchen and Abc Cooking Studio, where you'll get to whip up an array of local and international dishes. Got a sweet tooth? Have a bake-off with your gal pals at Baker's Brew Studio for a hen's night to remember. You'll learn the fine art of dessert-making for a truly delectable bachelorette's bonding experience.
5. Sail the high seas on a yacht
For a taste of the high life, why not go all out by chartering a swanky yacht? Decadent as it sounds, hopping on a boat doesn't have to be outrageously expensive. Ximula Sail offers sailing trips on yachts and catamarans around the Southern Islands (Sisters' Islands, St. John's Island, and Kusu Island) starting from $800 for eight people (food and drinks not included).
Another great option is EagleWings Yacht Charters. The 68 foot catamaran (one of the biggest in Singapore) boasts a truly luxurious setting for any bachelorette party. It offers a jacuzzi, a fully-equipped bar, a 10-seater dining space, and four luxurious cabins for overnight stays. Who can say no to that?
6. Have an intimate meal with the girls
No crowds, no interruptions – just great food and great company in a lovely private dining area for you and your girls. Not only will your possé have their own private space to bond over dinner, but you'll also enjoy personalised service from the waiters too. Check out our stellar lineup of private dining rooms in Singapore that'll leave you spoilt for choice.
7. Sing your hearts out
What's a girls' night out without a rousing rendition of "Total Eclipse of the Heart"? An evening of karaoke is a great way to bond while living out every bride's superstar fantasies. Too shy to channel your inner Adele? Sing like no one's watching at Ziggy's. It's home to deluxe and VIP suites, fun party games, and a champagne pong table. What a way to really amp up your hen's night experience in Singapore.
8. Go on a girls-only getaway
For one final hurrah before losing your swinging-single status forever, channel Thelma and Louise for a girls-only trip with your besties. Beach vacay in Bali, city escape to Hong Kong, road trip to Malaysia… the world's your oyster. If you're pressed for time and hankering for a quick escape, check out nearby holiday destinations perfect for a quick weekend getaway from Singapore.
9. Pick up a few (sexy) moves
Who says getting fit can't be fun? Pick up a few moves with your girls by trying out a pole dancing, salsa or burlesque class at dance studios in Singapore. Think of it as prep work for the wedding night! If you bachelorettes prefer the great outdoors, challenge yourselves with standup yoga at SUP School Singapore. This fun water sport incorporates both yoga and paddle boarding.
10. Throw a pleasurable private party
Want to spice things up? Look to the pleasure experts at Hedonist for an evening of fun. They'll share intimate tips and juicy relationship advice, as well as let you in on the secret of sex toys. The Bachelorette Party package includes a bridal party gift set for the bride and bridesmaids, 45 minutes of pleasure education and sex toy demonstration, and fun games to keep things exciting.
Pick one of these fun bachelorette party ideas in Singapore for a night to remember!