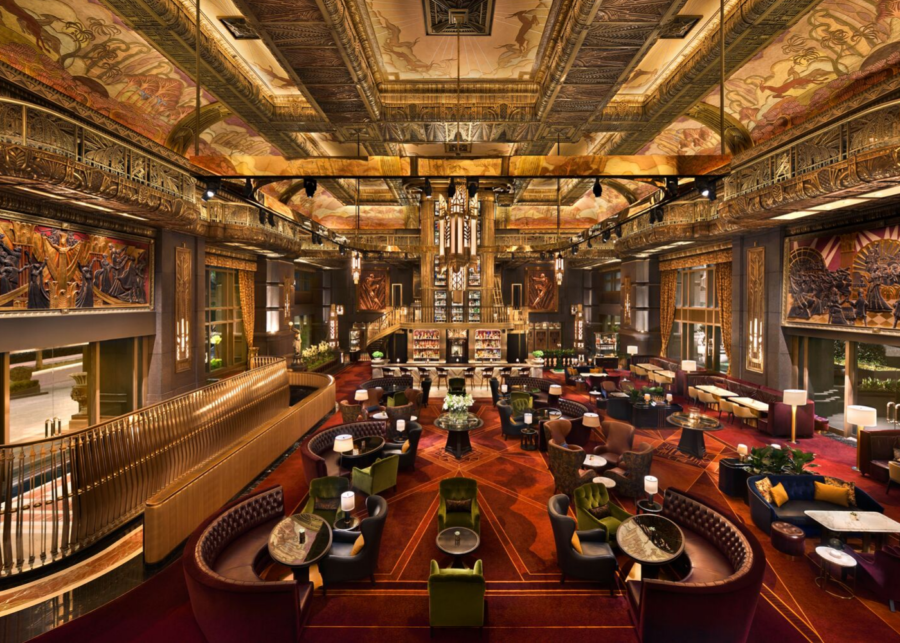 Sip on a G&T in this glided gold space. Photography: Atlas
Hot New Menu alert: Chef Loki wowed us with a spread that's as beautiful as Atlas' iconic interior.
Brimming with Art Deco-style opulence, Parkview Square's resident restaurant and bar is definitely grander than your average. Thankfully, gilded gold decor doesn't translate to exorbitant prices at Atlas, and we're always looking for a reason to step into this aristocratic-looking space for a high-tea sesh or a spot of gin (more on that iconic tower in a bit!).
When we heard that Chef Lachlan 'Loki' Lynch (formerly from Australia's renowned The Coogee Pavilion) is the new captain of the Atlas kitchen, we knew we had to taste the hot new menu he created. What we found was layers of flavour and (surprise, surprise!) some unexpected tales…
Specials: Mini lobster rolls & smoked beef short ribs
First off, we have to rave about the mini lobster rolls ($26 for two). We've experienced firsthand how difficult it is to find a good one in Singapore, so when we tasted Chef Loki's version, we were stoked by how addictive they were. These canape-sized rolls had chunks of lobster stuffed in lightly toasted brioche buns, with lemon mayo, espelette and chives that brought out the natural flavour of the meat without overpowering its taste.
Sauce aside, we suspect the type of lobster used was the magic ingredient in this crowd-favourite dish. While many establishments typically favour the Maine variety, Chef Loki ships rock lobsters from Brazil, which he prizes for their sweeter flesh. And it's a sweet starter indeed – it took us much willpower not to reach for a second helping of these mini rolls. The good news is, there's a larger version (served with chips) that you can have as a main… Yes, we loved it so much that we asked.
Another specialty on Atlas' new menu are the smoked beef short ribs ($38). The beef was cooked til fork-tender, with the optimal meat-to-fat ratio that promises that melt-in-your-mouth experience. Have it with the crispy kale and pickled turnips on the side for a layered bite. You'll find that Chef Loki has a penchant for incorporating fermented or pickled ingredients to his dishes – he even has an experimental pickling jar and kombuchas brewing at the back of his kitchen!
Main courses: Pumpkin salad & vongole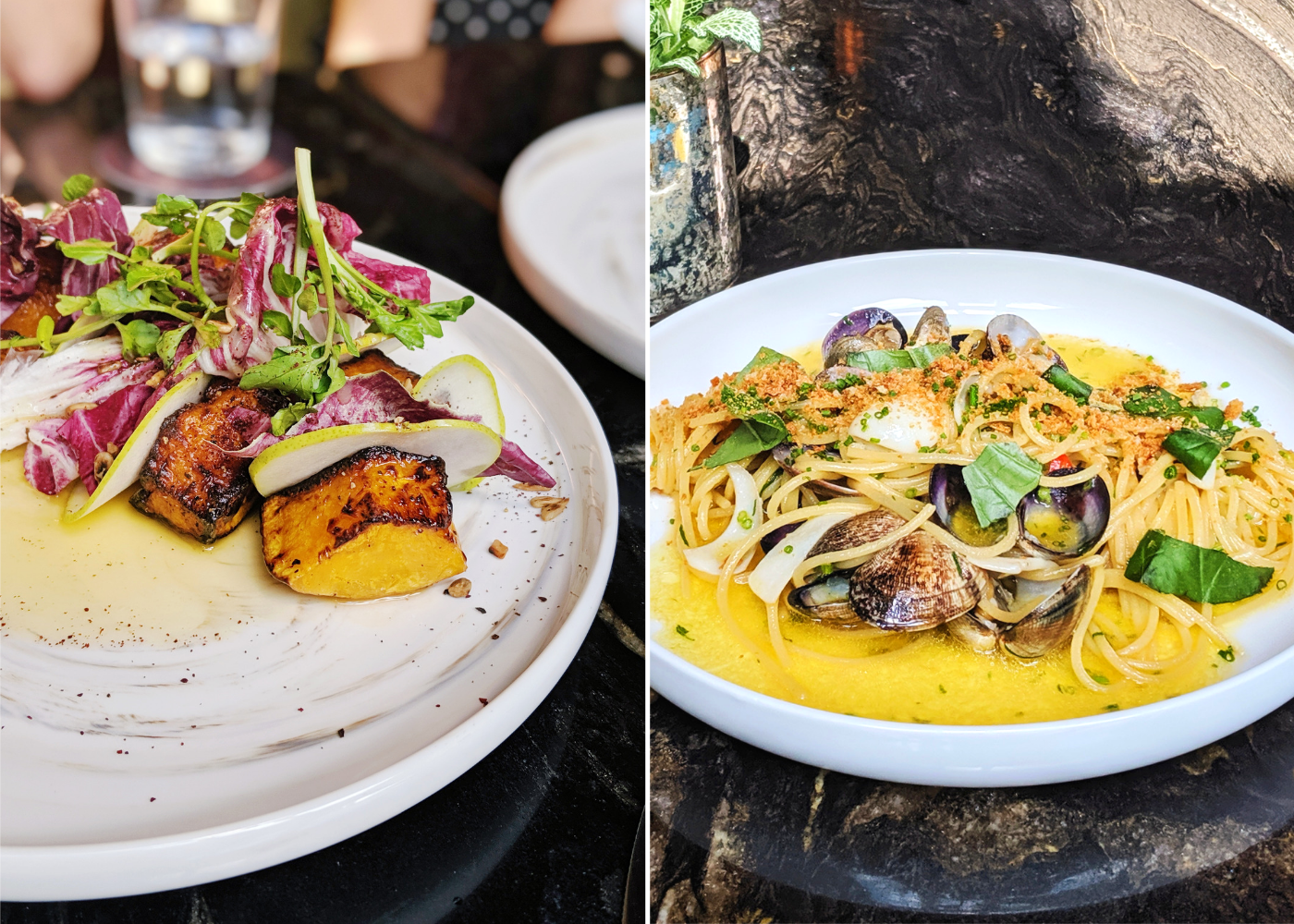 Simple dishes are the toughest to master, so no wonder Chef Loki is proud of his team for perfecting the art of the humble vongole ($32). Virgin olive oil and clam juice was all it took to create the base of this dish (it's dairy-free), with a slight tinge of spice from the chili (we recommend asking for more if you like it hot). Every strand of the al dente spaghetti was coated with flavour, and the handful of breadcrumbs sprinkled on top added to the layers of texture with its crunch. Homely and satiating, this is one comforting dish we know we'd be happy to order on every visit.
Vegetarian options at Atlas are no pushover either. The pumpkin salad ($26) manages to be sweet, sour, bitter and savoury all at once – we have to admit, we didn't expect such depth of flavours from a salad! This uncomplicated dish consists of roasted pumpkin, pear and bitter leaves, topped with sunflower seeds and burnt bitter vinaigrette. Sounds like a straightforward combination, though the taste is anything but.
Desserts: Panna cotta with strawberry & banana and caramel pie
The buttermilk panna cotta ($24) with strawberry and basil is definitely one to shout about – the tangy strawberry topping balances out the delicate sweetness of the pan cotta base, providing a saccharine mouthful that's not overly cloying. It's designed to share, but we'd gladly devour the whole jar by ourselves if no one was looking.
For the sweet-toothed crew, order a banana and caramel cream pie ($16). Made even more decadent with chocolate shavings and whipped cream, slice into it for a delightfully crumbly pastry and a rich filling that spills out almost in slow-mo (you got that shot, Instagram addicts?). Polish this off as your last course and you'll be well and truly sugared out by the end of the night!
Now, about that fairy…
In the mood for a good story? We're letting you in on some fascinating tales about this lavish space…
You'll recognise Atlas' towering gold pillar of alcohol (15 metres, to be exact), but did you know that before Atlas' time, it used to be a wine pillar manned by a wine fairy? At least, that's what people named the lady who used to fly up this iconic structure – with the help of cables and a harness – to get bottles of red or white that bar patrons picked out. We hear that many Atlas regulars have asked for this tradition to be brought back, and we're keeping our fingers crossed too. Now that it's filled with mostly gin, how catchy would 'gin fairy' sound?
If you feel like splurging on some bubbly, the bar houses what is known as shipwreck champagnes – these were recovered from the bottom of the ocean floor following the sinking of an unfortunate ship. Sounds like a Hollywood movie you know? We're told that it's the same brand of champagne that was allegedly served onboard the Titanic!
Atlas, 600 North Bridge Rd, Parkview Square, Singapore 188778