Meet Sophia Kang, Manhattan's new head bartender. Photography: Manhattan via Facebook
The list is out and Hong Kong's The Old Man climbs to #1. Plus, 11 Singaporean cocktail bars have bagged coveted spots with Manhattan (#2), Native (#4), Atlas (#5) and Jigger & Pony (#9) making the top 10!
Last night at The Capitol Theatre, spirits were high. And why wouldn't it be – 11 Singapore bars made the coveted Asia's 50 Best Bars list. Voted by 200 industry experts and cocktail aficionados, we're all set to drink our way down this list. Hong Kong's The Old Man (#1) took the prime position, followed by Manhattan (#2) that was also awarded The Best Bar in Singapore and Legend of the List for being consistently great.
We might not have Asia's number uno on our island this year, but we're proud as hell of all the 11 that made the list, especially Manhattan, Native and Atlas for bagging three of the top five positions. Sure you can take a quick flight to Hong Kong to sip on The Old Man's award-winning concoction or you could just hit up the new The Old Man Singapore that opened doors on Keong Saik Road earlier this year.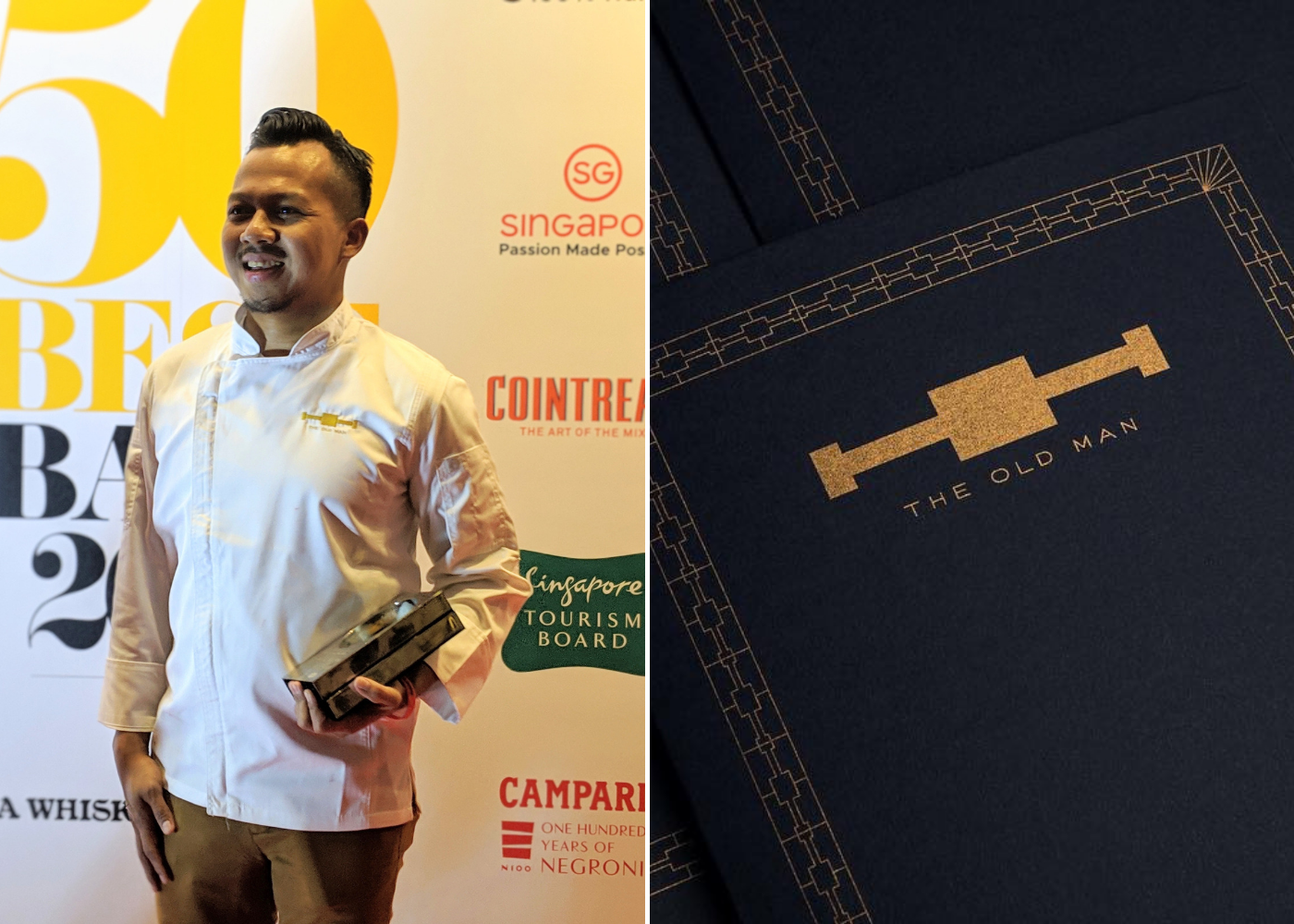 We caught up with The Old Man's award-winning mixologist Agung Prabowo for a quick chat after his win. Talking about the tipple we ought to try at the Ernest Hemingway-themed The Old Man bar in Hong Kong, he highly recommends A Movable Feast from the newest menu. "Hemingway used to live in Paris and loved drinking Bloody Marys. A Movable Feast is very complex. I've worked behind the bar for 22 years and I think this is one of the most interesting, complex drinks I've ever had. Ingredients include sea-flavour water – we redistill with sea water, sand and clams – then clarified cherry, tomato juice and coconut and finish it with an oyster leaf," explains Agung.
Raise a toast to Manhattan (#2) and swing by for a drink or make a reservation for its newly refreshed adult-only Sunday Cocktail Brunch. It's one the most indulgent boozy brunches in town with free-flow G&Ts, speciality cocktails and spiked milkshakes. Read our review here. 
All the Singaporean bars that made it to this year's list…
#2 Manhattan
#4 Native
#5 Atlas
#9 Jigger & Pony
#11 Tippling Club
#15 Gibson
#21 28 Hongkong Street
#22 Operation Dagger
#25 D.Bespoke
#41 Employees Only
#46 The Other Room
Native on Amoy Street, with its innovative cocktails and antsy drinks, climbed up to #4 while the art deco- and almost Gotham City-esque Atlas takes the #5 spot. And Jigger & Pony deserves a special mention too. This Prohibition-era speakeasy themed bar with incredible craft cocktails was the highest climber this year, moving up 33 spots to bag the #9 position.
Also on the list are Tippling Club (#11), Gibson (#15), 28 Hongkong Street (#21), Operation Dagger (#22), D.Bespoke (#25), Employees Only (#41) and The Other Room (#46).
Turns out, it's a great time to be a cocktail lover! Following the prestigious awards is the Singapore Cocktail Festival from 10 – 18 May. With over 100 participating bars from around the world, knock yourself out this weekend at the festival village, hop on bar tours, make it to masterclasses or visit your favourite bars for special events/guest bartenders. Get all the highlights here.  
Need a drink? Check out our compilation of the best cocktail bars in Singapore.