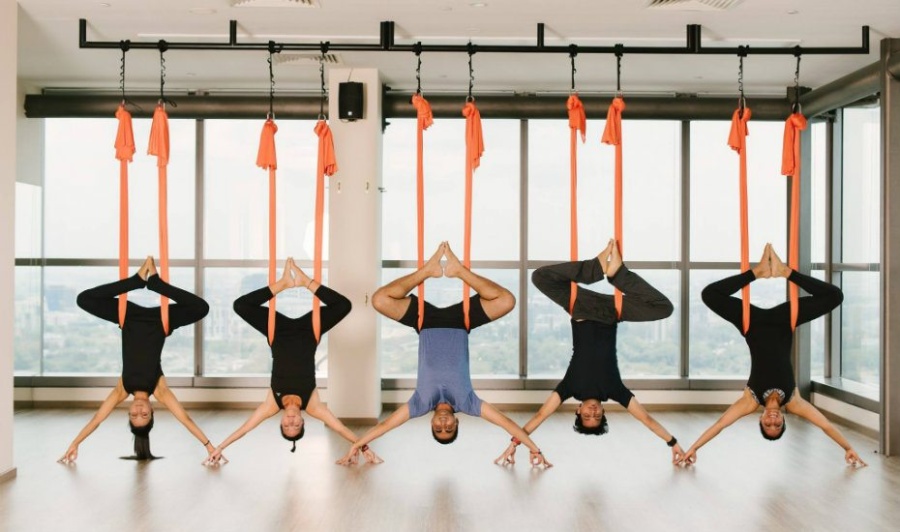 Are you game? Photography: courtesy of Platinum Yoga via Facebook
Swap your mats and yoga blocks for hammocks, beers, paddleboards and even cats.
Bored with the usual yoga routine? We've seen the likes of themed one-off sessions such as the Yoga Game of Thrones and a yoga rave in a club, but did you know that the city's rife with regular, and alternative yoga classes? Spice up your asanas with a beer bottle, cats and plenty of jokes in between poses. Switching up everything from Hatha to Vinyasa, we explore Singapore's alternative yoga scene. 
Aerial Yoga
Yoga while floating 3-feet off ground? Count us in! More suitable for experienced yogis, aerial yoga involves doing Asanas while being in the air with the use of hammocks and structural fabrics. Sounds like a lot of fun, but a proper practice can help reduce stress on joints and back while strengthening your core and upper body. There are a number of yoga studios in the city that offers aerial yoga, but Platinum Yoga has different levels (and even rope yoga if being suspended in a hammock ain't your thing). Still a beginner? Ace the downward dog before going sky high.
Platinum Yoga, available at multiple locations including Suntec City and Westgate. View available classes here
Stand-Up Paddle Yoga
Swap your mat for a paddleboard with Stand-Up Paddle (or SUP for short) Yoga. It's not only relaxing, but is great for improving flexibility, and of course, balance. Immerse yourself in nature whilst practising your Asanas poses on a longboard, and paddle on calm waters with a double-bladed oar. New to the game? Get started with SUP Yoga Singapore – paddleboards included!
SUP Yoga Singapore, Ohana Beach House, 131 Pasir Ris Beach Park, Singapore 519148. Reserve a spot here
Chair Yoga
Ditch the mat for the chair! Take your yoga practice up to brand new heights with a seat to elevate the movements and gain benefits from future practices. Intrigued? Sign up for Pure Yoga's Chair Yoga where yogi Kajal Khurana will take you through the endless possibilities of Asanas using furniture. It's also a great takeaway for home and work practices to destress and improve one's breathing and overall sense of well-being.
Chair Yoga with Kajal Khurana, 28 April 2018, 10am-1pm, Pure Yoga, Level 18, Ngee Ann City Tower A, 391A Orchard Rd, Singapore 238873. Register here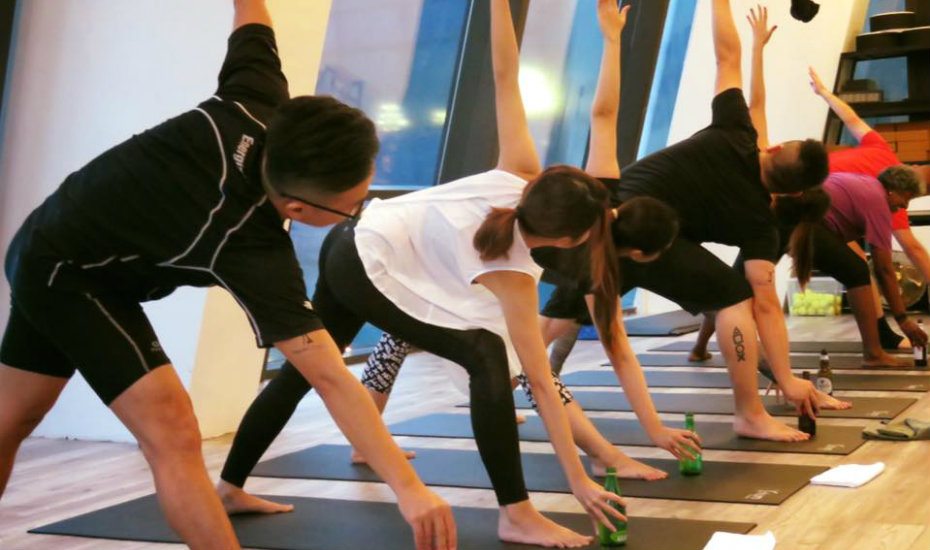 Beer Yoga
With the city's heat, you might as well booze it up with an ice cold beer! We're not talking about drunken beer-chugging and half-assed yoga poses — in fact, quite the opposite! Think your traditional yoga routine while clutching a beer bottle without spilling a drop. Don't worry; you'll get to sip your brew at specific intervals which actually heightens your sense of alertness and awareness — whodathunk? This trend has made waves in Europe, and has finally made a breakthrough in Singapore via Beer Fest. Hit up Trium Fitness for a private beer yoga sesh.
Trium Fitness, #03-01/02, 12 Kallang Ave, Singapore 339511. Check out its Facebook page for the next beer yoga sessions
Laughing Yoga
One for the LOLs, try out Hasyayoga which involves prolonged, voluntary laughter. Known to have the same physiological and psychological benefits as to actual spontaneous giggles, this practice is done in groups amongst bagsful of jokes – what's more contagious than HA-HAs and HE-HEs? It'll not only destress you after a long day of work, but a session at Singapore Laughter Yoga is also loaded with the health benefits that come with yoga.
Singapore Laughter Yoga, #05-24, Pioneer Junction, 3 Soon Lee St, Singapore 627606, p. 9225 5263. Private sessions by appointment only
Cat Yoga
Two things we love: yoga and cats. Now, what if we told you that you could have the best of both worlds in one session? Check out White Cat Yoga for a yoga session at the comfort of your home or workplace surrounded by cats. It has also conducted sessions at cat cafes such as Neko No Niwa (the next one's in May)! Imagine focusing hard on your balances while having the curious furries circling your legs or doing their own versions of downward dog (or rather downward cat). Can you really say no to this?
White Cat Yoga, check out its Facebook page for its next session
Restorative Yoga
The least energetic of the bunch, this one's great to end your day with. You'll hardly break a sweat in this session. Wait, what? Yes, expect to unwind and melt away into an array of bolsters, blankets and pillows. Feel supported as you rest, relax and connect with your body and breath. Our writer Delfina even managed a good night's sleep after a sesh up in the clouds at the Yoga School!
The Yoga School, #39-01, OCBC Centre, 65 Chulia Street, Singapore 049513. Check out its classes here
Like this story? Check these out:
Cool, alternative workouts we're dying to try
Hate going to the gym? Try these fun workouts
Workout apps for home exercises
Prefer conventional workouts? Try these yoga classes