Experiencing breakouts and the worst skin ever during quarantine? We've got the answers on how to protect your skin.
There may be more pressing things in life to stress about. But if you've always kept your skin in tip-top condition with a rad skincare routine – not to mention, staying away from makeup during quarantine – it can be worrisome to experience quarantine skin or 'maskne' – aka more breakouts now than ever. Why is our skin being cranky AF? We turn to the experts from IDS Clinic, The Body Shop, Re:erth and Kew Organics for help.
How to combat acne breakouts during quarantine & 'maskne'
Why are we experiencing the worst skin ever RN (read: zits, clogged pores, redness, dullness or dry skin)?
Stress-related issues
"Your skin is a reflection of overall health. We are in a global pandemic situation, with new routines, increased stress, and perhaps a change in diet, exercise, and sleep patterns. These factors can very much play a part in overall skin health," says Ziling Toh, the COO of Re:erth.
Skipping your precious monthly facial
"With the circuit breaker in place, we are no longer able to enjoy our regular facials during this #stayhome period, which may lead to the accumulation of blackheads and whiteheads and lead to acne breakouts", shares Dr Michelle Wong from IDS Clinic.
"Imagine how many dead skin cells have accumulated on our faces during these two months? Over time, it will build up causing skin thickening, dullness, a lacklustre complexion and uneven texture. It will also clog the pores with whiteheads and blackheads aka comedones. And if you have oily skin, it may start causing pimples, acne and bad breakouts." adds Lily Kew, owner of Kew Organics.
Prolonged use of masks
No, we're not talking about a bang-on facial mask. Another new concern we're currently facing is the "post-mask" symptom – as Kew puts it nicely. You may experience skin irritations due to the build-up of heat and humidity from using a face mask. "Plus, If you already have sensitive skin, to begin with, you may easily develop rashes and redness on top of breakouts."
The folks from The Body Shop agree. "For those that have to step out of the house to run errands, the accumulation of sweat, facial oils and humidity under the mask creates the ideal environment for bacterial growth and excess sebum production, which could potentially lead to blemishes and acne in the area."
Suffering from acne along the cheeks, chin and jawline? "This may be due to acne mechanica – moisture trapped in the mask, coupled with frequent abrasion of the skin, leads to skin irritation and inflammation," Wong adds.
A drastic lifestyle change
Late nights from Netflix binging, coupled with the pressure of juggling WFH and domestic duties, may also lead to increased cortisol (a stress hormone) and sebum production. This causes clogged pores and breakouts. But Dr Wong stresses not to pick at or squeeze your pimples, no matter how tempting it can be. "Improper extraction may result in inflammation of the pimple, and lead to post inflammatory pigmentation and scarring."
Dissing the sun
The Body Shop explains that the lack of sun exposure when in quarantine will contribute to dryness and redness, as vitamin D from the sun is known to reduce skin inflammation and help combat free radical damage. Being cooped up at home makes it harder for some of us to get the much needed 20 minutes of sun a day.
So, what can we do to prevent these 'quarantine skin' issues?
Pay attention to your skincare routine
All four brands stress the importance of sticking with a good regime, no matter how basic or advanced. TL;DR: Double cleanse, exfoliate, use serums and spot treatments if time allows, and don't forget sunscreen – yes, even if you're staying home!
Kew Organics: Double cleansing is key. Start cleansing away all grime, accumulated sebum and gunk with a cleansing lotion every night. Don't forget to exfoliate with a gentle micro exfoliant at least once a week. Most people have the misconception to use oil control whenever they have breakouts. It may end up causing the skin to be overly dry and the skin will compensate with even more oil. To counter this, use a hydrating serum. Lastly, control the oil production with a mist instead of oil blotter and balance the skin's PH levels with a facial mist.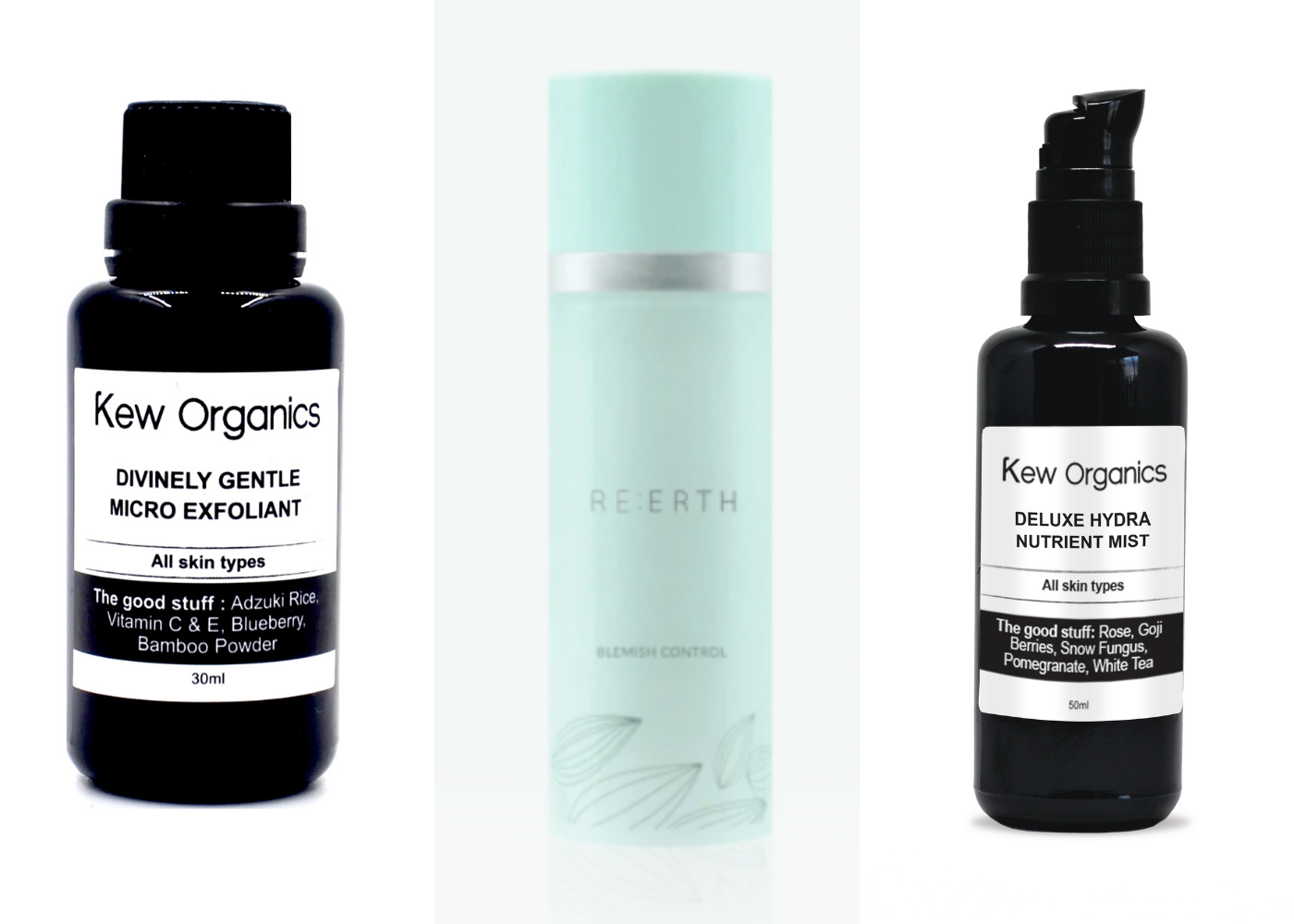 Re:erth: Be it a five-minute or 15-minute routine, choose to care for your skin every single day, consistently! Avoid adjusting the mask, or rubbing your nose while wearing a mask. Once at home, wash your face after washing hands. Use a blemish control treatment, along with an oil-free and anti-bacterial moisturiser for clear, supple, and healthy skin.
Throw out expired products, wash those makeup brushes and use sunscreen
IDS Clinic: The #stayhome period is the best time to reset your skin care regimen and throw out any unsuitable or expired skincare products that have been sitting dormant in our cupboards. At the same time, don't forget to give your makeup brushes, sponges and facial pads a good wash, to remove all the accumulated dirt, dead skin cells and bacteria.
Aside from a gentle cleanser and moisturiser, a broad spectrum sunscreen is crucial for protection against high-energy visible (HEV) light. Broad spectrum sunscreen is necessary, even when we are indoors, as UVA rays are able to penetrate through glass windows. HEV light, also known as blue light, is emitted from our phones, LED lights, computers and TV screens, and causes oxidative stress and photoaging of our skin – yikes.
The IDS Skincare DermaShield Serum (read our review here) does a swell job at protecting your skin from harmful effects of HEV and infra-red light as well as environmental pollutants that can lead to pigmentation and accelerate skin ageing.
Introduce new ingredients if necessary
The Body Shop: To remedy acne and blemishes caused by frequent mask-wearing, we would recommend a four-step tea tree skincare routine as tea tree oil is known for its purifying and anti-bacterial properties, and its ability to work wonders for blemished skin.
Vitamin E works similarly to Vitamin D and is loaded with antioxidants and anti-inflammatory properties that aid in cell rejuvenation and moisturising the skin. Incorporate a moisturiser or face mask with Vitamin E into your day and night routine for overnight restoration and rejuvenation.
Aside from skincare, other factors such as physical and mental health play a part too
"Diet, exercise and stress play a very important part. Be careful not to overeat. Or if you simply just cannot help it, replace your junk food with healthy snacks instead. Use it or lose it, this applies the same for our body. Exercise at least once a week to keep your body going. Lastly, stress is one of the most negligible things as it's not prominently detectable or visible," says Kew, adding that it's important to learn how to manage our stress especially during this time. The Body Shop suggests soothing home fragrances, diffusers and pillow mists to relax your mind.
Dr Wong from IDS Clinic also shares that mental stress can cause our body to produce stress hormones, which causes the skin to excrete more oil and increases our blood pressure and blood sugar levels. As a result, certain skin diseases like seborrheic eczema and acne tend to flare up. Be sure to visit a doctor or dermatologist for pressing issues such as these.
As activities resume, what can we do to prep our skin as it faces a change in the environment?
Do not be surprised if your skin acts out
Prolonged hours of mask wearing is becoming the new norm. This can cause skin problems like folliculitis or aggravate existing problems like comedonal acne. However, everyone's skin is different, and it reacts in different ways to wearing masks. Dr YX Lum from IDS Clinic shares some top tips:
If you have oily and acne prone skin…
Soothe, protect and treat the skin and acne with gentle products. Using harsh products with high concentrations of retinoids or benzoyl peroxide can further irritate the skin, producing more oil and causing more trouble. Soothe the skin by cleansing with a gentle cleanser twice a day and protect the skin with a suitable lightweight moisturiser. This will form a barrier against environmental dirt and pollutants. Treat acne with antioxidants such as Vitamin C or gentle and calming ingredients like topical probiotics that can not only reduce inflammation but also reduce the harmful bacterial load.
If you suffer from skin irritation aka itchy rashes…
These rashes and itchy spots may need medication like antihistamines and a steroid cream to reduce the allergic reaction. Often, you may be allergic to certain triggers like formaldehyde, metals, rubbers, or glues in masks.
If you suffer from skin as dry as the Sahara desert…
Apply a soothing moisturiser. In this case, you'll want to look for ingredients such as ceramides or aloe vera in your moisturiser.
If you suffer from skin inflammation…
Inflammation may result in swollen skin after wearing the mask for prolonged periods of time. This can be reduced by icing the area or applying a cold mask to soothe the swelling at the end of the day.
Prevention is better than cure
"Be prepared to encounter more skin problems as you'll probably have to wear a mask for more than eight hours a day. Apart from skincare, it is important to invest in a good quality mask that will reduce friction," says Kew. She also suggests skipping makeup for now. "Avoid foundation, concealers, powder, BB and CC cream as they clog up the pores and cause acne while you're wearing a mask. Imagine the makeup mixing with your sweat, eek… take this opportunity to go bare skin since your face is covered by the mask anyway."
Be wary of what you put on your face
Have you re-discovered your skincare products recently? Toh from Re:erth suggests assessing what's working, one at a time. Add a product (or remove it) for at least one to two weeks, to avoid building up an unnecessary stock of products that may or may not work for you. Stop using any product that makes your skin turn red, sting, or burn!
Finally, don't forget your hands!
As always, remember to wash your hands whenever possible and bring a hand sanitiser with you everywhere. Be sure to moisturise your hands if they are drying out from the frequent washing and sanitising.