Photography: Jisun Han via Unsplash
Did 2021 turn out the way you imagined it to be? Let's revisit all the happenings in Singapore and around the world.
And just like that, 2021 is coming to an end. Boy, has it been an eventful one. It's safe to say it was a year of perseverance. We eventually conformed to living in the new normal, though Covid still remains a major talking point. Some of us finally got to travel after two years (thank you, VTL!), we witnessed new restaurant, bar and cafe openings, and put mental health as a priority.
Oh, and read till the end for a compilation of our most-read stories of 2021.
Year in review: All the memorable moments of 2021
1. Covid-19 still caused chaos and uncertainty
This sneaky bugger played us all year, giving us hope at the beginning of 2021 (remember when 8 pax gatherings were a thing?) and let us down with the Omicron strain. It evoked fear and anxiety, and we witnessed deaths, job losses and business closures. Hell, even dating was tough! But you know what? During these trying times, we continue to persevere and hope things get better in the New Year.
2. Did you feel burnt out?
Backaches and anxiety included. On a serious note, many folks suffered from burnout this year thanks to the effects of working from home, amongst other things. The pandemic also forced us to rethink how we live and work, causing many Singaporeans to change their career paths.
3. People got cancelled – hard
Was 2021 the year of getting cancelled? From Dee Kosh getting charged with multiple offences including sexual exploitation of a young person to BooksActually founder Kenny Leck's alleged misconduct towards his female ex-employees, we had A LOT to take in. And how can we forget the whole Night Owl Cinematics saga? Allegations were made towards co-founder Sylvia Chan for verbal abuse and the mistreatment of her employees. Screenshots and video recordings accusing her of embezzling company money and sexually exploiting her female talents were also brought to light. The tea was piping hot!
4. We talked about racism in Singapore… again
Sadly, more racist incidents were brought to light. We watched the video of an individual harassing an interracial couple in public, spewing racist remarks at them. People's Association had a tone-deaf display of a Malay couple's wedding photograph (used without their permission) as a standee for Hari Raya Aidilfitri decorations – and later released a defensive statement with a half-baked apology. These incidents have only motivated us to talk about racism in Singapore and find ways to be allies in the fight against it.
5. Moderna, Pfizer and booster shots
The government rolled out Covid-19 vaccinations and the hot topic was picking between Moderna and Pfizer. Getting our vaccination shots was quite the experience too. As of writing, it's great to know that 96% of the eligible population are fully vaccinated. Those eligible for booster doses are also being invited to get their third shots.
6. We bid farewell to more restaurants, bars and shops
We said goodbye to Going Ohm, Chinatown Food Street, Grub, The Beast, Caffe Cicheti, Robinsons, Nineteen80 and Naiise's brick-and-mortar stores. And we can't forget our local hawkers too.
7. But we saw more openings in the F&B scene
On the bright side, we witnessed countless restaurant, bar and cafe openings with amazing concepts and interesting menus helmed by local F&B wizards. We can't wait to see what's in store for 2022.
8. "Heightened Alert", "Stabilisation Phase" and more phases added to our vocab
Of course, "Moderna" and "Pfizer" are on the list too, along with SingaporeRediscover Vouchers – which btw, are expiring soon!
9. The 2020 Summer Olympics in Tokyo revealed harsh realities of sportsmen
After some delays, the 2020 Summer Olympics was held in Tokyo. Sadly, Singapore didn't win any medals this year – the first since 2004. You'd think it's no biggie and the fact that they even qualified for the Olympics should be applauded. But no – American artistic gymnast Simone Biles received flak for pulling out of the Olympics to focus on her mental health. Closer to home, Joseph Schooling saw a surge in negative comments directed at him personally for not bringing home any medal. We can do better, people!
10. We talked about climate change and how we can do our part
We discovered eye-opening facts from the Netflix documentary Seaspiracy. Actor, host and model Paul Foster shared insightful tips on eco-friendly living, and we highlighted simple ways to fight climate change. Let's continue to put sustainable living in Singapore up front and centre in 2022.

11. The KTV cluster that made everyone angry
We were on the right track towards a progressive opening until the KTV fiasco happened in July. This led to a cluster of 253 cases, and Singapore's largest Covid cluster at Jurong Fishery Port (1,155 cases). The operators of those KTV lounges and clubs were eventually fined for allowing performers and hostesses to mingle with customers. But the sudden restrictions and suspensions of F&B establishments sparked anger and stress among citizens.
12. Vaccinated travel lane – the golden phrase for those who miss travelling
We finally retired the words "travel bubble" and welcomed the vaccinated travel lane. Hurrah for all travel junkies! This year, the government processively opened our borders for quarantine-free travelling. We've extended the VTL to over 10 countries. However, it's taking a backseat for now as the government has stopped ticket sales for vaccinated travel due to the surge in Omicron variant cases.
13. The phenomenon of Squid Game
It was the show that took the world by storm in 2021. Squid Game was quite the smash hit when it was released and is currently ​​Netflix's most-watched series. Aside from its unique premise, iconic soundtrack and all the memes, the series also gave us a raw commentary on humanity and society. We're waiting for season two…
14. We rode hard on nostalgia
We got pretty nostalgic this year. TikTok made hits from 10 years ago popular again, Taylor Swift brought back her version of her popular 2012 album, Red, and the cartoons we grew up watching are back in the spotlight.
15. TikTok, 'round the clock
TikTok is taking over the world and we have the numbers to prove it. The app is currently the most visited website (yes, it took over Google) and claims to have one billion active users each month. We've even been bitten by the bug ourselves. Follow us on TikTok for cool vids and check out our fave stars from the popular app.
16. Kamala Harris stopped by our shores
Singapore gave US Vice President Kamala Harris a warm welcome during her brief stay in Singapore. And yes, we named a flower after her too. We had fun whipping up a quick itinerary for her!
17. The COP hearing that just won't end
We were too stunned to speak when Raeesah Khan from the Workers' Party admitted to lying about her allegations against the Singapore Police Force. She soon resigned from the opposition party and Parliament following the incident. But we won't be hearing the end of this anytime soon. We've already seen hours of the hearings held by the Committee of Privileges, featuring WP chief Pritam Singh and party chairman Sylvia Lim, just to name a few.
18. Everyone's dreaded new word: Omicron
In November, South Africa detected the Omicron variant and it quickly became a variant of concern by WHO. Early studies show that the variant is known to spread more easily than the original Covid-19 virus but the severity of illness is yet to be known. Closer to home, there are currently 65 Omicron Covid-19 cases in Singapore, forcing the MTF to enforce stricter measures on travellers on VTLs and freezing all new ticket sales for VTL flights and buses.
19. We changed our content direction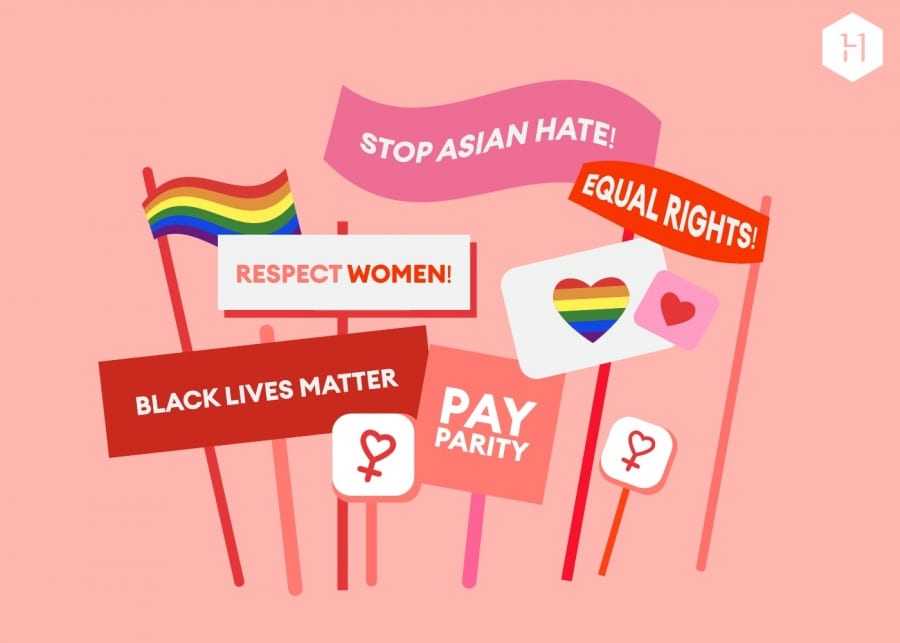 After 12 years of filling you in on all the cool things to do in Singapore, we shifted gears to cover topics we feel are important for the new world we live in. You read fresh new stories on social issues like racism in Singapore, personal opinion pieces including experiences with being sober, being "that girl" on TikTok, breast cancer awareness and debunking addiction myths. We also covered topics about LGBTQ+, mental health, sexual wellbeing, finance and interviews with local people doing great things. Stay tuned for more amazing content!
20. Most popular stories of the year
Finally, we end off with the stories you loved reading in 2021!
That's our take on the most unforgettable happenings in 2021 for the year in review. What's your memorable moment?