Wong Tai Sin temple is a stunning piece of architecture
Beyond the beautiful temple, Wong Tai Sin is a vibrant and colourful neighbourhood in Kowloon that's begging to be explored.
No matter how long you've lived in Hong Kong, a break from the city life of expensive coffee and car horns can do some good. Whether that's exploring heritage and art at Tai Kwun, therapeutic forest walks with Kembali or taking in the art and culture at The Mills, a bit of exploring is always a good idea. We took to the streets recently exploring all of Wong Tai Sin, and found a perfect day trip experience away from the hustle of the city.
Things to do in Wong Tai Sin
Wong Tai Sin Temple
One of Hong Kong's most impressive and popular Chinese temples in Hong Kong, head to Wong Tai Sin MTR exit B3 and follow the signs to the Wong Tai Sin temple. Home to three religions (Taoism, Buddhism and Confucianism) and spectacular architecture, you'll find the temple bustling with tourists and worshipers from all walks of life. Fortune and incense sticks are available both inside and outside temple.
Discover other Hong Kong temples here.
Wong Tai Sin Temple, 2 Chuk Yuen Village, Wong Tai Sin, Kowloon, Hong Kong, 九龍黃大仙竹園村2號嗇色園黃大仙祠
Palm readings at T.W.G.HS. Wong Tai Sin Fortune Teller Arcade
Palm readings in Hong Kong are more than just superstition. The arcade next to Wong Tai Sin temple is two floors dedicated to temple dwellers finding out everything, from how many wives they'll have to their life success. Sound a bit far fetched? We couldn't help but give it a go (english speakers available). They read your palm, research your birthday and look at your tongue for honesty? Quite the experience, but remember to haggle the price!
Wong Tai Sin Fortune Teller Arcade, 2 Chuk Yuen Village, Wong Tai Sin, Kowloon, Hong Kong, 九龍黃大仙竹園村2號嗇色園黃大仙祠
想甜嚐甜 Sweet Dreamer Dessert
This cute little Taiwanese dessert shop is perfect for those sweet sweet cravings! The menu is full of your favourite sweet desserts from crispy chocolate waffles, creme brulee to banana splits. There's even a ukulele on the wall ready for a quick little jam.
Sweet Dreamer Dessert, G/F, Fu Yau Building, 73 Po Kong Village Road, Wong Tai Sin, Hong Kong, p. 3956 4744, 黃大仙蒲崗村道73號富佑大廈地舖
Chi Lin Nunnery & Nan Lian Garden
Looking for a break from the skyscrapers and crowded streets? Enter Chi Lin Nunnery (a retreat for Buddhist nuns) in Diamond Hill, Kowloon and find yourself completely immersed in the beautiful traditional Chinese architecture. Despite being surrounded by Hong Kong, Chi Lin Nunnery and Nan Lian Garden lets you enter a bubble of calm and relaxation.
Read our full guide to Chi Lin Nunnery.
Chi Lin Nunnery, 5 Chi Lin Drive, Diamond Hill, Kowloon, Hong Kong, 九龍鑽石山志蓮道5號
Fung Tak Park
Located between Wong Tai Sin and Diamond Hill, this monkey-themed park is split into four sections, each named after a setting from the classic Chinese novel "A Journey to the West", a tale about the Monkey King. Check out his paradise as you wander through a waterfall and cave – a great spot for a cheeky photo!
Fung Tak Park, 42 Fung Tak Road, Wong Tai Sin, Kowloon, Hong Kong, 九龍黃大仙鳳德道42號鳳德公園
Yummy Fast Food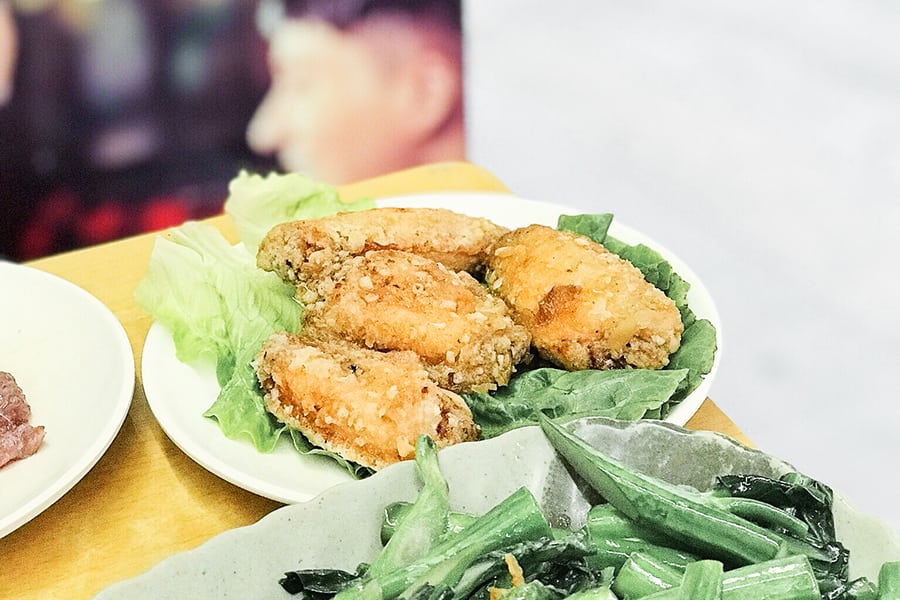 We know, there's a lot of exercise in this neighbourhood guide, but that's why you can treat yourself at Yummy Fast Food, where they sell, you guessed it – yummy fast food. Eat delicious Vietnamese dishes all at a cheap price and bursting with flavour! This is a favourite for locals, so get in there early to find yourself a seat. The buttered chicken wings are particularly finger-lickin good!
Yummy Fast Food, Shop 6, G/F, 16 Yuk Wah Crescent, Tsz Wan Shan, Hong Kong, p. 2322 5061, 慈雲山毓華里16號地下6號舖