The Wong Tai Sin Temple is a stunning architectural feat (Photography: Toby Oxborrow via Flickr)
Beyond the beautiful temple, Wong Tai Sin is a vibrant and colourful neighbourhood in Kowloon that's begging to be explored.
No matter how long you've lived in Hong Kong, a break from the city life of expensive coffee and car horns can do some good. Whether that's exploring the outer islands, biking in nature, or taking in the art and culture at galleries – a bit of exploring is always a good idea. We took to the streets recently exploring all of Wong Tai Sin, and found a perfect day trip experience away from the hustle of the city.
Things to do in Wong Tai Sin
Guide to Wong Tai Sin: Where to eat
1. Yummy Fast Food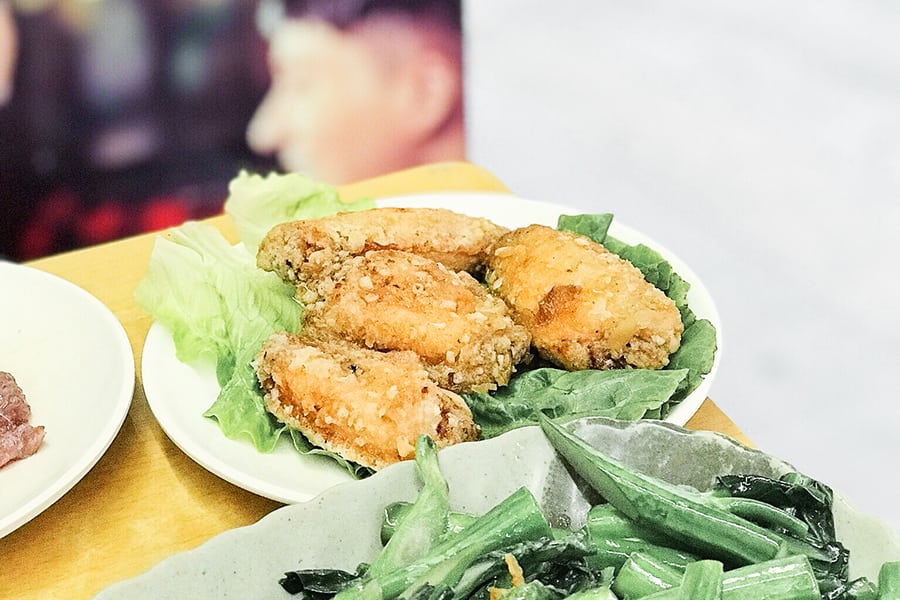 Treat yourself at Yummy Fast Food, where they sell, you guessed it – yummy fast food. Eat delicious Vietnamese dishes all at a cheap price and bursting with flavour! This is a favourite for locals, so get in there early to find yourself a seat. The buttered chicken wings are particularly finger-lickin good!
Yummy Fast Food, Shop 6, G/F, 16 Yuk Wah Crescent, Tsz Wan Shan, Hong Kong, p. 2322 5061
2. Chi Lin Vegetarian
Tucked inside Nan Lian Garden, Chi Lin Vegetarian is just a hop and a skip away from Wong Tai Sin. One of the most renowned vegetarian restaurants in Hong Kong, the eatery serves fresh takes on classic Chinese dishes, and has remained a local favourite throughout the years. The atmosphere is calm and secluded, with a beautiful garden view to complement the flavourful veggies.
Chi Lin Vegetarian, G/F–2/F, Long Men Lou, Nan Lian Garden, 60 Fung Tak Road, Diamond Hill, Hong Kong, p. 3658 9388
3. Wing Lai Yuen Sze Chuen Noodles Restaurant
A tried-and-true Hong Kong dining establishment, Wing Lai Yuen began in a squatter housing settlement before moving to its current location. Serving up tasty Sichuan classics, the family-run noodle shop has been drawing crowds for decades. Given Wing Lai Yuen's notoriety for noodles, the Dan Dan Noodles are a must-try. While this item is known for its vibrant red soup, those who are less tolerant of spice can request a milder version.
Wing Lai Yuen Sze Chuan Noodles Restaurant, G/F, 15-17 Fung Tak Road, Wong Tai Sin, Hong Kong, p. 2726 3818
4. House of Ho Yuen Noodle Cuisine
Having started off as a modest food stall at the foot of Lion Rock, House of Ho Yuen Noodle Cuisine has been a family-operated eatery for over 50 years. With fresh ingredients and homemade recipes, this humble restaurant has since expanded beyond Hong Kong, offering authentic Cantonese fare even in Canada! Meanwhile, its Wong Tai Sin flagship remains a respected establishment, serving hearty local dishes such as Homemade Egg Noodles. While Ho Yuen is the most famous for its noodles, you should also try the other bites like the Satay Beef Bun and Yang Chow-style Fried Rice.
House of Ho Yuen Noodle Cuisine, Shop 21, G/F, Lions Rise Mall, 8 Muk Lun Street, Wong Tai Sin, Hong Kong, p. 2323 1883
5. Nuttea
Need a bubble tea fix in between visiting the temples at Wong Tai Sin? Taiwanese bubble tea chain, Nuttea, cranks out creamy, nut milk-based drinks made from scratch right in San Po Kong. Grab a Dragon Fruit Tea with Nut Cream, or a Chocolate Hazelnut Nut Mylk to sip on happily as you explore the rest of the neighbourhood.
Nuttea, Shop D, 1/F, Maxgrand Plaza, 3 Tai Yau Street, San Po Kong, Wong Tai Sin, Hong Kong, p. 6015 8851
Guide to Wong Tai Sin: What to do
6. Sik Sik Yuen Wong Tai Sin Temple
One of Hong Kong's most impressive and popular Chinese temples, Wong Tai Sin Temple (aka Sik Sik Yuen) has both tourists and locals flocking to it daily. An icon of the city and an important part of history, the temple is home to the gods of three religions: Taoism, Buddhism, and Confucianism. Even if you don't have the intent to worship the Great Immortal Wong (yes, that's what "Wong Tai Sin" literally means!), you can stop by and marvel at the temple's spectacular architecture, featuring striking colours and intricate design.
The fortune-teller arcade right next to Wong Tai Sin Temple is dedicated to visitors who wish to find out more about their lives, from how many wives they'll have to their eventual success. Sounds a bit far-fetched? We couldn't help but give it a go ourselves (English speakers welcome)! They read our palm, analysed our birthday, and even looked at our tongue for honesty… Quite the experience, really, but maybe try to haggle the price!
Sik Sik Yuen Wong Tai Sin Temple, 2 Chuk Yuen Village, Wong Tai Sin, Hong Kong, p. 2327 8141
7. Fung Tak Park
Located between Wong Tai Sin and Diamond Hill, this monkey-themed park is split into four sections, each named after a setting from the classic Chinese novel A Journey to the West – a fantastical tale about Sun Wu-kong, the Monkey King. Check out his paradise as you wander through a waterfall and cave – a great spot for the 'gram!
Fung Tak Park, 42 Fung Tak Road, Wong Tai Sin, Hong Kong, p. 2350 2680
8. Chi Lin Nunnery & Nan Lian Garden
Looking for a break from the skyscrapers and crowded streets? Enter Chi Lin Nunnery, a retreat for Buddhist nuns, in Diamond Hill. One of our favourite parks in Hong Kong, Chi Lin Nunnery will immerse you in tranquil nature, surrounded by beautiful traditional Chinese architecture. Just across a footbridge, you'll find the connecting Nan Lian Garden, home to lush greens and a calming waterfall. Ideal for photographers wanting to capture classical Chinese architecture and landscape, Chi Lin Nunnery and Nan Lian Garden offers a bubble of serenity and elegance.
Read our full guide to Chi Lin Nunnery.
Chi Lin Nunnery, 5 Chi Lin Drive, Diamond Hill, Hong Kong, p. 2354 1888
9. Morse Park
One of the largest public parks in Hong Kong (complete with a skating rink and all!), Morse Park is an urban oasis in Wong Tai Sin. It's home to a public swimming pool, sports centre, skate park, tennis courts, and more, making it the perfect place to have a day out in the sun. Split into four different sections, the park's arboretum and the Wong Tai Sin Cultural Garden are must-visits. The picturesque greenery and well-manicured trails make Morse Park a wonderful alternative to the more crowded parks around the city.
Morse Park, 40 Fung Mo Street, Wang Tau Hom, Wong Tai Sin, Hong Kong