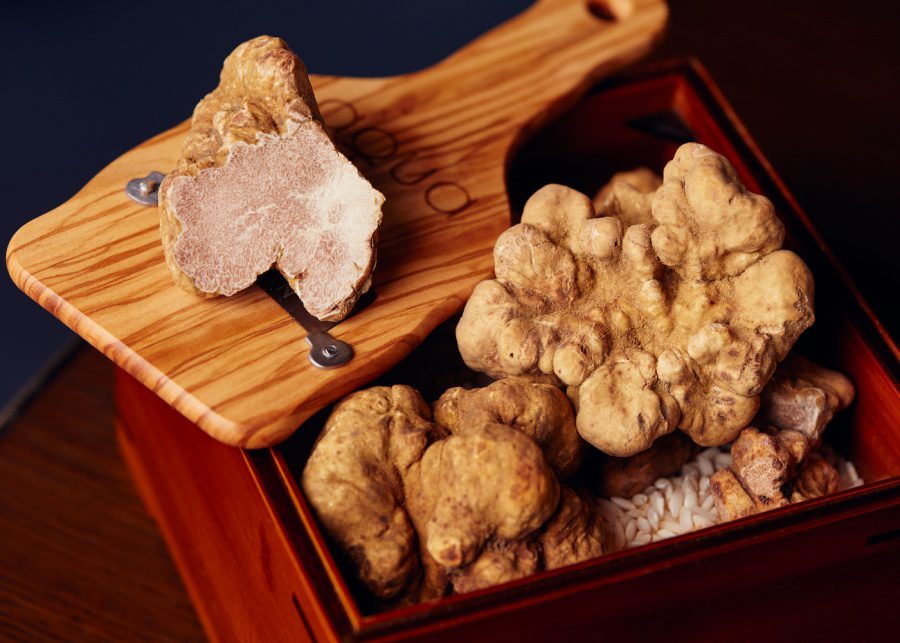 Aqua is one of the many restaurants featuring white truffles this season
'Tis the season to be truffling! Here are our favourite white truffle menus in Hong Kong for fall 2022.
Thank god the weather's finally cooled down in Hong Kong. And you know what that means – this is the season for picnics, cycling, Halloween, and of course, the glorious white truffle. Also known as 'white gold' or 'white diamond', the white truffle is one of the most elusive delicacies in the world, and it's foraged at its peak in October and November (just before the harvest season for black winter truffle). With its distinctive musk and delicate flavours, this prized fungus is a versatile ingredient that can elevate any dish. Whether you're a truffle aficionado, or looking to celebrate a special occasion splurging on this coveted delicacy, check out the best white truffle menus in Hong Kong.
Best white truffle menus in Hong Kong 2022
1. LPM Restaurant & Bar
Chef Maurizio Pace and his team at LPM Restaurant & Bar have selected the most exquisite white truffles from Italy to complement special dishes for this white truffle season. The earthy, aromatic delicacy tops items such as the house-made pastas tossed in cream sauce, delicate burrata, and creamy eggs. The eclectic French Mediterranean menu highlights the culinary gem perfectly to bring out the flavours of the white truffle with complementary ingredients and textures.
LPM Restaurant & Bar, Shop 1, 1/F, H Queen's, 23-29 Stanley Street, Central, Hong Kong, p. 2887 1113
2. Carbone
Led by Head Chef Jack Carson, Carbone is presenting three lavish dishes to showcase the white truffle this season. These include the Truffle Eggs Crostini, Truffle Fettuccine slicked with Sardinian butter, and Ricotta Tortellini – all topped with a blanket of fresh, delicate truffle shavings. With Carbone's bespoke tableside treatment, you can choose your own piece of 'white gold' by the whole or by the gram, then add its morsels to any of your favourite dishes. For the drinkers amongst you, be sure to try the wine pairing recommended by Carbone's sommelier.
Carbone, 9/F, LKF Tower, 33 Wyndham Street, Central, Hong Kong, p. 2593 2593
3. Maison ES
The culinary team at Maison ES knows that white truffle season is also the season for romance. With its "White love like white truffles" tasting experience, the Alba White Truffle is highlighted to make diners fall in love with the rare, heady delicacy. The five-course tasting menu features proteins like Spanish Red Prawn, Japanese Black Abalone, Wild Sea Bass, and Kurobuta Pork that can all be topped with a flavourful sprinkling of white truffles. Bring a loved one with you to partake in the aromatic white truffle tasting experience for a romantic journey life no other.
Maison ES, No 1A Star Street, Wan Chai, Hong Kong, p. 2521 8011
4. Aqua
Aqua's Italian and Japanese chefs bring to the white truffle season an elegant menu featuring dishes that complement the earthy flavours. Some of the highlighted dishes include Seared Wagyu Roll & White Asparagus Salad and White Truffle Risotto with Pickled Chanterelles and Porcini Dust. For dessert, inspired by Chef Andrea Mura's own truffle-hunting adventures in Piedmont, enjoy a special Alba White Truffle Harvest where guests can dig through their dessert to find white chocolate truffles. Head on over to the bar to continue your white truffle journey with the Toryufu Sour – a cocktail with a mix of white truffle-infused Johnnie Walker Black Label and umami bitters, topped with a cheeky slice of white truffle.
Aqua, 17/F, H Zentre, 15 Middle Road, Tsim Sha Tsui, Hong Kong, p. 3427 2288
5. Zuma
Zuma presents an assortment of specials for the white truffle season that will delight. Shavings of white truffles will be featured on dishes including Black Angus Rib-Eye Steak with Black Pepper and Soy, Seasonal Mushrooms Kamameshi Rice with Truffle Butter, and White Chocolate Truffle Molten Cake with Japanese Yuzu Pearls and Sorbet. Not to be outdone on the drinks front, Zuma offers white truffle-topped cocktails such as the Aki Sour and the Shironi – all meant to complement the experience of the delicate ingredient.
Zuma, Level 5 & 6, Landmark Atrium, 15 Queen's Road Central, Central, Hong Kong, p. 3657 6388