Wagyu (left) and Walnut in Wan Chai with their human Daniel Cheung
You may have seen Wagyu and Walnut on the bustling streets of Wan Chai and you can't miss their elegance and poise. So here we are talking with them about their great lives in Wan Chai.
If you're wondering what to do in Wan Chai, there are endless burger restaurants and dive bars for you to explore. But for the two lively whippets Wagyu and Walnut, two sighthounds who live with their F&B-loving human, Daniel Cheung, it's all about dog parks and dog-friendly cafes. We recently sat down with the well-known #DogsOfInstagram to find out the lowdown on their favourite things to do in Hong Kong.
Wagyu and Walnut: Whippets who rule Wan Chai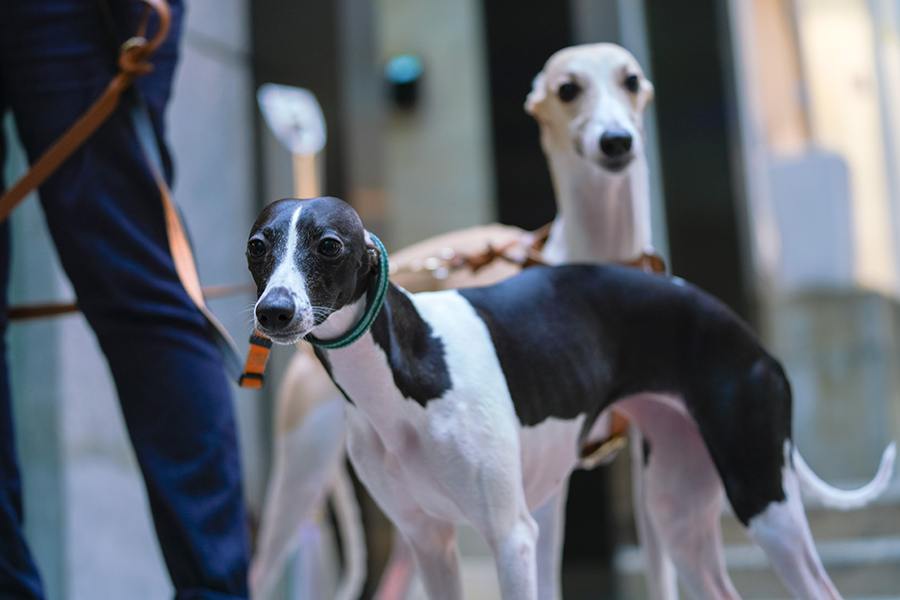 Though many may mistakenly believe that these beautiful creatures are related, it turns out that the pair are actually not. "I would say that they are part siblings and part boyfriend and girlfriend," explains their human, Daniel Cheung.
Cheung found both whippets through Hong Kong Whippet, a Facebook group dedicated to the breed, initially giving Wagyu (the bitch of the relationship) a home before taking in the slightly older Walnut about a year later.
"Wagyu was initially a little cautious when meeting Walnut for the first time, as he wasn't a very well socialised dog. But, it was really love at first for both of them. Walnut was wagging his tail and they were kissing, so it was meant to be."
"But having said that, if you do follow their Instagram (@wagyuandwalnut), you'll see that at least once a day they will fight… like all couples."
We sat down with Wagyu and Walnut to learn more about where they love to hang out in Hong Kong.
Hi, Wagyu and Walnut. Thanks, so much for meeting me today. Firstly, can you tell me about what dog parks you like visiting the most?
Wagyu: On Hong Kong Island, we like going to Tamar Park.
Walnut: But our favourite is definitely Penfold Park in Sha Tin. It's a bit of a drive to get there, but it's twenty times the size.
Wagyu: Sometimes, we like to go to Cyberport Waterfront Park too. Wherever we go, we only last for about twenty minutes before we want to lie down again.
Walnut: Woof! I like inspiring the fatter dogs to run fast!
Haha! So where do you like to go with your human for coffee or dinner?
Walnut: We love living in Wan Chai, as there are so many dog-friendly options.
Wagyu: Obviously, Francis is one of our favourite fine dining restaurants. And we're allowed to sit out the front. For something a little more casual, we like Honbo. The humans love the burgers there.
Walnut: And for coffee we like SFS Cafe. The humans that work there are very friendly, and occasionally we go to Odd One Out, a great print gallery next door.
Wagyu: Oh, and don't forget Le Garçon Saigon. I like people-watching on the pavement there.
Walnut: Yes. There are often lots of good boys and good girls there.
I'm interested to know what your thoughts are on dog fashion?
Wagyu: I'm very happy that our human appreciates our natural appearance. I take pride in my long, thin legs and shiny coat, and I feel like I don't need anything to make me look better. I mean, I feel like even Giselle can't compete with these legs. Plus, I have four, so why try to improve perfection?
Walnut: But, occasionally you will wear a scarf.
Wagyu: Yes. For special occasions only though.
Let's talk sleeping. On the bed or in the dog house?
Together: Bed!
What food gets your tails wagging?
Walnut: With a dad who works in the restaurant business, I guess we are pretty lucky.
Wagyu: Usually, it's whole foods. And I really enjoy game meats, and Taste of the Wild makes some delicious meals with venison and bison.
Are there any dogs you like following on Instagram?
Wagyu: We love @dimsum.diaries, who used to live around the corner. But he recently moved back to Kuwait, so we follow him on Instagram.
Walnut: I like @lovelycasper, cos he's big like me!
Anything else that you would like our readers to know about life as a whippet in HK?
Walnut: Well, with the permanent closure of Macau's greyhound race track later this year, around 500-600 greyhounds may soon be abandoned.
Wagyu: Yes! We want people to know that us sighthounds are very good natured dogs, perfect for adoption. Actually we are generally quite lazy, and one of our favourite things to do is to lie around. So please consider our Macau brothers and sisters if you are thinking about adopting a dog this year.
Be sure to keep up-to-date with Wagyu and Walnut on Instagram.