Watch these women battle it out for the love of The Bachelor (Photography: The Bachelor via Facebook)
Once you start one episode, there is no turning back and there is definitely no way of stopping. You have been warned… these trashy reality TV shows are highly addictive
We at Honeycombers Hong Kong aren't afraid to tell you that we love our happy hour drinks, enjoy hanging out at our favourite dog-friendly cafes on the weekend and that we like to indulge in a good shopping day at high street boutiques for new fashion pieces to add to our wardrobe. But, there's one thing that we also love doing, that is–to be honest–a hidden shame that we have chosen to bury deep within… we love to binge watch trashy reality TV shows. These are shows that are so bad that they're addictively good, and we just can't seem to turn off our screens!  
Trashy reality TV shows that are so bad, they're good
1. Tiger King: Murder, Mayhem and Madness
Wowsers. This show from Netflix is a real headf@*k. Focusing largely on Joe Exotic, a gay polygamist large-cat-lover, and his relationship with other people across the States who own big cat parks, this show gets crazier with every episode. There's mystery, intrigue, politics, music and more missing teeth than you'll probably ever see on a show. When it comes to trashy reality TV shows that you won't be able to turn off; this is where you need to be.
2. Love is Blind
Looking for love? Well these people entered a unique experiment to find the one of their dreams and for some it actually worked. The premise here is that none of the love-seekers get to actually see the people they are dating. They go on loads of dates in their pods, where they can only converse with each other, in an effort to see if love is blind. Engagements, holidays, living together and then (some) marriages ensue, with a whole lot of wine and weirdness along the way. Get involved!
3. The Circle
Another social experiment, this time around social media, The Circle is all about how people interact with others over social. The platform these contestants use is called The Circle, and they are each living in a building together but can't visually see each other. The only connection they have is over the app, where they can choose to either be themselves or someone completely different. You'll find lots of lols here, especially when one of the guys, pretending to be a girl, enters a chat about menstruation…
4. Love Island
So this one comes so thick and fast that we actually had to ban ourselves from watching it, as we were missing out on too much life. But, if you're stronger than us, you should dive in. Here, singles move into a villa in the hope of finding love. They couple up each week and have a number of tests, parties and curve balls thrown at them, with someone leaving regularly and new players coming in. It's highly addictive with new episodes coming out every day.
5. The Bachelor
So, we all know the premise – one handsome eligible bachelor (who is so perfect that it seems almost impossible for him to still be single) who is looking for the girl of his dreams, is mixed into a pool of 20 young women who are vying for his love and attention. Each week one girl is voted off the show when they are not given a red rose, and at the final rose ceremony, they're supposed to get engaged. There are plenty of movie-like extravagant dates, tears, heartbreak, catfights and multiple spin-offs including The Bachelorette and Bachelor in Paradise. We already know that most of the final couples don't make the distance, so why do we still keep watching?
6. Real Housewives
There have been numerous spin offs all over the world of Bravo's popular Real Housewives series including Orange County, Beverly Hills, New York, Atlanta, Potomac, Sydney, Melbourne, Vancouver, Auckland and so much more. Watch financially comfortable larger-than-life housewives in their respective locations brought together (honestly made to become friends and spend time together) live their day-to-day lives. Expect cheating scandals, fancy parties, catfights, and most of the time – small misunderstandings between the women that are blown completely out of proportion.
Read our Real Housewives of Beverly Hills guide to Hong Kong.
7. Married at First Sight Australia
True to its title, a group of everyday people are matched together based on their personality traits by psychology professionals and relationship experts, and are Married at First Sight. Follow each couple go through a wedding ceremony, a honeymoon, living together, enjoying dinner parties and commitment ceremonies. This franchise show has had multiple versions including a UK, an American, a New Zealand and Australian version. If you're looking for trashy TV shows we recommend trying the Australian version, it's drama packed and filled with controversial characters and jaw-dropping cheating scandals.
Read more about our Married at First Sight Australia guide.
8. 90 Day Fiancé
Have you ever heard of the K-1 visa? It's the visa application process available for the foreign fiancés of American citizens to fly to the United States with the condition of 90 days to decide either to marry or leave the country. Prepare to see odd couples with large age differences, foreign fiancés that seem to have ulterior motives for a marriage and American counterparts that at times seem to be taking advantage of their partner. Witness outrageous moments from Russian bride-to-be Anfisa and her generously providing fiancé Jorge to Mohamed and Danielle's turbulent doomed-from-the-beginning relationship, it's an absolute trainwreck to watch, but we can't seem to look away…
9. Vanderpump Rules
Beverly Hills Real Housewife, Lisa Vanderpump, is also the restaurant owner of SUR, PUMP and soon-to-be opened Tom Toms. Get to know the waitstaff and bartenders at SUR, all of whom, had originally taken the service industry job as a temporary one, and are a mix of aspiring actors, models and musicians. It's six seasons in, and many of them have instead become permanent and long-term staff, with more senior and management positions at the restaurant. There's plenty of drama to go around, as you'll soon discover the heavy amounts of (there's no other way to put it…) incestuous relationships in the workplace with multiple cheating scandals with each other's partners.
10. Just Tattoos of Us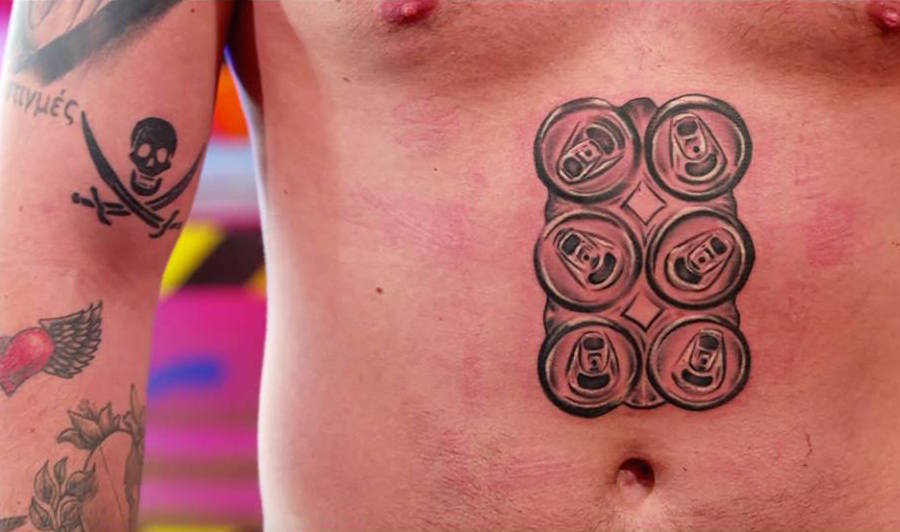 This British Reality Show's premise is two people (typically friends, partners, siblings, cousins or a parent and their child) design a tattoo for each other. But here's the kicker, they do not get to see what the tattoo design is until they have it tattooed on their body and it is later revealed to them. At times these tattoos are sweet and meaningful, but most often than not, it is a competition to see who has outdone the other to produce the worst tattoo imaginable and have it permanently inked on their respective pair. Get ready for horrible tattoos like a Croc on a foot and a lot (and we mean a lot) of backlash.
11. Geordie Shore
You've heard of Jersey Shore, but have you heard of Geordie Shore? It is the British version of the popular American reality show, where a group of vibrant young adults sign up to live in a summer house and must work many different small jobs, but on the upside can in their spare time party as much they want. Watch the group go out on the town and get mortal (drink a little too much) and go on the pull (pick up). There will be plenty of drama including physical fights, getting swirled (throwing a drink in someone's face) and lots of hookups and breakups.  
12. Mariah's World
This 2016 American docuseries features the singer behind the hit We Belong Together and the Queen of all pop divas Mariah Carey, as she begins her Sweet Sweet Fantasy Tour around Europe. Watch Mariah as she prepares to marry her then, now ex-fiancé Australian billionaire James Packer and realise, it's the people around her that are doing the most damage to our favourite pop princess (and we won't hear another bad word said about her!)
Check out our fave Mariah Carey videos.