Looking for early holiday programmes for your kids? We have you covered!
Let your kids experiment, socialise, and unleash their creativity at these online classes and summer camps in Hong Kong in 2022.
Looking to spend more quality time with your kids? Check out our guide to free things to do with kids in Hong Kong. If you want them to unleash their creativity, pick up new skills, and join a new community, these online classes and summer camps for kids in Hong Kong are perfect, too! And to make things easier for you – especially now that summer holidays have come 'early' – we've compiled a list of some of the best online classes and summer camps for kids in Hong Kong, so you know where to look.
Best online classes & summer camps for kids in Hong Kong 2022
1. Treasure Island: Surf & Adventure Camps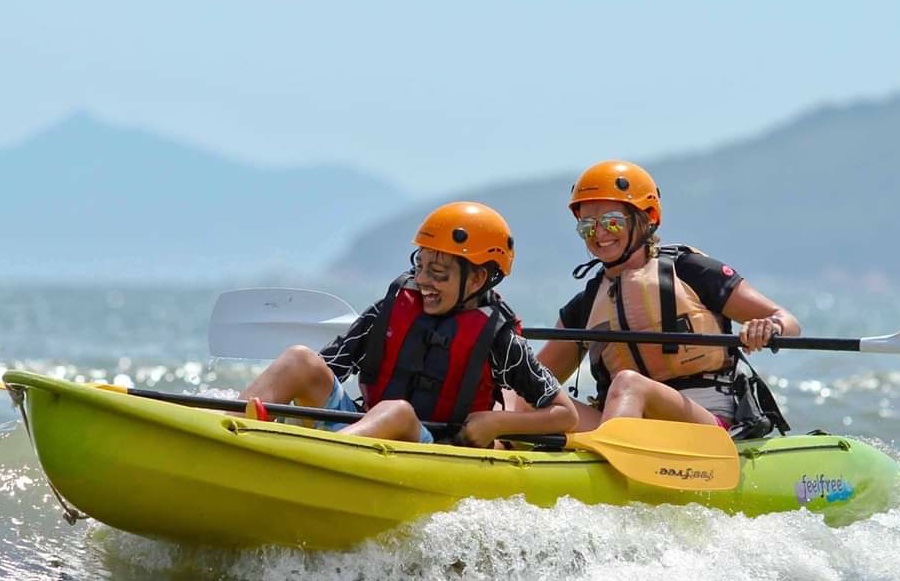 Treasure Island offers both summer surf day camps and week-long day and overnight adventure camps for kids between 5 and 16 years old. The surf camps include a three-hour surfing session and a one-hour land-based session of beach safety, ocean education, and fun games; whereas the adventure camps aim to build kids' outdoor leadership skills such as trip preparation, equipment, and group organisation. There will be loads of fun-filled activities such as hiking and kayaking everyday. It's definitely one of the best summer camps for kids in Hong Kong who enjoy camping and water sports. Find out more about Treasure Island's Surf & Adventure Camps and stay updated by following its Facebook page.
Do your little ones have endless energy? Enrol them in these exciting sports classes for kids in Hong Kong.
Treasure Island, Pui O Beach, Lantau Island, Hong Kong, p. 5236 7016, 大嶼山貝澳泳灘
2. Faust International Youth Theatre HK: Summer Theatre Camp
Summer Theatre Camp at Faust is perfect for drama kings and queens (Photography: Faust International Youth Theatre HK via Facebook)
Learn more about improvisation, devising, vocal projection, and script work at Faust! Offering both theatre and creative writing summer camps for kids in Hong Kong, the programmes serve to be a laughter-filled learning environment for kids to develop self-confidence and teamwork. During the camp, your kids are encouraged to explore different drama themes and to become a proactive performer.
March 2022 update: Faust's Early Summer Programmes and Special Saturday Workshops for ages 4 to 14 are now open for registration. Prefer your child to stay home? There are drop-in online workshops running, too.
Faust International Youth Theatre HK, Nan Dao Commercial Building, 359-361 Queen's Road Central, Sheung Wan, Hong Kong, p. 2547 9114, 上環皇后大道中359-361號南島商業大廈
3. Ark Eden: Forest Summer Camp
Forest Summer Camp by Ark Eden (Photography: Ark Eden via Facebook)
This summer, kids can go wild and embrace nature on Lantau Island. Ark Eden's Eco Camps are curated to bring out the adventurous and curious side of children as well as nurture their love of the outdoors. Taking place in Mui Wo, Ark Eden will host its Forest Summer Camp with a variety of nature-themed camps each day for kids aged 5 to 11. Fun activities include waterfall hikes, organic farming, tree climbing, wild cooking, campfires and more, so don't miss out.
March 2022 update: Adapting to the current situation in Hong Kong, Ark Eden is launching new online offerings. Subscribers will gain access to videos, downloadable materials, quizzes, live online discussions, and more, which all lead to outdoor activities that you can do in your own neighbourhoods and homes. More information are available on Ark Eden's Facebook page.
Ark Eden, 11 Tung Hang Mei, Mui Wo, Hong Kong, p. 2988 5355, 梅窩東坑尾11號
4. Preface Coding: Early Summer Bootcamp
Aiming to promote coding and educate the public on technology, the award-winning EdTech company, Preface, is hosting five-day coding bootcamps for students aged three to 18 until 17 April. Suitable for all levels, the classes are available online or in-person.
We love the wide range of classes Preface is offering. The youngest children (those between three and five years old) can take the ScratchJr course, during which they'll learn to create music videos, cartoons, and mini games, using symbol-only blocks. Next up are those between six and eight years old; not only can they take the Scratch course, but there are also classes on Minecraft, Roblox, Blockchain 101, and NFT creation. The older kids can have a go at frontend programming, the App Inventor, as well as learn about python games, AI, and NFT.
Are your children into all things STEM? Level up their numerical skills at these maths tuition centres in Hong Kong.
Find out more about Preface.
5. iD Tech
Summer Tech Camps by iD Tech (Photography: iD Tech Camps via Facebook)
Held every summer at the University of Hong Kong and the Chinese University, iD Tech will teach kids and teens the basics of coding, AI, machine learning, robotics, and game design. Participants will develop the in-demand skills that are much needed in companies like Google and Microsoft. This is one of the best summer camps for kids in Hong Kong who aspire to be one of the professionals in Silicon Valley.
March 2022 update: While iD Tech's Summer Tech Camps are not running in Hong Kong this year due to COVID-19, you can join the online classes instead which are equally rewarding – and definitely safer than venturing outdoors, too!
Find out more about iD Tech in Hong Kong.
6. CreativeKids: Online LiveArt Workshops
An organisation that aims to mobilise communities and promote creative development in children and teens, CreativeKids offers a comprehensive range of art, design, and architecture programmes. Until April 2022, CreativeKids is hosting a series of Online LiveArt Special Workshops for kids aged 2.5 to 18. Those between 2.5 and 3.5 years old will be enrolled in the Parent-Child Workshop, which offers interactive and affirmative art experiences for both parents and toddlers. And in addition to the Art Programme (which is open to those over 3.5 years old), kids can also try their hand at Chinese art, TechArt (digital painting), design, and architecture. If you'd like to cultivate your little ones' creativity and confidence, LiveArt at CreativeKids will be the perfect online activity this early summer.
Develop your children's potential by attending these creative classes for kids in Hong Kong.
CreativeKids has several studios across Hong Kong.
7. Ocean Park Hong Kong: Mali Mali @Home!
Experience magic at home with Ocean Park's new online workshop series, Mali Mali @Home!, which is held from 22 March to 15 April. These magic workshops are led by Ocean Park's professional magicians, who will interact with your little ones (aged five to eight) via Zoom, and teach them how to master amazing magic tricks using everyday household items. Hoping to inspire children to engage in a greener lifestyle, the workshops are based on four themes: terrestrial and aquatic animals; elements of nature; reuse of domestic waster; and Easter. You can also expect an improvement in your kids' fine motor skills and hand-eye coordination as they work on their craft and movements.
Find out more about Ocean Park Hong Kong: Mali Mali @Home!.
Ocean Park Hong Kong, 180 Wong Chuk Hang Road, Aberdeen, Hong Kong, p. 3923 2323
8. ESF Sports & Language Summer Camps
Running every summer, ESF Sports & Language Summer Camps have something for everyone, and you don't even have to be an ESF student to attend! Ages 3-18 can enjoy full-day camps (running from 9am to 4pm) that blend classes such as writing, theatre, and science in the morning, then make sure everyone stays fit and healthy with multi sports camps in the afternoon.
Have kids who love discovering more about the earth? Ages 3-8 can join the Journey With Commander Earth Camp that will have them learning about jungles, dinosaurs, and even outer space adventures! Students can get some help with languages like English and Spanish, or take part in writing and reading classes.
If it's STEM you're after, then 6-11 year olds can sign up for Stem: Past, Present, & Future where they'll dive head first into engineering, design, and technology, working on a range of projects, and even learning about the process of mummification! There's also a coding camp for students who want to rule the internet, and this can be taken both on-site and from home.
Senior students can spend time diving into a new hobby, such as photography, contemporary art, or debate, and there's a class on sports journalism for sports fans who want to break into the world of media.
ESF Sports & Language Summer Camps have venues across Hong Kong.