How do you like your steak? (Photography: Porterhouse Seafood & Steak via Facebook)
Sometimes, you just need to sit down and tuck into a juicy cut of meat – and we'd recommend you doing exactly that at these best steakhouses in Hong Kong.
Hong Kong has something for everyone when it comes to food. From exceptional vegetarian restaurants, to gluten-free food, to free-flow brunches, you'll be hard pushed to be displeased in the city. And for those of you who call yourself meat lovers, you'll definitely love these amazing steakhouses in Hong Kong. Serving what we think are some of the best steak cuts and prime beef, these fab dining spots will satiate your senses and fulfil all your carnivorous cravings. Get ready to sink your teeth in!
Steakhouses in Hong Kong that we love
1. Porterhouse Seafood & Steak
LKF staple Porterhouse Seafood & Steak is a contemporary, upscale steakhouse in Hong Kong. Among its signature grilled meats and seafood, the restaurant has a selection of sumptuous a la carte dishes like the Yellowtail Kingfish Ceviche; Tagliolini with Barbarie Duck Breast Bolognese; Full-blood Wagyu Ribeye; and more. Add on some delectable sides like the Truffle Mac n' Cheese for a carby complement to the meat. And wash it all down with Porterhouse's popular martinis!
Porterhouse, 7/F, California Tower, 30-32 D'Aguilar Street, Lan Kwai Fong, Hong Kong, p. 2522 6366
2. Grand Hyatt Steakhouse
Located on the lobby level of Grand Hyatt Hong Kong, Grand Hyatt Steakhouse showcases prime cuts of beef from the US, Canada, and Japan. In addition, the steakhouse has a large selection of oysters, seafood on ice, and fresh salads to diversify its offerings. To pair with the steaks, they offer 160 labels of superlative international wines, with over 600 bottles from around the world. Cheers to that!
Grand Hyatt Steakhouse, Grand Hyatt Hong Kong, 1 Harbour Road, Hong Kong, p. 2584 7722
3. Feather & Bone
Steakhouse, butcher, deli, and your neighbourhood grocer all in one – that's Feather & Bone! With an expansive Butcher's Counter showcasing an assortment of gourmet cheese, as well as the finest cuts of meat and charcuterie, you can take your pick between marbled steaks, homemade sausages, lamb cuts, and more, then have them prepared your way in the kitchen before getting them served to you at the table. We love how the butchers are knowledgeable and friendly, and can always recommend us the best cuts.
Feather & Bone has several locations across Hong Kong.
4. Lawry's The Prime Rib
Lawry's The Prime Rib has to be at the top of your list if you are a prime rib lover. A family business established in 1938, Lawry's has maintained high international reputations with its excellent service and ambience. Its menu features an array of luxurious food, ranging from the famous Spinning Bowl Salad and Lawry Cut, to the Atlantic Lobster Tail and Grilled Baby Lamb Rack. Other than the a la carte menu, the semi-buffet brunch also allows you to try its juicy prime ribs in addition to many other delectable salads, soups, and desserts.
Lawry's The Prime Rib, 3/F, The Galleria, 9 Queen's Road Central, Central, Hong Kong, p. 2907 2218
5. La Vache!
A Parisian steakhouse under Black Sheep Restaurants group, La Vache! is a lively brasserie with vibrant music, cosy vibes and, of course, hella delicious steaks. Unlike some other steakhouses with a huge menu, La Vache! specialises in one steak set which includes a US Prime rib-eye steak, salad, unlimited fries, and a dessert if you go for lunch. Since the fries are super crispy here, you'll binge eat for sure, so remember to leave some space to enjoy the tender steaks!
La Vache! has various branches across Hong Kong.
6. Ruth's Chris Steak House
One of the most authentic steakhouses in Hong Kong, true fans of steak will already be familiar with Ruth's Chris Steak House. This upmarket steakhouse chain from the US is widely known for its custom-aged USDA prime steak. Each steak is served sizzling on a hot plate with a melting piece of butter on top. As for the crowd favourites, the restaurant's specialty cuts such as the Tomahawk Ribeye, Bone-In Filet, and Bone-In New York Strip are all popular items on the menu.
Ruth's Chris Steak House has locations in Admiralty and Tsim Sha Tsui East.
7. Morton's The Steakhouse
When it comes to steakhouses in Hong Kong, Morton's is one of our faves. Originating in Chicago, Morton's The Steakhouse is famous for its USDA prime-aged beef, which is aged for 23 to 28 days and custom-cut by experienced butchers. The steakhouse has over 70 restaurants across the United States and around the world, including Hong Kong, where it is located at the vibrant area of Tsim Sha Tsui. Dine overlooking the iconic Victoria Harbour, and don't forget to pair your steak with some wine from the restaurant's award-winning selection. When it comes to steakhouses in Hong Kong, Morton's can't be beaten!
Morton's The Steak House, 4/F, The Sheraton Hotels & Towers, 20 Nathan Road, Tsim Sha Tsui, Hong Kong, p. 2732 2343
8. Bistecca Italian Steak House
Bringing the rustic vibes from Tuscany, Bistecca Italian Steak House has been serving the finest sizzling steaks in Lan Kwai Fong for over a decade. Customers are not only given an extensive selection of meat cuts to choose from, but are also hampered with many delicious starters and mains like Grilled Bone Marrow, Spaghetti Frutti di Mare, and Wagyu Beef Carpaccio. Moreover, its salad and antipasti buffet has long received great customer reviews for the extensive options available.
Bistecca Italian Steak House, 2/F, Grand Progress Building, 15 Lan Kwai Fong, Central, Hong Kong, p. 2525 1308
9. Beefbar
Looking for steakhouses in Hong Kong that will really impress? Michelin-starred Beefbar in Central is the global restaurant that is all about the #SteakLife. Sit back in the stunning design, enjoy the finest vino from Beefbar's wine cellar, then choose from the finest cuts from Australia, Korea, Japan, and America. Add sides such as the delicious mac 'n' cheese and you'll be sorted in no time.
Read our full review on Beefbar.
Beefbar, 2/F, Club Lusitano, 16 Ice House Street, Central, Hong Kong, p. 2110 8853
10. Tango Argentinian Steakhouse
Get transported to South America at Tango, another steakhouse in Hong Kong famous for its Argentinian steaks and empanadas. Its location in Elements is tastefully decorated with a rustic and industrial-style interior. The restaurant offers an exclusive selection of prime beef that comes with different sauces, traditional South American sausages, achuras, and many more. All of the meats also pair well with Tango's Argentinian wines and Buenos Aires-style cocktails.
Tango Argentinian Steakhouse, Shop R008, 3/F, Rooftop Garden, Civic Square, Elements, 1 Austin Road West, Tsim Sha Tsui, Hong Kong, p. 2780 1181
11. The Steakhouse, Regent
Curated cuts of prime meat from farms around the world are on the charcoal grill at The Steakhouse, Regent. Meat lovers will find reinvented classics and contemporary dishes to nosh on while enjoying the refined and classy interior. Favourites like the Beef Tenderloin Tartare and Canadian Lobster Bisque make great starters, but if you want to really indulge – go for the Perseus Caviar. The meat collection has choices from Italy, South Korea, Spain, Japan, Australia, and the US. Try the 160 days grain-fed Black Angus or the Wagyu A5 Grade Tenderloin and experience high-quality beef like no other.
The Steakhouse, Regent, G/F, Regent Hong Kong, 18 Salisbury Road, Kowloon, Hong Kong, p. 2313 2313
12. 37 Steakhouse & Bar
37 Steakhouse & Bar is a New York-style steakhouse in Hong Kong, serving beef cuts not just from the US but also from Japan, Australia, and Belgium. Its huge menu includes a variety of mouth-watering appetisers, sides, and mains, ranging from Hokkaido Scallop Carpaccio with Yuzu Ponzu, to Grilled White Cod with Creamy Crab Sauce. If you struggle to pick a steak from the list, you can never go wrong with the Australian M5 Wagyu Rib Eye or the US Prime Short Rib.
37 Steakhouse & Bar, Shop 102-103, 1/F, The Peak Galleria, 118 Peak Road, The Peak, Hong Kong, p. 2885 3320
13. Wooloomooloo Steakhouse
Premium steaks are the stars at Wooloomooloo Steakhouse, which has two branches in Wan Chai and Tsim Sha Tsui East. Offering quality Australian beef from Western Australia and Queensland, as well as USDA prime beef from Nebraska, USA, the Wan Chai branch also has a rooftop terrace that boasts a world-class view of the Victoria Harbour, Happy Valley Racecourse, and the vibrant neighbourhood of Wan Chai. When it comes to steakhouses with a view, Wooloomooloo takes the cake.
Wooloomooloo Steakhouse has locations in Wan Chai and Tsim Sha Tsui East.
14. Wolfgang's Steakhouse
With the tag line "classic never goes out of style", Wolfgang's Steakhouse is the classic American steakhouse that specialises in serving authentic dry-aged steak. Founded by Wolfgang Zwiener, the restaurant uses only USDA prime beef of the highest quality to bring out the original flavours of the steak.
Wolfgang's Steakhouse, 1/F, Printing House, 6 Duddell Street, Central, Hong Kong, p. 3990 1646
15. Associazione Chianti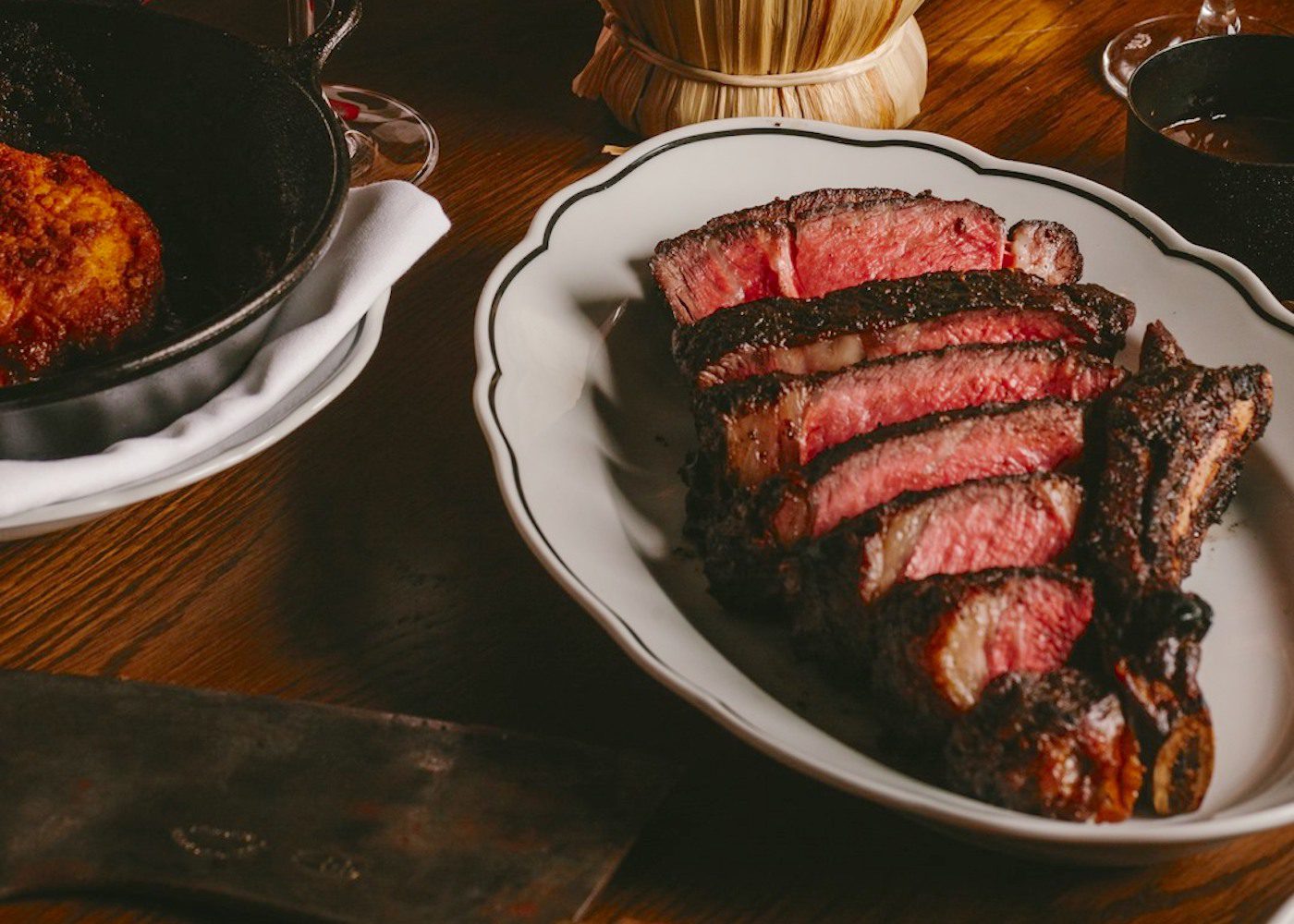 Another gem by Black Sheep, Associazione Chianti is a cosy, rustic Tuscan trattoria that's worth a visit for any steak lover. Enjoy USDA Super Prime cuts carefully selected by the in-house butcher. After a 12 to14-day dry-ageing process, each cut of beef is seasoned with a dry rub before being cooked on a custom-made Tuscan broiler. The pastas like the Tagliatelle are also worth a try, but it's the steaks like the Bistecca Alla Fiorentina that are the real highlights. Don't forget to keep the wine flowing as you partake in a delicious Florentine meal!
Associazione Chianti, 15 Ship Street, Wan Chai, Hong Kong, p. 3619 3360
16. Henry
Delivering a truly luxurious steakhouse experience, Henry at the Rosewood Hong Kong raises the bar while keeping true to its American roots. With wood-fired ovens and charcoal grills, old-school butchery and Texan barbeque traditions are honoured here. The Chef's Signature Steak Tartare is a crowd favourite while Boston Lobster Macaroni is a go-to side order. The steaks, from USDA Prime Black Angus Tenderloin to the Wagyu A5 Ribeye Cap, are all expertly grilled and melt like butter in your mouth. Take a night to dress up in some fine duds, have a few glasses of wine, and have an unforgettable meal at Henry.
Henry, 5/F, Rosewood Hong Kong, Victoria Dockside, 18 Salisbury Road, Tsim Sha Tsui, Hong Kong, p. 3891 8888