Providing yoga wear for every body, Beyond Yoga's motto is to make customers feel good in their own skin (Photography: Beyond Yoga via Facebook)
Shop yoga clothes in Hong Kong at these stores across town and online
Growing up we've learned that it's important to take care of our own physical health, hence comes a huge variety of yoga studios, pilates studios, and boxing gyms popping up in the city. But instead of sounding all serious, let's not take the fun out of our fitness routine – and instead look on point as we shop for yoga clothes in Hong Kong! Who says you can't look good while breaking a sweat? These activewear stores will guarantee you funky, patterned leggings to fluorescent-coloured trainers that are just as good as on-trend streetwear.
Where to shop yoga clothes in Hong Kong
1. Beyond Yoga
Famous for their extremely soft and supportive fabric, Beyond Yoga sells female sports outfits with a focus on yoga wear. Nonetheless, their jumpsuits, crop tanks, and dresses are all equally comfortable, and we love that. One thing special about Beyond Yoga is that there are numerous selections of maternity and extended-size clothing. We find their Vintage Wash collection appealing since we love the blue tye-dye design.
Shop Beyond Yoga online
2. Gym Shark
Beachwear, joggers, shorts… You can get all sorts of affordable yet engineered sports apparel from Gym Shark. Embracing the concept of community, Gym Shark makes clothes for everyone regardless of gender, body size, and ethnicity. Their clothing is lightweight, breathable, and flexible while having a cool and simplistic design.
Shop Gym Shark online
3. Alo yoga
Loved by many famous celebs, Alo Yoga is an LA-based yoga brand with comfortable and highly versatile outfits. Selling a wide range of yoga clothes for both men and women, they also have different trendy accessories, such as duffle bags, yoga mats, and barre socks. We love how you can easily buy neon orange leggings or olive green t-shirts here. Countless colour options are available that you will end up with a long shopping list!
Shop Alo Yoga online
4. Zyphr
Zyphr is a Hong Kong sportswear brand that utilises engineered fabrics to support athletes' training performance. As sports science specialists, Zyphr has a collection of male, female and unisex activewear made with innovative textile technology. We like the Midnight Blue Performance Tee since it does very well in moisture management, keeping you dry and warm while doing outdoor CrossFit. In addition, Zyphr offers free shipping within Hong Kong.
Order Zyphr online or try their clothing on at designated retailers
5. Sleeh
Sleeh is an online athletic wear retailer based in Hong Kong. Unlike the typical matte yoga apparel, Sleeh's yoga outfits often have a silky reflective look and chic patterns. One of our favourites is their Sand Shine leggings with the soft foldable waistbands. Not only does it provide high flexibility when moving our waist, but the shiny fabric is also very eye-catching.
Sleeh, King Yip Factory Building, Unit D, 7/F, 59 King Yip St, Kwun Tong, Hong Kong, p. 2357 0319
6. Bigbig
Looking for workout gear with attitude? Bigbig is where you'll want to head. This online store is the brainchild of designer and founder Chris Chang, and we love the no f*&%s given approach to athleisure. Why the heck should we not look fab doing barre in an outfit that crosses into evening wear? Love, love, love!
Shop Bigbig online
7. Sweaty Betty
This brand from the UK is known for its fab yoga clothes, athleisure, and swimwear just as much as it's known for its complimentary services. The first store in Asia can be found inside IFC, where you'll get the same great experience you get at the Carnaby Street flagship in London. If you're down for a touch of kombucha, want to monogram your gear, or even fancy a personal shopper to help you out – this is where you need to be.
Sweaty Betty, Shop 1028 Podium Level One, IFC Mall, 1 Harbour View Street, Hong Kong, p. 2519 0922
8. Hoya Kerry Activewear
With their philosophy being love green, love sweat, and love more, Hoya Kerry is an eco-friendly fitness and well-being lifestyle brand launched in July 2018. You'll be happy to find an array of high-performance (and colourful!) yoga clothes and sports bras that are made from PET plastic at Hoya Kerry Activewear.
Shop workout apparel at Hoya Kerry Activewear online
9. Cotton On Body
Looking to get your hands on trendy and affordable yoga clothes? Under the Australian brand Cotton On, Cotton On Body showcases a fascinating everything from pretty underwear, sleepwear, swimwear to versatile workout apparel for men and women.
Cotton On has multiple locations in Hong Kong.
10. Felo Sophie
Made for strong beautiful women who enjoy working out, Felosophie is a lifestyle brand established by Olive Lee in 2017. It's also a successor of She Collective HK which is a Hong Kong headquartered online platform co-founded by Olive Lee and Rosann Ling for women to discover themselves through fitness. Featuring a comprehensive array of fitness brands from across the globe, you can find all sorts of yoga clothes, leggings, and tanks to wear to your gym.
Shop workout apparel at Felo Sophie here online 
11. Calvin Klein
Calvin Klein offers a wide range of summer activewear that is engineered for maximum comfort when it's hot out there. By incorporating moisture-wicking technology in their mash tanks, it's perfect for movement when things are heating up.
Calvin Klein has stores around Hong Kong.
12. Lululemon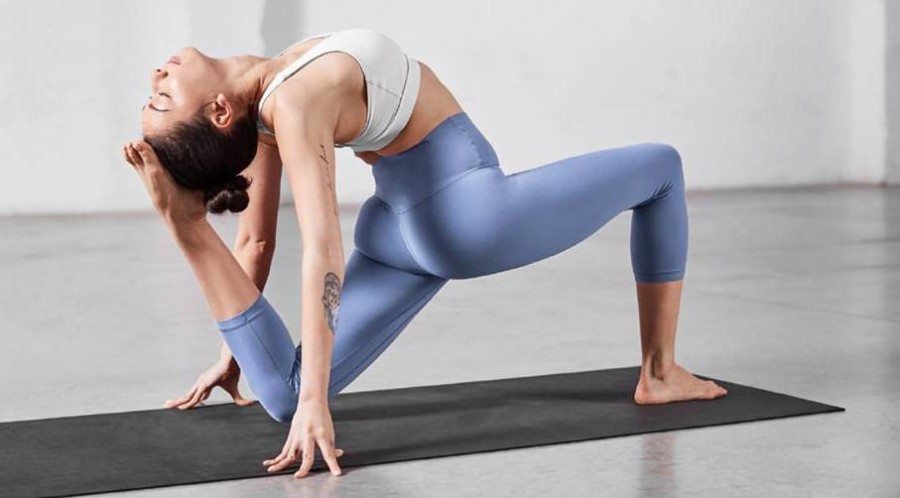 We here at Honeycombers believe that you can never have too many tanks when it comes to working out. The lightweight sleeveless tee from Lululemon is ideal for sports as well as a summer daytime look, making it the perfect piece if you are heading out after your gym sesh.
Lululemon has multiple locations in Hong Kong.
13. Caelum Greene
Channel your inner Kylie Jenner and get your hands on fashionable sports bras in a myriad of colours from Caelum Greene. Besides the lovely colours available, the fit is great and we love the cut-out detailing and the use of transparent mesh in the bra tops. Boost your confidence and show off the sexy curves you've been working on over the past few months!
Caelum Greene, Shop 304-305 The Landmark, 15 Queen's Road Central, Central, Hong Kong, p. 5530 2524
14. Nike
Perfect for heading to the gym after work, pack all you need for the day into these waterproof day bags from Nike. Explore the various styles including the tote, the drawstring, and also duffel bags. Some even have yoga-mat attachments and padded shoulder straps for comfort, but we are big fans of the oversized Nike Effortless where you can just dump all your gear inside and get going.
Nike, Shop 702-703, Times Square, 1 Matheson Street, Causeway Bay, Hong Kong, p. 2506 2522, 香港銅鑼灣勿地臣街1號時代廣場702-703號鋪
15. Pure Apparel
As you combat those squats and lunges let your outfit also be at play by mixing and matching prints to create a fun look. The recent Spring Summer 2018 collection highlights the Vortex Bra which has a cross-back design and adjustable bra clasp. They also feature different types of fabric in the latest SS18 collection, including the popular 4-Way Stretch Jersey Fabric and the new Jacquard Fabric.
Shop Pure Apparel online.
16. 2XU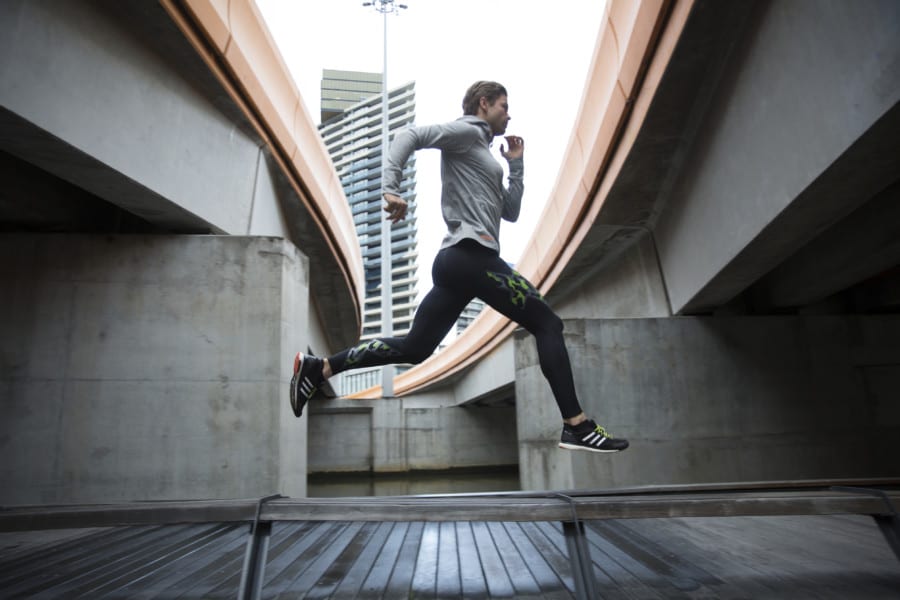 Don't forget to swing by 2XU – which just opened its flagship store in Causeway Bay – if you're looking for superior grade compression tights for major leg muscles. The black leggings come with accents of camo for men, as well as pink origami and teal origami for women. The special design helps fitness junkies regain peak form as fast as possible. Crafted from soft and breathable fabric, you'll be tempted to wear these straight to brunch after your workout!
Shop 2XU on Zalora. 
17. Under Armour
In a rush and no time to do your hair? Or simply looking for something to keep sweat at bay at the gym? Try using a cool bandana from Under Armour and let your hair dramas be a thing of the past.
Under Armour has multiple locations in Hong Kong.
18. Adidas
Your training shoes are an equal measure of function and fashion. Power through your workouts in style with Adidas by Stella McCartney Crazy Bounce Training Shoes. The bounce offers stability and speed, boasting a prime knit upper that provides added support. We also recommend adding Adidas Neo and the all-time favourite Adidas Ultra Boost to your sneaker rotation if you want to be on top of your sneaker game.
Adidas has stores across Hong Kong.
19. Sparks
Looking to shop for yoga clothes in Hong Kong that give back? Sparks is a brand that was created with the motto: do good, live good, and feel good through charity and sports. The brand endeavours to make affordable athleisure wear that looks good and feels even better, and 5% of every purchase goes back to charity. We love the high-waist leggings (and the fact that some styles come with pockets!) which are perfect for hitting the gym in, the hardest part will be choosing which colour/style to go for. The fit here is a little smaller than most, so we'd recommend buying the size up for maximum comfort.
Shop Sparks online
20. Aumnie
Shop activewear for men and women at Aumnie, a sustainable lifestyle brand made for an active and mindful living. Shop affordable tanks, leggings, and sports bras that deliver a slight edge with criss-cross cut patterns. There's free shipping to Hong Kong on all orders (cha ching cha ching!).
Aumnie, Room 1601, 16/F, 99 Wellington Street, Central, Hong Kong, p. 3188 0973
21. Decathlon
If you're looking for variety and a one-stop-shop for all things yoga (and more!), Decathlon is always here for ya with their spacious stores. Prices differ according to material and design, but whether you're a novice or a pro, you'll find something suitable at Decathlon. While you're shopping for yoga wear, you can also conveniently pick up a yoga mat, block, and dumbbells as they can all be found in the same section.
Decathlon has multiple locations in Hong Kong or, alternatively, you can shop online and either pick-up in person or have it delivered.