Esemblē's signature bell shoulder bags are still in. (Photography: Esemblē via Facebook)
Are you looking for a well-designed bag to help you live your best life in the city? We've compiled a list of our favourite places to shop bags in Hong Kong
Whether you're looking for jewellery shops, lingerie stores or snazzy sneakers, there are endless options for you to choose from when it comes to shopping up large in the city. And if you're seeking a well-designed and well-made bag to carry your belongings and to complement your outfit, here is a list of our favourite places to shop bags in Hong Kong.
Where to shop bags in Hong Kong
1. Anthology Paris
Anthology Paris was established in 2011 by siblings Anthony and Chloe Hebben. The designs have a vintage spirit and classic sophistication, and are made with carefully selected strong and lightweight leathers from France and Italy. Their collection of signature cross-body leather and suede bags are excellent for day-to-day casual wear.
Anthology Paris products are available online or at Kapok, which has multiple locations in Hong Kong.
2. Cafuné
Established in 2015 by lifelong Hong Kong friends Queenie Fang and Day Lau, Cafuné offers a wide selection of bags in a range of different colours, styles and materials. Named after a Portuguese word that refers to the act of playing with a lover's hair (cute!), the brand pays close attention to detail when creating their products. Apart from their sustainable Conscious Collection, we are fans of the geometric elements and unique materials they use on all their handbags, clutches and totes.
Shop Cafuné online or via their stockists around Hong Kong.
3. Charles & Keith
Fashionable bags don't always have to break the bank. Those who are seeking more affordable (but equally trendy) items can look to Charles & Keith, a Singaporean brand that offers a variety of accessories, including the clutches, saddle bags, wallets and more. Along with an array of patterns and designs, Charles & Keith's bags often feature a chain, handle or turn-locks, which add both functionality and character.
Charles & Keith, Shop 204, Level 2, K11 Musea, Tsim Sha Tsui, 尖沙咀梳士巴利道18號2樓204號鋪
4. Delvaux
Delvaux may be one of the world's oldest luxury leather goods house, but it has by no means lost its touch. This Belgian brand has been using gilded embellishments, bold lines and metal-plated trims on some of their latest designs, bringing volume and edge to their look–and we like this new direction.
Read more about Delvaux.
Delvaux, Shop 203A, 2/F, Landmark Atrium, 15 Queen's Road Central, Hong Kong, 中環皇后大道中15號置地廣塲中庭2樓203A號舖
5. Doughnut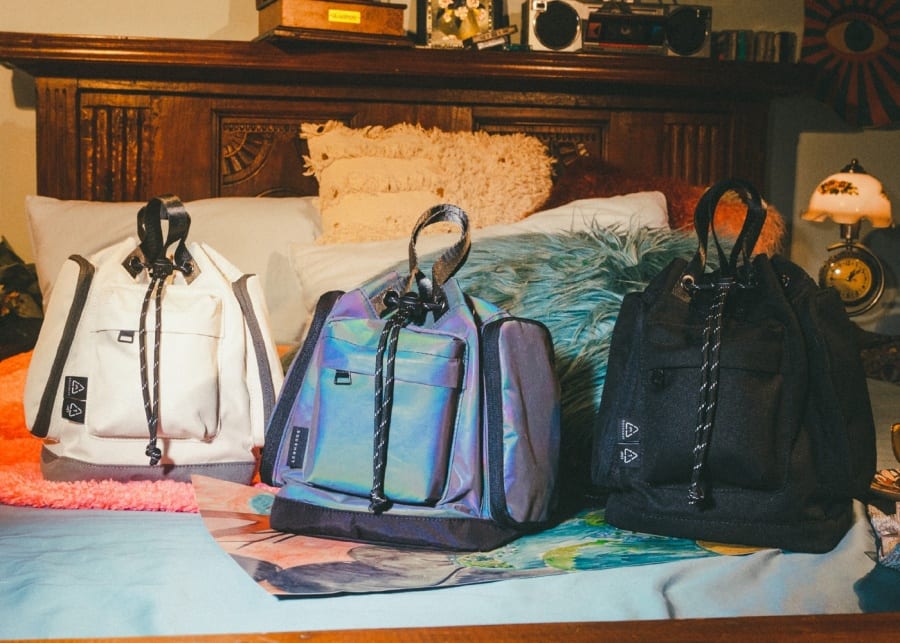 Brought together by several local young designers in 2010, Doughnut aims to offer quality and practical bags. Integrating fashion and functionality, Doughnut has backpacks and purses of myriad hues and patterns. Their recent Limelight series is particularly striking with its special fabric, which turns from dull grey under natural daylight into hologram colours under strong lights. The tints are saturated when you shine on the fabric with a smartphone flash, so IGers–you know what to do.
Shop for Doughnut online.
6. Esemblē
Esemblē revitalises classic designs by bringing in more vibrant colours and contemporary accessories. Established by designers Alex Jiaravanont and Tink Wong in 2015, the label is inspired by the pair's New York design background and vintage flea market finds. If you're in search of an effortless yet chic wardrobe, Esemblē will have you covered with their handbags, backpacks, and bucket bags that come in a multitude of colours, from pink pastels to classic blacks.
Esemblē, Harvey Nichols, G/F, Landmark, 15 Queen's Road Central, Central, Hong Kong, 中環皇后大道中15號置地廣場地下Harvey Nichols
7. JW Pei
Hailing from LA, JW Pei is one of the best recognised accessories label as of late. Not only are its designs distinctive (think scrunchy shoulder bags for some classic '90s vibes), but its use of sustainable materials, like vegan leather, has also been acknowledged. JW Pei also insists on having affordable prices, so to make the brand more approachable–and we're grateful for that.
Shop for JW Pei online.
8. Kozha Numbers
Kozha Numbers is a design label founded by Iona Gerasimov and Lena Vasilenko in 2011. The brand finds inspiration in art, architecture and geometric elements, and it focuses on using traditional methods of handcrafting. Its classic black designs are simply elegant and easy to match with any outfit.
Shop Kozha Numbers online or find their products at various stockists in Hong Kong.
9. Lancaster Paris
Minimalistic and sophisticated, Lancaster Paris specialises in creating luxury leather goods and accessories. The bags come in a good range of colours including bright orange, warm hues and natural tones. Select your preferred style from backpacks, bucket bags and handbags to sleek clutches for those weekend nights out.
Lancaster Paris, Shop LG2-20, Festival Walk, Kowloon Tong, Hong Kong, 九龍塘又一城LG2-20號鋪
10. MCM
Known for their subcultural aesthetics and youthful designs, MCM's backpacks, weekenders and cross-body bags are some of the most sought-after accessories in the city. Recently, the label has partnered up with Korean artist SambyPen, releasing a fresh collection that pay tribute to street culture, graffiti and the digital age.
MCM, Shop 329, 3/F, New Town Plaza Phase 1, 18 Sha Tin Centre Street, Sha Tin, 沙田沙田正街18號新城市廣場一期3樓329號鋪
11. Mischa
Recognised for its casual, timeless and versatile designs, Mischa is one Hong Kong brand that you need to know about. See their signature perforated leather-detailed bucket bags and tote bags, as well as their overnighter bags which are made for easy travelling (never too early to start planning!). Mischa's range of colours and styles make their bags perfect for every season–and it's always good to #supportlocal.
Mischa, Lane Crawford, 1 Matheson Street, Times Square, Causeway Bay, Hong Kong, 銅鑼灣勿地臣街1號時代廣場地下至1樓
12. Rebecca Minkoff
Founded in 2015 by designer Rebecca Minkoff, the eponymous brand designs accessible luxury goods including bags, accessories and shoes, as well as offering casual and edgy bags that are perfect for everyday use. See its latest range of oversized bags, which are chic and never bulky. The handbags, cross-body and shoulder bags dance between the lines of femininity and masculinity, featuring stargazing patterns, fringed designs and more.
Rebecca Minkoff, Shop OT306B, Level 3, Ocean Terminal, Harbour City, Tsim Sha Tsui, Hong Kong, 尖沙咀廣東道17號海港城海運大廈3樓OT306B號舖
13. Ril Creed
If you want to shop bags in Hong Kong, Ril Creed is a Japanese handbag label that began in 2012. It uses offcuts and upcycled materials to create luxury fashionable handbags for modern women on the go. Find a range of styles and colours at their online and on-the-ground store.
Read more about Ril Creed.
Ril Creed, Shop 7B, 1/F, 11-19 Great George Street, Fashion Walk, Causeway Bay, Hong Kong, 銅鑼灣Fashion Walk記利佐治街11-19號1樓F7B號鋪
14. Tumi
Designed in America since 1975, Tumi creates business and travel essentials that blend functionality and ingenuity. Their bags are perfect for every occasion, from going to the gym, to the office, to a night out or just casually strolling the streets. Aside from the new Merge Collection, which features bags made from durable recycled material, Tumi's latest collaboration with McLaren is also worth checking out, particularly for the automobile fans amongst you.
Tumi has multiple locations in Hong Kong.