A breathtaking aerial view of Shing Mun Reservoir (Photography: @jessica_lkw via Instagram)
Sick of the city? Grab your friends, put on your hiking boots and enjoy this easy hike around the Shing Mun Reservoir. Meet the locals, but remember to not feed them
Keeping fit in Hong Kong has never been easier, how about trying your hand at CrossFit, getting wet with water sports, enjoying cheap fitness classes in Hong Kong or learning to fight at these boxing gyms?  We're spoilt for choice, however don't forget, you can always swap the studio for the great outdoors. The Shing Mun Reservoir hike is not just a pulsating climb, but you can meet some local wildlife (including cheeky monkeys) on the way to blissful scenery.
Shing Mun Reservoir Hike (AKA the monkey hike!)
Starting point
Head over to Tsuen Wan MTR station and take exit B1. From the station it's a five minute walk to the 82 green minibus, which will take you to Shing Mun Country Park. We definitely recommend you enjoy a large meal before getting on the minibus as there are no food vendors at the park.
Shing Mun Country Park
All locals know that you will need to grab a walking stick or branch before starting the hike as wild monkeys in the park though cute in appearance are also unruly and incredibly unpredictable. The walking stick will act as a deterrent to the monkeys to approach or come anywhere near you.
Beware the monkey trail
The amount of monkeys you will see are completely dependent on what season or day you choose to hike. During the weekends in the Spring and Summer, hundreds of monkeys will be standing on the railings and trees, waiting for hikers to appear. These are the devious and cheeky monkeys that will try and steal food and snacks from you – so be very very careful. We recommend leaving all food at home, as they will be less likely to approach you if you have nothing that they want.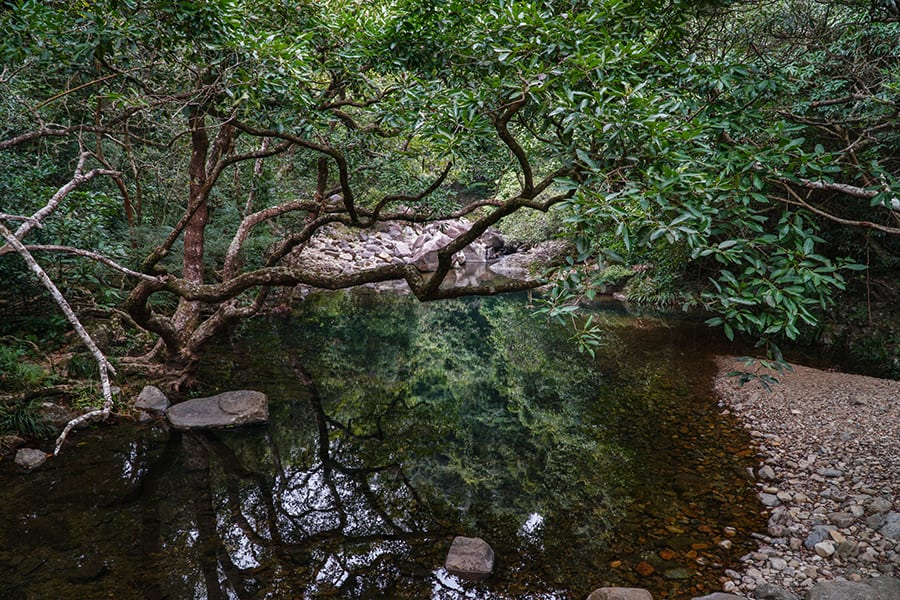 Start your hike on your left and walk up the flight of stairs. Follow the path and enjoy the breeze and shade under the many trees overlooking the trail. Walk over clear small streams that run down to the Shing Mun Reservoir, and along the way see wild birds, dogs and even cows. Make sure you look where you step because these animals do not have designated toilets.
There are many picnic and rest spots on the trail for you to stop and take a break. The three hour trail around the Shing Mun Reservoir is often described by locals as a foreign planet, and has been incredibly popular with couple wedding photography. When you find your way to the main dam you'll find a stunning view of the water reserve surrounded by mountainous slopes and hills – a perfect spot to take a picture or fly your drone!