Enjoy excellent coffee, wine, breakfasts and more at some of our favourite Sai Ying Pun cafés
We are big fans of the Sai Ying Pun neighbourhood, and not just because it's home to Honeycombers Hong Kong HQ! We've already spilled on the best Sai Ying Pun lunch spots, introduced you to our fave restaurants in Sai Ying Pun, and worked our butts off at functional training gym F45 Training Sai Ying Pun, but where should you go for coffee? If you're looking for a caffeine fix or just need a quiet nook to settle down with a smoothie and a good book, check out our guide to Sai Ying Pun cafes, known by many as the hippest neighbourhood in the Western District.
We're all about these Sai Ying Pun cafés
1. NOC Coffee Co.
If you're a serious coffee drinker, you'll most likely have heard of NOC Coffee Co. (it's one of our favourite Sai Ying Pun cafes for a reason!) Following its launch late last year, the roastery has quickly become a firm favourite, and it's no surprise looking at its menu. From all-day breakfasts and healthy salads to matcha lattes and flat whites using Colombian and Brazilian beans, the spacious roastery lab with floor-to-ceiling windows truly offers something for everyone's tastes. With free Wi-Fi and a relaxing ambience, don't be shocked to find yourself in this stylish spot among laptop users and Instagrammers, sipping on the best of brews.
NOC Coffee Co., Shop 4, G/F, Bohemian House, 321 Des Voeux Road West, Sai Ying Pun, Hong Kong, p. 3611 5300, 西環德輔道西321號瑧璈地下4號舖
2. Winstons Coffee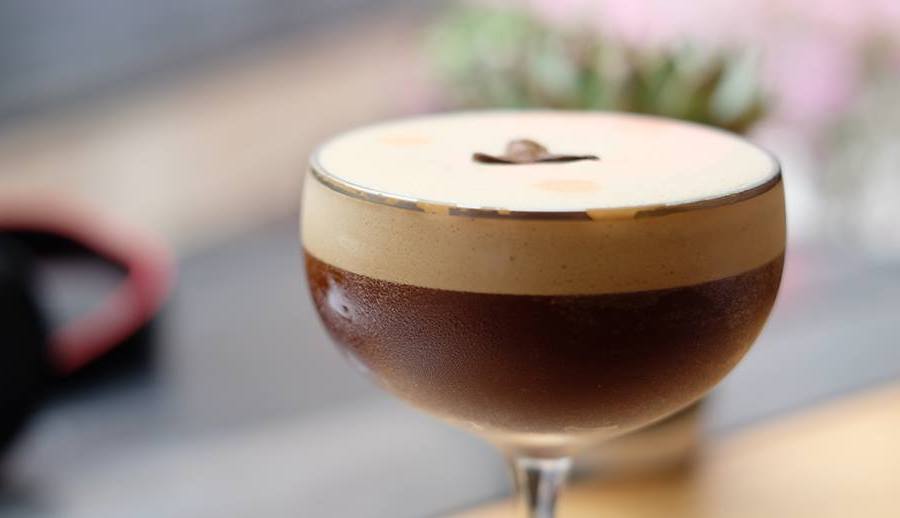 Calling all coffee and espresso martini lovers! If you've not already made a visit to Winstons, make this a priority. Located by Sai Ying Pun MTR Exit A1, this hip coffee shop offers not only the best Allpress espressos but also a range of post-work tipples including its famous espresso martinis. For a lunchtime bite, we love the locally put together sandwiches and if you've not already jumped on the kombucha bandwagon, this is the place to give it a go!
Love it so much but wish it wasn't always so crowded? Luckily, Winstons has recently opened another branch in Kennedy Town, which is just as cosy and accommodating, and it features in our guide to cafes in Kennedy Town.
Winstons Coffee, Shop 4, G/F, 213 Queen's Road West, Sai Ying Pun, Western District, Hong Kong, p. 2559 5078, 西環西營盤皇后大道西213號地下4號
3. Bluebird Coffee
When all-white is the new aesthetic that most coffee shops go by, dare to go bold with the navy blue accents at Bluebird Coffee. The must-try treats here definitely have to be the spinach cheese lattice and the strawberry cheesecake. For drips, you can't complain about the variety, perhaps go for one of the specials? The Nutella latte and peanut butter latte look like breakfast is sorted! A little bonus, if you're having your coffee to go, you're gonna love the super cute cups!
Bluebird Coffee, Shop B, G/F, Lucky Commercial Centre, 103 Des Voeux Road West, Sai Ying Pun, Western District, Hong Kong
4. OpenDoor Café + Courtyard
Located harbourside on Connaught Road West, OpenDoor Café + Courtyard is a true neighbourhood café offering everything from classic espressos and an impressive list of smoothies, to speciality drinks such as the signature Dark Chocolate drink. Those with special dietary requirements will be pleased to know that the friendly café offers alternatives including almond milk, kefir smoothies and gluten free dishes. Whether you fancy a two-egg omelette (made with organic eggs) or a muesli chia cup, pop over for a nibble and brew and you (and your pooches!) will feel right at home.
OpenDoor also features on our list of fave dog-friendly cafes in Hong Kong.
Opendoor Cafe + Courtyard, G/F, 120 Connaught Road West, Sai Ying Pun, Hong Kong, p. 3460 3880, 西環干諾道西120號舖地下
5. Detour
This unassuming all day cafe and wine bar serves a selection of antipodean style coffee and natural wine, complimented with a simple but tasty menu. From brunch plates, breakfast bowls and sandwiches to creative dinner dishes paired with the perfect bottle of organic wine, you can rest assured that the dishes here are prepared with quality ingredients and will tantalise your tastebuds. It's one of the best Sai Ying Pun cafes, so be sure to check it out.
Detour, G/F, Shop A, 35-37 First Street, Sai Ying Pun, Hong Kong, p. 2759 1872, 西環西營盤第一街35-37號安樂樓地下A號舖
6. Books & Co.
This bookstore-cum-cafe located a minute away from Sai Ying Pun MTR station is quirky, nerdy and everything in between. Filled with stacks upon stacks of books, this is a great place to escape for a few hours with a book and brew of your choice! As bookworms, we love this concept and this is definitely one of our favourite Sai Ying Pun cafes.
Books & Co, 10 Park Road, Mid Levels, Hong Kong, p. 2559 5199, 半山柏道10號地下
7. Coffee by Zion
This cute and quirky (and totally Instagrammable) coffee shop is perfect for those days when you're in desperate need of a quick caffeine fix. Along with a great menu of coffees and tea, the menu includes an array of cold brews, cooling cocktails and even beers. Need a snack? The shop also offers bagels, sandwiches and breakfast options including French toast and acai bowls. With outdoor seating and a family-friendly vibe, this spot – located conveniently opposite Sai Ying Pun MTR Exit B1 – will confidently feed your soul with goodness.
Coffee by Zion, Shop 1, Chun King Court, 83 First Street, Sai Ying Pun, Hong Kong, p. 2857 1838, 西環西營盤第一街83號地下1號舖
8. Hashtag Coffee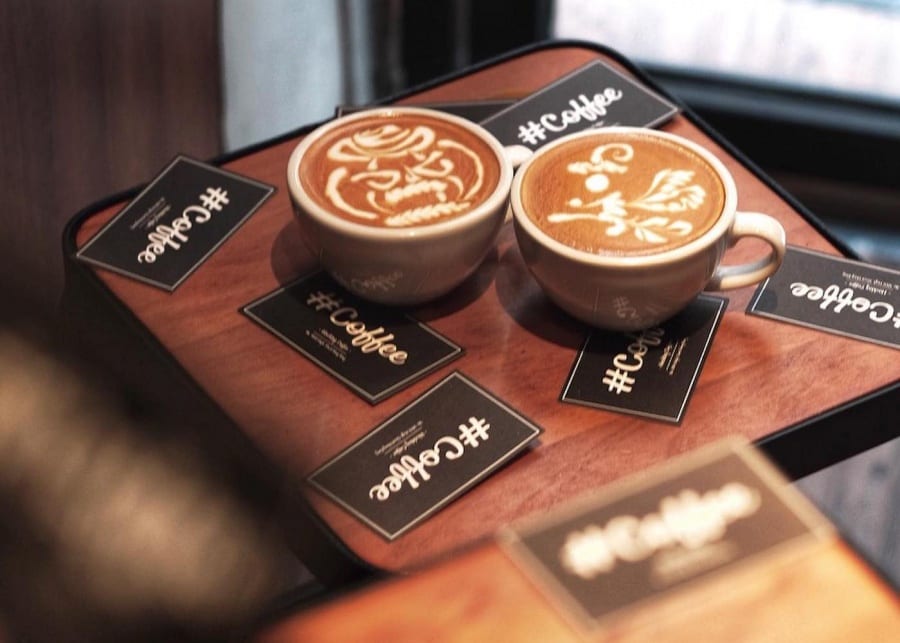 This pet-friendly cafe warms your heart with their adorable latte art. Their other signature drinks include two espressos named Blact Cat and Dirty, served in a very trendy-looking glass. For those wanting to relive the coffee trend during the start of the pandemic, don't miss their Dalgona coffee. For nibbles, we love their sesame salmon wrap and homemade crepe cake.
Hashtag Coffee, 99b Robinson Road, High Street, Sai Ying Pun, Hong Kong, p. 2896 6683
The Hideout Coffee House (NOW CLOSED)
Located on the hills of Sai Ying Pun and overlooking Centre Street, The Hideout Coffee House is a cosy two-storey cafe ready to satisfy your caffeine cravings. The Australian neighbourhood joint offers an array of handcrafted coffees from Japan and Java and even stocks cocoa beans from Ecuador. If you're feeling peckish, add a homemade muffin, pastry or dessert to your order for the perfect afternoon pick-me-up. Grab a spot located directly outside the shop or escape the hustle in the attic-like space above that feels like a home away from home.
The Hideout Coffee House, Shop B, 63 Third Street, Sai Ying Pun, Hong Kong, p. 2858 1012, 西環西營盤第三街63號地下B舖
Polygon Café (CLOSED)
Focused on creating a comfortable and creative environment for its guests, Polygon Café ticks all the boxes for a relaxing ambience with a variety of brewed coffee and a carefully curated selection of teas. What sets it apart from other Sai Ying Pun cafes, however, is its private garden. This hidden sanctuary is the perfect spot to catch up over a cuppa or to enjoy a good book away from the bustle of the city.
Polygon Café, G/F, 14 Second Street, Sai Ying Pun, Hong Kong, p. 2915 8878, 西環西營盤第二街14號地舖