Spark some romance with a thoughtful gift (Photography: Kostiantyn Li via Unsplash)
Looking to surprise your partner/lover/Tinder date with a romantic gift that screams affection? We got you!
Whether you are looking to shop bags in Hong Kong or the edgiest Korean fashion items, you'll never be short of things to buy in this city – and that includes buying gifts for men. But what about when you want to truly impress someone you are head-over-heels in love with? Sometimes, picking the right romantic gifts in Hong Kong can be a little tricky, but we've got the lowdown on some of our favourite ideas right here.
Romantic gifts in Hong Kong for Valentine's Day and beyond
1. Surprise your loved one with BetterThanFlowers
Surprising your S.O. with flowers this Valentine's Day? Why not go a step further with BetterThanFlowers which is, well, even better than flowers? Prove that no one knows your loved one better than you do with a gift hamper or a personalised Surprise Box. From teas to chocolates to self-care goodies, you can hand-pick a fantastic selection of items to fill the box to the brim. In addition to the constantly updating range of balloons and products, BetterThanFlowers guarantees easy service and quick delivery, too. So if you're going for the razzle dazzle this year, BetterThanFlowers is your best bet.
BTW, we have an exclusive discount for you! Simply enter the code HONEYCOMBERS for a 10% discount when you make your purchase at BetterThanFlowers. Psst, be sure you order before 13 February to get your gift delivered by Valentine's Day!
Shop BetterThanFlowers online.
2. Liquor up your lover with Bord Bia
Bord Bia (the Irish Food Board) has assembled a slew of classic Irish whiskeys to set the romantic mood on a night out with your significant other. Enjoy each other's company with a drink in hand of Teeling Single Malt Irish Whiskey, or Redbreast 12 Years Single Pot Still Irish Whiskey (our fave!). With a plethora of brands to choose from, liquor up in style to get in the mood for love.
Find out more about Bord Bia.
3. Deliver hand-crafted bouquets from The Floristry
Still prefer a classic gift for Valentine's Day? You can't go wrong with flowers! The Floristry is known for its modern and design-led approach to floral design. From hand-crafted bouquets and flower jars to home fragrance, each contemporary arrangement compiles fresh and seasonal flowers that is guaranteed to make a wonderful impression in that special someone's eyes. Some of their signature bouquets include Gypsy Heart Flower Bouquet and Magic Hour Flower Bouquet, which are both lovely alternatives to traditional Valentine's bouquets.
Discover our picks for best florists in Hong Kong.
Shop from The Floristry.
4. Count down the days with Mohlia
Can't wait till Valentine's Day? Make the lead up to the romantic day a pleasurable one with Mohlia's Valentine's Day Advent Calendar. Count down the days with treats like Mohlia's signature forever rose, Needs' aroma oils, and even a heart-shaped pizza from Babacio! Mohlia's popular Ecuadorian infinity flowers will stay preserved for up to three years – keeping the romance alive long after Valentine's Day is over. For those who want to stretch out the romance as much as possible, this advent calendar will give your loved one a special gift every day.
Check out our interview with Simran Mohinani, the founder of Mohlia.
Shop Mohlia online.
5. Alluring perfume from Tom Ford
The fact that we can be attracted to a person simply by their scent proves the importance of picking the right perfume. Tom Ford has you covered with not one, but two perfumes: Electric Cherry and Cherry Smoke. The luxe, playful scents are sure to create a romantic ambience. Mmhmm, love is in the air!
Check out our go-to fragrance boutiques in Hong Kong.
Tom Ford has multiple locations across Hong Kong.
6. Buy sexy lingerie from Avec Amour
Looking for some sexy romantic gifts for your partner for Valentine's Day? Avec Amour sells a curated selection of fashion forward bodysuits, gorgeous French knickers and suspenders that flatter the body with fine fabrics like silk and lace. Whether it's a sensually stimulating bra-and-knickers set or a chic one-piece bodysuit, she (or he) is going to love it so much.
Find out where to buy lingerie in Hong Kong.
Shop Avec Amour online.
7. Get flirty with sex toys from Lovehoney Group
Global sexual wellness company Lovehoney Group is not messing around when it comes to your sexual pleasure. To have a hot, hot night with your babe, we definitely recommend you to get a vibrator like the Rabbit. You and your partner can spice things up in the bedroom with elegant, carefully manufactured sex toys.
Check out other cool sex shops in Hong Kong.
Shop from Lovehoney Group.
8. Grab a lovey-dovey read from Bookazine
Does your beau love reading? English bookstore Bookazine stocks an array of bestsellers and Valentine's Day-appropriate picks, including The Ladybird Book of Dating (Ladybird Books for Grown-Ups), The Kiss Quotient by Helen Huang, as well as a wide range of candies, chocolate bars, and even a grow-your-own rose kit.
Read our guide to the best Hong Kong bookstores.
Bookazine has multiple locations in Hong Kong.
9. Put love on the shelf with Lok Man Rare Books
Here's a novel idea: why not surprise your loved one with a rare book from Lok Man Rare Books? As Hong Kong's only antiquarian bookstore, shelves upon shelves of hidden treasures are waiting to be explored here. If you have a special bookworm in your life, a rare edition of Jane Austen or The Great Gatsby may just be the ultimate romantic gift. Hurry over and snag a valuable volume before it's too late!
Lok Man Rare Books, G/F, 6 Chancery Lane, Central, Hong Kong, p. 2868 1056
10. Wow them with stunning jewellery from Cartier
Jewellery is one of the most romantic gifts that you can give your partner, and Hong Kong has a selection of boutiques to choose from. If you wanna raise the stakes? Lock in your love with a white gold Love bracelet from Cartier that can be decorated with diamonds or left simple and classic. You can also pick up Cartier's new Tank Française watch to stay on your lover's mind every time they look at their wrist.
Take a look at some of our favourite watch shops and jewellery stores in Hong Kong.
Cartier has multiple locations in Hong Kong.
11. Collect tokens of love with Aurom
Give the gift of opulence to your loved one with rare collectable coins from Aurom. The ultimate token of love, Royal Canadian Mint pieces are adorned with diamonds to bring added flash to the luxurious coin. Not lavish enough? The Treasure Pendant features a pure gold coin surrounded by pink diamonds for a truly irreplaceable gift.
Shop Aurom online.
12. Pamper them at Lush
We all love a bit of pampering, so there's nothing nicer than receiving some luscious smelling natural goodies from Lush. Choose from a selection of bath bombs, including the Tisty Tosty that overflows your bath with floral scents. Alternatively, you can opt for the Posh Chocolate body wash that will hydrate and soften your loved one's skin with a rich chocolaty aroma.
Lush has multiple locations in Hong Kong.
13. Get boozed up with candles and gummies from Smith and Sinclair
Ever found yourself enjoying your cocktail so much that you could eat and smell it all day? Well, with Smith and Sinclair's collaboration with The Bloomstre, you can do exactly that with the Eat Your Drink alcoholic cocktail gummies and alcoholic scented soy candle bundles. Gift the cocktail lover in your life the We're Mint to Be Bundle or It's Whiskey Business Bundle for a new way to enjoy a tipple.
Shop Smith and Sinclair online.
14. Indulge with Conspiracy Chocolate
Conspiracy Chocolate handcrafts small-batch quantities from bean to bar in Hong Kong. Known as an aphrodisiac, chocolate is the perfect treat to spark the romantic mood, and to pamper your special person. Conspiracy Chocolate isn't afraid to experiment with bold flavours, with classics like Sichuan Pepper and Earl Grey. Additionally, the colourful wrappers make these chocolate bars a treat for the eyes!
Find out our picks for Hong Kong's best chocolate.
Order Conspiracy Chocolate online.
15. Say it with cake from The Place Cake Shop
Cordis has opened its own premium bakery that pays homage to local ingredients – the cakes are baked with flour from Kowloon Flour Mills. In addition their signature cakes, like fresh fruit cream and blueberry cheesecake, you can wow your loved one with a changing selection of seasonal cakes. The limited edition Rose Champagne Raspberry Mousse Cake is available for 2023 Valentine's Day and you can even upgrade the cake to be part of the Double Bubbles set – it comes with a bottle of selected Champagne to ramp up the vibes!
Got a sweet tooth? Check out our go-to cake shops in Hong Kong.
The Place Cake Shop, Cordis, Hong Kong, 555 Shanghai Street, Mong Kok, Hong Kong, p. 3552 3388
16. Create memories with Spoilt
Prefer to get hands on? Online platform Spoilt offers a range of experience-based gifts that you and your loved one can enjoy together. From cooking classes to massages, to even outdoor climbing and abseiling experiences, you're sure to find something that both of you fancy. Nothing beats a beautiful memory together as a gift for Valentine's Day!
Find out more about experience gifts in Hong Kong.
Shop Spoilt experiences online.
17. A classy and cosy picnic spread
Take the romance outdoors with a cute picnic set up by Picnicking by Misaka. Just book online and the team at Picnicking by Misaka will set up the entire picnic for you. You can choose from different styles and the items included in the setup are all listed on their website. They also offer night picnics with LED lights to set a romantic mood and it's simply stunning!
Here are our favourite picnic spots in Hong Kong.
Find out more about Picnicking by Misaka.
18. Enjoy a show at Hong Kong Fringe Club
The Fringe Club is a local gem that's always showing wonderful local and international acts, including comedy, music, and stage shows. Plus, the intimate venue is the perfect spot for date night. Sip on a drink or two at the bar, and then cosy up in the darkness and get ready for the show.
Or, bring them to these live music venues?
Hong Kong Fringe Club, 2 Lower Albert Road, Central, Hong Kong, p. 2521 7251
19. Treat them to the Aqua Luna Dinner & Cruise
Get romantic on the high seas (well, Victoria Harbour) and take in amazing views of the skyline as you watch the new and improved Symphony of Lights display onboard the beautiful Aqua Luna. Then, be whisked away to award-winning Chinese restaurant Hutong, where you will be served a delicious eight-course dinner while you look out to the Harbour.
Aqua Luna, Central Pier, Hong Kong
20. Get pampered at The Oriental Spa
Let you and your partner relax and rejuvenate together at The Oriental Spa in The Landmark Mandarin Oriental with its brand new "Memories" experience. The package includes a 90-minute Oriental Massage, followed by a 60-minute Time ReverCell Facial Treatment at the centre's signature Sanctuary Suite. There's no rush to leave – feel free to linger at the private jacuzzi pool to enjoy the ultimate spa experience.
The Oriental Spa, The Landmark Mandarin Oriental, The Landmark, 15 Queen's Road Central, Central, Hong Kong, p. 2132 0011
21. Book a daycation using Dayuse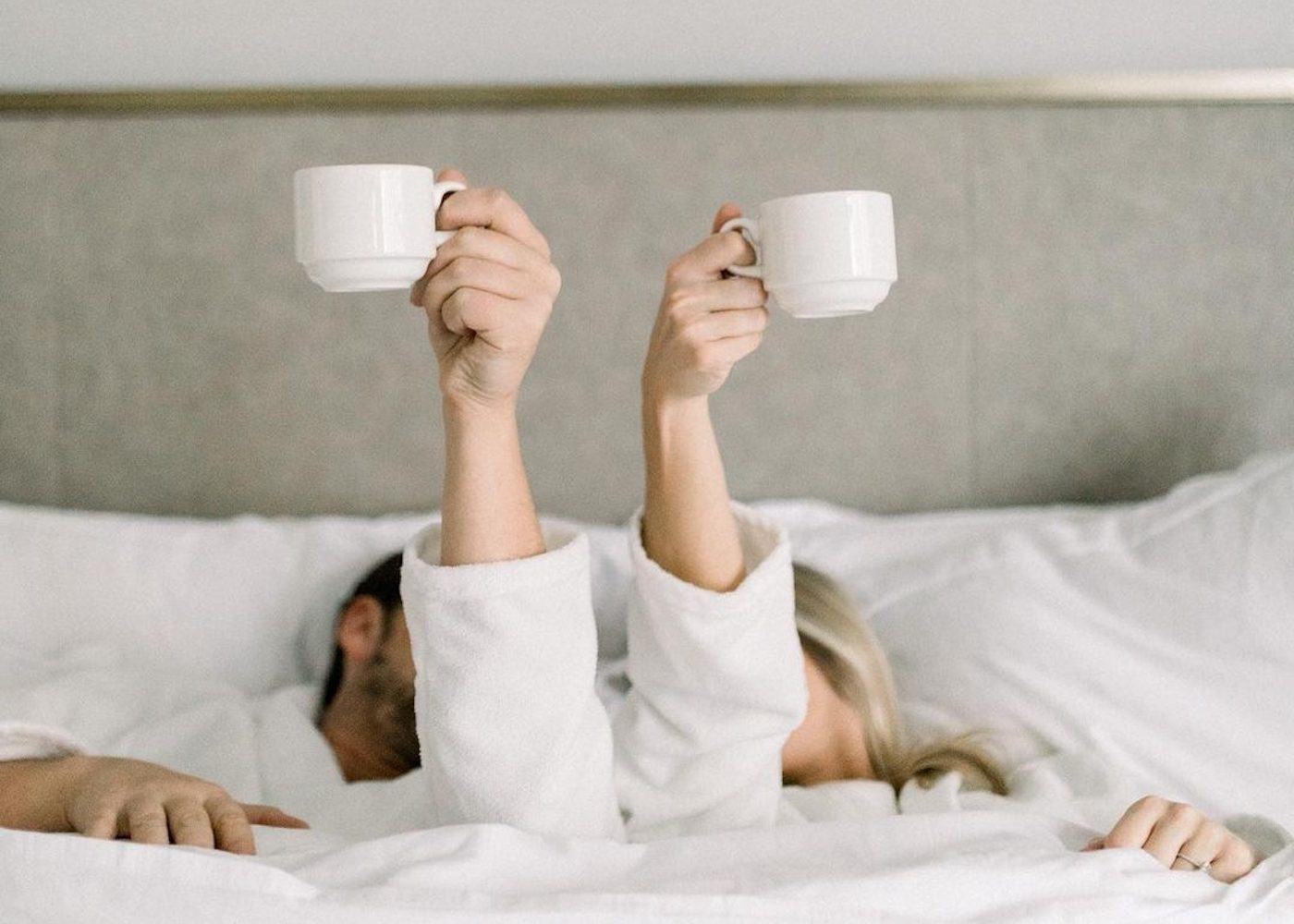 Of course you've heard of staycations and seacations, but if you're looking to get away for just the day, book a daycation and enjoy all the facilities of the hotel. Perfect for birthdays, anniversary celebrations, or simply to unwind, you don't need to pack your luggage to stay for the day at your preferred hotel (for a reduced price too!). Grab a bottle of champagne and a bath bomb and get booking!
Read all about our favourite Hong Kong daycations.
Find out more about Dayuse.
22. Book a romantic staycation
While traveling is amazing, sometimes it's just as nice to stay in Hong Kong. The city if full with a bunch of great hotels offering spa facilities and great dining facilities, so why not surprise your love with a romantic weekend?
Read about all of our favourite Hong Kong staycations.