All aboard for a rockin' junk trip! (Photography: Omar Eagle-Clarke via Unsplash)
Hong Kong is world renowned for its boat parties, so if you want to get onboard, then check out our guide to renting yachts and junk boats in Hong Kong.
We love the fact that we live in a territory with such easy access to the outdoors. With beautiful islands like Peng Chau and Cheung Chau, camping grounds like Tap Mun, and fishing villages such as Lei Yue Mun so close to the city, it's not too difficult for us to escape the bright lights and find some calm. And then there are junk boats. A must in the summertime, we've rounded up the best boats, yachts, and packages for you to rent junk boats in Hong Kong and take your trip to the next level. Just grab your favourite swimwear, and you're set!
Where to rent junk boats in Hong Kong
1. Breakaway Luxury Yachting
Have a mini getaway in the city by taking a customised junk trip on Breakaway luxury yacht. Its fleet is more private in comparison to the other bigger boats, as it can only carry up to 23 passengers. However, if you're planning a bigger event, Breakaway can also arrange for additional junks to accommodate your desired capacity. In terms of facilities, the air-conditioned boat is equipped with one ensuite bedroom and several add-on services like shisha, massage therapist, and speed boats. In addition, packages include A Day at The Sea, brunch or afternoon tea, mini junk trip, brunch or dinner for two, and more.
Breakaway Luxury Yachting, Kwun Hoi Path, Aberdeen, Hong Kong, p. 6180 5059
2. Island Junks
Explore the islands and the fantastic coastline of Hong Kong with Island Junks' various charter packages and tours. If you're after a more traditional and classic experience, you can opt for its Chinese teak junk boat. But if you're hosting a fun party with your crowd, you'd love to get on board its Ibiza luxury boat. The boats are equipped with not only food and drinks, but also Thai masseuses, bean bags, kayak, inflatable sea-pool, BBQs, paddleboards, and even the entertainments for your own parties. Want to have a sightseeing trip instead? Let the team know your desired destination or check out its bespoke cruise itineraries. This is definitely one of the best places to rent junk boats in Hong Kong!
Island Junks, Kwun Hoi Path, Aberdeen, Hong Kong, p. 6895 4443
3. Hong Kong Junks
Hong Kong Junks offers the old-fashioned junk trip with its two options of teak junk boats. Its fleet can accommodate up to 40 people and has an outdoor shower as well as an undercover dining area. If you want to have a relaxing day on the water, simply go for its boat-only package. But if you're hosting an all-day party or looking for a more fun experience, the all-inclusive package will be the ideal option. You can also take your experience up a notch by getting the extras like water sport activities.
Hong Kong Junks, G/F, Unit 2, Block One, Office Building, 92 Siena Avenue, Discovery Bay North, Hong Kong, p. 2840 1588
4. Aqua Luna
While not your typical wild junk, Aqua Luna is certainly the best option for people who are only spending a short time in Hong Kong, because there's no better way to enjoy the city's famous Symphony of Lights laser show and fireworks at Victoria Harbour than on board a Chinese red-sail wooden junk boat! Run by the renowned Aqua restaurant group, the harbour cruises offer a 45-minute trip during which you can sip on their signature cocktails and champagne while enjoying the gorgeous scenery. The trip also offers Hop On/Hop Off tours with four stops in the afternoon, as well as Dinner & Cruise packages in the evening. This iconic junk boat is not to be missed when visiting Hong Kong.
Aqua Luna, Central Pier 9, Hong Kong, p. 2116 8821
5. Entourage
Newly renovated and all set to sail in 2022, Entourage is a deluxe yacht which comprises a floating bar, dance floor, and three spacious decks for up to 50 guests. Catering to all kinds of celebrations, parties, corporate receptions, and even wellness retreats, this stylish yacht is the perfect place for you indulge under the skies of Hong Kong. You'll find an air-conditioned main lounge with plush sofas, a fully stocked professional bar and cocktail stations, marble bathrooms, a DJ booth, and many more other facilities. Furthermore, we love how Entourage offers free-flow food and drink packages, as well as bespoke itineraries, so that you don't have to worry about a thing when you host your event!
Find out more about Entourage.
6. Hong Kong Yachting
Looking to rent junk boats in Hong Kong? With a large fleet, including junk boats, cruisers, luxury boats, and sailing yachts, Hong Kong Yachting offers great junk rental packages like the Ultimate Junk Boat Party package and Raft Up Boat Party package. These packages come with BBQ, waiters, inflatable slides, and trampolines. There's also a Private Container Port Tour package – perfect for tourists who want to sail around with an Australian or New Zealand guide.
Hong Kong Yachting, 2504 Universal Trade Centre, 3 Arbuthnot Road, Central, Hong Kong, p. 2526 0151
7. Yacht Holimood
If you're looking for more choices of boats, you'll want to check out Yacht Holimood. The travel search site offers 1,000 booking choices for boat chartering, including carefully selected yacht rentals from different owners and providers. The types of boats range from luxury yacht and cruiser, to junk boat and sailing boat, to event boat and ferry to be used for different purposes either during the day, at night, or for cuttlefish fishing, giving you more flexibility in choosing your desired boats and packages.
Yacht Holimood, Workshop 3, 12/F, Gravity, 29 Hing Yip Street, Kwun Tong, Hong Kong, p. 5406 3347
8. Saffron Cruises
Whatever the size of your group and the kind of party you're holding, Saffron Cruises can accommodate your events with its large fleets of charter boats. From luxury boats and cruisers to junk boats, sailing yachts, ferry, and speed boats of different capacities, Saffron Cruises' selection of boats can bring you to any seaside destination you want, including Repulse Bay, Shek O, Big Wave Bay, Tai Long Wan, Fan Lau, and Cheung Sha. The views aren't the only thing you can enjoy onboard, as the company also teams up with Shamrock, a renowned catering service, allowing you to create special menus for your themed parties.
Saffron Cruises, 5/F, Foo Sang Building, 69 Wing Lok Street, Sheung Wan, Hong Kong, p. 9732 2544
9. Michelangelo Cruises
With a total area of 4,000 square feet across three decks, Michelangelo is a luxury junk that has one master suite and four additional guest cabins, making it a perfect choice for overnight junk trips. The fleet, which can accommodate up to 59 passengers, can also cater to various events such as private dining, corporate events, product launches, weddings, birthdays, as well as other parties and celebrations. Whether you plan on sightseeing the Victoria Harbour, cruising on the southern coast, or exploring the secluded beaches, Michelangelo will take you on an unforgettable junk trip with its wide selection of cruise itineraries.
Find out more about Michelangelo Cruises.
10. Lazydays
True to its name, Lazydays offers guests relaxing getaways on their lazy days off. Gather your friends and get ready to enjoy stunning vista of Hong Kong's waters. Head off on a sleek yacht or luxury junk for a day trip, and top it off with gourmet tea, coffee, desserts, cheeseboards, craft beers, or champagne. Moreover, Lazydays offers an evening cruise package with which you can enjoy a dinner with free-flow drinks, as well as special packages like High Tea on the High Seas and a Spa on the Sea Package. Fancy!
Find out more about Lazydays.
11. Sea-E-O Yachting
Perfect for any occasion from corporate events or DJ parties, Sea-E-O Yachting has an extensive fleet of boats at the ready. Romantic dinners, birthday parties, team building events, and even squid fishing are all available for when you book a boat. Moreover, Sea-E-O Yachting offers catering services with different Asian and Western menus. If you've got a big group, the Infinite Boat Party service is ideal, with as many boats as you want coming together for one grand party!
Sea-E-O Yachting, Room 709, Wing Cheung Industrial Building, 109 How Ming Street, Kwun Tong, Hong Kong, p. 5489 4061
12. Hong Kong Asia Boating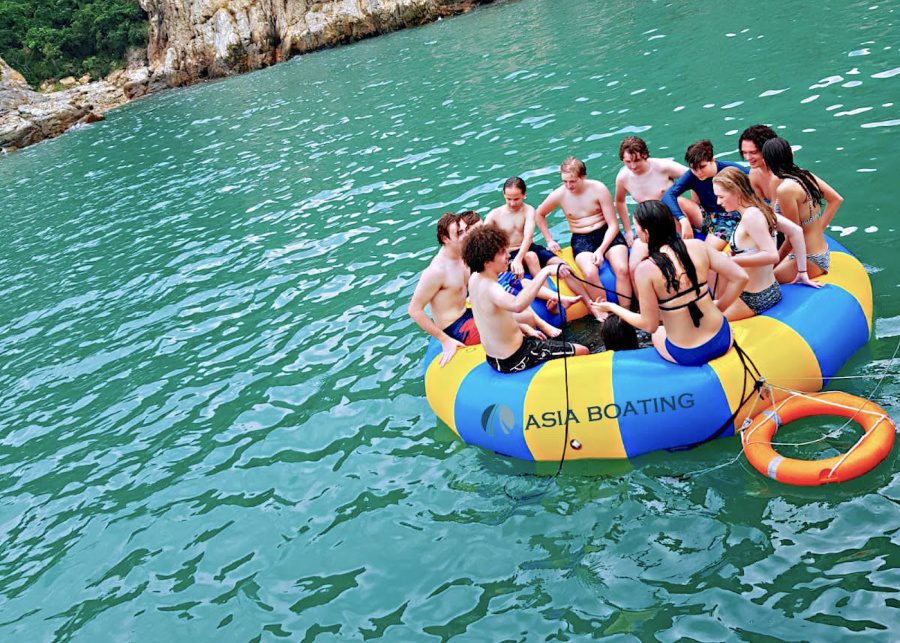 With luxury cruisers, yachts, and classic teak junks in the fleet, Hong Kong Asia Boating certainly has a boat for you. From boat-only rentals to all-inclusive packages, you can have catering, drinks, and extreme water sports all taken care of. Multiple packages are available for day junks, evening junks, and Victoria Harbour cruises. As most of them have a capacity of up to 40 guests, you can have a sizable junk party every time. If you want to go all out, you can even book a Thai massage on-board – as well as adventurous jet-ski, speedboat, and wake-surf rentals.
Find out more about Hong Kong Asia Boating.
Koh Thai Junks (closed)
Thai restaurant chain Koh Thai also offers junk trips around Hong Kong with their seven choices of Koh Thai Junks. Combining the restaurant's authentic Thai cuisine with Hong Kong's iconic junk boating activities, the package can cater to various purposes from corporate events to birthday celebrations and includes unlimited water sports activities, games, massages, and of course, a Thai feast on deck.
Koh Thai Junks, Hong Kong, p. 2668 1468
[This article was originally published in May 2018 and updated in 2023 by Min Ji Park.]