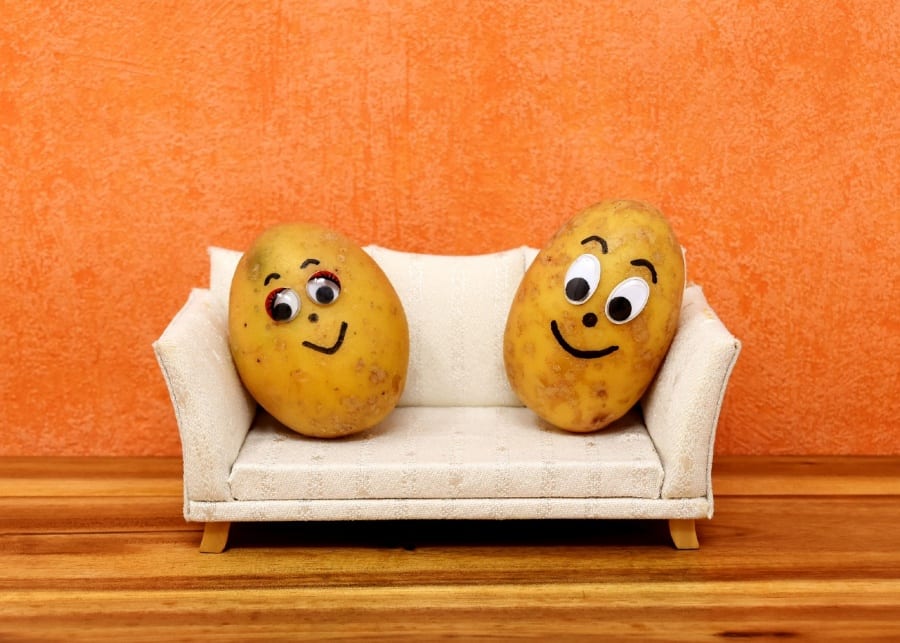 Let's be cute couch potatoes together <3
Nobody ever needs an excuse to eat some chips (or fries, as the Yanks would say). Other than treating yourself to some Macky D's, why don't you spend a few moments learning more about the world's most loved vegetable?
Some of us are in a love-hate relationship with potatoes. LOL no, we're not saying your S.O. is an actual potato (unless you say so). We're here to talk about the starchy vegetable that's oh-so-delicious to eat, but also deemed too 'unhealthy' for modern diets due to its high carbohydrate content. Although potato chips and crisps are most people's guilty pleasure, how much do you actually know about this humble veg? In celebration of International French Fry Day (July 13), we're here with some a-peel-ing facts about potatoes we know you'll love! #PotatoesGonnaPotate
Spud-tacular facts about the humble potato
1. What does it mean when someone says you're a potato in Hong Kong?
First, let us treat you to a little level-up for your Cantonese. When someone says another person is a potato (or is 'potatoey') in Canto, they aren't referring to couch potatoes or small potatoes. Instead, they mean the person is outdated and has a poor sense of fashion. That said, this concept is difficult to translate precisely, so see if you or your friends can do a better job at explaining it!
2. Speaking of small potatoes, have you heard of the Big Potato?
Warning: Small potatoes may feel overwhelmed when confronted with the Big Potato. Known for having an abundance of oversized creatures, Australia is also home to a gigantic concrete structure – the Big Potato. Located in the sleepy town of Robertson, New South Wales, the giant sculpture of a Sebago potato was built by local farmers in 1977 with the intention of attracting tourists to the area. The Big Potato is about ten metres long, four metres wide, and has a hollow interior that's been spray-painted to resemble mashed potato. And yes, you can actually go inside it.
3. Potatoes can exist in the form of… noodles?!
Nope, we're not talking about pasta here. We're referring to noodles – instant noodles – made from potatoes. Potato instant noodles are produced in South Korea and are absolutely delicious (speaking from personal experience)! Don't confuse it with its cousin, the sweet potato starch noodles (aka glass noodles). Although glass noodles also contain potato starch, they're translucent and are mostly used in Chinese sour and spicy noodles.
4. Potatoes as fashion accessories
Okay, we know we just said that being potatoey means being old-fashioned, but this wasn't the case back in the day of King Louis XVI and Queen Marie Antoinette. In the 18th century, physician Antoine-Augustin de Parmentier wanted to incorporate the potato into the French diet. His way to popularise the vegetable was to introduce it to the royalty. Therefore, he gave a bouquet of potato flowers to King Louis XVI and Queen Marie Antoinette. When the Queen put some of the florets in her hair, the nobles and ladies followed suit. This soon became a hot topic in France, successfully piquing public interest in the potato plant.
5. So… Potato Parcel is a thing
In search of an unusual gift? How about a Potato Parcel? Guaranteeing laughter (and/or utter confusion), the Potato Parcel is a quirky and creative present that's unlike any greeting card out there. You can print any message – even an image of your own face – onto the potato before sending this customised potato to your recipient. Sadly, the Potato Parcel isn't open to shipping across Asia at the moment, but we might just jot it down on our wish list anyway!
6. Glowing potatoes are also a thing
Uhh, glowing potatoes, anyone…? This might sound like some kind of urban legend, but before you replace your jack-o-lantern with a glowing potato, hear us out: it's time for a science lesson. In order to minimise overwatering crops and water wastage, scientists and farmers came up with the idea of genetically modified potatoes in 2000. Using a gene from a species of luminous jellyfish, these GM potatoes turn fluorescent green when they're thirsty. Another breakthrough in 2021 managed to invent GM potatoes that glow in the dark when they're stressed. 'Tis a strange world we live in… (But thank you, scientists!)
7. The popularity of potatoes has gone out of this world – literally
If you've watched The Martian (2015), you'd recall the protagonist growing potatoes when he was stranded on Mars. While there aren't actually any potatoes on Mars at the moment, it turns out NASA did, in fact, attempt to grow seed potatoes aboard Space Shuttle Columbia in 1995. The resulting space spuds are named Quantum Tubers, and are seen as a more effective and reliable alternative to growing potatoes using traditional methods. Will the humble potato really become an intergalactic delicacy? Let's wait and see!