Who's a good boi?! (Photography: Imágenes de Patricio Daniel Nahuelhual Obreque)
Hong Kong's pet care industry is embracing locally made treats, combining ethical sourcing with artisanal craftsmanship to offer healthier, gourmet options for our pets' discerning palates.
Our love for pets has been continuously calling for healthier, ethically sourced pet products, resulting in a much welcomed revolution in the pet care industry in recent years. Amid the urban hustle, a new trend is quietly emerging: locally made pet food in Hong Kong. From artisanal biscuits to gourmet meaty morsels, these offerings cater to the discerning palates of our furry friends, while prioritising their health and well-being. As we delve into the city's thriving pet treat scene, prepare to discover a world where pet nutrition meets local craftsmanship.
Elevate your pet's health and happiness with the best pet food in Hong Kong
1. Bruno's Snack Time: What the Duck?!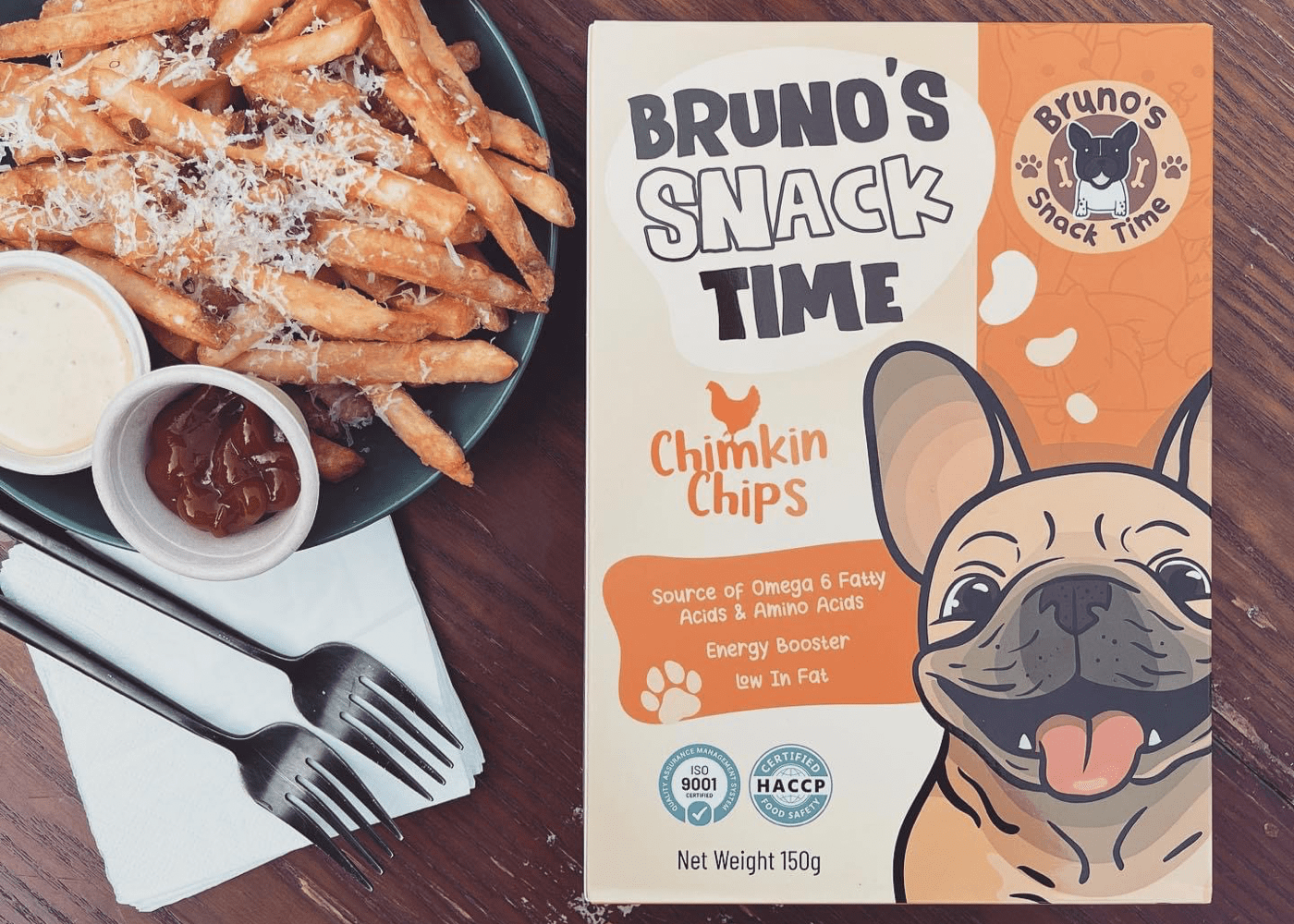 Bruno's Snack Time's "What the Duck?!" is an innovative, locally produced treat making waves in the Hong Kong pet community. Crafted with hypoallergenic ingredients, this snack ensures every pet, regardless of dietary restrictions, can enjoy a tasty treat. Proudly made in Hong Kong with New Zealand-sourced ingredients, the product undergoes rigorous testing by SGS, a renowned global testing and certification company, ensuring its high quality. A unique sterilisation process gives this snack an edge, eliminating the need for refrigeration and guaranteeing a long shelf-life. What truly sets "What the Duck?!" apart is its commitment to purity: it boasts zero additives, artificial flavourings, colourants, or preservatives – offering pure, wholesome goodness in every bite.
Shop Bruno's Snack Time's What the Duck?! online.
2. Baking Bark: Superfood Chewies
If you're keen to elevate your pup's diet with a superfood punch, look no further than Baking Bark's Superfood Chewies. These treats are a delectable blend of organic spirulina, spinach, coconut, flaxseed, and cheese. In addition to being absolutely delicious, the snacks are rich in protein, vitamin Bs, and essential fatty acids. Known benefits of spirulina include improved conditions for canines with allergies, skin conditions, cancer, and heart disease, making these chewies a standout choice for health-conscious pawrents.
Shop Baking Bark's Superfood Chewies online.
3. Goodoog: Meaty Paws
Looking for more pet food in Hong Kong? Taste and health come together in Goodoog's Meaty Paws, nutritious treats that combine scrumptious beef and nutritious Chinese yam. Drawing from the wisdom of Chinese herbal medicine, these treats not only stimulate your pet's palate, but also supercharge their health with a high content of minerals and vitamin C. Each bite delivers essential amino acids that fortify muscles and enhance energy, while supporting optimal brain function, heart health, and maintaining the integrity of your pet's skin and coat.
Shop Goodoog's Meaty Paws online.
4. Hidden Gems: Dehydrated and freeze-dried treats
Discover Hidden Gems, Hong Kong's first-ever zero-waste pet store championing sustainability for our furry friends! The shop features an exquisite selection of dehydrated and freeze-dried treats, all crafted locally using top-notch imported raw ingredients. These treats take pet nutrition to a whole new level. Through dehydration and freeze-drying, the treats preserve the natural nutrients, flavours, and aromas of the raw ingredients. The process ensures pets get the most out of their treats, providing a diet that's not just tasty, but also rich in essential vitamins and minerals.
Hidden Gems has multiple locations across Hong Kong.
5. OMJ: Bully Sticks
OMJ, a trusted Hong Kong pet food brand, offers 100% homemade and natural bully sticks, making them safe and nutritious for your pets. Bully sticks provide essential nutrition and mental stimulation, and help promote dental health. However, not all bully sticks are suitable for puppies due to the hardness. In this case, OMJ's smaller XS or S bully sticks are perfect, as they allow pups to shed their baby teeth without risking the developing canines. The all-natural treats encourage chewing and help keep puppy teeth and gums healthy during the teething process.
OMJ has multiple locations across Hong Kong.
6. The Tappy Paws: Mini Dognuts
The Tappy Paws' whimsical and nutrition-packed mini dognuts are some of our favourite pet treats in town. Available in two flavours, these adorable snacks are a feast for your pup's palate. The first features a delightful blend of hormone-free Japanese chicken breast, sweet potato, and fresh rosemary – a savoury and healthful treat guaranteed to get tails wagging. The second combines the same high-quality chicken with broccoli and organic oats, offering a unique flavour and added nutritional benefits. These cute rings are the perfect way to indulge your pup while providing wholesome, safe ingredients that support their wellbeing.
Shop The Tappy Paws' Mini Dognuts online.