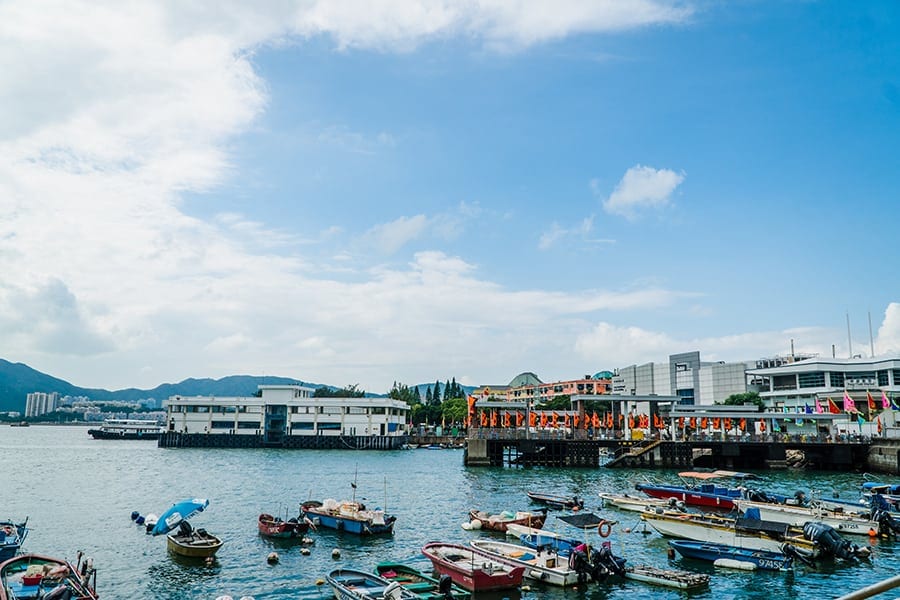 Take a snap of the colourful boats and flags as you disembark onto Peng Chau
Located only 35 minutes away from Hong Kong by ferry, this island may not have the flash attractions, but it's the perfect destination for some peace and quiet. Here's a bunch of things to do in Peng Chau.
Unlike Tai O and Cheung Chau, Peng Chau may not have a giant Buddha statue, cute bun festival or golden beaches, but that's exactly why we're loving it. The island community is all about relaxation, something which is sorely needed in Hong Kong. Instead of queuing for cable cars and walking crowded streets, you're blessed with space to think and unwind. Peng Chau isn't Hong Kong's most popular island getaway and we're so thankful for that! Enjoy it while you can. Here's all the things to do in Peng Chau.
Things to do in Peng Chau
How to get there
Head to the Central Ferry Pier and look for Pier six to Peng Chau. It's a short 35-minute journey away with an ordinary class one-way ticket costing $15.90 Monday – Saturday and $22.80 on Sundays. Furry friends are welcome, however you will have to sit in the allocated areas.
1. Go for a Temple Run: Lung Mo and Seven Sisters
Put some time away to explore the impressive Lung Mo and Seven Sisters temples. Both are shrouded in fascinating Chinese culture, but differ hugely in style and architecture.
Lung Mo is the biggest temple on Peng Chau Island It's beautifully perched beachside with an unobstructed view of the ocean and surrounding islands. The charming temple is dedicated to the Dragon Mother (no, not that Mother of Dragons), a touch of the dragon's belly is thought to bring good luck. In contrast, Seven Sisters Temple aids young couples looking to start families and is more rustic. It's grounded worn exterior highlights just how long these temples have stood, something that is lost among others.
Find out more about Chinese Temples in Hong Kong.
2. Eat delicious desserts at HoHo Kitchen
Tucked away in the narrow side streets of Peng Chau is HoHo Kitchen, a friendly restaurant with all the English you need to get by. After a mad and frantic dash up Finger Hill, we'd worked up quite the appetite for something sweet. HoHo Kitchen offers a good variety of Chinese and Asian cuisine, but one that is an absolute must-try for all is their signature dish,a crispy pineapple bun filled with either vanilla or chocolate ice cream (wipes drool).
HoHo Kitchen, G/F, 29 Peng Chau Wing On Street, Peng Chau, Hong Kong, p. 2983 8218,  坪洲永安街29號地舖
3. Grab a bike from Yan he dan che 研合單車
Peng Chau is car-free and although the island is small enough to walk around, we'd definitely recommend cycling around. You can rent a bike for $30 for one hour and $10 every hour after. Weave through the colourful neighborhood, alleys or stick to the coast and let the sea air put you at ease. Head to Tai Lei bridge for views of the surrounding islands, local fishermen and small secluded pebble beach.
Love bike rides? Check out the Tai Wai bike trail.
Yan he dan che 研合單車, G/F 16 Wing On Street, Peng Chau, Hong Kong, p. 2983 0186, 坪洲永安街16號地下
4. Explore the street art and quirky antique shops
Within a few minutes of walking the streets, you'll find that this little Island is full of bright striking street art and quirky antique shops. Home to hideaway artists and musicians, the laid back relaxed community vibe of Peng Chau is beyond charming.
See our photo essay on Hong Kong street art.
5. Finger Hill
If you're looking for things to do in Peng Chau, then you simply can't miss a hike up Finger Hill. The hike itself is family-friendly and relatively easy for all levels of hiker. Finger Hill is well-signposted and is only a brisk 45-minute-walk through forest paths to a scenic seating area with views of Disneyland and Tsing Ma Bridge. We found ourselves frantically waving towels to warn off any bugs, so we'd advise strongly to bring mosquito repellent.
These are our favourite hikes in Hong Kong.