A tiny island with a big heart – that's Peng Chau for ya! (Photography: achung via Getty Images)
Located only 35 minutes away from Hong Kong by ferry, this island may not have the flash attractions, but it's the perfect destination for some peace and quiet. Here's a bunch of things to do in Peng Chau.
Unlike Discovery Bay with its exclusive members clubs and Lamma Island with its picturesque sandy beaches, Peng Chau offers a different kind of charm that we're absolutely smitten with. This island retreat is all about tranquillity and decompression, something that's often sought after in the bustling city life of Hong Kong. Here, instead of navigating through crowded resorts or competing for a spot on the beach, you're gifted with ample space to rejuvenate. Enjoy this hidden gem while it's still under the radar, with our guide to all the things to do in Peng Chau.
Things to do in Peng Chau
How to get there
To get to Peng Chau, you'll need to head to Central Ferry Pier and find Pier 6. Depending on your preference, you can choose between the slow ferry, which takes about 35 minutes, or opt for a swifter journey of 25 minutes. Do bear in mind that the price and schedule for the ferry may vary based on whether it's a weekday, weekend, or public holiday, so it's always a good idea to check the schedule on the HKKF website before planning your trip. And if your furry friend is coming along, remember to bring a dog bag or muzzle for them. You'll have to snag a seat in the first two rows, but that's where you'll find the extra legroom. Stretch out and enjoy the ride!
1. Step into the artistic wonderland of The Leather Factory
Stroll down Peng Chau's Wing On Street and you're sure to spot a colourful doorway leading you into The Leather Factory. Once a bustling industrial site, it's now filled with a collection of ever-changing artwork, street art, and vintage items. Here, an outdoor art installation awaits, featuring a jumbled, joyful assembly of repurposed materials that's equal parts junkyard and art exhibition. Wander further in and you'll find an antique shop, as well as preserved remnants of the factory's past. It's a place where history, art, and community intersect, making it a special slice of Peng Chau that's truly worth checking out.
The Leather Factory, Wing On Street, Peng Chau, Hong Kong, p. 9141 9491
2. Go for a Temple Run at Lung Mo and Seven Sisters
Put some time away to explore the impressive Lung Mo and Seven Sisters temples. Both are shrouded in fascinating Chinese culture, but differ hugely in style and architecture.
Lung Mo is the biggest temple on Peng Chau Island It's beautifully perched beachside with an unobstructed view of the ocean and surrounding islands. The charming temple is dedicated to the Dragon Mother (no, not that Mother of Dragons), a touch of the dragon's belly is thought to bring good luck. In contrast, Seven Sisters Temple aids young couples looking to start families and is more rustic. It's grounded worn exterior highlights just how long these temples have stood, something that is lost among others.
Find out more about Chinese Temples in Hong Kong.
3. Play tennis and sip coffee at Pure Tennis Academy and Second Serve Coffee
Enjoy a blend of sport and refreshment at Pure Tennis Academy and Second Serve Coffee. Opened in 2021 by a tennis-loving husband and coffee-enthusiast wife, this unique establishment provides a fresh take on the sports cafe concept. Enjoy a game of tennis with personalised coaching from a certified USPTA Elite Professional in the comfort of an air-conditioned indoor court, then refuel with a signature turmeric latte at the adjoining Second Serve Coffee.
Keen to explore more tennis courts? Don't miss our article on where to play tennis in Hong Kong.
Pure Tennis Academy and Second Serve Coffee, Shop 10, G/F, 10 Monterey Villas, Po Peng Street, Peng Chau, Hong Kong, p. 6825 1592
4. Eat delicious desserts at Hoho Kitchen
Tradition meets innovation in the most delicious ways at the charming Hoho Kitchen. The shop's claim to fame is its unique dessert – a pineapple bun bursting with ice cream. This delightful creation is a mix of warm, sweet bun and cool, creamy ice cream, reinventing the ice cream sandwich with a Hong Kong twist. But the pleasures don't stop at dessert! If savoury is more to your palate, Hoho Kitchen also serves a variety of cha chaan teng classics, with the pork chop rice accompanied by rich curry sauce being a particular crowd-pleaser.
Hoho Kitchen, G/F, 29 Wing On Street, Peng Chau, Hong Kong, p. 2983 8218
5. Discover artisan coffee and wellness products at Chill Chill Country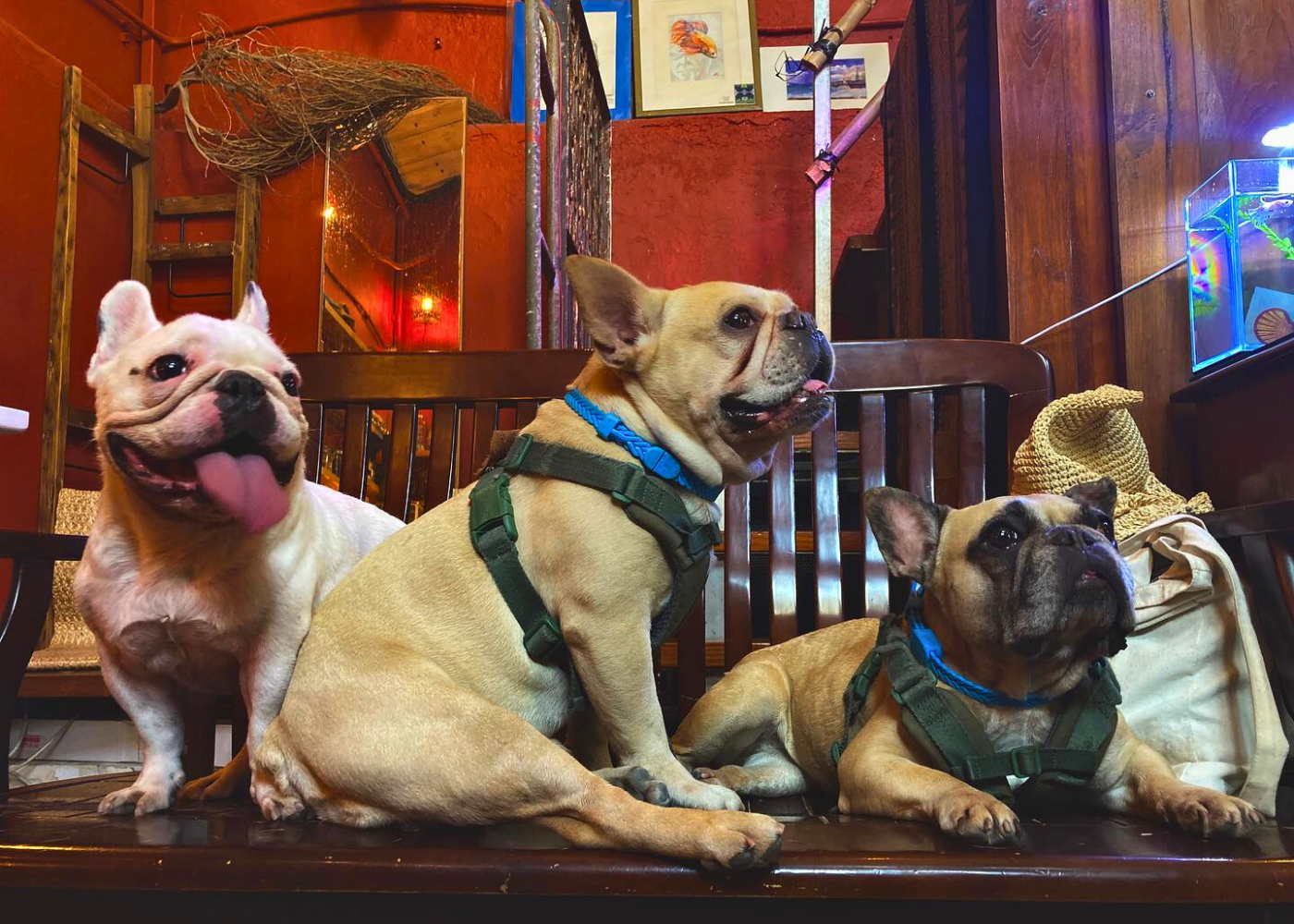 Opened in 2019, Chill Chill Country embodies its name, offering visitors a laid-back environment filled with aromatic incense and the soothing rhythms of psychedelic music. The owner's dedication to quality is evident in the homemade cold brew, prepared with a special manual coffee machine. Enjoy an espresso tonic or a Dirty in the inviting outdoor seating area, or in the cosy indoor space where you'll find an array of wellness products like candles and Palo Santo. The shop operates a "pay what you want" system for their drinks, adding to the welcoming vibe. Don't miss out on the opportunity to mingle with the friendly in-house French bulldogs as you savour your coffee!
Chill Chill Country, G/F, 21 Wing On Street, Peng Chau, Hong Kong
6. Grab a bike from Yin Hop Bicycle
One of the joys of Peng Chau is exploring the island on two wheels. With cars off the roads, bicycles provide the perfect way to experience the island's charm. Consider renting a bike from Yin Hop Bicycle and go on a leisurely ride along Peng Yu Path. This concrete trail takes you past beaches, offering stunning ocean views. Whether you choose to navigate through the island's vibrant narrow alleys or follow the coastline, the fresh sea air and tranquil ambiance will put you at ease. Make sure to pedal your way to Tai Lei bridge for breathtaking vistas of the surrounding islands, local fishermen at work, and a quiet, secluded pebble beach.
Love bike rides? Check out the scenic cycling routes in Hong Kong.
Yin Hop Bicycle, G/F, 16 Wing On Street, Peng Chau, Hong Kong, p. 2983 0186
7. Hike up Finger Hill
If you're looking for things to do in Peng Chau, then you simply can't miss a hike up Finger Hill. The hike itself is family-friendly and relatively easy for all levels of hiker. Finger Hill is well-signposted and is only a brisk 45-minute-walk through forest paths to a scenic seating area with views of Disneyland and Tsing Ma Bridge. We found ourselves frantically waving towels to warn off any bugs, so we'd advise strongly to bring mosquito repellent.
These are our favourite hikes in Hong Kong.
8. Paint seashells
Looking to take a piece of Peng Chau home with you? At artist Helen Lau's quaint corner store, you'll find a variety of handcrafted souvenirs and also get a chance to create your own. Lau offers engaging arts-and-crafts sessions where you can paint seashells, creating a unique memento of your seaside visit. Each session lasts around an hour and is held on Fridays, Saturdays, and Sundays. As her classes are popular and slots are offered on a first-come, first-served basis, we advise you to call ahead and reserve your spot to avoid disappointment.
Read our article on creative classes in Hong Kong for more ways to unleash your creativity.
House of Craft, G/F, Block 3, 21 Wing On Street, Peng Chau, Hong Kong, p. 6099 3213
9. Antique shopping at Sun Sat Store
Venture into the past at Sun Sat Store, a yellow-gated antique shop that opens its doors every Saturday and Sunday. This charming store is filled with local handicrafts and items collected from around the globe. Lose yourself in the assortment of artefacts, from a 60s desk lamp from Australia to vintage leather shoes, to 8mm film cases. Sun Sat Store also doubles as a cafe, offering a modest menu of coffee, green tea, toast, and cha guo (茶粿) – Cantonese tea cakes crafted by a local bakery. Add to this a selection of second-hand books for customers to read while savouring their treats, and Sun Sat Store becomes a delightful fusion of cafe charm and vintage exploration.
Sun Sat Store, G/F, 27 Wing Hing Street, Peng Chau, Hong Kong